Tsim Sha Tsui: Ultimate Guide
From world-class Michelin-starred restaurants to hidden shops, these are the best things to do and eat at this bustling Kowloon neighbourhood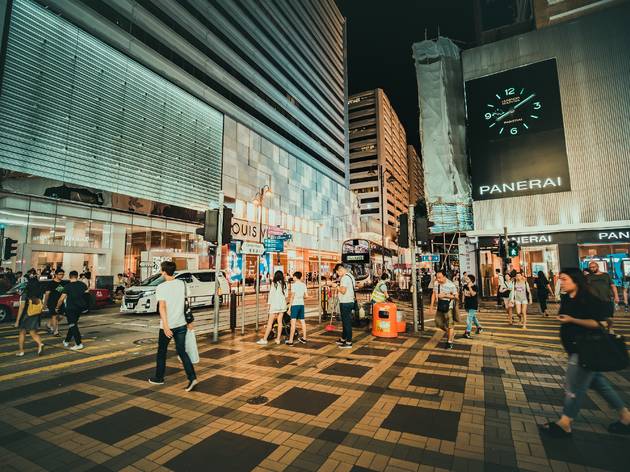 Despite being literally one of the busiest and most tourist-packed areas in Hong Kong – the Hong Kong Cultural Centre, Avenue of Stars and waterfront promenade alone attracts thousands of visitors every day – you shouldn't let the crowds put you off from visiting this fun Kowloon 'hood. Aside from being home to numerous shopping malls and flagship stores for all your favourite brands, TST is packed with top quality and Michelin-starred restaurants, hidden hipster shops and some of the best rooftop bars in town. Let us guide you through all the best experiences and things to do in Tsim Sha Tsui.
Best things to do and eat in Tsim Sha Tsui
This stylish bar/restaurant offers some of the best views in the city while offering equally good drinks. With floor-to-ceiling windows at the penthouse bar, you can enjoy front row seats to the iconic Hong Kong skyline and Victoria Harbour while sipping cocktails or tucking into the restaurant's signature Italian-Japanese cuisine.
Read more
The drinks don't come cheap at 20-seat cocktail den Butler – which does at least help with meeting the $300 minimum charge – but they're some of the finest around. Master mixologist Masayuki Uchida's creations are universally superb. If you can't decide what to order, simply let the staff guide you or have them create a custom drink that's almost guaranteed to be exactly what you were after.
Read more
The first overseas outpost of Osaka's popular pancake chain. Cafe & Pancake Gram restaurant specialises in ultra-fluffy soufflé pancakes, including its signature three-layer Premium Pancake ($138), which is made fresh-to-order. Like the flagship store in Japan, each layer is 4cm thick and is served with maple syrup, custard and fresh cream. If you want to try this blissful, cloud-like creation, note that it's only sold at 11am, 3pm and 6pm each day in limited quantities.
Read more
This Michelin-starred resto oozes elegance and offers Hongkongers a menu full of high quality contemporary French cuisine that showcases the freshest ingredients straight from France. Top picks include vol-au-vent with langoustine and Grand Marnier soufflé. But to really get the best experience, order the six or eight-course Chef's Inspiration menu. Just make sure to give the restaurant three days advanced notice and you'll be in for a treat.
Read more
Tucked away inside Chungking Mansions, Khyber Pass is one of the few licensed restaurants in the iconic building and offers brilliant (and brilliantly cheap) Indian fare. While the plain tables and no-fuss service is not exactly the attraction, the authentic curries make it well worth the visit. Don't miss out on the delicious – and generously portioned – garlic naan, perfect for scooping up one of the excellent veggie or meat curries.
Read more
Joe's Billiards is a massively popular stomping ground for TST dwellers and visitors. With a relaxed and friendly atmosphere, kick back with a couple of beers as you shoot some pool at one of the five available tables – all equipped with cues in good condition. If pool – or billiards – isn't quite your cup of tea, you can always opt for a game of foosball, darts or beer pong instead.
Read more
Somewhat confusing to get around, Harbour City is actually three malls in one: the Gateway Arcade, Ocean Terminal and Ocean Centre. This mammoth shopping complex houses some 450 shops, 50 restaurants, three hotels and two cinemas. Aside from being a shoppers' paradise, this giant mall also sprawls along the Kowloon side of Victoria Harbour where you can walk along the promenade and take in the Hong Kong Island skyline. If you visit during any holiday season be sure to check out the stunning displays out front for the perfect photo op.
Read more
Boasting stunning harbour views and an interior to match, Hexa serves classic Cantonese fare with contemporary flair. Dishes are made with the finest ingredients, from the roasted Iberico char siu to braised pearl rice with matsutake mushrooms, morels and sea urchin. The restaurant also offers a range of inventive dim sum, such as steamed spinach dumplings with cheese and cheung fun filled with Kurobuta pork.
Read more
It's hard to miss this egg-shaped landmark on the Tsim Sha Tsui waterfront. The theatre dome that makes up half of the Hong Kong Space Museum is where visitors can enjoy documentary screenings under the curved ceiling of the planetarium. Pop along to the newly renovated exhibition halls for a plethora of interactive exhibitions including a virtual space station and the use of upside-down video images to experience the feeling of disorientation – it's more fun than it sounds.
Read more
Show more
Discover the hidden gems in another local 'hood
This neighourhood boasts a lot of hidden gems too and shouldn't be avoided just because it's perpetually crowded. From mini golf clubs to excellent restaurants, it's never boring in Causeway Bay, so here's our pick of the best things to do and places to eat in this densely-populated hood.
Read more