The best-late-night eats in Melbourne
You're up late. You need a feed. We're not here to judge, we're here to help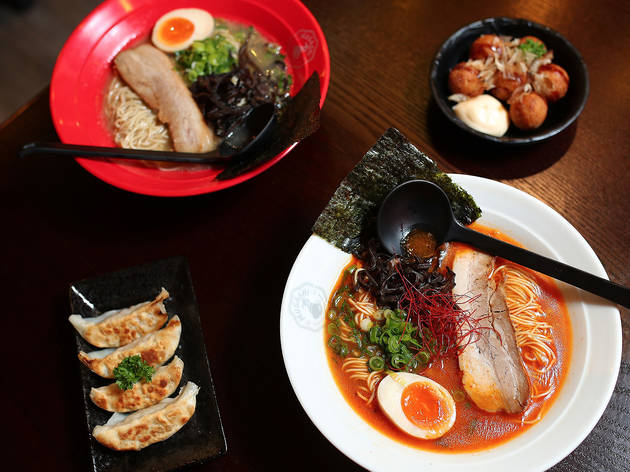 Our fair city wears the mantle of 'Late Night Champion' with pride. Nowhere else in the country can you party at all hours, and then go out for a civilised meal into the bargain. These are the best late-night eats to keep the pep in your party step for nights when you need to soak up some of those high spirits, or maybe you're just not ready for the night to be over.
For more late-night antics, peruse our guides to Melbourne's best late night bars, nightclubs and bars for dancing.
Melbourne's best late-night eats
What is it: Greek
When does the kitchen close: Never, it's open 24-hours
Whatever the size of your night, you really can't go wrong with a late-night souva. Luckily, Stalactites is open 24 hours, and their giro rotisserie set-up doesn't stop spinning day and night. They've got their prep game down to an art here: souvas arrive at the table or ready for takeaway in five minutes or less. The lamb souva comes with copious amounts of crunchy lettuce and yoghurt sauce – just the hit of freshness you need with the smoky lamb. The same speedy service applies even when you order something a little less portable. Take a load off and sit under the ceiling adorned with actual plaster stalactites and order a small mixed lamb and chicken giro platter. The grilled meats are charred from the spit, but you're going to need sides to go with the protein-only platter. Get some chips, a little less than fryer fresh on our visit but nicely seasoned with thyme, extra pita bread, tzatziki and salad to build your own little souvas..
What is it: Burgers
When does the kitchen close: Sun-Thu 4am; Fri, Sat 6am
The corner of Elizabeth and Flinders streets in the CBD is where hundreds of busy commuters, earphones plugged in, cause pedestrian gridlock. But in the wee small hours it's busy for a whole other reason – very late night burgers. It's designed for take-away, with only seven stools and a slim table. But that won't really matter, because this hole-in-the-wall, which opened in 2015 is keeping those grills hot until 6am on weekend party nights. The menu is sparse (six burgers, plus sides) but what it lacks in size it makes up for it in taste. Definitely add the loaded cheesy and bacon fries to your order; a generous bucket of golden crunchy fries laden with sizeable chunks of crisp bacon for a smoky hit and American cheese. The man-burger might be terribly named but it also happens to be the Noah's Ark of burgers - there's two of everything; two slices of bacon, two slices of cheese and two beef patties, cooked well done and made from Angus beef that they grind in-house.
What is it: Turkish
When does the kitchen close: Daily 5am
For the post-party crowd, the first glimpse of Alasya's glowing street sign – multicoloured bulbs twinkling on Brunswick's northern end of Sydney Road – is as comforting as a hug from your grandma. Hardly anything has changed about this sultan-sized halal Turkish restaurant in decades; not the wood-panelled walls, padded plastic chairs or glass cabinet filled with Turkish delight and baklava. In the small hours, the staff know you're here for a kebab, which is why the extensive home-style menu reduces after 10pm to the life-giving basics. Sink your teeth into a juicy chicken kebab, the smoky meat marinated in Alasya's punchy secret herb and spice recipe. You're not doing it right if garlic sauce isn't running down your arm – and you're doing it even better if you sneak a few fat, fresh, chicken salt-sprinkled chips into each bite. If you're not into food with faces, then the falafel kebab – the house-made beauties achieving the rare feat of not being too dry – is your new favourite midnight feast.
Spent all your money last night?
Things to do, Fairs and festivals
Strapped for cash? We can't help you pay your rent, but we can tell you where to get your kicks on the cheap – including drinks specials, free gigs, comedy nights, hikes and galleries.