The 11 best happy hour deals in Hong Kong
The best happy hour deals in town right now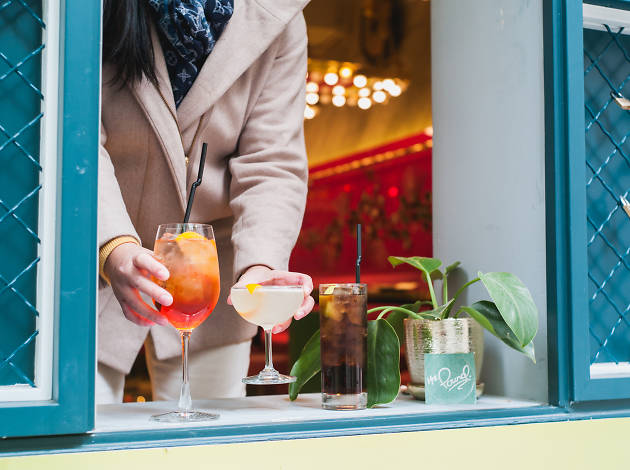 Burn your gym kit, throw out the juicer and stop telling everyone how good you feel. Despite our city not always being the cheapest when it comes to having a bevvy, the savvy drinker can land a bargain if they know what they're doing. Of course, we're referring to the hallowed happy hour. Here are 11 of the best right now.

And if you're going to be spending a lot of time in a bar, you better scrub up on how to hang out in one like a true Hongkonger.
11 best happy hour deals in Hong Kong
For a happy hour with a view, head to sky-high Ce La Vi at the top of California Tower. A good option if you've got visitors in town – selected beers, wines, spirits and cocktails are two-for-one for a brain-numbing six hours everyday. It's not the cheapest deal in town but it's still one of the most affordable ways to enjoy rooftop cocktails in HK.

When: Mon-Sun 3pm-9pm.

Read more
The Naked Chef has taken a playful angle with mocktails, cocktails, beer and wine that starts at a very enticing $10 from 6-7pm and increases each hour until 9pm. Drinks cost $20 from 7pm to 8pm and $30 between 8pm and 9pm. Chin chin!

When: Mon-Sun 6pm-9pm.

Read more
For a more upmarket, time-sensitive happy hour, modern Korean spot Jinjuu is a good bet. The 'Seoul Hour' starts off with cocktails, wines, beers and spirits (including soju, of course) at $40 from 5-6pm, increasing by $10 each hour until 9pm. That makes it $50 from 6pm to 7pm, $60 from 7pm to 8pm and $70 from 8pm to 9pm. Celebrity chef Judy Joo's menu is decent too, so we recommend a nibble with your tipples.

When: Mon-Sat 5pm-9pm.


Read more
One of Wan Chai's best Vietnamese grills is offering a tempting after work deal which may leave you unable to walk by 7pm – but with a big grin all over your face. For $108 you get unlimited red or white wine or Saigon beer – perfect paired with the smoky Viet street food. At the weekend get unlimited rosé for $198 from 3pm to 6pm. Little brother and next door neighbour Le Petit Saigon is offering half banh mi and a bottle of Saigon beer for $58 5pm to 7pm weekdays too.

When: Mon-Fri 5pm-7pm. Sat-Sun 3pm-6pm.
Read more
Hip American bar and eatery Lily & Bloom offers a generous four hours of happy hour deals throughout the week. With selected cocktails, beers, wines and spirits starting at $30 and peaking at $100. With a reputation for quality and quirkiness, this is a solid after work pitstop. The deal is also available for a pre-LKF saturday evening option.
When: Mon-Fri 5pm-9pm. Sat 6pm-9pm.
Read more
From the perennial happy hour masters who brought you the Stone Nullah Tavern and Posto Pubblico deals comes another crazy offer that definitely warrants a mention. This is a good one for the kind of after-work drinks where you want to forget your own name as soon as possible. All you can eat wings and fries, and all you can drink Pabst Blue Ribbon beers for a grand total of $98 – madness.

When: Mon-Fri 5pm-7pm.

Read more
If you can find your way in – everyone knows about the secret door by now, though, right? – you'll be rewarded with a solid after-work drinking den. Not the the cheapest of happy hours, true, with beer and wine from $50 and cocktails at $60, but Mrs Pound is a discerning lady – these are premium drinks. With snacks available from $21 too, pound for pound, you're still getting one of the best deals in town.

When: Mon-Fri 5pm-7pm.
Read more
Not all happy hour deals are created equal and sometimes you wonder why certain establishments bother advertising a happy hour when the offer is a cocktail that stills costs $150. Not so at New York Italian spot Posto Pubblico. They've gone insane. For $98 you get free-flow standard drinks – that means wine, beer and spirits – plus all you can eat cheese and charcuterie. Ridiculous!

When: Mon-Fri 5pm-7pm.
Read more
Show more
And when the happy hour ends...
Whether you're planning a date night to sweep your beloved off of their feet or just looking for somewhere in the clouds to get away from it all, here's our guide to the city's best rooftop bars.
Read more