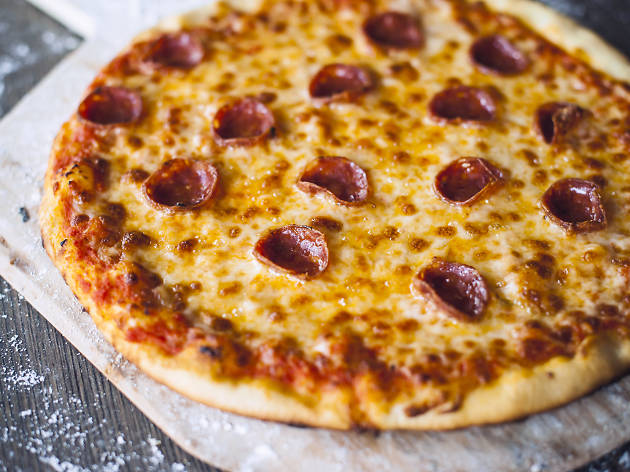 Best pizza restaurants in Hong Kong
Find the perfect slice at these top-tier pizzerias
Whether it's a larger-than-life New York slice or a refined Neapolitan pie topped with San Marzano tomatoes and mozza, there's something innately satisfying about a well-made pizza that's fresh out the oven. It's a good thing then that our city has upped its pizza game in recent years and now boasts pizzerias that rival those in Italy and America.
Whether you like your crust thick or thin, your toppings simple or indulgent, you're bound to find a slice to satisfy your cravings. And you'd be pleased to know that more than a few of these places do delivery.
RECOMMENDED: Continue the carb fest at the best Italian restaurants in Hong Kong, or consider a detox with our list of the best vegan and vegetarian restaurants doing delivery.
The best pizzas in Hong Kong
This Hollywood Road spot has been serving up rustic Italian fare for years and has never lost its status as one of the best pizza joints in Hong Kong. The margherita is our favourite, made in traditional Neopolitan style in a custom-designed pizza oven shipped straight from Italy. The crust is light and crunchy and the base thin. The sauce is bursting with flavour and the buffalo mozzarella is the savoury icing on top.
A cosy neighbourhood joint perfect for Kennedy Town, Alvy's serves up good pizza and good drinks in equal measure. The venue is perfectly reminiscent of a casual New York neighbourhood bar – another success by designer Paul Gelinas, who nailed the neighbourhood gastropub vibes at May Chow's Second Draft in Tai Hang. Expect not just scrumptious takes on classics like the pepperoni ($148), four-cheese ($148), and meatball pizza ($168); but also creative inventions such as the Bourbon Pie – comprised of BBQ sauce with mozzarella, chicken, and deep-fried shallots; and the Bak Gwei ($148), which consists of gruyere béchamel with char siu, mozzarella, and ginger paste.
Amalfitana brings a slice of the Amalfi coast to Repulse Bay. More precisely, slices of quality Napolitano-style pizza in a relaxed setting. Amalfitana is small and has a distinct sense of place with its Amalfi Coast-inspired mural and turquoise tiled pizza oven. The menu is small, too, and simple. A handful of starters, desserts, and the artisanal pizzas the restaurant prides itself on. As well as the humble margherita ($140), Parma ham ($190), and the mouthwatering calzone ($190).
Located not far off the Happy Valley Racecourse, Dough Bros may be a tiny take-out pizza shop with just a few stools, but their artisanal sourdough pizza and freshly-filled doughnuts (heads up, Nutella fanatics!) are certainly worth the wait. Not to mention the wide selection of local/imported beers and wines that are sure to quench your thirst as the chef hand-rolls your pizza on the spot. Good news for those who nearer to Central is that Dough Bros have recently expanded their operations to Soho.
The team behind burger bar Beef & Liberty quietly opened a new venture in late 2019, but this time focusing more on cheese than beef and subbing out soft buns for bready crusts. This pizzeria is located on the leafy fourth level of Pacific Place in Admiralty and proves a worthy addition to Hong Kong's growing list of quality pizzerias. The restaurant takes its name from an old type of awned wheat that has been used for centuries in baking and naturally utilizes this ancient flour in its pizzas. The result is pizzas that have a uniquely earthy base, to which they add all manner of top-notch flavours to make the pizza experience complete.
The simple menu bears only six pizzas – from margarita ($98) to marinara ($118), but we particularly recommend the parma ($138), which is topped with extremely generous amounts of good-quality ham and rocket for an explosion of flavour. Next time you're in Admiralty on an empty stomach, you might want to check this one out.
Tucked away in an industrial building in Kwun Tong, Little Mario's is one of the unlikeliest of places in town to score a great slice (it also operates a branch on Park Island). And yet it delivers – literally and figuratively – some of the best pizzas we've had in the city. The dough here is always made fresh using top-shelf ingredients and is baked until it crisps up around the edges while retaining a satisfying chew. The classic pepperoni is the way to go here, although the there are also some more creative offerings, including the chicken tikka and all-day breakfast pizza. Little Mario's offers pastas and salads too but we say stick to the pizzas.
When we first heard Motorino was setting up shop in the district, we expected great things. After all, it brings one awesome reputation with it, being one of New York's most popular pizzeria chains. And this is its first Asian outing to boot.
On Soho's busy, hilly Shelley Street, this Neapolitan-style pizzeria is decked out with green-striped walls and a silver ceiling. The eye-catching restaurant shouts home comforts and makes good use of its space. As for the pizzas, they're all good, but we recommend the meatball and the four cheese.
Mother of Pizzas takes the very best of the New York and Neapolitan traditions and bakes them into a single pie. Crispy and chewy, the hand-stretched crusts here are delicately charred in places and painted with a house-blended sauce made with San Marzano tomatoes. The slices are American-sized, designed to be folded up and eaten with a cavalcade of toppings, from the Pepperoni L'Americano (mozzarella, San Marzano tomatoes, pepperoni) to the more adventurous Hawaiian Coco featuring fresh pineapple and shredded coconut.


This recent addition to the buzzing food scene on Peel Street has already gained a loyal following for its doughy, flavourful pizzas complemented by an intensely pleasant and hip atmosphere. The menu boasts a bunch of creative pizzas, from the ubiquitous parma ($140) to less seen offerings like the spicy ndjua ($100) and the rustica ($95) – which is topped with pancetta, rosemary and baked potato among others. Add to the pizzas thoughtful starters like mozzarella fritters and cold cuts, and you have the perfect place if you want to share good slices with a friend or significant other in laid-back yet romantic surroundings.
Now to work off all that dough