The 24 best first-date spots in London
Meeting IRL for the first time? Here are our favourites places and activities for a first date in London
First dates are exciting and anxiety-inducing in equal measure, and while there are certain things you simply can't control, getting the location right will help things get off to a good start.
With that in mind, we've rounded up some of our favourite first date ideas in London, from open-air film screenings and ping-pong tournaments to rock-climbing venues, cosy, fire-lit pubs, slap-up steak dinners and free exhibitions. Here are our favourite spots for a first date in London. Read on and get planning, you old romantic, you...
RECOMMENDED: Alternative romantic things to do in London
First Dates London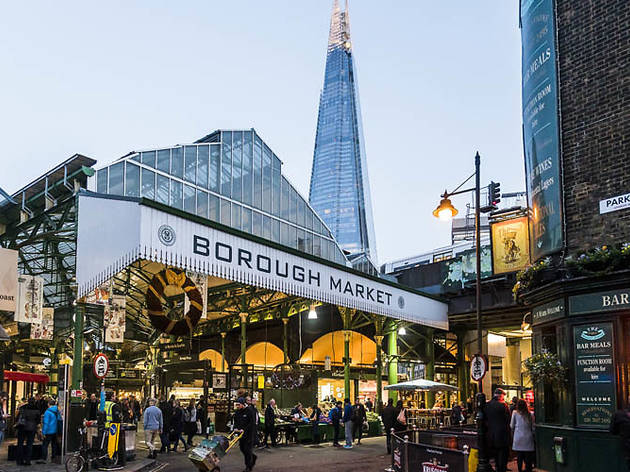 Getty Images
Are you a foodie? Is your date a foodie? If the answer is yes and yes, then a first date won't get much better than a good mosey around Southwark's glorious Borough Market. Grab a flat white from Monmouth Coffee Company, before oohing and aahing over kaleidoscopic fruit and veg, giant wheels of cheese, cured meats and mouth-watering pastries... You'll be united in hunger and greed.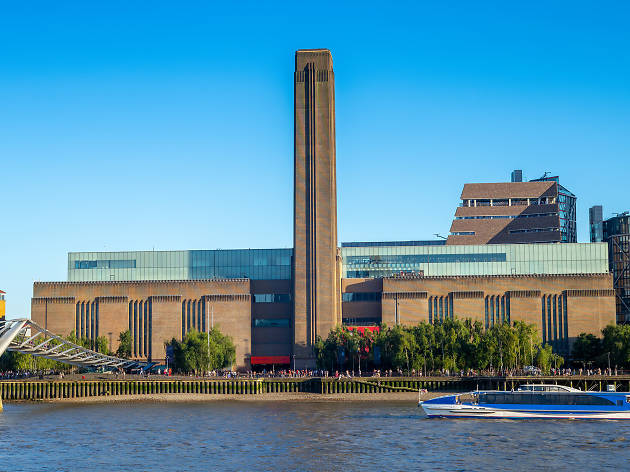 See free art at the Tate Modern
Wise up on the likes of Hockney, Rothko and Warhol if you want to really impress your date while strolling around Tate Modern. When you're ready for a sit down and a little refreshment, hit the Terrace Bar on the first floor of the Blavatnik Building for a coffee or a cocktail. Look out for Tate's monthly late-night events, which include Hip Hop Karaoke, and your arty activity could take a very different turn.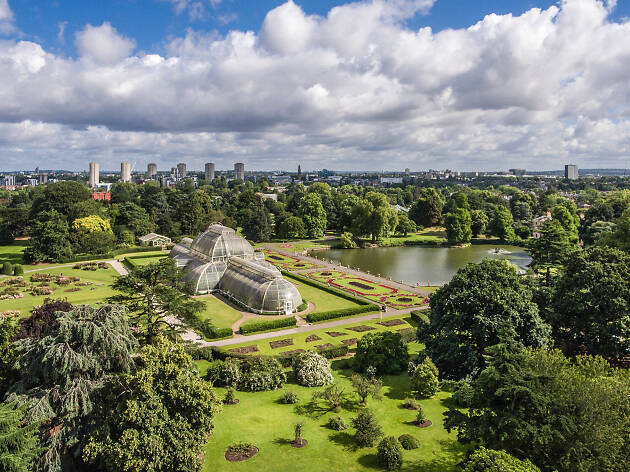 Photograph: RBG Kew
Stroll around Kew Gardens
Whatever the weather, Kew Gardens is a beautiful place to while away an afternoon. Spot the rarest of rare plants in the world's largest Victorian glasshouse, get a taste of the tropics in the vast Palm House, roam the Arboretum and Woodland Garden and teeter across the Treetop Walkway for (literally) lush views. The cherry on top of this scenic date? A leisurely cream tea at its on-site restaurant, The Botanical.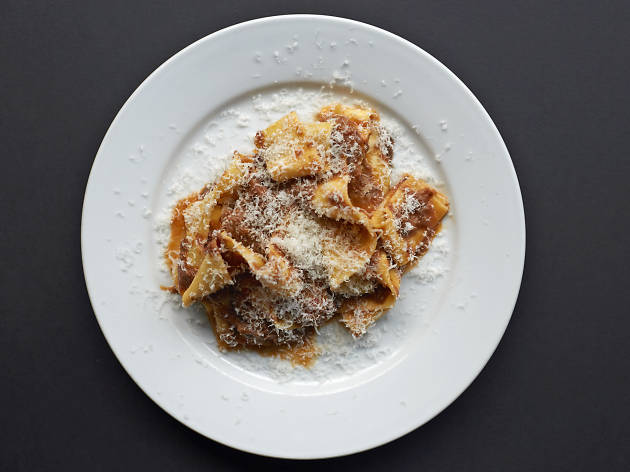 Have an intimate supper at Trullo
Highbury's Trullo is the place to go for faultless Italian grub served in cool, contemporary surrounds. Look out for the chef's beef shin ragu, which is so popular that it features on sister restaurant Padella's menu, too. Meeting in the daytime? Take advantage of a calmer ambience, and a cracking-value £12 set menu.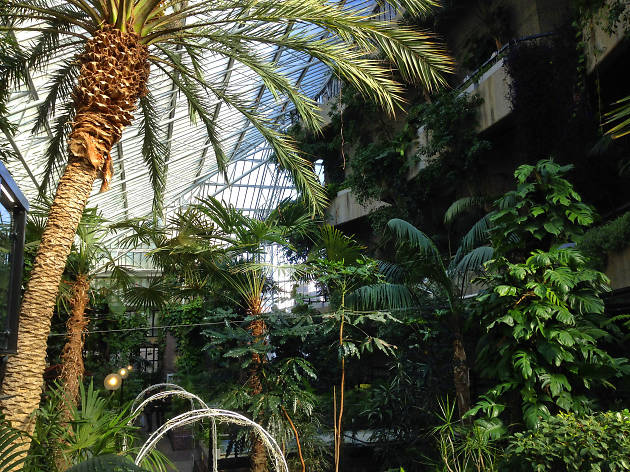 Photograph: diamond geezer/flickr
Check out the Barbican Conservatory
Opened in 1984, the Barbican Conservatory is pretty special. Home to more than 2,000 species of plants and trees (as well as exotic fish), there's plenty there to look at if conversation with your date starts to dry up. And if your romantic rendezvous couldn't be going any better? Well, with cinemas, theatres, concert halls, bars and restaurants all under one roof, an afternoon drink might just blossom into an all-nighter.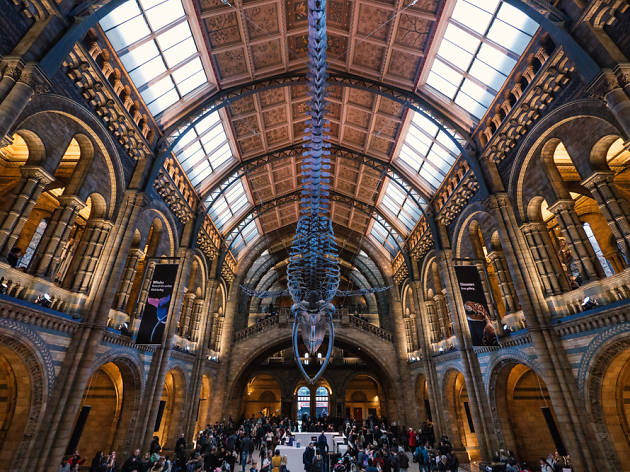 Photograph: pio3/Shutterstock.com
Visit the Natural History Museum after hours
Frankly, any date at South Ken's magnificent Natural History Museum would be a corker – but booking one of their late-night events takes the experience to new heights. As well as Dino Snores sleepovers, pop-up science stations, talks and exhibitions, the spectacular venue hosts silent discos, which take place beneath Hope the whale. Fin-tastic times.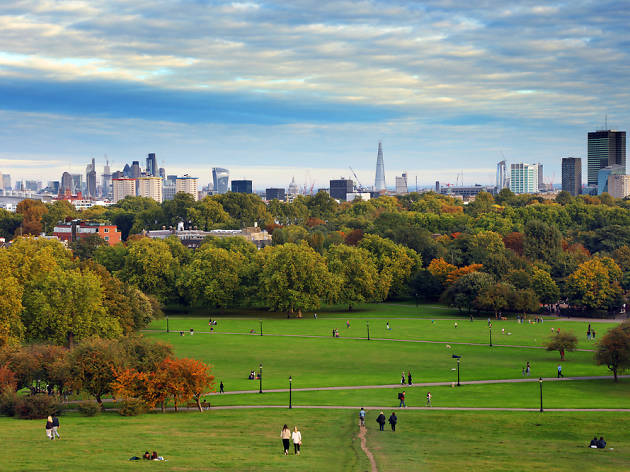 Drink in that London skyline while drinking your can of G&T in a prime spot on the top of Primrose Hill. A picnic in a pretty park is the antithesis of an over-the-top expensive meal at a flashy restaurant. Picnics are low-pressure – you don't even need to pack a hamper, just grab some snacks from the local shops and settle in.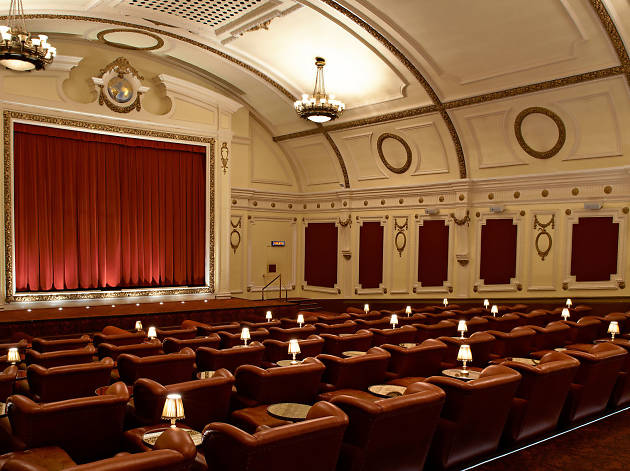 Some might argue that a first date should be about getting to know each other, and how can you do that in a dark cinema? Well, being in a dark cinema takes a huge amount of pressure off – and seeing a movie gives you something to talk about afterwards. The Prince Charles Cinema plays old classics alongside new releases, as well as hosting regular movie marathons and pyjama parties. For luxe comfort (and equally luxe bar snacks) book a sofa for two at Electric Cinema.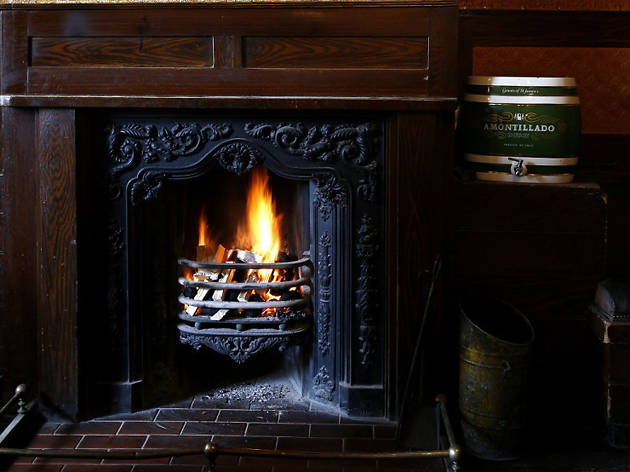 Grab a seat by the fire at The Holly Bush
Embrace bitterly cold, rainy weather as an excuse to bundle into a cosy pub with a roaring fire. Our fave is Hampstead's Holly Bush pub, the most cockle-warming backdrop for a chilly day date. Historic, homely and with hearty grub, this centuries-old local favourite is the perfect place to get acquainted with your new amigo (over a good bottle of red).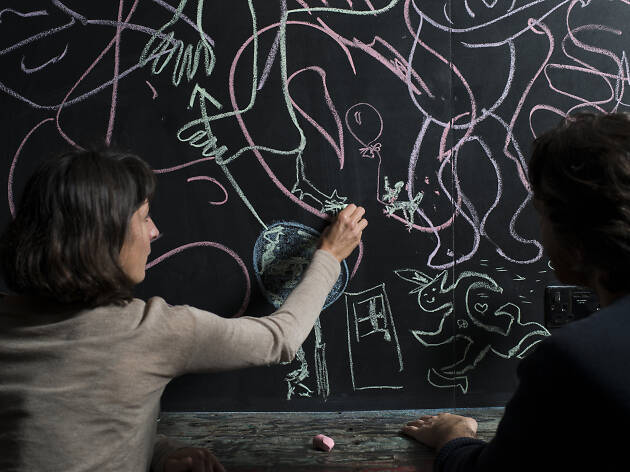 Jamie Lau
Express yourself at Doodle Bar
If you're feeling a little tongue-tied, you can write flirty messages (or draw crude doodles) on the walls of this buzzy Bermondsey bar. There are also ping-pong tables to keep hands occupied and first date nerves quenched (the drinks help, too).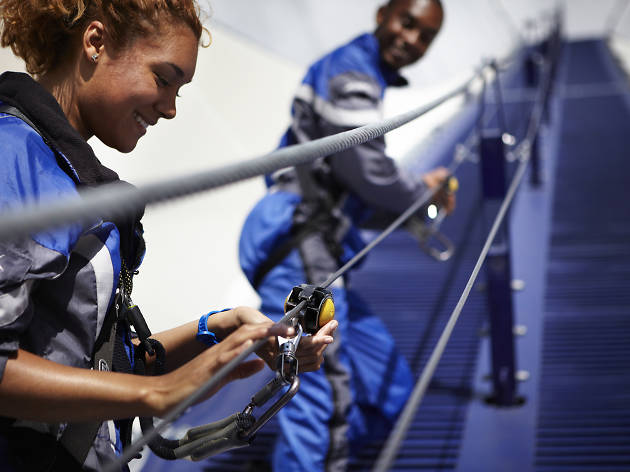 Climb the roof at The O2 Arena
Did you know that you can actually scale the roof of The O2 Arena? You and your love interest will be able to gaze out at landmarks up to 15 miles away, at 52 metres up. If heights aren't your thing, The O2 is home to a heap of entertainment options – a cinema complex, restaurants and bars, bowling – and Oxygen Freejumping, if you want to keep that adrenaline pumping.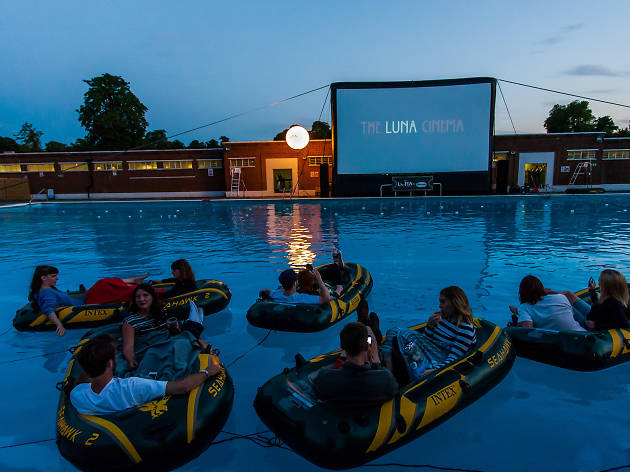 Catch an open-air film with The Luna Cinema
Londoners love flocking to parks, castles, swimming pools and palaces to see beloved movies like 'ET' or 'Grease' projected on to the big screen. The Luna Cinema matches films with locations perfectly – playing 'Jaws' at Brockwell Lido, for example. Pack a picnic and we reckon you've got yourself a hard-to-beat first date there.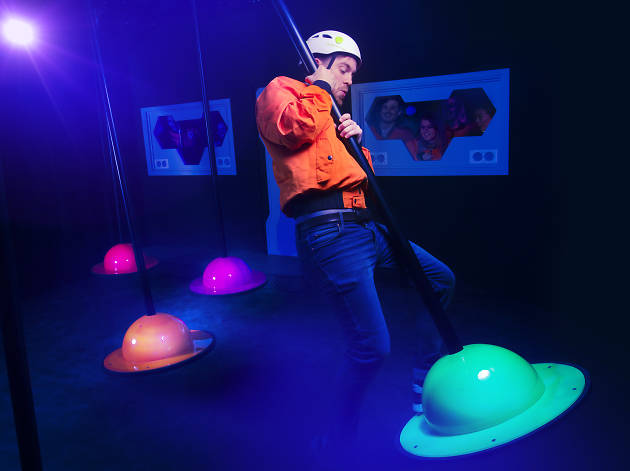 If you're fans of the hit '90s show (or even if you're not), London's real-life Crystal Maze is a total blast, and booking it as a date would certainly make a refreshing alternative to the traditional drinks-and-dinner set-up. Go in a group with mutual friends for guaranteed fun minus the first date nerves.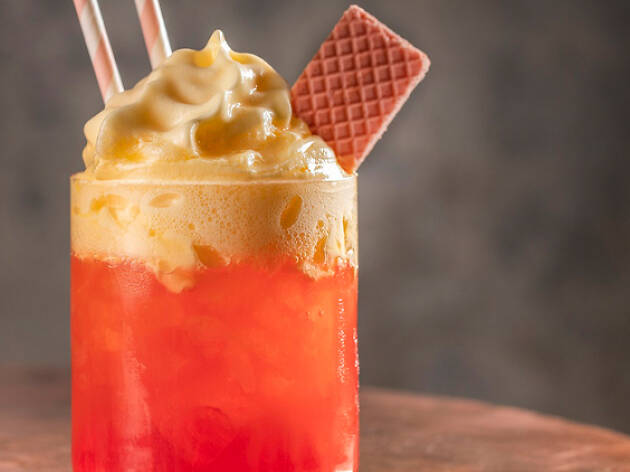 Have drinks at The Blind Pig
Sitting above Jason Atherton's Social Eating House is speakeasy-style bar The Blind Pig, where retro decor is combined with fun drinks. Strawberries and Cream is a tasty mix of strawberry and pepper-infused Bombay Sapphire, Aperol, strawberry wine and a cream soda reduction. Since the bar snacks are sent up from the restaurant below, you and your date won't have to go hungry, either.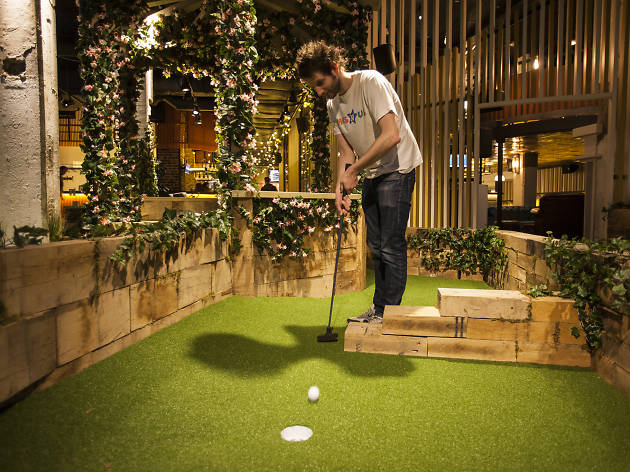 Andy Parsons
Play crazy golf at Swingers
A spot of semi-competitive crazy golf, accompanied by drinks and street food, makes a great date. Swingers has two locations (in the West End and the City) and you can either book in a group or as a duo. The lively atmosphere, tunes and ready availability of alcohol (bar staff deliver your drinks as you putt) will keep any potential awkward silences at bay.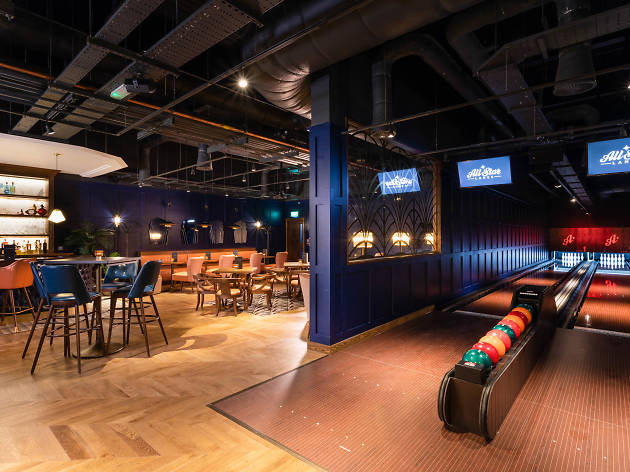 Go bowling in style at All Star Lanes
All Star Lanes bowling alleys (there are four London locations) are quite a departure from the sticky-floored bowling lanes of your teenage years. With all the gear flown over from the States, the alley's Americana influence extends to food, too – think tacos, wings, burgers and buttermilk chicken. Good, clean, 1950s-style fun.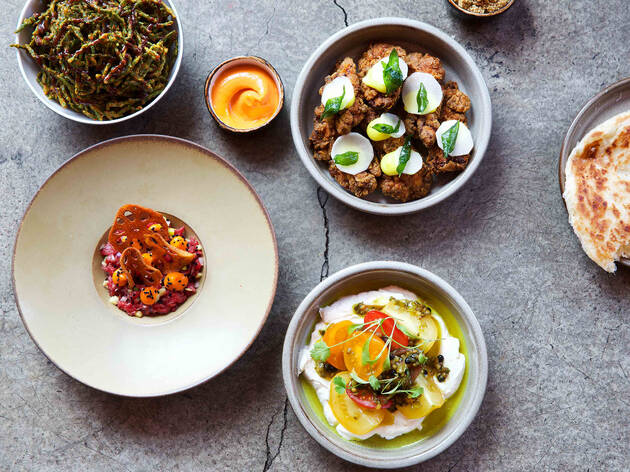 If you've found a fellow fan of Anglo-Indian cuisine, Soho's Kricket is a must. The combination of pleasing decor and lip-smacking food makes this a peachy spot for a first date. Be strong and resist the urge to start snapping pics of the highly Instagrammable dishes, which range from Keralan fried chicken to cardamom kheer rice pudding. Yum.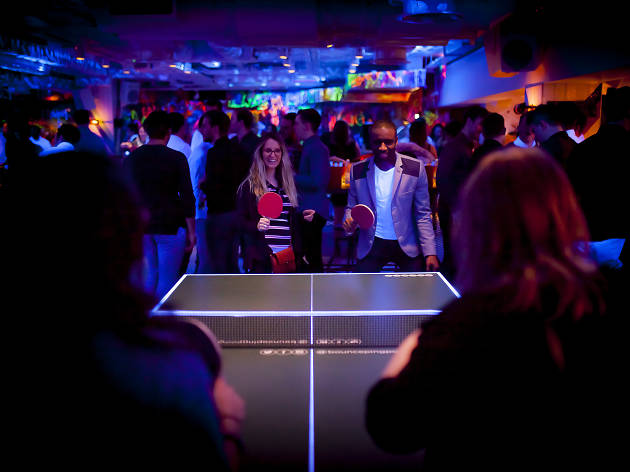 Get competitive at Bounce
Quietly harbouring a ping-pong-specific competitive streak? Take your date to Bounce in Old Street, for a casual (or combative) game of bat and ball. With a 25-foot long pizza counter and bar, you can even squeeze a little food, drink and conversation into the evening. While you're there, don't forget to give Bounce's latest 'Wonderball' concept a try – with immersive projections that turn your ping-pong sesh into a giant computer game.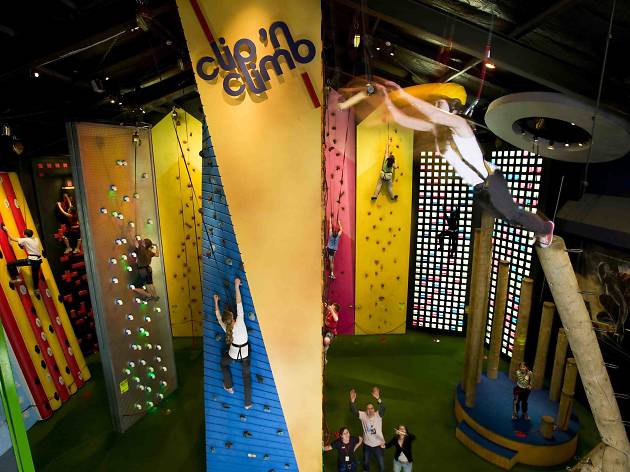 Lee Howell
Go rock-climbing at Clip 'n' Climb
Wanna get a little sweaty? Chelsea's Clip 'n' Climb is spot-on for rock-climbing amateurs looking to combine a little exercise with a lot of fun. After flexing just about every muscle in your body, hit the juice bar for some light refreshments – or head to nearby date-friendly Megan's for the all-day brunch.
Take a pedalo out on the Serpentine
What could be more romantic than drifting down London's oldest boating late, ice cream or book of poetry in hand? You can choose between a half-hour or hour slot, depending on how confident you're feeling about your date. Pop into the Serpentine's Lido Café and Bar for a gin and tonic or a Bloody Mary afterwards.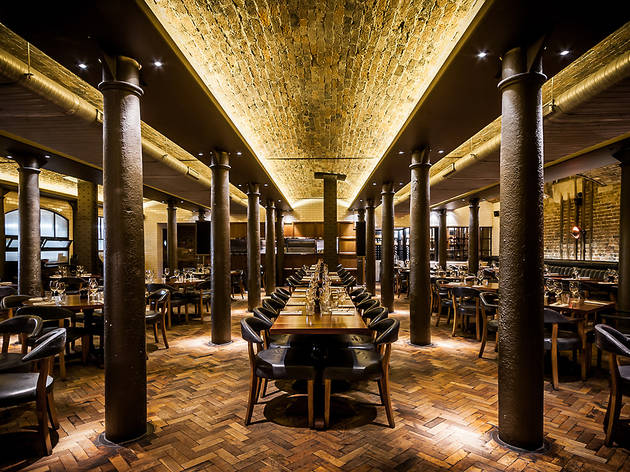 © Toby Keane
Have a classic steak dinner at Hawksmoor Seven Dials
With low, flattering lighting, cocktails aplenty and a foolproof menu, Hawksmoor Seven Dials – the restaurant's flagship branch – is the place to impress and to be impressed. If you arrive before your table's ready, be sure to order an old fashioned (very Don Draper) at the superbly stocked bar.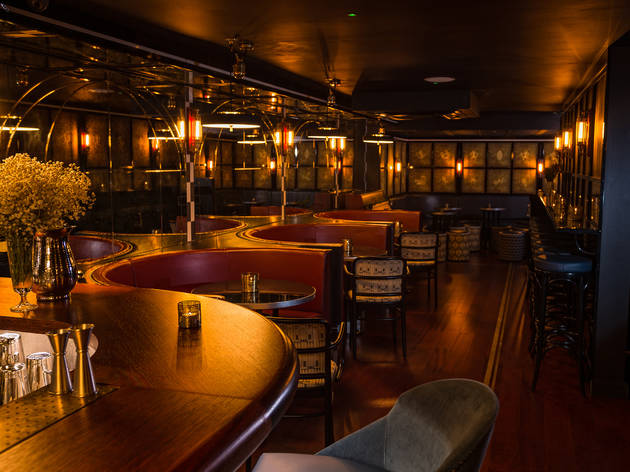 © Addie Chinn
Sip whisky cocktails at Swift
The atmospheric basement of Soho's Swift is perfect for first dates. Tables can be reserved ahead, so there'll be no awkward bar-leaning – and the cocktails are high quality and inventive. Book on a Friday or Saturday from 9pm if you'd like your drink with a side of live blues or jazz music.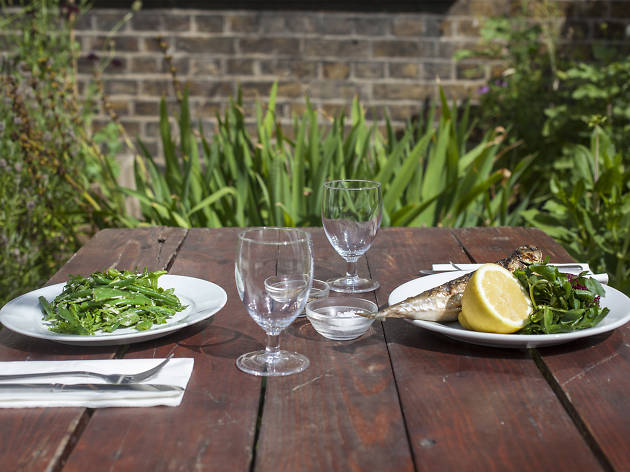 © Jael Marschner
Brunch at Rochelle Canteen
If your date doesn't know about Rochelle Canteen, they're in for a treat. It's housed in a Victorian school, and you'll be buzzed in through a tiny door before finding a seat and ordering from a short, evolving menu of seasonal, vibrant and beautifully cooked dishes. With a lovely, plant-filled outdoor patio, this is one to book when the sun's shining.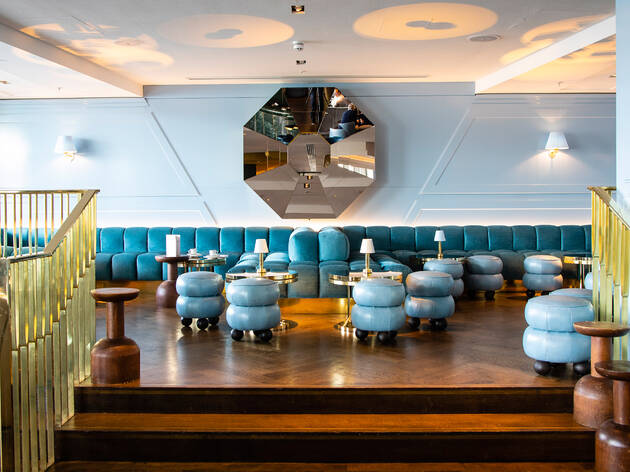 Andy Parsons
Impress your date at Lyaness
This spring, the 'World's Best Bar' Dandelyan became Lyaness. With the same founder, location and team behind it, you can expect the same excellent standards. Cocktails are based around seven delightfully weird ingredients, which we won't even attempt to explain. Suffice to say, this is one impressive bar to take a hot date, with a great location on London's South Bank.
Feeling the love?
This is London, and despite what you may have heard, this is the city of (self) love
Snap up exclusive discounts in London
Time Out's handpicked deals — hurry, they won't be around for long...