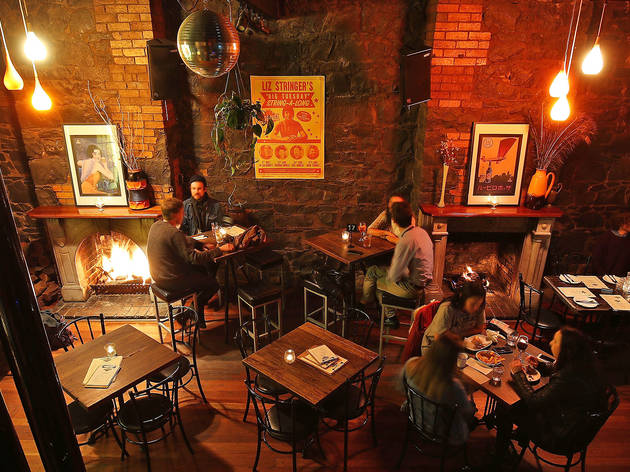 5 ways to make the most of winter dining in Melbourne
Thinking of making your way to Melbourne for a winter getaway? Follow our guide to the hottest new restaurants, cosiest wine bars and the hidden gems you must visit
Discover the best new restaurants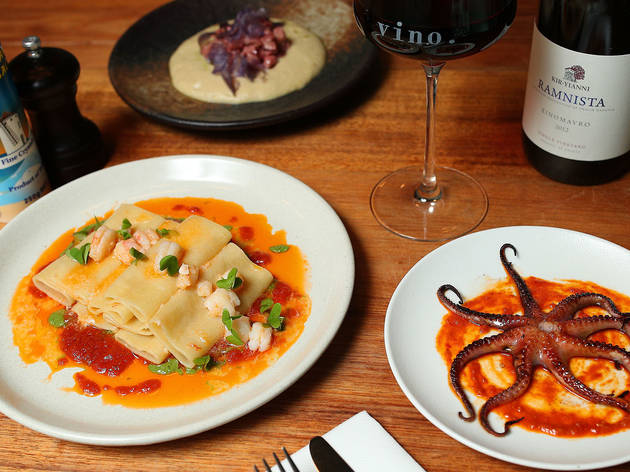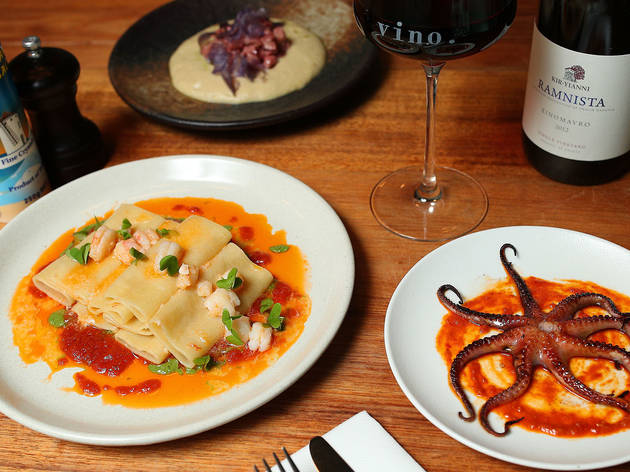 Photograph: Graham Denholm
There's a reason why Melbourne hosted the prestigious World's 50 Best Restaurants last year; the city is one of the world's most exciting culinary capitals. What's more, plenty of Melbourne's newest restaurants and bars are ideal for cosy winter dining.
If your idea of perfect winter comfort food begins and ends with pasta, you'll want to book ASAP for a table at Osteria Ilaria – the Italian restaurant that took out Time Out's 2017 Food Awards. Speaking of Italian fare, Lygon Street – which has long been famous for its Italian restaurants – has seen a resurgence in the last few years, with the likes of new-guard eateries like pizza haven Mr Pietro.
Searching for somewhere you can really treat yourself? The Mayfair – which you'll spot glowing enticingly from the Sofitel forecourt – represents the best of old-world dining wrapped in a very contemporary package. Slip into a plush circular booth, sit back and listen to live jazz and take your pick of mod-European fare; you won't be disappointed.
To really escape the cold, head underground to the newly opened Beneath Driver Lane – a cocktail and whisky bar located in an old bank vault. This candle-lit, cosy and cavernous space is the perfect place to while away the hours with an Old Fashioned in hand. Plus, any venue that serves Reuben sandwiches at 2am is alright by us.
You can't spend a weekend in Melbourne without engaging in the city's favourite pastime: brunch. Our favourite new café is Industry Beans – the new CBD outpost of one of Fitzroy's finest cafés serving some of the best coffees in town (they roast the beans in their sister café). Order (and Instagram) the granola; a pretty affair filled with granola, bright-pink compressed watermelon, slices of coconut flesh, a splash of mango-and-orange puree and white pineapple foam.
Embrace Melbourne's favourite dining habit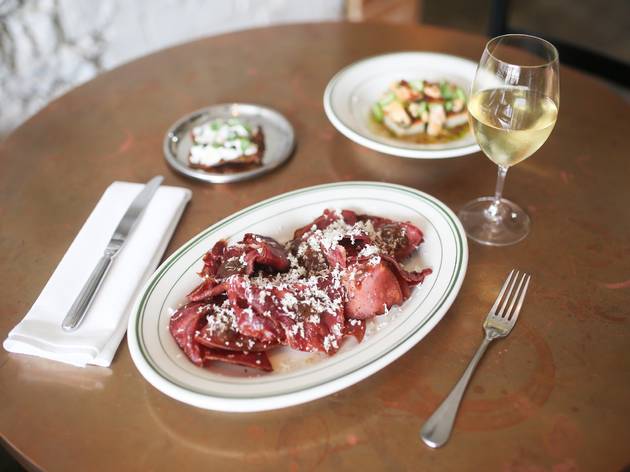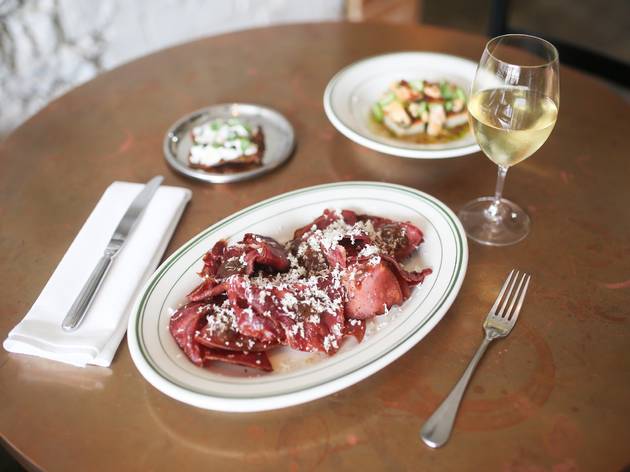 Photograph: Sean Dwyer
Is it a bar or a restaurant? This was a question that Melburnians began asking themselves several years ago before the answer became clear: we're living in the age of the bar/restaurant hybrid, and we're not looking back. These days, some of the city's finest bars serve delicious, clever snacks as well as world-class wine lists (or is it the other way around?). These venues also happen to be some of the cosiest you'll come across, perfect for those blustery winter evenings.
A frontrunner in this new generation of dining is Bar Tini, which took out Time Out's Bar of the Year for 2018. Inspired by Spanish bodegas, Bar Tini takes tapas to another level with high quality canned seafood; think baby sardines, calamari and razor clams caught and cleaned by hand, preserve and served with their housemade sourdough.
Some other leaders of the pack include Embla, staffed by friendly and incredibly knowledgable sommeliers as well as chefs rustling up surprising snacks like creamy stracciatella with fermented fennel and dill, plus comforting favourites like a half chicken with whole garlic cloves. There's also Bar Liberty in Fitzroy (order the pips with savoury doughnuts, trust us), nearby wine bar Marion with its ever-changing menu, and Archelin – a new palace of late-night mischief serving Bolognese jaffles until 3am.
Turn up the heat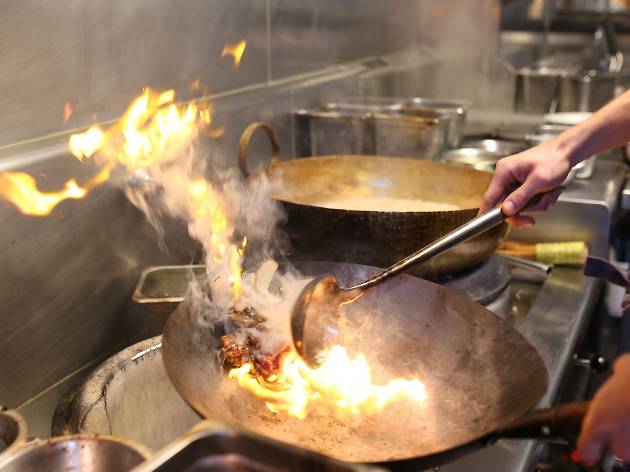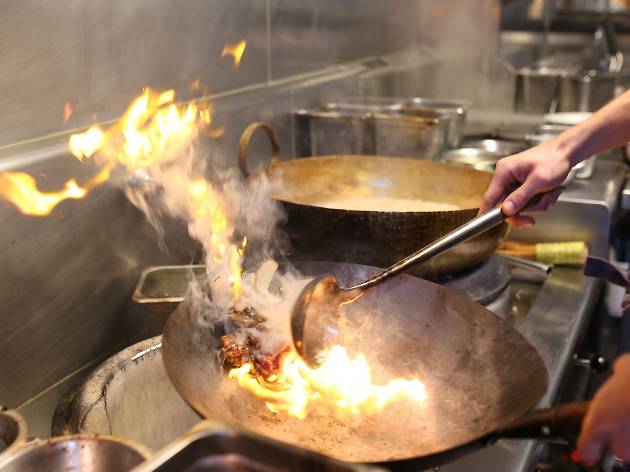 Photograph: Graham Denholm
When the weather gets cold, Melburnians like it hot. You can eat your way around the world in Melbourne – but if you're into heat, we recommend starting with Long Chim. The headline dish here is the chicken larp, a northern Thai dish that packs a punch with its shallots, garlic, lime, lemongrass and plenty of spice. A recently opened cheap eats champion is Hi Chong Qing, a noodle joint specialising in wheat flour noodles in broth packed with Sichuan peppercorns.
Sometimes, it pays to know your heat threshold; don't order the 'really fuckin' hot' fried chicken at Belle's Hot Chicken unless you're ready to say goodbye to your tastebuds. Still, Southern fried chicken doesn't get more delicious than this – and there are some more reasonable spice options to choose from, plus natural wines to seal the deal. For some more Southern goodness, don't go past barbecue stalwart Fancy Hank's (the smoky beef brisket is a must). Alternatively, go south of the border to Mexican taqueria Hotel Jesus.
Cosy up beside a fireplace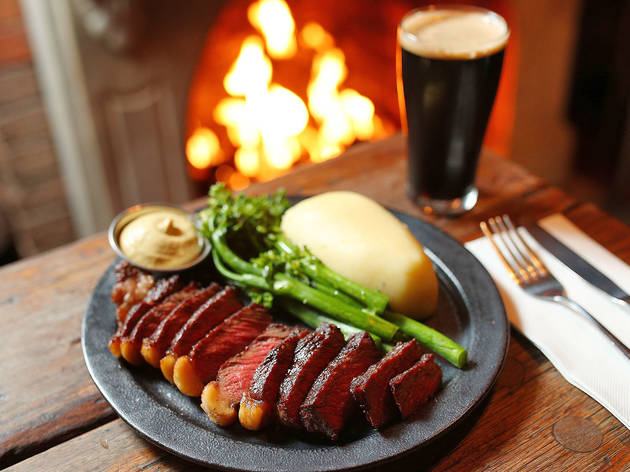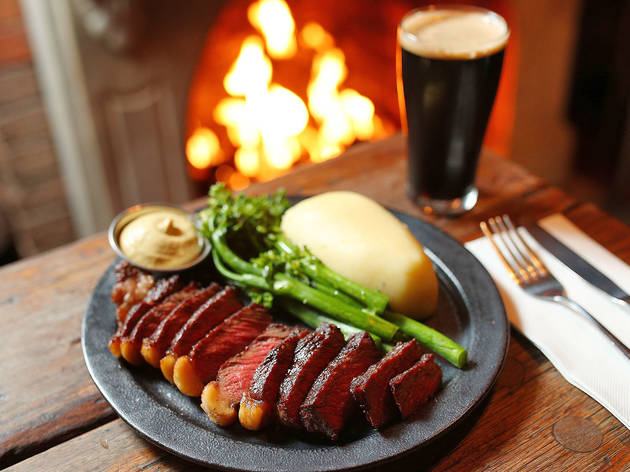 Photograph: Graham Denholm
This one's a no-brainer. While cold winds blow outside, take a seat next to a roaring fire at one of Melbourne's many neighbourhood pubs with fireplaces. Our top pick is the Gasometer Hotel in Collingwood – an old-school pub offering life-giving Sunday roasts, classic burgers and an unbeatable vegetarian menu.
If you're a beer aficianado, then head southside to the Local Taphouse, which boasts more than 20 taps of beer from all over the world, fireplace-adjacent tables, plus winter favourites like confit duck legs, mussels in white wine and roast lamb.
You'll feel like you're in a wintry gothic novel at the Wesley Anne – a pub housed in a former church on trendy High Street in Northcote. You can eat a hearty pub meal in the adjoining band room, lit up with a great wood-burning stove.
Enjoy a long lunch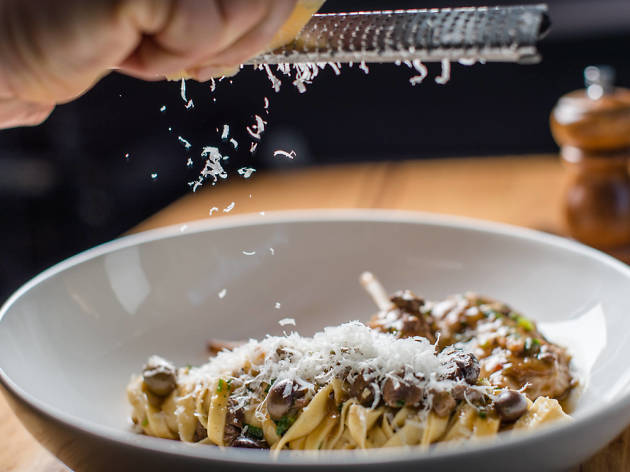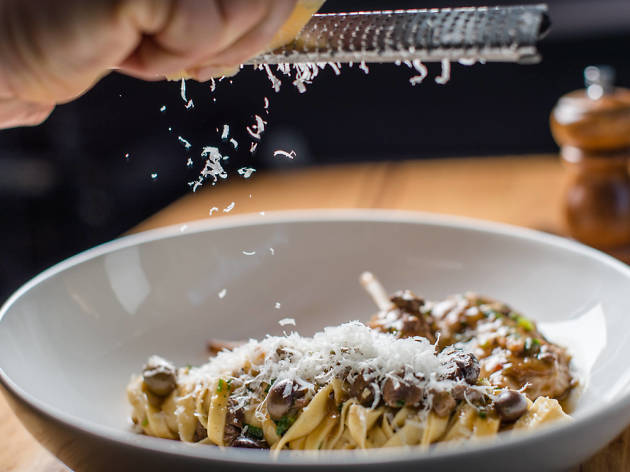 Photograph: Eugene Hyland
There's nothing like spending a blustery afternoon with good friends and good food. Melbourne is packed with venues just waiting to welcome you for an hours-long feast; and all tastes are catered for if you know where to look.
If you're craving a bit of classic hospitality, then say bonjour to French Saloon. Housed above laneway favourite Kirk's Wine Bar, this bar and bistro will keep your tastes buds entertained for hours with house-made charcuterie boards, roast chicken with smoked bacon and top-notch dry-aged steak.
Alternatively, head further south of the continent to Lello Pasta Bar – a Flinders Lane Italian restaurant where pasta is made lovingly by hand every day.
To spice things up, gear up for a Chinese feast with a difference at Lee Ho Fook. Here, chef Victor Liong is dishing up southern Chinese fare (with plenty of chilli, of course) in a sleek laneway setting.
Plan your trip around these winter highlights
Whether you're looking for world-class restaurants and bars, blockbuster art and theatre, unique shopping experiences or exhiliarating sports, Melbourne has you covered this winter. Art-lovers won't want to go past MoMA at NGV: 130 Years of Modern and Contemporary Art at the National Gallery of Victoria; a showcase of masterpieces on loan from New York's Museum of Modern Art, from Dalí to Picasso to Pollock. The Melbourne International Film Festival will attract movie buffs from across the country, and sports fanatics will flock to international sporting events.
Best selling Time Out Offers