The best coffee in Sydney
Time Out's top spots for getting buzzed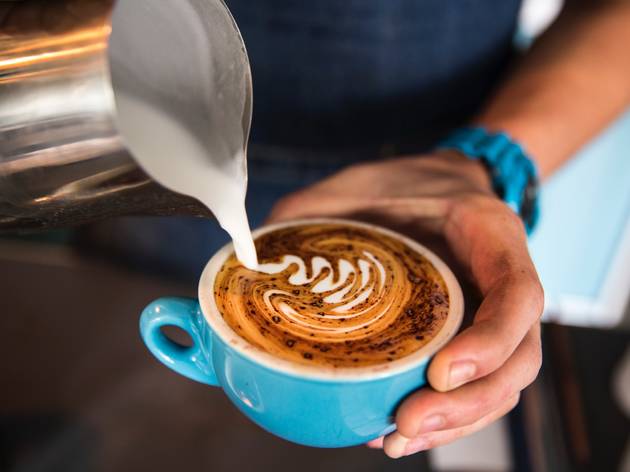 We are a city in love with coffee. And we're damn good at it too. Here's our list of where to go and what you'll get.
Every coffee type is tasted fresh daily before the doors swing open at seven, and the vigilance doesn't cease until the doors are closed. That's dedication.
Read more
What was once an old printing is now a high-ceilinged sanctum filled with the heady scent of Golden Cobra's Human Cannonball blend and some cruisy tunes.
Read more
The second store in the Campos fleet resides in a beautifully restored warehouse space. Drink your fill of the Campos espresso or think outside the coffee pot and try a different single origin brew, a cold drip or filter coffee at the pour over station.
Read more
Hugely popular with locals, expect to sidestep parked surfboards when you step in for a quick ristretto, macchiato, cappuccino, flat white, doppio or Bean of the Day before hitting the waves revived.
Read more
The coffee here really is something. They use Single Origin beans for when you need the firepower of an espresso shot, but with all the extra space they've been able to add a slow brew bar for floral cold drips, pourovers and filter coffee.
Read more
This Surry Hills coffee nook serves up excellent espresso care of the Pacemaker house blend that they punch out on two coffee machines – your standard café workhorse plus a lever press machine that produces a softer, more delicately flavoured shot.
Read more
Here at this Melbourne import they punch a dark, glossy, fragrant shot that might have you knee-slapping and hollering 'yeehah' if this place wasn't so chilled.
Read more
Need a side of brekky with that cup o'Joe?
Aussie breakfasts are legendary the world over, and we damn well know how to do them right here in Sydney. From the best cheese toastie around to that liquorice bread, here's our list of where to go and what to order at the best cafés in Sydney.
Read more