Things to do in London this Friday
It's time to clock off, wind down and get your weekend on...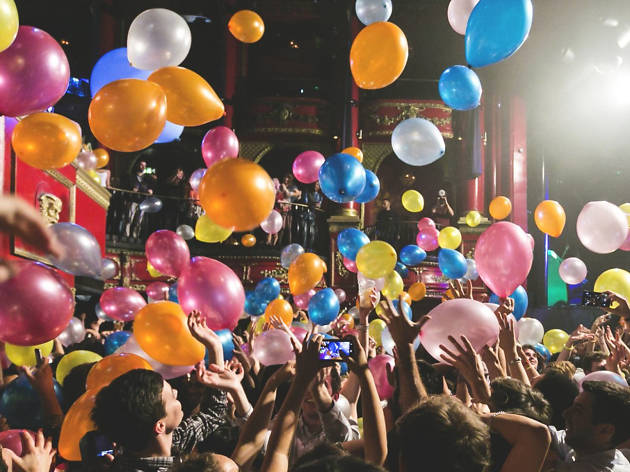 Find fantastic ideas for things to do on a Friday, just in case you've left it to the last minute. Check out the best entertainment, nightlife and events happening in the capital this Friday. The weekend starts here...
RECOMMENDED: Find more things to do in London this weekend
Obscenely funky and  highly acclaimed DJ crew are often to be found spinning rare disco gems in a New York loft party or Berlin basement session. Essentially, if you dig disco, you'll dig HMD and their encyclopedic knowledge of funk and disco. These guys know how to host a mad one.
Read more
Let's get reeeeeady to… er, grumble? Old timers Don and Reg have had enough of those fresh-faced youngsters clogging up dancefloors all over the capital, they're making some space for the golden oldies in the heart of city. How? With a strict no under-28s door policy, of course, governed by no-nonsense mistress Vera at the gate, so bring ID, folks. Once through, you can shuffle to your heart's delight to disco, indie, pop and rock by the likes of T-Rex, Kylie, Tom Jones, Soft Cell, Spice Girls, Kate Bush, Pulp and more. Plus there'll be 'The Oldest Swinger in Town' dance competition – just don't put your back out, eh?
Read more
One of the many sour points of Soho institution Madame Jojo's closing at the end of 2014 was the initial loss of much-loved mid-week club night White Heat. But after a storming NYE party, WH has settled at a new home at iconic north London music boozer and venue The Lexington.  The White Heat crew have secured a weekly Friday night residency at the pub, featuring the same intoxicating mix of alternative dancefloor tracks of all shapes, spun by residents but with plety of special guest DJs and live bands thrown in to the mix: previous guests have included Daniel Avery, Factory Floor, Totally Enormous Extinct Dinosaurs and Cyril Hahn, so you're in safe hands.
Read more
South London's Oneman will bring his formidable DJ reputation to a summer residency at XOYO. He's bound to surprise and excite with trademark genre-bending sets mixing basement house, hip hop, grime, dubstep, garage and anything else he wants. As if that wasn't enough, Oneman will be joined every Friday night for 13 weeks with some big hitters, including Wiley, MJ Cole, Skream, Benji B, Gilles Peterson and Digital Mystikz. Not to be missed.
Read more
Show more
See our full guide to London nightlife
This portrait of a fictional dictator as a 10-year-old boy is creepy as hell
Read more
Just when you thought it was safe to back into the cinema... It's Blake Lively vs shark in this riveting thriller
Read more
King of indie sadism Todd Solondz returns with a seriously non-heartwarming shaggy dog story
Read more
Show more
See all films now showing in cinemas
Find things to do any day of the week
London is a treasure trove of brilliant activities and days out worth boasting about. Whether you live and work in the capital or you're planning a holiday, there's loads of ways to fill a free day with fun.
Read more
Quiet week ahead? Not anymore. Get a load of this week's ten biggest happenings and you'll be begging for a night off by Sunday.
Read more