Things to do in London this Friday
It's time to clock off, wind down and get your weekend on...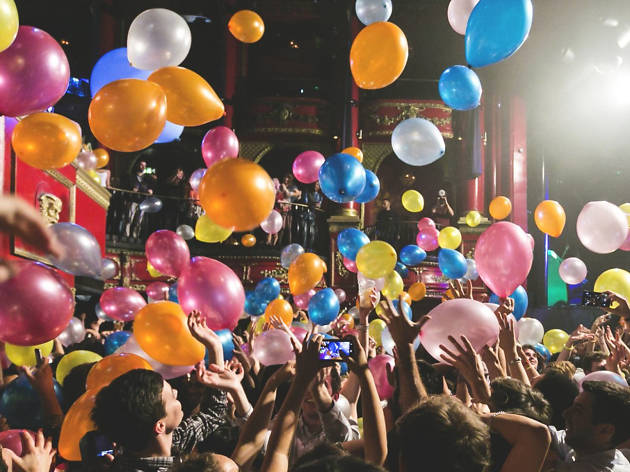 Find fantastic ideas for things to do on a Friday, just in case you've left it to the last minute. Check out the best entertainment, nightlife and events happening in the capital this Friday. The weekend starts here...
RECOMMENDED: Find more things to do in London this weekend
This drama about love, loss and loneliness is both devastatingly sad and hilariously funny
Read more
This swooning Hollywood musical is odds-on favourite to win the Best Picture Oscar
Read more
The first Star Wars spinoff in years is a gritty and gripping action movie
Read more
A sprightly Irish comedy about two tearaway lads, a pair of stolen bikes and a boatload of cocaine
Read more
Show more
See all films now showing in cinemas
Jazz-edged post-rock nine-piece from Norway who combine svelte but fizzy electronica with Coltrane/Mingus-like jazz flights. 
Read more
Yasiin Bey, the conscious MC formerly known as Mos Def (and born Dante Terrell Smith) plays his extensive back catalogue of funk-and-soul-soaked hip hop anthems to get the place jumping. Accompanied by the Hypnotic Brass Ensemble
Book now
Read more
The former Beta Band frontman – who also records under the monikers King Biscuit Time and Black Affair – returns to the stage for a solo show. As ever, it's lo-fi, melodic songwriting that veers between gently uplifting pop and wistful wanderings, but it's done with more flair than most could manage.
Book now
Read more
Good ol' boys from Florida play Godzilla-strength, pop-edged hardcore to the faithful. If you don't wanna mosh, don't even try and go down the front.
Book now
Read more
Show more
See more gigs in London this weekend
Find things to do any day of the week
London is a treasure trove of brilliant activities and days out worth boasting about. Whether you live and work in the capital or you're planning a holiday, there's loads of ways to fill a free day with fun.
Read more
Quiet week ahead? Not anymore. Get a load of this week's ten biggest happenings and you'll be begging for a night off by Sunday.
Read more
Sponsored listing
Opso
This Greek spot in Marylebone didn't exactly hit the ground running. In Opso's first month it took me three visits  to find the kitchen in full tilt. Visit one had a partial menu. On visit two the restaurant was unexpectedly closed. A stoic third attempt was rewarded with some excellent meze dishes. Opso blends its modern architectural look with a contemporary menu of small plate dishes  – mezédes – that are pimped up almost beyond recognition. 'Taramas cream' (taramasalata) was a world away from bright pink supermarket tubs. Served with crisp olive crackers, the pale, untinged cod roe was delicate and fresh. Served as a dessert, tsoureki – a brioche-like bread usually eaten at Easter – was like a panettone in appearance and lightness. This, like all the other baked goods, was made in house. It came flavoured with mahlab and mastic, traditional Greek spices made from cherry kernels and tree resin respectively, giving it a distinctive, almost bitter almond or cedar aroma. Served with clotted cream and sour cherry jam, it was like an Attic afternoon tea. Not all dishes were improved by modernisation, though. Pastitsio is usually a lasagne-like slab of macaroni baked with ground beef and béchamel sauce: comfort food. But here the elements were deconstructed and swapped around, then plated in a mound, 'MasterChef Greece'-style. Although the allspice flavours in the beef were good, tagliatelle-style pasta was a fiddle too far. The simpler dishes worked best, such as the dakos,
Marylebone
Online booking