The best Japanese restaurants in Melbourne
Hungry for the city's finest Japanese joints? Dig in, brothers and sisters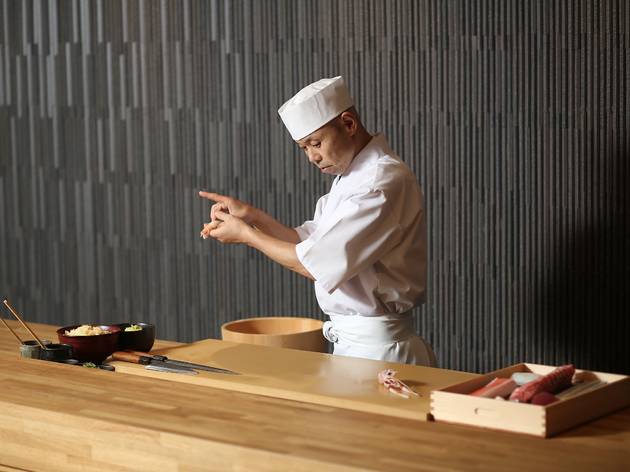 "Fashion changes, but style endures". Coco Chanel could have been talking about Japanese food, which will ever be en vogue thanks to its goddamn deliciousness. Say "konnichiwa" to the city's finest places to enjoy sushi, sashimi, sake and so much more. Whether you want to dip into a cosy inn-style café or hobnob with the glitterati, you'll find what you're looking for here. We can also point you in the direction of Melbourne's best ramen shops, dumplings and cocktail bars.
Best Japanese restaurants in Melbourne
Ishizuka is a new Japanese restaurant specialising in a kaiseki menu. In a commitment-phobic world it almost requires a session with a therapist to sign up for a 10-plus-course, two-plus-hour procession of miniaturised dishes for $220 a head, sans drinks. But Ishizuka is worth the time, expense, and trouble of finding it.
Minamishima might just be serving Melbourne's best sushi. Former
Kenzan
sushi master Koichi Minamishima will guide you through the set menu; sommelier Randolph Cheung (ex-
Flower Drum
) will keep the saké flowing.
The opening of a restaurant from Chris Lucas, the svengali behind Melbourne greats Chin Chin, Hawker Hall, Kong and Baby, is generally accompanied by the kind of media hoopla reserved for retiring members of the Royal family, so here's the deal: all you have heard about Kisume, the Lucas Group's three floors of Nipponesque dining power, is true, and then doubly so.
Descend below street level for this taste of Tokyo that pays equal attention to its dishes and drinks. The corridor-like space is adorned with an extensive range of saké and beer, and food from the open kitchen arrives quickly.
If fluorescent sweets and pocky sticks make your heart beat faster, this sleek supermarket is for you. The accompanying sushi bar means serious business. Pre-made lunch packs are available, but most fish is sliced on demand for those dining in.
Perched underneath
Hamer Hall
, Saké is decorated with polished concrete and pops of colour. The menu is innovative and experimental – dishes constantly evolve with the seasons. Drinks are swift: shochu and saké are the headline acts (combine the two for a Japanese Martini).
We love Wabi Sabi Salon's styling, which nods to Japanese street-food shacks and rural seaside villages. The food is cheap without sacrificing taste, and there's plenty of choice for vegans and vegetarians.
Kobe Jones, right by the Yarra River, combines Japanese flavours and Californian flair. The menu is designed for grazing, with all plates made to be shared. Staff are knowledgeable and attentive, and most dietary requirements are catered to.
More of Melbourne's best meals
Too many restaurants, not enough time. Cut the fat with our guide to the best places to eat in Melbourne right now.