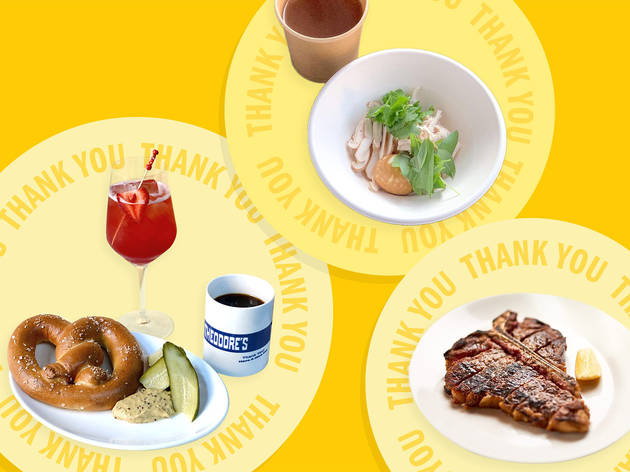 2020 in review: everyone we'd like to thank this year in Melbourne
Melbourne's had a tough go this year, but there were some hard-working, caring and all-round wonderful people we'd like to cheers
This time of year can be a funny time. We're looking back but also wary about what the new year can bring. This year, as we limp towards midnight, there will probably be a lot more looking forward. Obviously, 2020 wasn't great for anyone, but it's true there were some spectacular Melburnians who stood up, took charge and tried to turn this thing around for the good.
Whether they took the initiative and fed out-of-work hospo workers, completely pivoted their business to entertain people at home, or just genuinely worked to make sure everyone stayed safe and sane, we're pretty thankful for them. Here's a (by all means not exhaustive) list of people we'd like to thank.
Hospitality:
Fine-diner Attica pivoted massively during lockdown like many other venues, but it was the launch of the Attica Soup Project that saw its heart and soul come out. For six months, chef and owner of Attica, Ben Shewry, along with food writer, Dani Valent, cooked and provided fresh soup to temporary visa holders who had lost their hospitality jobs. Thanks to donations and funds from Attica's in-home menu, each person would receive a bag of perishables like soup, bread, eggs, and a bag of non-perishables like rice, coconut milk etc, and the team were responsible for giving away thousands of meals.
Ethical bakery Baker Bleu teamed up with the Attica Soup Project and donated an abundance of bread for temporary visa holders to toast and enjoy with their soup.
When explosions rocked the city of Beirut, head chef of Bar Saracen, Tom Sarafian, raised over $20,000 for the Lebanese Red Cross. The fundraiser, Hummus Le Beirut, saw the chef make and sell 1,000 tubs of hummus – that's 300kg of the creamy chickpea dip.
Closer to home, owner of Daughter in Law, Jessi Singh, and his business partner, Shane Barrett, decided to take a step back and hand over the entire operation of the venue and all its profits to their staff on temporary visas.
And the brothers who run Middle Eastern diner Mankoushe also raised funds for those affected by the Beirut explosions and donated food to those locked down in Melbourne's housing commission towers.
Millie Hospitality (Congress, Future Future and Lagotto) launched Open Kitchen during the lockdown and prepared free, vegetarian meals for hospitality professionals who had lost their jobs or had their hours dramatically reduced that weren't eligible for Australian government support.
Owner of Moroccan Soup Bar, Hana Assafiri, raised over $11,000 in funds to spend on food for healthcare workers at St Vincent's and Royal Melbourne hospitals. The funds raised were put towards making fresh, hot meals (valued at $12.50 each) with no profit margin.
Over in the west, the Plough Hotel donated a meal to Footscray and Sunshine hospitals for every $30 spent on takeaway, with the meals helping to feed healthcare workers.
Hospitality group, Rockpool Dining Group, launched Hope Delivery in March – a community meal program in Sydney and Melbourne that catered over 110,000 meals to temporary visa holders who worked in the hospitality industry, the homeless and disadvantaged who were all affected by the pandemic.
Vietnamese eatery Shop Bao Ngoc in Brunswick constantly cooks fresh meals for good causes and on top of Paying the Rent, owner Ngọc Trần supports the most vulnerable members in our community like those who were locked down in housing commission towers earlier this year, Djab Wurrung people and those affected by the Beirut explosions, to name a few.
Also in Brunswick is Theodore's. Owners Lily Ngatai-Stokes and Henry Brooks supported those trapped in Melbourne's housing tower lockdown by collecting donations and funds to purchase nappies, baby formula and more for affected residents.
RECOMMENDED: Read about more of the winners of the Time In Awards.
Arts:
The MSO for pivoting faster than Liz Ellis and creating digital content within days of the first shutdowns (and keeping it going all year).
Arts Centre Melbourne for a gazillion free performances – and most notably it's Big Night In series.
Same goes to Chapel Off Chapel, Memo Music Hall and Geelong Arts Centre for their rad livestreamed performances and events (and everyone else who wrangled a livestream for the sake of Melbourne's entertainment).

The Brunswick East Entertainment Fest who donned costumes every morning to entertain us at a safe distance.
The Australian Ballet for releasing performances like Romeo and Juliet and Cinderella to watch online, AND for giving us the chance to learn ballet while stuck at home.
Theatre Works for coming up with an incredible way to keep audiences safe when they return to theatres.
MTC and it's giving us a peek behind the scenes with backstage tours (and a theatrical bakeoff).
Cheers to the NGV for putting together virtual tours of blockbuster exhibitions, as well as livestreamed events in addition to still working towards the Triennial coming back.
Malthouse Theatre for turning the highly anticipated stage adaptation of Christos Tsiolkas's novel Loaded into an audio drama so we could still get our fix in isolation.
Andrew McClelland for the lunchtime raves at home, and Onesixone for the weekend raves (also at home, that was kinda 2020's theme after all).
Everyone else:
Melbourne's zoos and aquarium for keeping us distracted with adorable livestreams and slow TV. Also a special shout out to Melbourne Zoo's dancing keeper Adam who scored a Time In Award for his brilliant dancing videos.
All the local businesses who started creating and selling masks when they became mandatory. The same goes to every brewery and distillery who started cranking out hand sanny.
The kids and families who put little Spoonville colonies on our streets and rainbows in windows.
And everyone who put a teddy bear in their window to let kids go on suburban teddy bear hunts.
Museums Victoria for creating digital content like tours (oof how cool is the taxidermy room?) and events for families to engage with at home.
Pride of our Footscray, who presented regular virtual drag bingo nights throughout both lockdowns (the team is now back to in-person events!)
The established or newly-formed initiatives organisations that banded together to support the community: Counter Covid, Isol-Aid, Feed our Heroes, etc.
Everyone who donated money, resources or time to help get culturally appropriate meals and supplies to residents during the public housing tower lockdowns
I Do Drive Thru, who opened a drive-through (and now mobile) wedding chapel service to give Melbourne love birds a way to get hitched while also adhering to restrictions.
Yarra Valley Chocolaterie for keeping spirits high by delivering boxes featuring 31 different flavours of rocky road (and then creating a box featuring 31 hot chocolates later in the year).
But also:
To all the doctors, nurses, literally anyone who worked in a healthcare setting, the supermarket workers, posties and delivery drivers (thanks for not judging us), all the CFA firies and volunteers (yes, the summer bushfires were this year) and everyone else who kept their head up, looked out for others and generally wasn't a dick this year. Thank you. We appreciate you.
Here's to a better 2021!
Look back
We look back on an unusual milestone Melbourne achieved in 2020: 100 days in consecutive lockdown. Here's what we learned.
Best selling Time Out Offers