The 100 best dishes and drinks in NYC 2015
Next-level sashimi and one badass brownie are just some of this year's most crave-inducing dishes and drinks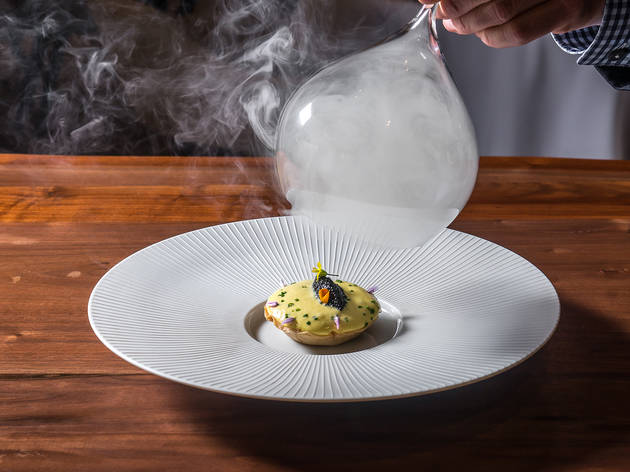 The year 2015 was a high-low hodgepodge of deliciousness when it came to eating and drinking—beachside taco outlets were spoken of as breathlessly as three-figure sushi restaurants, and fried chicken as exalted as foie gras. From Indian ice cream to Hawaiian poke salad, and elegant Japanese martinis to the bar food needed to sop 'em up, these are New York's best dishes and drinks of the year.
RECOMMENDED: See all of the best dishes and drinks in NYC
We know. You think you know spicy tuna rolls—that raw-fish beginner's course encompassing ground low-grade tuna, from- a-bottle sriracha and a pat of mayo. This is not that spicy tuna roll—this is the best dish of the entire year. What co-chefs Jimmy Lau and Nick Kim serve under that seemingly familiar moniker is a different species altogether, a firecracker of a hand roll assembled with a lush, melty slab of grilled bluefin belly, flaring Thai red chilis and juice-sopping sushi rice inside shattering, toasted nori. Like that chili gusto, the memory of this bold, beautiful reimagining lingers on your lips long after your plate's been cleared. Hell, you'll be dreaming about it well into 2016. $175 as part of kaiseki.
Restaurants, Contemporary American
At her vegetable-focused chef's counter (which she runs with boyfriend José Ramírez-Ruiz), pastry chef Pamela Yung pulls bread out of its opening-act status to the peak of the meal's crescendo. Midway through the tasting menu, Yung hand-delivers a box filled with her aromatic, alt-grain loaves trundled out with a tangy trickle of house buttermilk and bright-yellow, sea-salted butter from upstate's Cowbella dairy farm. The gorgeous breads rotate regularly (einkorn-buckwheat, nettle brioche), but one particularly swoonworthy variety is Yung's porridge sourdough, moist and nutty beneath its hearty, crackling crust. $85 as part of tasting menu.
Tableside pageantry is fast and frequent at Gabriel Kreuther's solo debut, but it's most fitting when matched with this regal tartlet, an import from the chef's lauded 10-year tenure at Alsatian-accented MoMA dining room the Modern. The flaky phyllo cup, piped with a yellow fluff of caviar mousseline over smoked sturgeon and musty sauerkraut and topped with a quenelle of inky black caviar, is hooded in a glass cloche fogged with applewood smoke, the savory plumes of which permeate the tart and release when the server pulls up the lid. It's at once folky and flamboyant, and it's Kreuther at his best. $98 as part of four-course prix fixe.
Nope, the year's most stellar short ribs didn't come out of a veteran French kitchen or a New American dining room. Instead, they were the product of a K-town barbecue joint helmed by a dude born in—check it—1990. (Yeah, we feel old reading that too.) That young gun, Deuki Hong, tapped into his fine-dining résumé (Momofuku, Jean-Georges) to refine the Korean barbecue experience at this bi-level meat haven, drawing megawatt chefs such as Anthony Bourdain and Danny Bowien with his prime cuts and smart, minimal fussings. Occupying both categories are his boneless short ribs, whisper-brushed with sesame oil, garlic and black pepper to allow the meat's natural marbleization to do the talking. And with its superbly rich flesh enveloped in char-edged crust, what fine things it has to say. $39.
Even the simplest pleasures aren't what they appear at Dominique Ansel Kitchen—a croissant imbued with rosemary olive oil moonlights as garlic bread, and tiramisu layers are heady with black tea. Even a humble brownie is leavened with hidden complexities: The deeply chocolaty square, fudgy and cakey at equal turns, is topped with sage leaves, swaddled in cedar paper, tied with twine and torched, arriving warm and filled with campfire smoke and sweet earth. We usually don't like the idea of screwing with simple perfection, but for this sumptuous update, we'll easily make an exception. $5.
It tastes like New York in a bowl, a steaming crock of Japanese ramen with the bubbe-warmth of a Jewish-deli sandwich. Chef-owner Joshua Smookler sought out Katz's as inspiration for his studied flagship bowl, and it's immediately felt in the moist hunks of house-made corned beef, shredded cabbage and half-sour pickles that entwine his toothsome noodles. In place of traditional pork tonkotsu, Smookler rejiggers his broth, ladling in oxtail and bone marrow stock for a much-welcome extra boost of meatiness. $18.
Shrimp may be the king of tempura territory, but Masao Matsui makes a stunning case for scallops at his batter temple. The veteran chef (the Nadaman at Tokyo's Hotel New Otani) drags supple pillows of mollusk cradled in nori through a mixture of Super Violet flour, mineral water and egg yolk that's been whisked together until flaxen and featherweight. Matsui lets the scallop dance for a few joyful moments in his secret-recipe blend of cottonseed and sesame oils and plunges his wooden batons in to retrieve it, and suddenly it's right in front of you: a soft, nearly raw bivalve trussed in a golden-crisp gossamer. It's impossibly delicate and stupendously satisfying. $200 as part of omakase.
South Korea's honey butter chips created Beatlemania-level hysteria earlier this year. Convenience stores were perpetually sold out, and the bright-yellow bags even hit the black market. Enter new Korean eatery Oiji. After failed attempts to import the chips to their East Village restaurant, chefs Brian Kim and Tae Kyung Ku took to parodying the snack themselves. Their warm, wickedly rich version—billed as a side but served last, à la dessert—glazes mandolined, fried russet potatoes in high-fat French butter, brown sugar and honey, with cayenne and salt working diligently to check the overt sweetness. A few feverish fistfuls later, you'll see that chip craze was justified. $5.
Sorry, Chris Pratt, the It dish of the 2015 blogosphere was actually a fried chicken sandwich. The year was inundated with heavyweight options, from Shake Shack's Brooklyn-only ChickenShack to Chick-fil-A's Manhattan debut, but one bird ruled the roost: David Chang's poultry tour de force, with buttermilk-battered, Scotch-bonnet-smoldering meat spilling out from under a pliant Martin's potato roll. Spare trimmings—a slick of briny butter, a few snappy pickle chips—allow for focus to remain on the bird, and what a mighty bird it is. $8.
10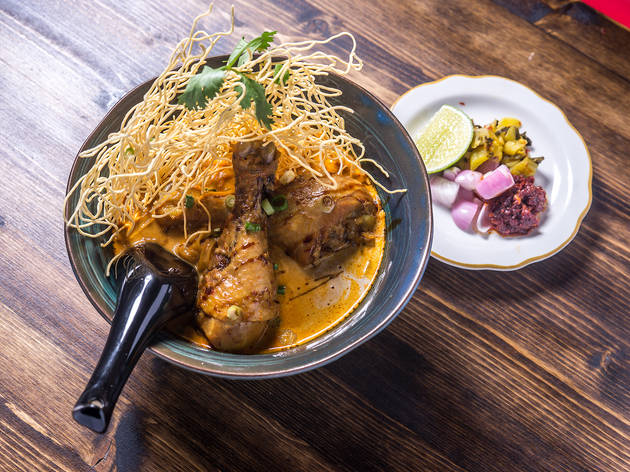 Photograph: Paul Wagtouicz
Less than a year after opening Red Hook's Thai-critical darling Kao Soy, co-chef Kanlaya Supachana split—and took the namesake noodle dish with her. Thankfully, though, it wasn't gone for long. Down the block—174 friggin' feet down, to be exact—the Chiang Mai native brazenly stirs her turmeric-yellow coconut curry in a pop-up space inside home-goods-store-cum-café Home/Made. A pair of juicy chicken drumsticks lurks amid soft-boiled noodles in the soup's depths, enlivened with pickled mustard greens, shallots and chili oil, while a cap of fried egg noodles and shreds of banana-blossom fritters add contrasting crunch. 293 Van Brunt St, Brooklyn. $12.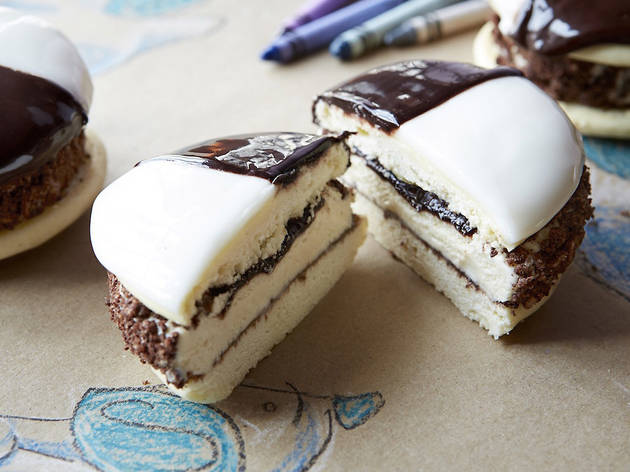 Restaurants, Ice cream parlors
It's two iconic New York desserts in one: The soft, spongy iced shortbread known as the black-and-white cookie and the Bowery pushcart-born ice cream sandwich. But it's also the meeting of two beloved local sweet purveyors, small-batch creamery Ample Hills and oversize-cookie maker Baked. A puck of vanilla malted ice cream is fitted Chipwich-style between two thick, fondant-frosted black-and-white cookies with malted fudge and then rolled in malted-chocolate Rice Krispies. Showing off New York pride never tasted so sweet. $7
Gotham is well-versed in international frozen treats—Taiwanese shaved ice, Thailand's i tim pad roll-ups—but it got its best ambassador for kulfi (Indian's answer to Popsicles) in Jessi Singh's time-intensive version. For capital-C creaminess, Singh stirs a cow's milk base for six hours, suffuses the mixture with flavorful add-ins (say, cardamom, honey and pistachio) and then freezes it for 12 hours in tapered tin molds that he smuggles back from the motherland. Warm the cannister between your palms to release the pop—the payoff is the sweet spot between mochi chewiness and custard richness. $6.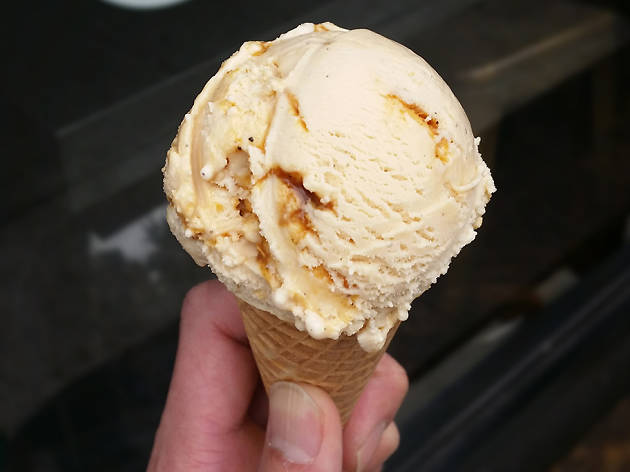 Frozen-sweet whiz kids Kendrick Lo and Paul Kim are known for their off-the-wall ice cream flavors (bacon, egg and cheese sundae; Vietnamese coffee with doughnut truffles), but this more subtle tea-based concoction will stay with you long after the last lick. A rich cream base is infused for 24 hours with Nilgiri tea leaves, a fragrant black variety native to southern India, and then swirled with an otherworldly salted butter caramel given a citrusy kick from finely ground, oven-charred lemon zest. $4.75
Colorful and cheeky, Jennifer Yee's throwback dessert tugged New York's nostalgic, sweets-loving heart. But the pastry chef doesn't rest on mere reminiscence—Yee's treat comes to age each June, marbling creamy sorbet with crumbles of fresh-baked French macarons in modern flavors like matcha, birthday cake and the bakery's signature bergamot. $5.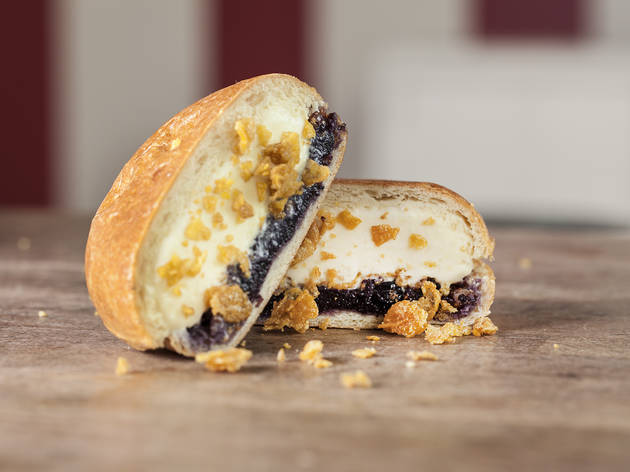 Restaurants, Ice cream parlors
Don't want to curb your ice-cream consumption even into the cold-weather months? The ever-inventive Sam Mason has you covered. The scoops wizard introduced this panini-warmed sweet at this fall's sandwich-shop reboot of OddFellows' East Village location. Like a dessert-world Hot Pocket, a brioche bun is pressed around a core of the parlor's rich ice cream in flavors that include corn bread with cornflake crunch and blueberry compote, brown-butter sage with spicy almond and honey, and an unabashedly crowd-pleasing bacon variety with candied pecans and spiced maple syrup. It's the indulgent intersection of savory and sweet, toasted and melty. $8
It might not be your birthday when you enjoy one of pastry chef Heather Bertinetti's tricolored cakes, but it'll make you feel so good you'll swear it's your big day. Each pristine cake at the Italian-American counter is built with three layers of smooth, house-made gelato—peanut butter, raspberry and banana for an Elvis-themed number, say—interspersed with fresh whipped cream and Carvelesque chocolate crumbles. Your move, Fudgie the Whale. $58.
Restaurants, Soul and southern American
Anticipation was already sky-high when word hit that Sarah Sanneh and Carolyn Bane's Williamsburg comfort-food counter was crossing the river to the Lower East Side. And then news of a debuting doughnut flavor rocketed that buzz to the stratosphere. Sanneh's round begins with a natural yeast-rye starter that's left to ferment for three days before the dough's rolled, proofed, fried and then shellacked in a sweet, crunchy glaze that balances out the savory funk of the starring sourdough. It's everything you love about a warm loaf of fresh-out-the-oven sourdough, tucked inside the soft, sweet airiness of a raised doughnut. $3.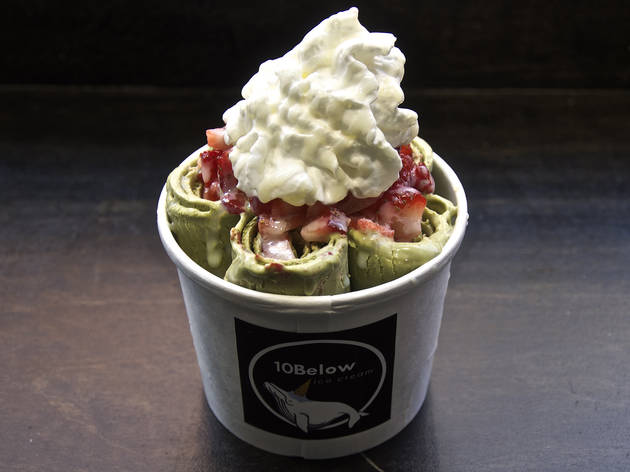 Photograph: Courtesy Dara Elass
Ice cream rolls at 10Below
Move aside, Cold Stone. The a la minute ice cream of the year was the Thai-style i tim pad roll-ups at this Chinatown parlor. Liquid crème anglaise is poured onto a thermoelectric cold plate and scraped into finger-sized rolls as it congeals in real time, resulting in a light, airy consistency that has kept sweet-toothed lines forming around the block. To change up the flavor, mix-ins like banana, Nutella and graham crackers can be smashed and folded directly into the base as it hardens, ensuring those enhancers are evenly distributed, while the rolled shape allows each cup to be piled high with sugary accoutrements. $7
Restaurants, Contemporary American
The Whitney restaurant's ambitious readjustments of dowdy museum eats extend all the way down to the humble cookie. Pastry chef Miro Uskokovic folds brown butter with organic white and light-brown sugars and Thomas Keller's Cup4Cup gluten-free flour, resulting in a round that's equal parts crunch and chew. Fudgy pockets of chocolate dot the batter—three Guittard varieties comprise the gooey core—and Amagansett sea salt speckles the hull. You can get the cookie à la carte for half the price upstairs at Studio Cafe, but then you'd miss out on the accompanying bottle of milk: sweet Five Acre Farms dairy splashed with Madagascan bourbon vanilla. $8.
A few English curios pepper the menu at the New York Edition Hotel's dining room (lemony Dover sole, a Lancashire hot pot), but Jason Atherton's finest ode to his home country is this polished reworking of the chip-shop standard, offered only at lunch. The Michelin-starred Brit sets a juicy, generous hunk of white Icelandic cod, all salt-flecked crust and beer-battered tang, atop a vibrant mound of mushed peas humming with malt vinegar. Thick-cut, thrice-cooked fries are primed to drag up every last morsel. $23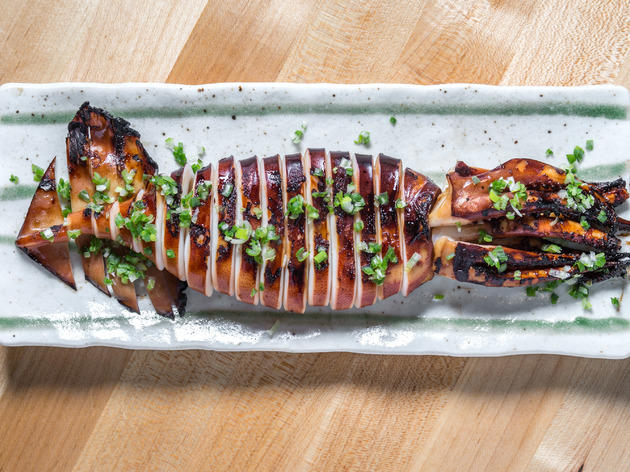 Of all the booze-sopping grub shuffled across bars this year, Tadashi Ono's grilled squid at this sake-fueled yakitori operation was the most head-turning. The eight-ounce cephalopod is slathered in ginger-soy marinade before hitting the grill whole, making the body rings supple without a whisper of rubber and the tentacles and head into charred, crispy vehicles for a mayo dipping sauce zested with seven-spice shichimi. $14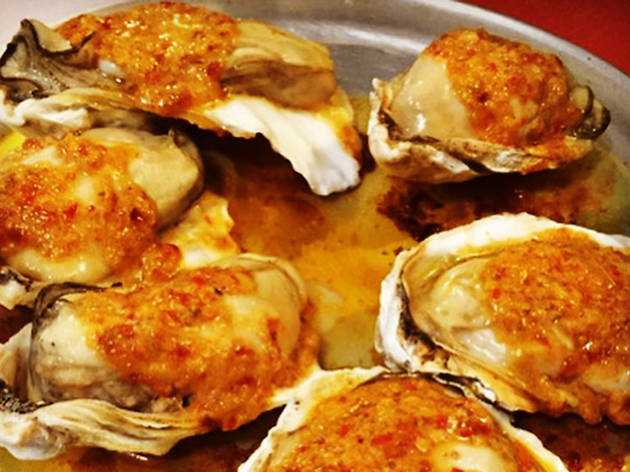 Oysters in red sambal butter at Mekelburg's
Even more surprising than a Clinton Hill specialty-goods grocer having a quality craft-beer bar ensconced in the back is the fact that it serves some of Gotham's finest under-the-radar pub grub. In the small plates section, half a dozen Washington State bivalves come topped with a bright dollop of orange compound butter spiced with roasted garlic, lemon zest, briny anchovies and southeast Asia's chili-powered sambal. Fired for 10 minutes in a 500-degree oven, the plump bivalves arrive swimming in melted butter with a slightly charred cap on top to round out the flavor of the sumptuous one-biter. $13
You'd be hard-pressed to find a prettier primer on poke this far from the Big Island. (Poke, by the way, is Hawaii's chopped raw-fish salad—oh, and it rhymes with okay.) Chef de cuisine and Honolulu native Chung Chow stays faithful to the dish's traditional flavors—firm cubes of sushi-grade bigeye tuna loin are slicked with soy sauce and sesame oil and studded with red onion, scallion and toasted macadamia nuts for crunch—but deftly updates them with Japanese notes, including briny tangles of tosaka and oga seaweeds and the lip-tingling chili smack of Japan's tobanjan paste. $17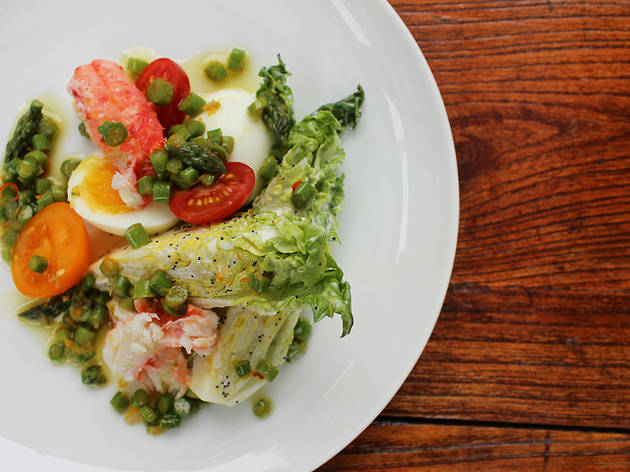 There are plenty of 1970s throwbacks at play at Joe Carroll's reimagined McCarren Hotel fern bar (faux Tiffany lamps, cloying Grasshopper cocktails), but our favorite is chef Kevin Chojnowski's gentle tweaking of the dated Crab Louie. Born on the West Coast around the turn of the 20th century, the salad tosses king crabmeat with sweet gem lettuce and heirloom cherry tomatoes. Chojnowski wisely bucks tradition by swapping out mayo for a buttermilk-poppyseed dressing and an asparagus vinaigrette infused with Thai chilis and minced shallots. Crab Louie enters the 21st century. $16
Word of Rockaway Taco's imminent closure this spring set fear in the hearts of many a New York taco lover. After all, that ramshackle stand was home to the city's most exemplary fish taco: a clean, thoughtfully constructed fold-up filled with flaky beer-battered tilapia, vinegary cabbage slaw, crisp radish rounds and, if you were smart and ordered the deluxe, a healthy mound of excellent guacamole. Luckily for us, that taco made the move with chef Andrew Field to his new seasonal taqueria operation at Rockaway Beach Surf Club this summer. The bad news? The lines are still lengthy. The better news? That taco is as reliably delicious as ever. $3.50
Restaurants, Contemporary American
This one's like a space-age fritto misto. Draped in sheer, lightweight golden shells made with masa-enhanced potato flour, pops of bright yellow (that would be preserved lemon) and pale green (sliced scallions) are fried right alongside tender curls of squid for this otherworldly calamari at Jeremiah Stone and Fabian von Hauske's Lower East Side wine bar. The accompanying sauce looks and tastes similarly out-there: A smooth, garlic-charged aioli stained the color of charcoal, courtesy of the mollusk's ink, gives the dish a double-dose of squid-y brackishness. $15
Opened in 2012, the two-star Michelin mainstay has seen a chef come and go from the hallowed halls of its tasting-menu kitchen, but current toque Ronny Emborg has breathed new life into the arduous 18 courses this year. One of the most memorable employs fine Elysian Fields lamb saddles aged for three weeks, allowing their umami flavor to fully develop. Those tender cuts are then swaddled in white bread smeared with leek ash and chicken mousseline, and cooked in their own fat before hitting the plate with a smoky burnt-onion jus and a finishing coat of more rendered fat. Saddle up is right. $235 as part of tasting menu
Think of this as pampered poultry. In their colossal riff on the taqueria staple traditionally made with pork shoulder, Mexican megachef Enrique Olvera and chef de cuisine Daniela Soto-Innes heavily salt and hang heritage Rohan ducks for three days, then braise them overnight in duck fat and a sweet, tenderizing mixture that includes orange slices, evaporated and condensed milks and, yes, even Mexican Coke. Finished in the oven and crisped in the broiler, the sizzling, golden-skinned bird comes crowned with flash-pickled onions, brightening lime juice and warm heirloom-corn tortillas for the most elegant do-it-yourself tacos in New York. $59
This year saw many novel mutations of the stuffy bistro classic—Wildair's pungent smoked-cheddar update, the Clocktower's marrow-fortified, mustard-punched version—but the dry-aged funk of Nick Curtola's rugged tartare stood out from the rest. Happy Valley–sourced sirloin is roused with crunchy pickled cabbage, darkly fiery sambal chili and pools of buttermilk. And forget forks: The thin sesame-cracker shards on top are the only utensil you'll need. $15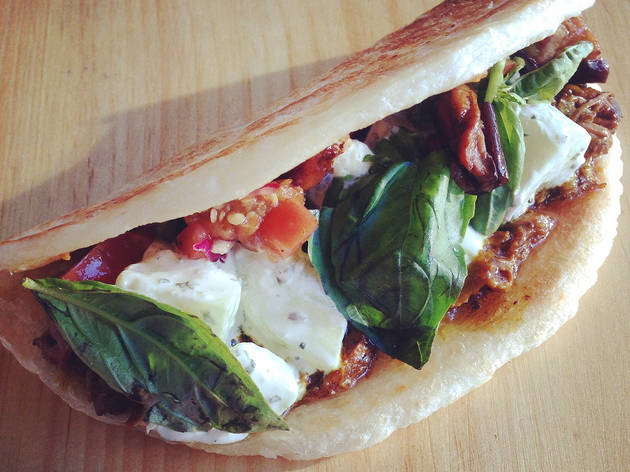 Lamb shoulder taco at Goa Taco
"One paratha taco equals two regular tacos," declares the menu on the wall at the Lower East Side brick-and-mortar venue of the Smorgasburg staple. And it's right: Buttery, flaky paratha bread, a gastronomic import from the Indian trading port of Goa, packs twice as much as its Latin cousin. Chef-owner Duvaldi Marneweck folds the flatbread around spectacularly tender Colorado lamb shoulder—slow-roasted for five hours in a from-scratch recado rojo (red achiote paste made from annatto seeds)—with zesty salsa-fied eggplant and a cooling Greek tsatsiki. Postmidnight lines curl around the door regularly and it's not hard to see why: This meaty roll-up soaks up way more booze than your average-Joe taco. $8.27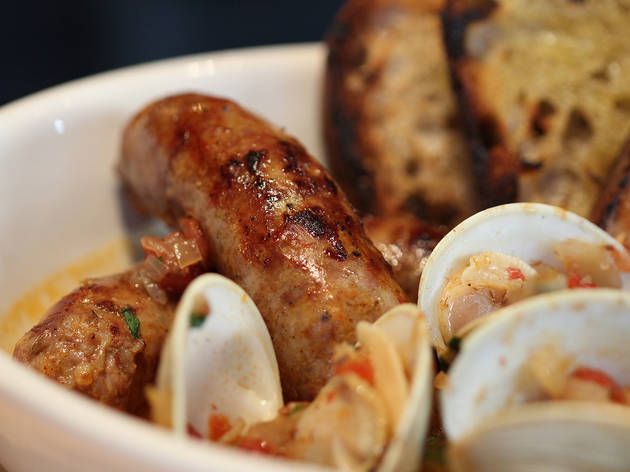 The Hudson Square restaurant takes its name from the Norwegian word husmanskost (or "everyday food") and with that quotidian ethos in mind chefs Ned Baldwin and Adam Baumgart tender this unpretentious, Portuguese-style sausage-and-clams plate. The salty bite of meaty link, constructed with house-ground Royalton Farm pork shoulder seasoned with paprika and chili de arbol, offsets the sweetness of the accompanying sofrito-filled steamed littlenecks, all in a pool of Neuseke's bacon-smoked whitefish fumet. $25
In the food-world lexicon, the name Jonathan Waxman is practically synonymous with "roasted chicken." The California-cuisine icon introduced his famed fowl to New York with his 1980s farm-to-table pioneer Jams and wisely reinstated the dish at the restaurant's Upper West Side revival this year. A Bell & Evans bird is fired in a charcoal-fueled oven and basted frequently in a tarragon-charged jus, ensuring that there's moist flesh beneath crisp, burnished skin. Waxman seasons the chicken simply with salt and pepper because nothing more is needed with a dish this good. $25
Restaurants, Mediterranean
Set a knife in the vicinity of chef Paras Shah's handsomely lacquered lamb for two and it practically wilts in its presence. The meat—darkly caramelized and lustily fatty—sighs off the bone, falling to the plate to join a hash of farro and roasted vegetables, plump wedges of fig and crispy cubes of smoked lamb belly. $34
Restaurants, Contemporary Asian
New York's fried-chicken lust endures, and it's no shock given such knockout contenders as executive chef Angela Dimayuga's version at the MCF reboot. A refined play on southern Chinese specialty Hainanese chicken rice, Dimayuga's fowl is marinated with ginger, scallion, garlic and aged, umami-rich koji (fermented cooked rice) and then air-dried for three days before frying to ensure a delicately caramelized crunch without the heft of additional starch. Any residual richness is gracefully cut with salted cucumber salad and a hot sauce thrumming with preserved chilis and lemon. $28
It's almost silly that Tim Cushman offers dessert to cap his 18-course omakase, because this stunner nails it in the sweets department. Atop a cylinder of warm, nori-wrapped rice, a quivering tile of seared Hudson Valley foie gras is daubed in balsamic-chocolate kabayaki (eel sauce)
and bedecked with raisin-cocoa pulp and a caramel-smooth chaser of eight-year-aged sake picked by wife-sommelier Nancy. Even with a belly full of nearly two dozen pieces, not savoring every shamelessly indulgent bite is functionally impossible. $185 as part of omakase
No bun, no fries, no condiments? No problem. Aside from a few knobs of roasted garlic and one lone, fragrant sprig of rosemary, there's little to distract from the beefy, elemental beauty of Rita Sodi and Jody Williams's raggedy, rough-chopped steak. Like a caveman's tartare, the coarse, half-pound puck of aged New York strip is seasoned minimally with salt and pepper and flash-seared in a cast-iron pan. The result is achingly tender and rosy on the inside, encased in a deep, smoky char glistening with green olive oil. This is pure meat porn, people. $21
Thirty-four years after earning rave reviews as executive chef of Vienna '79, chef Thomas Ferlesch reprises that restaurant's schnitzel recipe, but subbing in thick slices of marbleized Sterling Silver pork loin for the customary veal. Slapped with flour, egg, heavy cream and fine, house-ground panko crumbs, the pounded cutlet is sautéed in clarified butter until the heat causes air bubbles to rise beneath the golden breading, creating delectably crusty, wavelike ridges for a squeeze of lemon juice to cling to. $16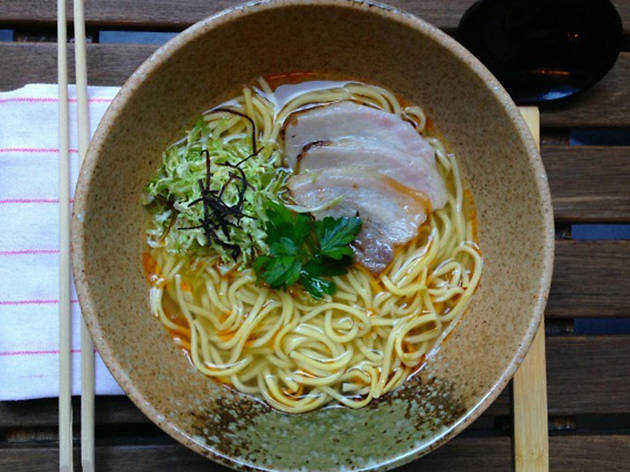 New York already knew that Chris Jaeckle had a way with pasta (before opening the modern Venetian dining room, he ran the Michelin-starred kitchen at Ai Fiori). But in last January's chill, he proved his noodle prowess extended beyond fettuccine and fusilli with the introduction of his hybrid ramen. Offered now during lunch service at the downstairs bar, the seductive bowl tangles al dente house-made noodles around oozing egg in a creamy Parmesan-dashi broth enlivened with feisty splotches of Calabrian chili oil. $14
Marco Canora's buzzy broths have earned both widespread praise and scorn: A Twitter bot was created to automatically find tweets with "bone broth" and crankily respond, "You mean stock?" But there's no ennui to be found in the flavorful depths of his 18-hour–simmered brodo. The soup of ginger-seasoned beef neck bobbing with shiitake, farro and spring onions will forever rid cans of Campbell's from your memory. Mmm, mmm, that's damn good. $12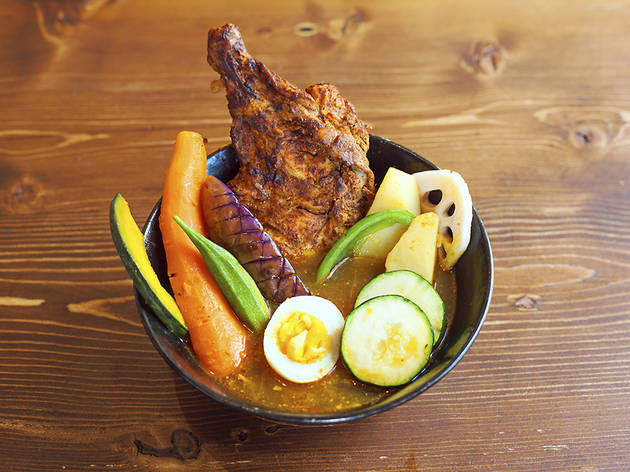 Photograph: Courtesy Junki Ikeda
Yakuzen soup curry at Goemon Curry
No, Japanese curry is not some culture-crossing hybrid bowl. Though rare in New York, Japanese curries are increasingly popular in that country's northern regions, where chef Mika Oie hails from. At this next-door sibling to Lower East Side soba shop Cocoron, Oie offers two types of curry, a roux-gravy classic or this showstopping soup curry. The latter boasts two fingers of light, bonito-flaked chicken stock, loaded with potatoes, carrots, boiled egg and a grilled tandoori chicken leg (grilled pork is also available), as well as a side of sticky rice to sop up every last drop. Medium $18, large $20.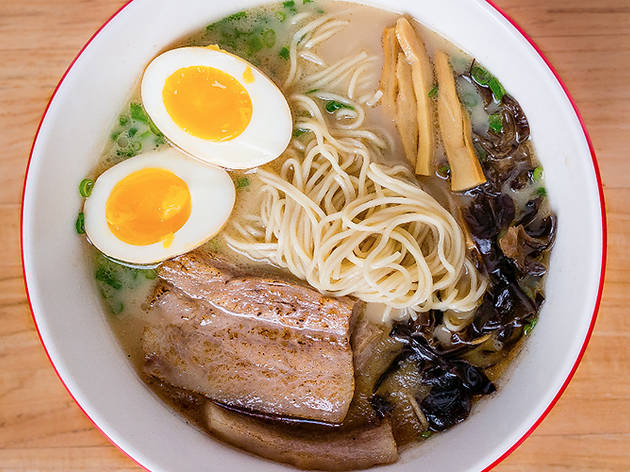 It's not only the minimalist digs that distinguish this Chelsea newcomer from its often-chaotic peers on the East Side. Here, the sole broth is a supremely richtonkotsu, simmered with pork bone for 14 hours and served with miso paste or laden with kimchi. The zesty kimchi version lingers on taste buds: It's fiery with a fermented cabbage that Korean chef Jun Park prepares using a family recipe he adopted from his grandmother. The piping-hot rendition is poured onto straight noodles and finished with the classic fixings of roasted pork shoulder, egg and scallion. $15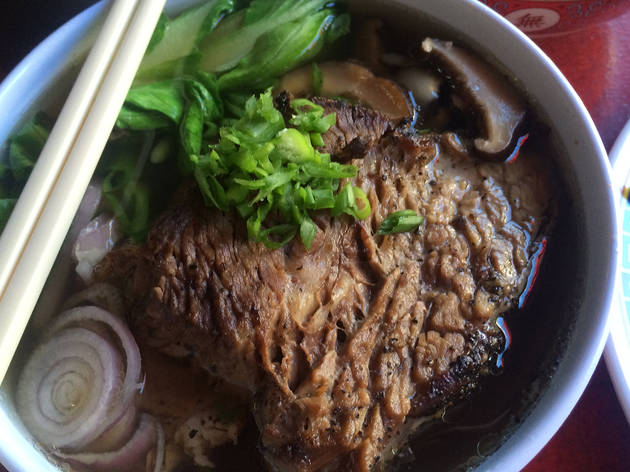 Purists, be warned: The singular pho offered at this humble Bushwick charmer is, gasp, meatless. Instead, the lucid broth is simmered with mushrooms, star anise, charred shallots and ginger for three hours, and assembled with unorthodox fixings like shiitake, bok choy and fresh not dried noodles. Beef is an optional topping—namely brisket smoked over mesquite and applewood—but the gracious lightness of the bowl ensures you can down the entire beautiful thing without enduring the dreaded meat sweats. $8, with brisket $12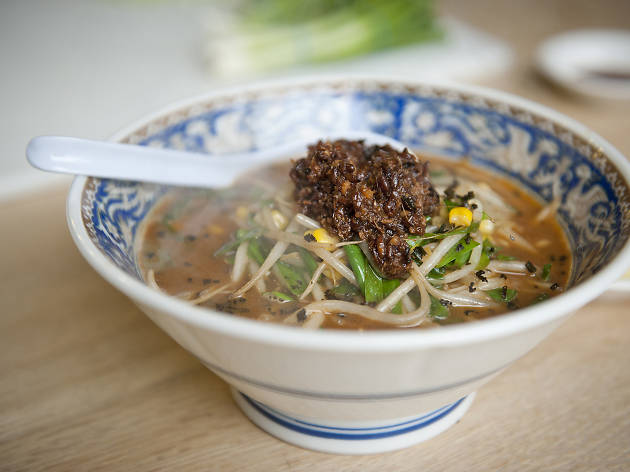 Though the standing-only Nolita ramen-ya has changed its game to highlight a rotating cast of visiting chefs, this vegetarian bowl from the opening menu of Japanese supertoque Shigetoshi "Jack" Nakamura has hooked noodle geeks and novices alike. You'll hardly notice the lack of meat thanks to the rich, miso-paste broth spiced with Momofuku's XO sauce (a shellfish-based chili oil) and the garnish of bean sprouts and Japanese chives, tangled around the famed noodles of the restaurant's parent company, Jersey-based Sun Noodles. Because this dish is served at a high temperature, the strands are aged to ensure they stay firm even after the boiling broth is poured over the top. $14
The New York food scene can be an cruel one, a fact proved when Harlem's Mountain Bird shuttered last year, not because of poor reviews (the critics were, if anything, overwhelmingly positive) but due to landlord issues. Luckily for poultry fans, husband-and-wife team Keiko and Kenichi Tajima revived the poultry-focused concept inside uptown's Tasting Socials space this fall, bringing the beautiful consomme with them. A porcelain cup brims with fatty, amber-hued broth, with a lone bread dumpling plopped in the center, its delicate wonton skin enveloping silky foie gras mousse. It's like chicken soup for the elegant soul. $12
At Kenta Goto's namesake cocktail palace, East meets West in everything from the cherry-blossom martinis and shiitake-shot Bloody Marys to this gooey revision of the barman's beloved childhood snack: Japan's street-style okonomiyaki pancake. The traditional pork and shrimp trimmings have been traded for three types of cheese (white cheddar, Parmesan and Gruyere) along with woodsy beech mushrooms and tart sun-dried tomatoes. These comfort-food fixings bulk up an already superbly flavorful dough; the flour is infused with a bonito-kelp stock before hitting a cast iron pan slathered in sweet-and-sour okonomi sauce, silky Kewpie mayo and pickled red ginger. $12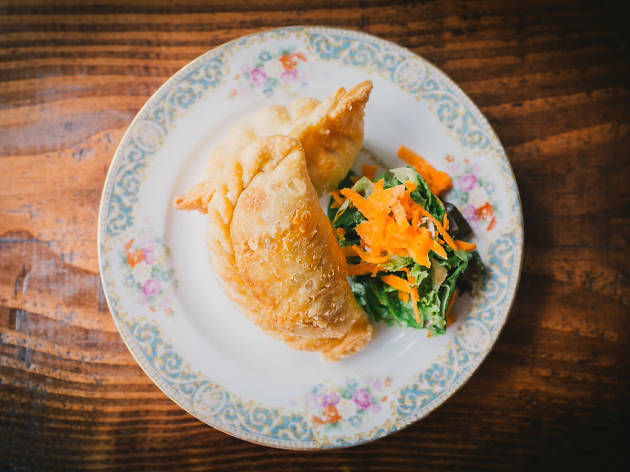 Corn empanadas at Charrua
Although Gonzalo Bava and Rocío Raña focus their wood-fitted charmer on the fare of their native Uruguay, their standout empanada is the humita corn variety, popular in neighboring Argentina. Shaped like an Asian dumpling with hand-crimped edges, the frizzled pockets snug a piping-hot filling of sweet corn kernels and pimento peppers bathed in a smooth béchamel-like sauce. A spear of olives puncture each turnover, while a side of vinaigrette-dressed salad tempers the richness. Two for $8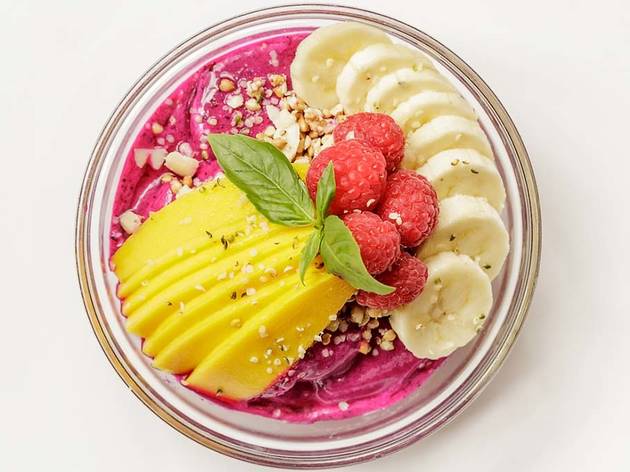 See you later, acai. Pitaya has been a staple in the tropical Far East for centuries but finally gets its New York showcase in a frozen breakfast bowl at the Cali-cool cafe. The bright magenta fruit is blended with banana and creamy coconut milk to yield a thick, milkshake-like consistency. That frothy product is then spooned into a bowl and bedecked with sliced bananas, raspberry and a superfood-heavy load of hemp, buckwheat and bee pollen. That's a good-for-you breakfast we can get behind. $10
Restaurants, American creative
This isn't the deep-fried, puffed-up pork skin you know and love. Instead, chef Gerardo Gonzalez models his snacky bites after the curbside chicharrones de harina he grew up eating in California. Cashew crema with nutritional yeast takes on the role of queso fresco; mint and jicama add an herbaceous tinge; and a pickled-pineapple salsa hits with a zesty sweetness. But most important is the satisfying crackle from those frizzled rinds, which perform a spot-on impression of their porcine peers. $11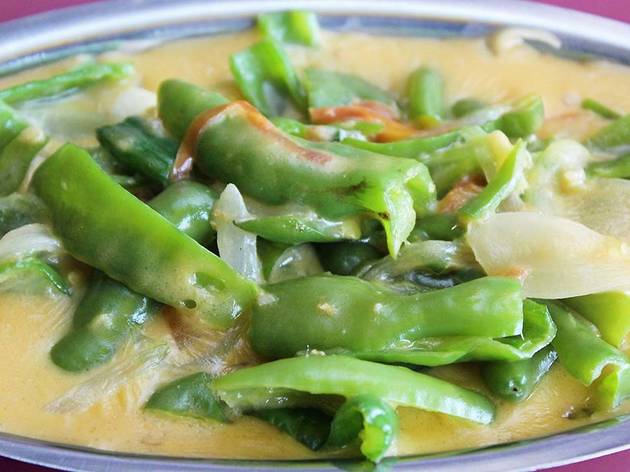 Photograph: Bradley Hawks
Don't be frightened by the neon-orange hue and daunting chili peppers topping these souplike bowls: It's cheese, man. The only Bhutanese restaurant in New York serves the small country's national dish, a peasant meal of liquified curds doused in onions, garlic and fresh green peppers. The Himalayan staple comes with a side of traditional red rice, but spring for add-ins like mushrooms or dried beef to help sop up every mind-blowingly rich drop. $8

Empellón empire builder Alex Stupak shuttered his three-year-old modern Mexican dining room for a little spring-cleaning in April. That spruce-up took the form of an exquisite 18-course tasting menu, padded with ambitious plates like this South of the Border rewrite of soul-food chicken and waffles. The tender silver-dollar waffles are potent with corn as the flour is replaced with masa in the batter. The toasty sweetness stands up to a rich schmear of chicken-liver butter, a dusting of cured-grated chicken liver and ribbons of smoked maple syrup. $165 as part of a tasting menu
Jonathan Wu's steamed egg custard chilaquiles is equal parts Sichuan breakfast dish and Mexican hangover cure. The chef's yolky childhood favorite is rehashed here with infusions of smoked chicken stock and white soy sauce, while the thrumming pork sauce hits the pan with pureed fava beans and a scrum of red bird chilis and ghost peppers. Dip into the velvety layers not with fried tortilla but crunchy house yucca chips. $15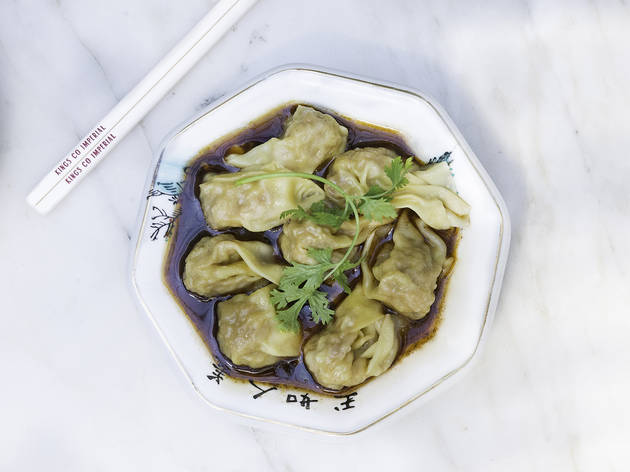 Chicken dumplings at Kings County Imperial
Tweaks to tradition abound at this casual Chinese outlet: The lo mein is made of whole wheat and the soy sauce flows out of a tap. But the tastiest one is the subtle cinnamon hum of chef Josh Grinker's white broiler chicken dumplings. The thin-skinned, scallion-punched pouches come four to an order in a pool of that draft soy spiked with cinnamon for aromatic earthiness. $10

Restaurants, Contemporary American
Matcha made an impressive showing this year, with dedicated cafes (Matchabar and Chalait) spreading the green-tea gospel. But at David Chang's rebooted, double-Michelin-starred chef's counter, the fine-ground powder was put to its most elegant use: sprinkled atop bite-size, Japanophile millefeuille for a touch of earthiness. Between crispy, laminated rye-pastry layers lurks saline orbs of trout roe and blots of yuzukosho-funked béchamel. $175, as part of a tasting menu
Restaurants, Contemporary American
Harold Moore resurrects the decadent deviled eggs from his Commerce days at this American brasserie inside the Empire Hotel. Like at that now-shuttered West Village restaurant, the egg-white halves are piped with a yolk filling shot with Dijon mustard, shallots and chives, and some briny pickle juice. But the icing on the proverbial cake is bacon: A spoonful of bacon fat and crumbles of the stuff crown the superrich two-biters. $9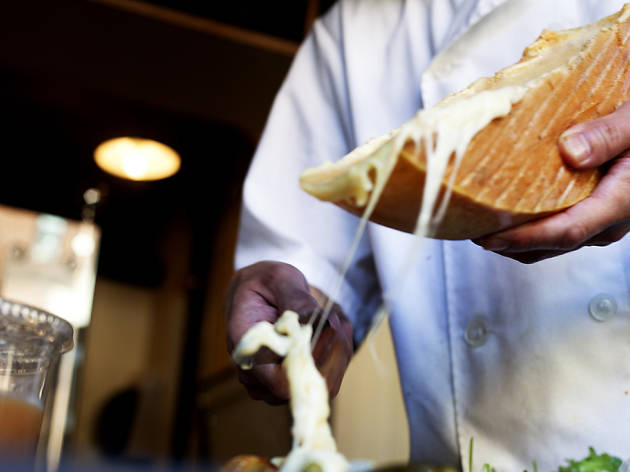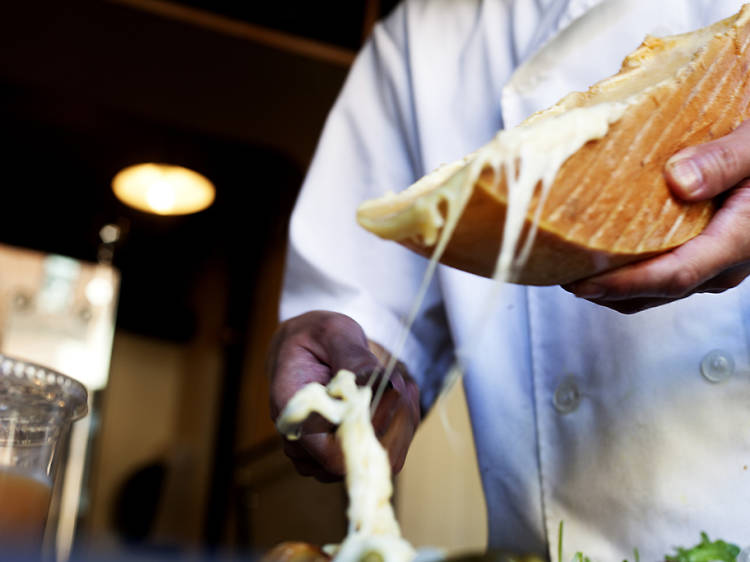 Photograph: Roman Vail
Raclette Savoyarde at Raclette
Few sights are as astoundingly pleasurable as a chef arriving with a giant half wheel of beautiful, bubbling cheese, scraping off that golden fromage lava from the rind and burying everything on your plate in its molten ripples. This raclette reverie is an everyday occurrence at Edgar Villongco's 14-seat Alphabet City storefront, named for the French-Swiss cheese and for the Alpine tableside melt-and-scrape preparation. For the titular dish, raclette cascades over a dish of skin-on oven-roasted potatoes, plucky little cornichons and pickled pearl onions, whose acidity does nice work to counter the killer lushness of the cheese. $13.78
Restaurants, Mediterranean
The year's oven-baked sleeper hit comes from Nir Mesika: The Israel-born chef's grandfather was trained by Morocco's royal bakers and he learned the craft as a child from his mother. Traditionally a Yemenite Saturday-morning dish, the soulful kubanehhere is served daily at dinner, after Mesika lets the dough rise three times before brushing it with egg wash and sesame seeds and baking it in a clay flowerpot. The resulting "bloom" is a textural triumph: There's brioche fluffiness beneath its seeded crust that pulls apart into slightly sweet morsels, perfect for dipping in the accompanying tangy crushed tomatoes. $7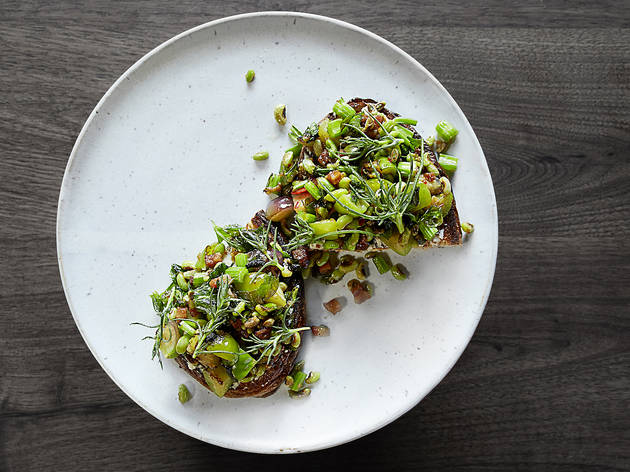 Restaurants, Contemporary American
While the dish may be the humblest of late-night snacks or the lightest of suppers, John Poiarkoff's version goes well beyond sliced bread and tinned beans. The saucy legumes are cranberry beans braised in lamb stock and tossed in a zingy XO sauce made with house-cured lamb belly, dried scallops, fish sauce and palm sugar, and the bread is tangy-crusted, ricotta-slicked slices of pain de champagne from Gowanus bakery-café Runner and Stone. $12
How many of have you had?
Did your favorite plate or potable make our list? Test your eating and drinking savviness by seeing how many of this year's best dishes and drinks you've had.
Sponsored listing
Bold flavors take center stage at this Greenpoint joint serving everything from tacos to rice bowls to craft cocktails. Let's start with a drink: You...
Venue says Because tacos, cocktails, and mezcal are always a Good Move