The best bakeries in NYC
Looking for New York's best bakery? NYC is packed with world-class French patisseries, pie shops and bread makers.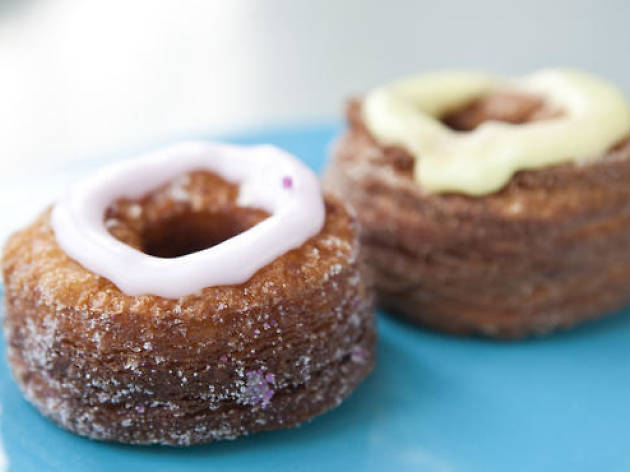 Sugar fiends never had it so good—with so many pedigreed dough-punchers setting up shop in our fair city, New Yorkers don't only have access to every best bakery NYC has to offer, but they have access to some of the best bakeries in the world. Whether you're looking for French bakery spots or all-American donut shops, the best pies for the holidays or one of the city's best chocolate chip cookies, check out every best bakery NYC sweets lovers should know about.
RECOMMENDED: Full guide to the best restaurants in NYC
Craving a cupcake?
Looking for the best cupcakes in NYC? Head to these bakeries to try one of our favorite frosting-crowned beauties.
Read more
Sponsored listing
Sarge's Delicatessen & Diner
Sarge's is generally believed to be the city's only 24-hour Jewish delicatessen. NYPD Sergeant Abe "Sarge" Katz opened the restaurant in 1964, and the building still has the burgundy vinyl booths, Tiffany's lamps and a wall of celebrity photos to prove it. Sarge's offers all the classic deli sandwiches—corned beef ($15.95), pastrami ($16.95), reuben ($19.95)—plus The Monster. Billed as the city's largest sandwich, it is indeed a towering stack of corned beef, pastrami, roast beef, turkey, salami, tomato, lettuce, cole slaw and Russian dressing on rye ($41.95). The menu is just as gargantuan as that sandwich, offering everything from shrimp salad ($17.95) to matzo ball soup ($6.95) to sliced London broil with mushroom gravy ($30.95). If you still have room, order a slice of the homemade cheesecake ($6.95) and an egg cream to wash it down ($2.95).
Venue says: "Sarge's Deli is the destination for old world food like pastrami, corned beef and matzo ball soup."