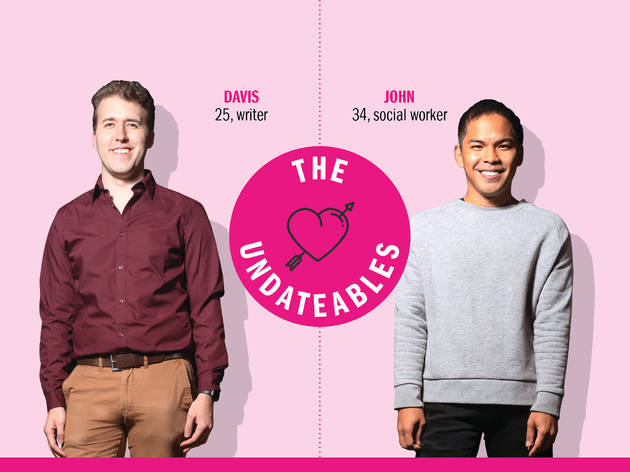 Meet the Undateables: John and Davis
We're setting up New Yorkers who swear they're totally undateable, and sending them out on socially distanced dates across the city
Why they're single
John: He hasn't been actively looking since the pandemic started and was focusing on his work before that.
Davis: He recently moved to New York, and it's been hard to meet gay men his age.

Ideal date:
John: Going to a cocktail bar and getting some small plates
Davis: Anything from a museum to a date an arcade or carnival
THE DATE
First impression
John: "I thought he was great to talk to. He didn't seem nervous. He also made great eye contact which a lot of people don't do. He liked theater and musicals. My family's really into that, but I don't sing and dance. But I appreciate watching those performers."
Davis: "We actually spotted each other in the lobby, but I didn't know it was him. You could tell he was nervous and wanting to make a good impression. He seemed very put together and poised."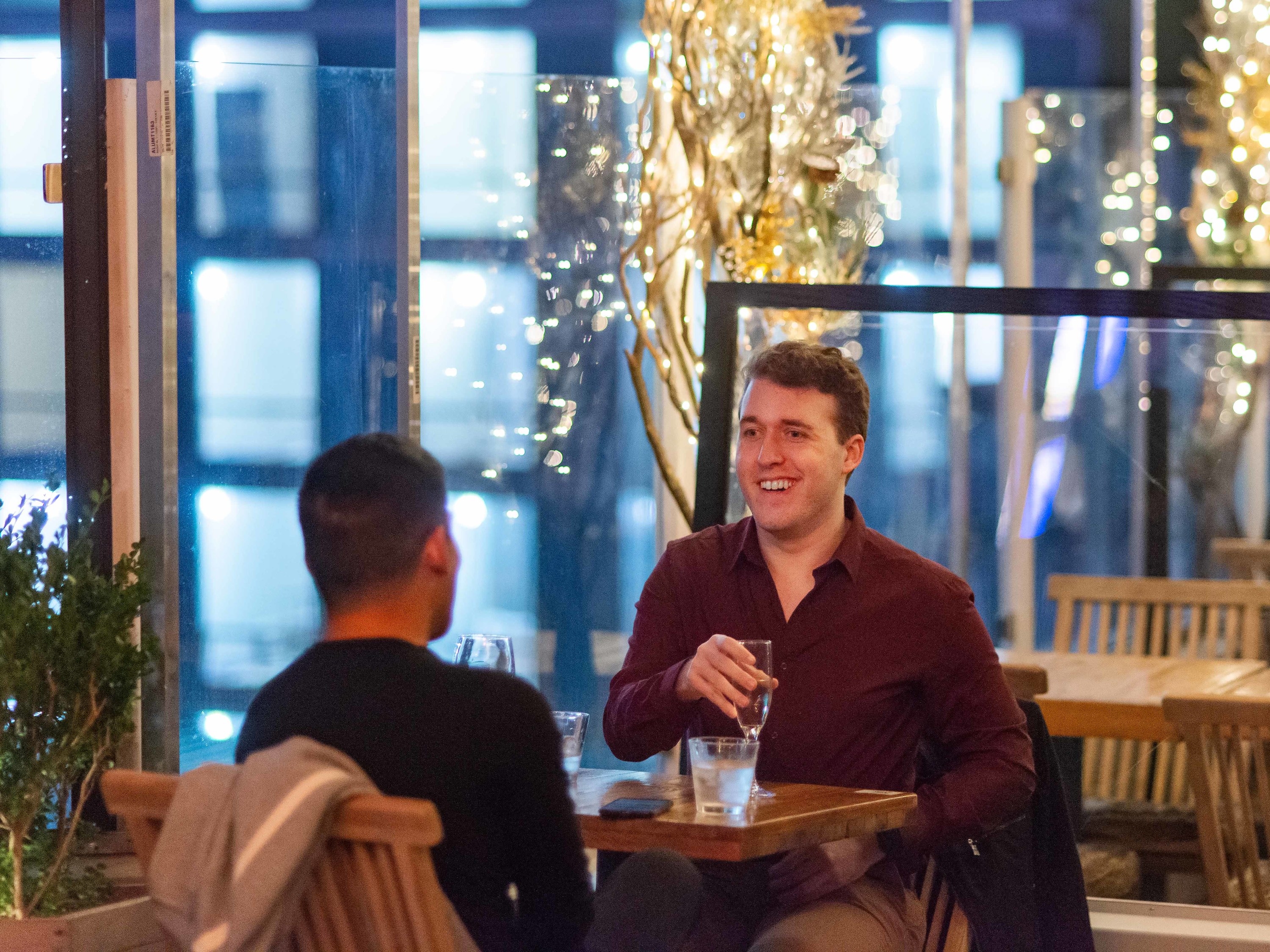 Photograph: Hollis Johnson

Chemistry
John: "I don't think there was romantic chemistry, but there was great friendship chemistry. It felt like I was catching up with someone, except it was a blind date. I've never done anything like this before, so I was just trying to be as open-minded as possible."
Davis: "We could only ever be friends, I think, and it seemed very mutual from the start. I think about 30 minutes in, conversation just kind of became conversation. But he was really good at keeping it up."
Awkward Moment
John: "I confused his name with the photographer's at the start of the date. I'm hoping he didn't catch it, but he probably did."
Davis: "I would say that the lobby situation at the beginning was awkward. There was definitely some awkwardness at the start of the date, but that was only thing. Other than that, it was pretty uneventful. It was a perfectly fun night."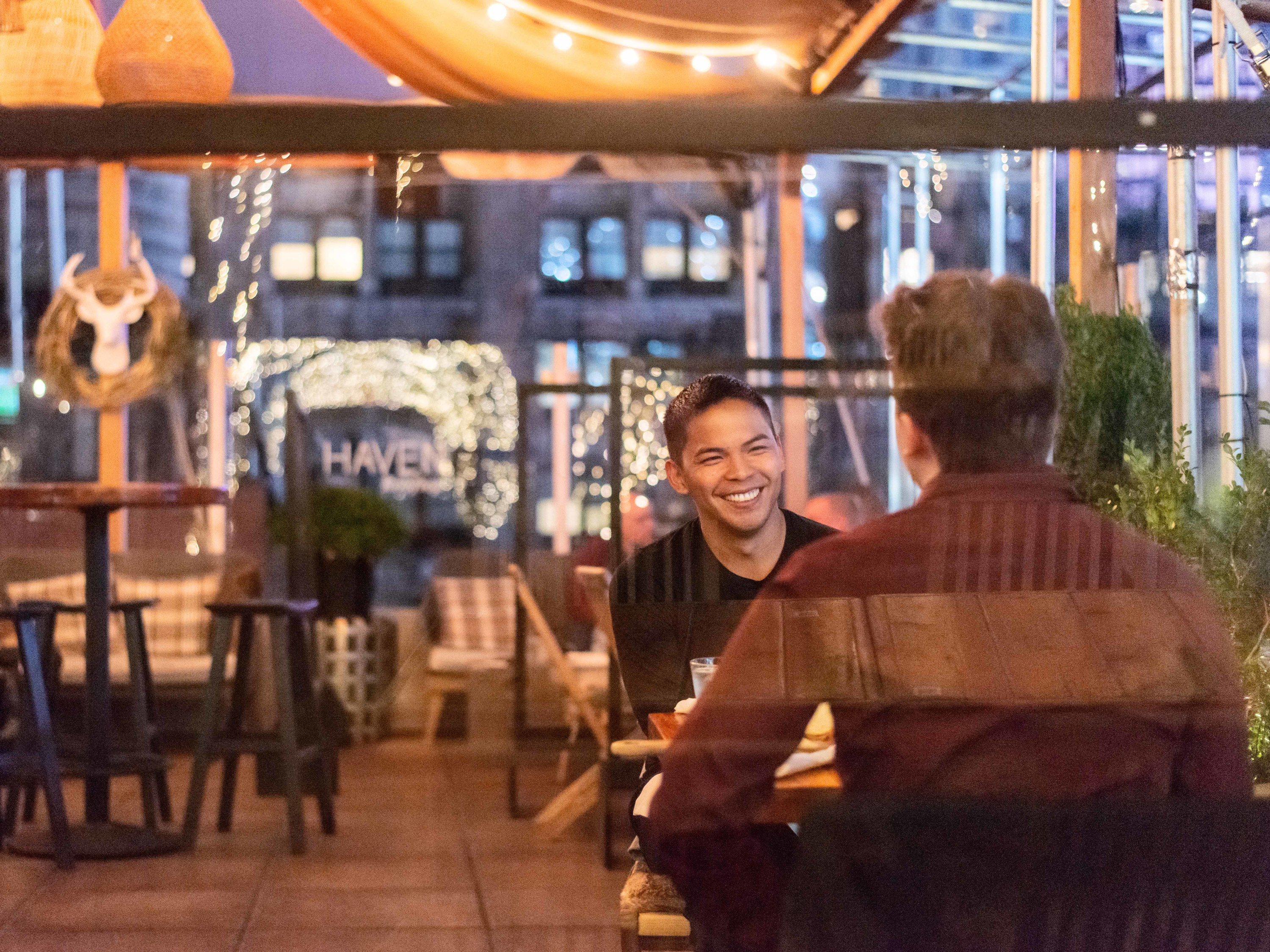 Photograph: Hollis Johnson

Dystopia Dating Vibes
John: "I didn't think it was that weird. We had to wear masks going to the bathroom and before we sat down, but after that it was pretty ok. I think if it was earlier in the summer it would have been more weird."
Davis: "It's kind of like one of those scenes in a movie where you can tell something dystopic is happening outside of a bubble, but everything's fine inside of it. If you wanted to frame it as ominous, you could."
Afterward
John: "Toward the end of dinner, he started yawning. I think he was trying to be as discreet as possible, but I was like, oh it's definitely getting late. We walked to the train together, and then just said goodbye. We didn't exchange numbers, I didn't think he wanted to."
Davis: "We walked to the subway together because we were both going the same direction and talked the entire way there. We did a little L curve walk around, and then just said goodbye. We didn't trade phone numbers. It was one of those things where there was a mutual goodbye."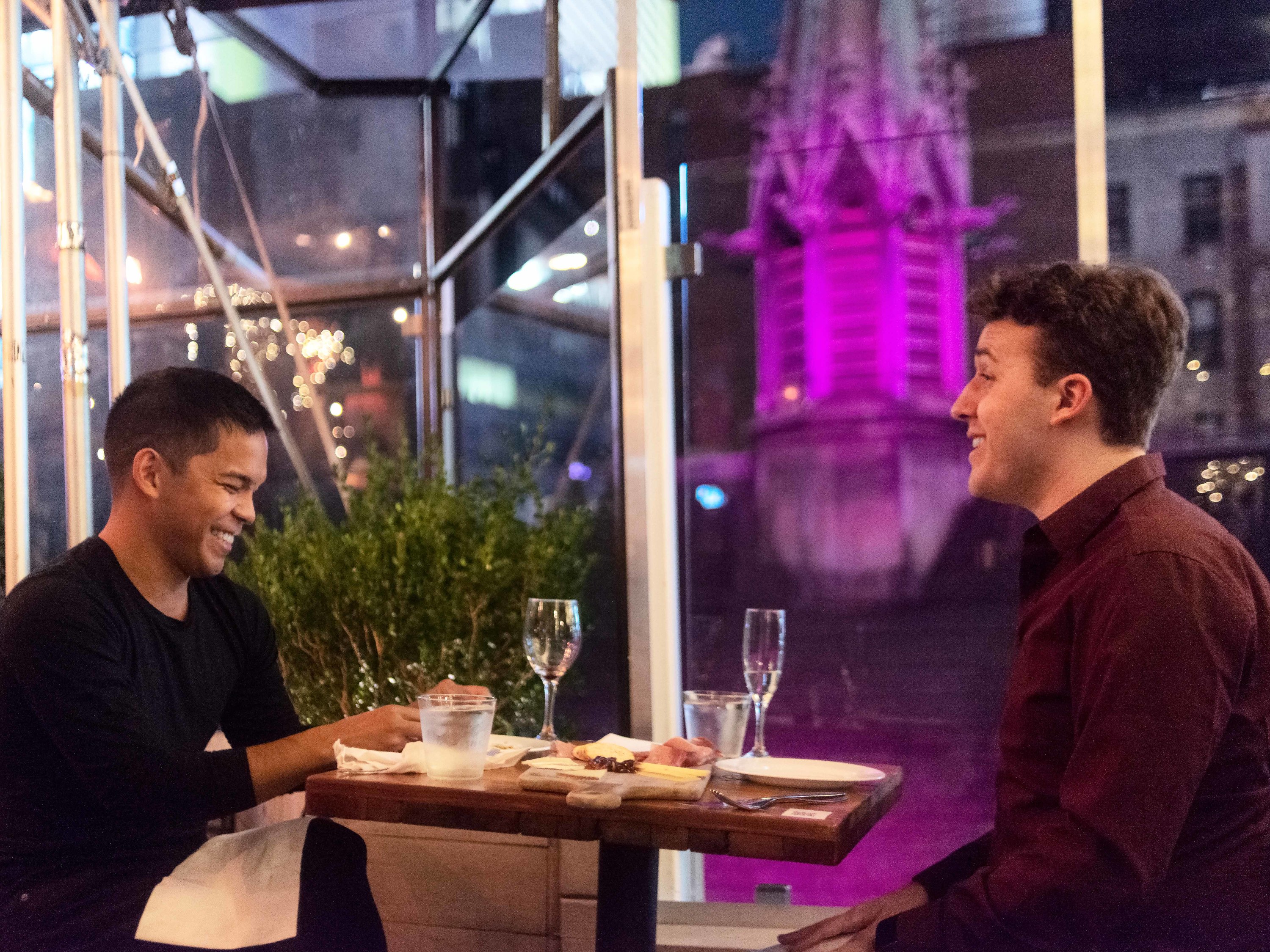 Photograph: Hollis Johnson
Verdict [On a scale of five hearts]
John: ♥♥♥ "He was so easy to talk to, but I don't think there was a connection. It was honestly a really fun night, but it just kind of felt like hanging with a friend. What I really liked about it was that because there weren't any expectations, it was more easy to get into it. The experience was really nice."
Davis: ♥♥♥ " It was a fun time. I think there was a mutual understanding from the start that it wasn't going to go anywhere. It was very nice, but there were a lot of personality differences that just didn't click."
Our daters went to Haven Rooftop (132 West 47th St, Midtown)
THE DATE SPOT
John: "It was a beautiful space, and the waiters were really, really awesome. I think it's a great date spot. For any first date, I think that would be a really good place to go."
Davis: "The food was great. Oh, man. It was an amazing date spot. We decided to share a meat platter. He got pizza with chicken, and I got gnocchi with shrimp. It was all amazing. It was really good."
RECOMMENDED: See more Undateables
Want to be set up on a free blind date? Email undateable@timeout.com.
The best date ideas in NYC