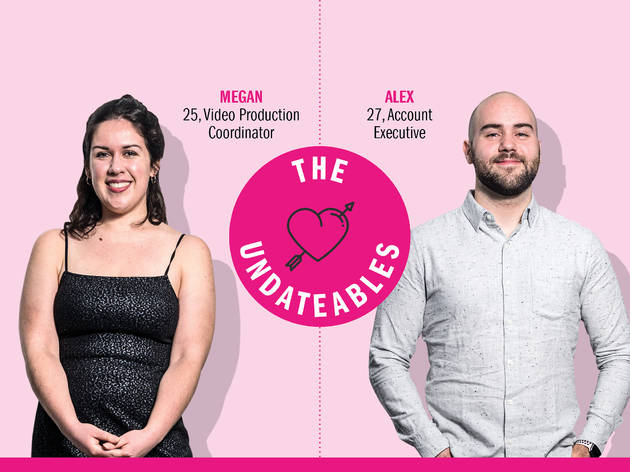 Meet the Undateables: Megan and Alex
We're setting up New Yorkers who swear they're totally undateable, and sending them out on socially distanced dates across the city
Why they're single
Megan: She hasn't had much luck finding nice people and doesn't know how to pick them.
Alex: He's been focusing on himself and self improvement.

Ideal date:
Megan: Going to a concert. It's low pressure, and you don't have to talk the whole time.
Alex: Grabbing a couple drinks and capping it off with a slice of pizza.
THE DATE
First impression
Megan: "Honestly, I thought there was a really great energy from the very beginning. He came across very nice, very well-mannered. That's a specific thing to say, but it's true. Also, he's super cute so that helps."
Alex: "It was a nice time. She was really nice, funny and easy to talk to. I thought she was very inviting and very conversational."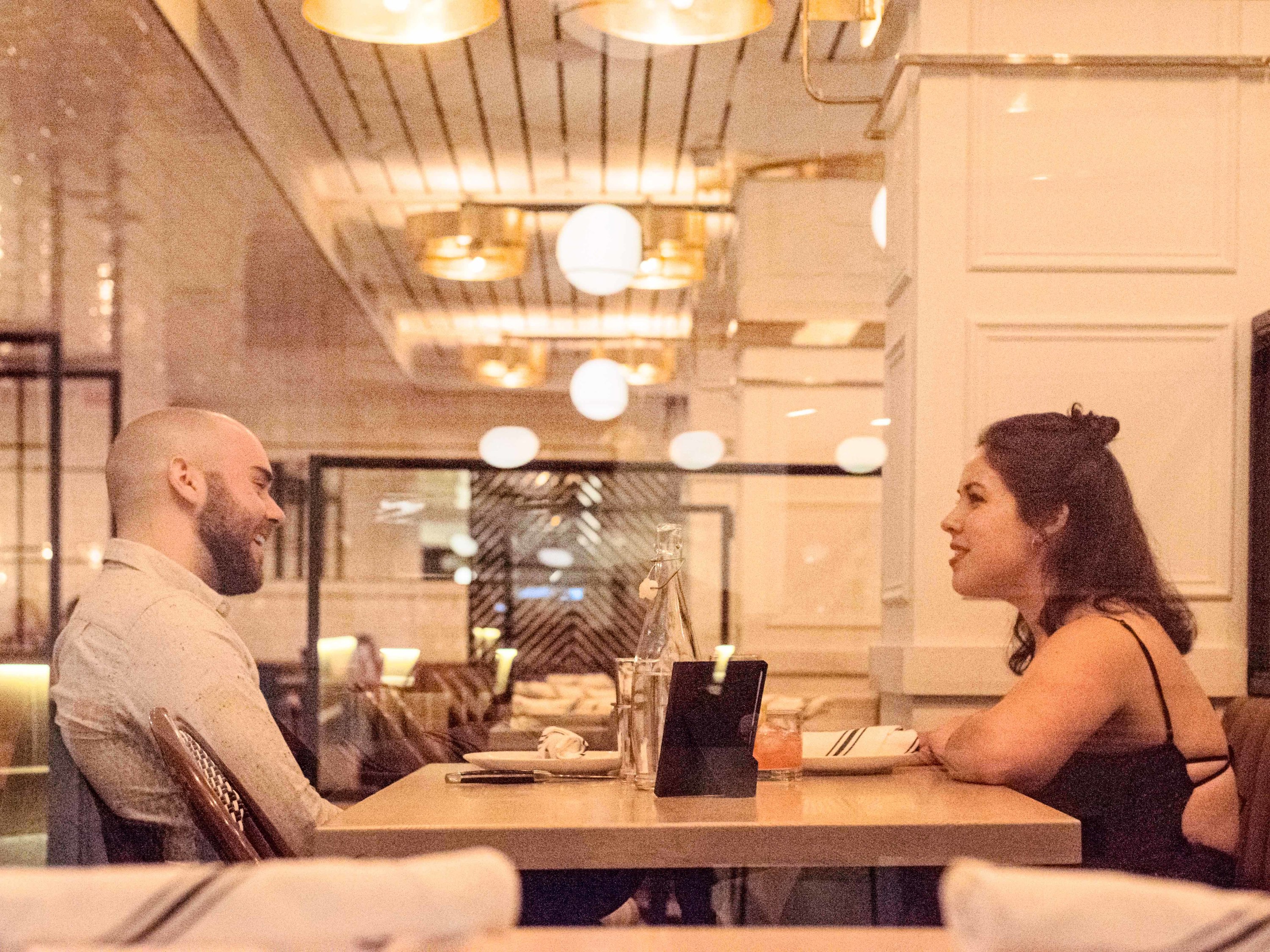 Photograph: Hollis Johnson

Chemistry
Megan: "Yeah, I felt like there was definitely some [romantic chemistry.] I was immediately interested in getting to know him further. This is really random—and not the most important thing—but we were talking about the show Friends and I just remembered that he asked me what my thoughts were on Ross and Rachel. We agreed that Ross was right on the whole break thing. So we finally put that debate to rest. Friends fans around the world can say thank you to us.
Alex: "It felt like more of a friend vibe throughout the evening. We shared an interest in food in New York, so that was something. I thought her career was very cool. She's a runner and likes to stay active, and I thought that was pretty cool, too.
Awkward Moment
Megan: "As we were waiting outside, he accidently hit me in the head with his elbow. I did not sustain any serious injuries. But that's all I can think of."
Alex: "I think we were both very conversational and it was easy to talk to her. I think it was more just the overall awkwardness of going on a date like this and having our photo taken etc."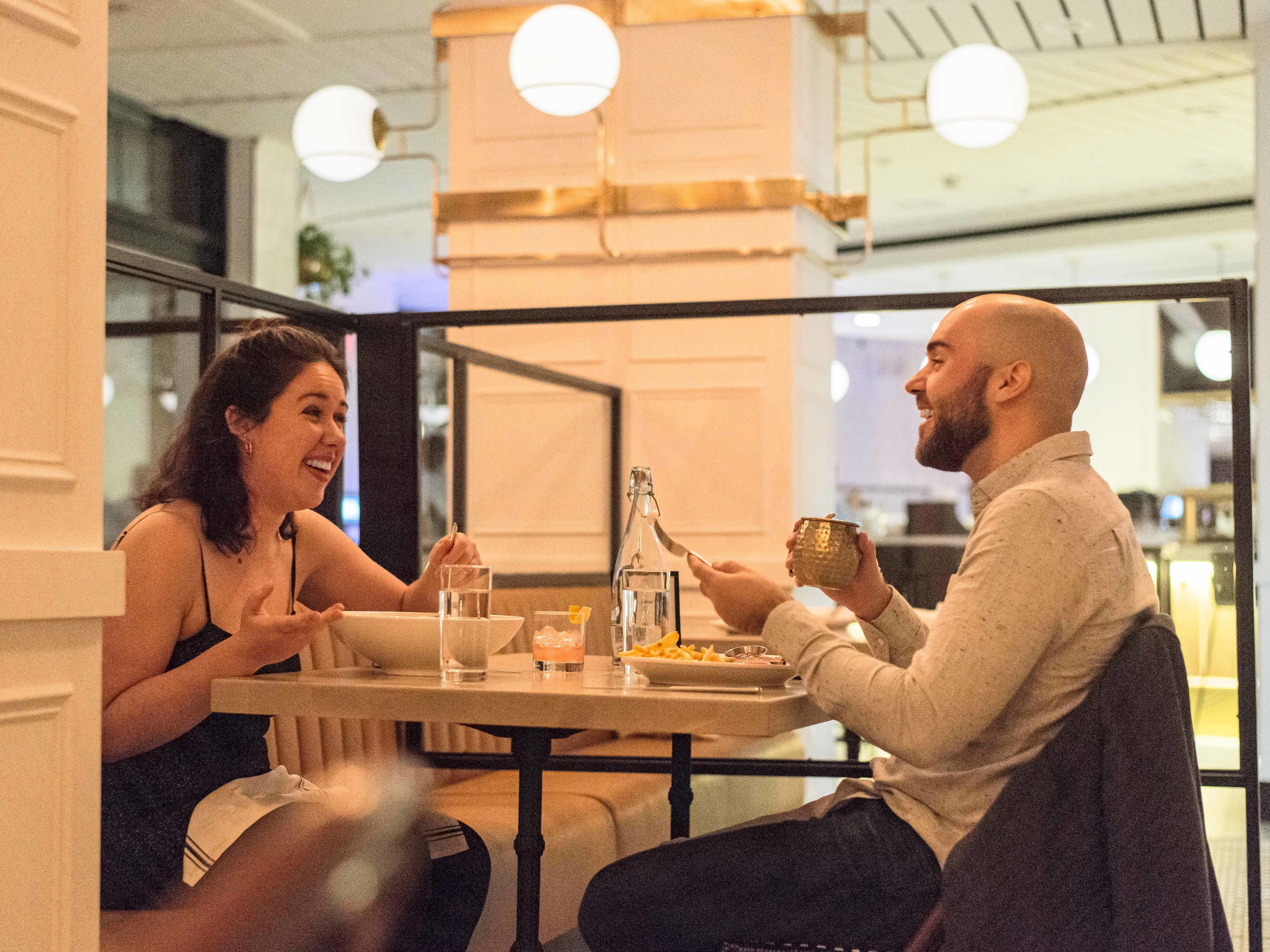 Photograph: Hollis Johnson

Dystopia Dating Vibes
Megan: "Honestly, I felt very comfortable around him, so it didn't feel weird in that regard. The only weird thing was looking around and seeing that the closest people were 25 feet away. So definitely different than pre-March. And obviously that you're wearing masks. Usually, you'd chat with the waiter, see their face... but now you don't and you're kind of used to that."
Alex: "Definitely the mask wearing and being conscious of personal space and keeping space between each other was part of it. But, overall, just everyone in masks while you're on a date is super weird."
Afterward
Megan: "We hugged goodbye. I think we're making plans to see each other again. I was not expecting him to look me up in the yellow pages, so we did exchange numbers. We were there for over an hour after the restaurant closed. I hadn't been checking the time but all of a sudden it was past 9:30pm so we decided to leave. We walked out and into the night.
Alex: "We had dessert and a ton of sweets. We exchanged numbers to maybe hang out again and we just went our separate ways."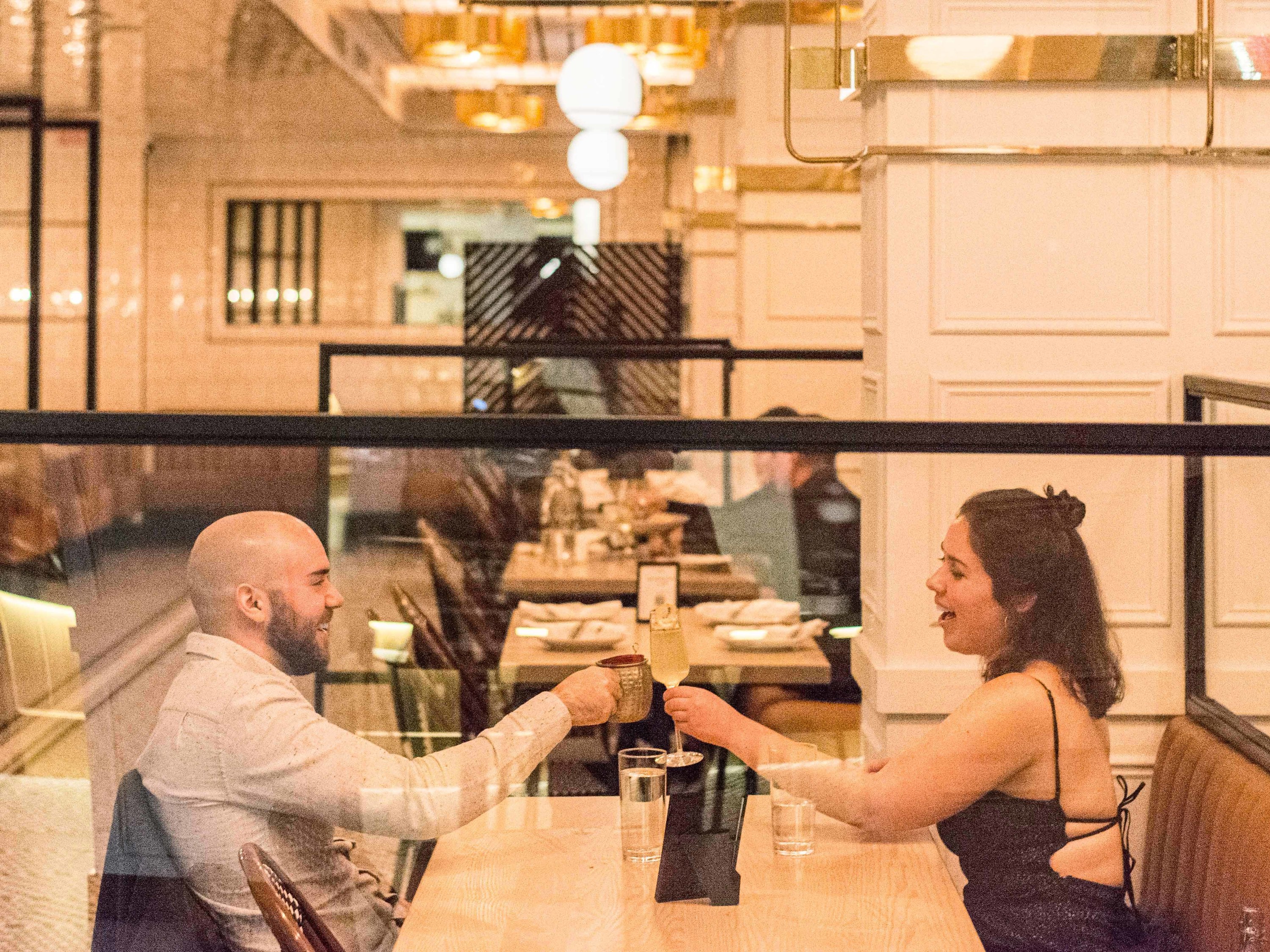 Photograph: Hollis Johnson
Verdict [On a scale of five hearts]
Megan: ♥♥♥♥♥ "I was thinking this guy is so nice and so genuine and even the most fun times I had with the last person I dated paled into comparison. I thought it was totally possible that this guy could be terrible but that is not what happened."
Alex: ♥♥♥ "It was a nice time. It was nice to meet someone new and get to know someone but not really a romantic evening, but nice girl. It was definitely an experience. Definitely something worth trying. I had nothing to lose, so I'm glad I tried."
Our daters went to American Brass (2-01 50th Avenue, Long Island City)
THE DATE SPOT
Megan: "It was so good. I am very partial to whiskey, so I got a variation on a whiskey sour called a double standard whiskey sour. Also, their French 75 was awesome if you love lemon and gin. Really great date spot. It was very pretty. I love the way it was decorated. I used to work with a production designer and I was looking at the lighting and floors and thought that it would all look nice as a set."
Alex: "I thought the restaurant was great. The had amazing drinks. A lot of cocktails, food was all good. The flank steak was fantastic, and the brownie was good. Overall, it was a good date spot for sure."
RECOMMENDED: See more Undateables
Want to be set up on a free blind date? Email undateable@timeout.com.
The best date ideas in NYC