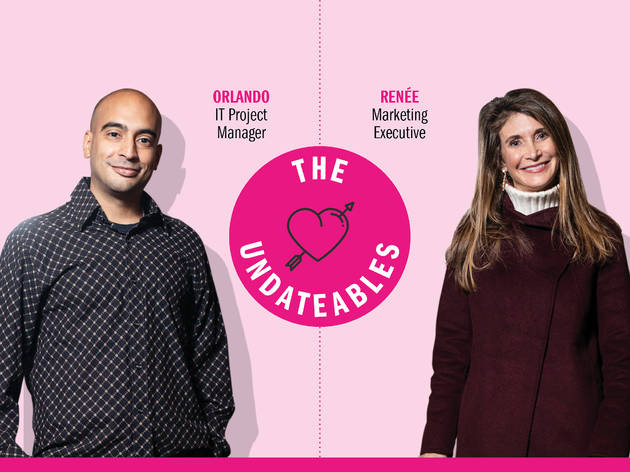 Meet the Undateables: Orlando and Renée
We're setting up New Yorkers who swear they're totally undateable, and sending them out on socially distanced dates across the city
Why they're single
Orlando: He has a hard time with trust.
Renée: She works too much.

Ideal date:
Orlando: Walking along the boardwalk on Coney Island
Renée: Meeting up for a cocktail
THE DATE
First impression
Orlando: "She was well put together and well dressed. Very polite. It looked like she was very open and into it. I would say she was definitely focused, open and intelligent.
Renée: "First impression was... I don't know. I just kind of knew that that's who he was. He was super easy to talk to. He was very personable, and he asked a lot of questions."

Photograph: Hollis Johnson

Chemistry
Orlando: "I did get the sense that we're from different worlds, that's for sure. We just come from different kinds of environments. But honestly, I think personality wise there was some compatibility. So that was kind of cool! We were able to talk pretty easily."
Renée: "There was no chemistry. We talked about work, family, pets, favorite movies, favorite books. We covered the whole gamut. Ninety minutes is a long time for a first date!"
Awkward Moment
Orlando: "Nothing super awkward. When I first got into the booth, I tripped a bit which was awkward. It also got a little quiet toward the end of the night. I was wondering if I should bring up something deeper, we were only talking about lighthearded things, but I decided to keep it lighthearted."
Renée "There was a couple of awkward moments but the most was that there was a mix-up and he called me by the wrong name at the start of the date."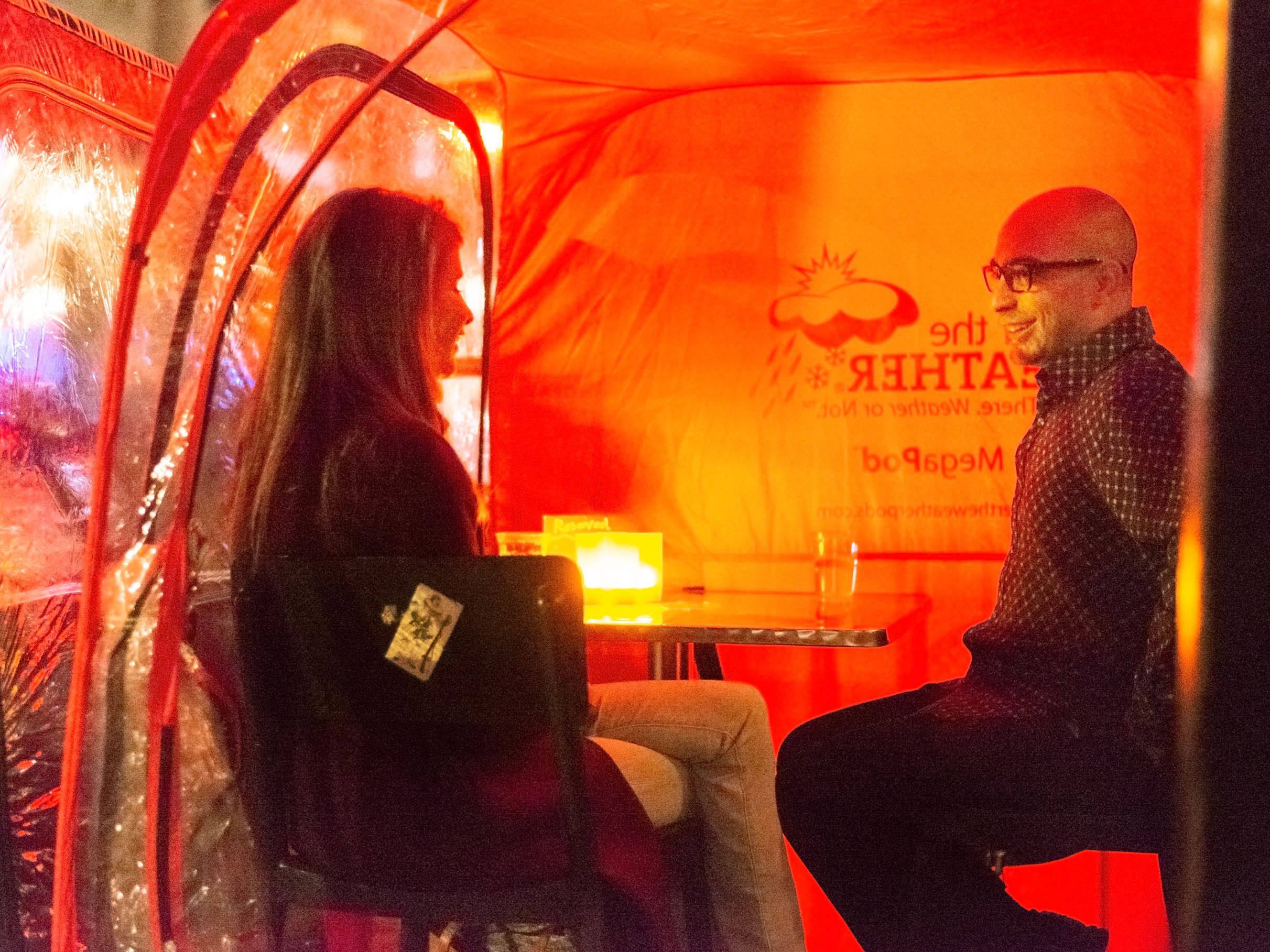 Photograph: Hollis Johnson

Dystopia Dating Vibes
Orlando: "We spent a lot of time talking about how we both avoid the subway and how things have been more dangerous in the street. Being outside in a booth when it's cold is weird. Luckily, we had a heater which made it doable. Wearing a mask was weird. Honestly, this was the first date I'd been on since Covid. But it was about as weird as I thought it'd be."
Renée: "I was in full lockdown. I've only been out and about in small groups. But the restaurant did a really good job. They have these outdoor pods with heaters in them. For me, the most surreal thing was that I was out with someone I knew nothing about and I haven't done anything like that since March.
Afterward
Orlando: "It's funny. I took all the leftovers! She said she didn't mind. I was kind of embarrassed about that, but I had to be real. She was cool about it. We walked to the corner. She got a cab, I was going to my car. We just said goodbye. I think we both knew we weren't doing much more. It was cold that night, so I could tell she kind of wanted to get into the cab."
Renée: "He drove. I was going to get a cab. We parked ways. We said it was nice to meet each other and then said goodbye! Just got out."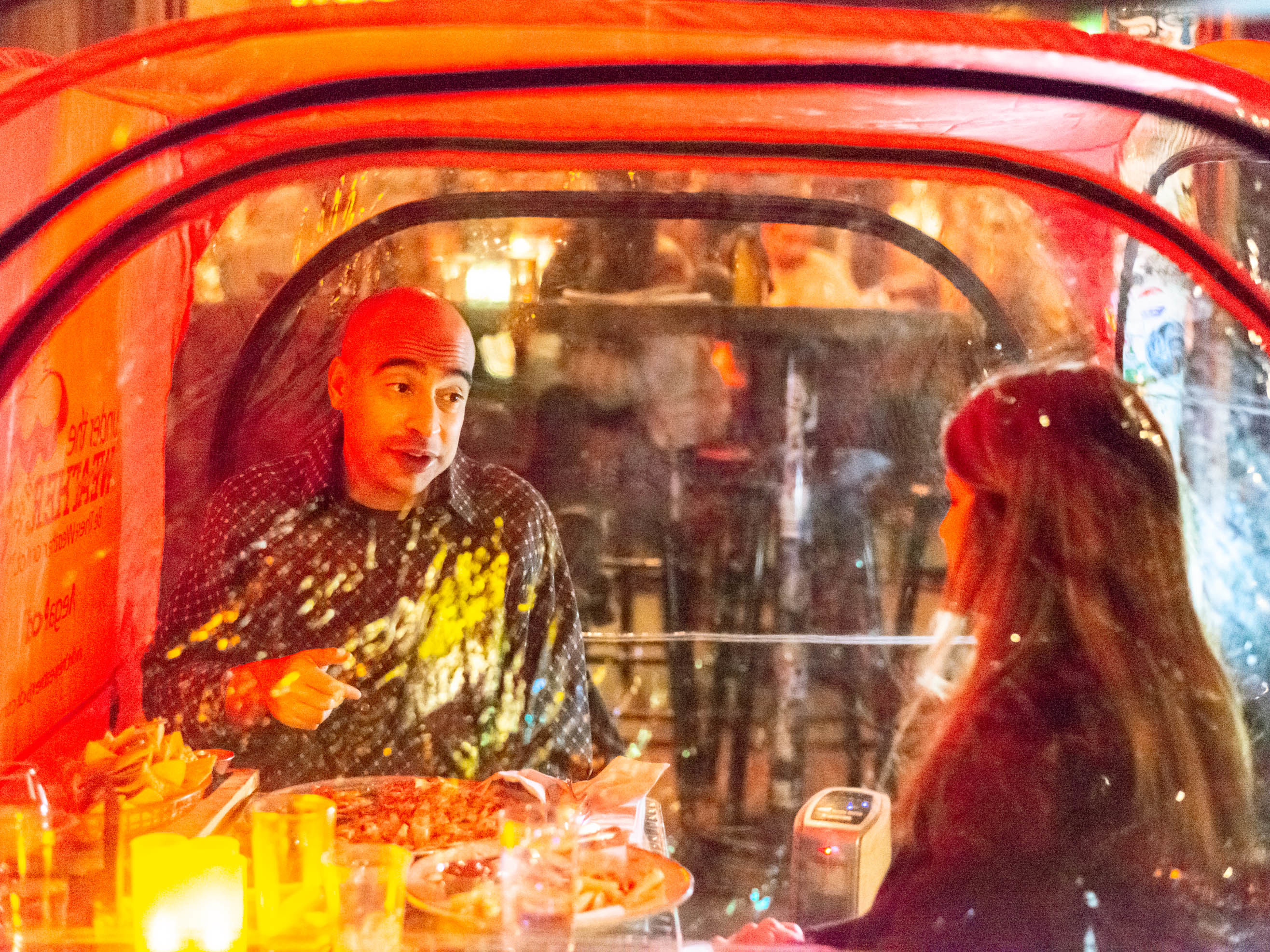 Photograph: Hollis Johnson
Verdict [On a scale of five hearts]
Orlando: ♥♥♥ "I would give it a three because there was a lot of compatibility, but we're not gonna keep in touch or anything. Honestly, it was probably a little better than my expectations going in. I was imagining someone repulsive and she was much better than repulsive."
Renée: ♥ " it was an experience that I was glad that I did. I'm glad that I went but unfortunately it was not a love connection. He's a very nice guy, though. We just weren't a match."
Our daters went to e's BAR (511 Amsterdam Ave, Upper West Side)
THE DATE SPOT
Orlando: "The fries and the guacamole were really good. This is the first time I've ever had shishitos which I'd definitely recommend. The bar food was really good! The servers and staff were all nice and friendly. They had an outdoor area on the street and these plastic booths on the sidewalk with heaters in them."
Renée: "I had a burger and fries. The staff and the service was amazing. And their outdoor set-up for Covid is great. They have heaters, which is not super normal on the west side for some reason, and they were very well separated. The pods were nice, and the staff was great."
RECOMMENDED: See more Undateables
Want to be set up on a free blind date? Email undateable@timeout.com.
The best date ideas in NYC