The best hidden bars in Sydney
Keep your eyes peeled because some of Sydney's best bars are tucked away out of sight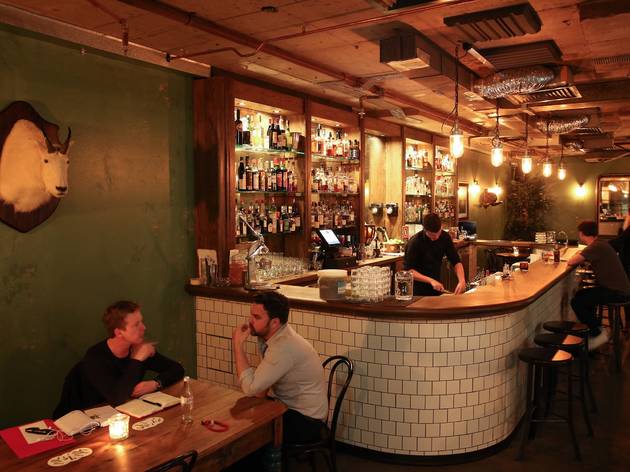 Maybe it's signalled by a scrap of light under the door. Perhaps you'll see a a queue in an alley and wonder what all the fuss is about. Or is it the sound of revelry as the door swings shut that draws you in? Sydney's best underground bars are not that easy to find, but they're definitely worth the hunt.
Want more Sydney bars? We've got waterfront bars, rooftop bars and ace beer gardens.
The best hidden Sydney bars
Let this laneway voodoo bar cast a spell on your evening with tiki drinks, salty snacks and a rescue dog that hangs out on Thursday and Friday nights for pats.
In over three years Sydney's fervour for this candle-lit basement bar with a whisky library has yet to slacken.
There's no sign, but that hasn't stopped people flocking to this small bar where the cocktails are delicious, the whiskies plentiful and good craic is guaranteed.
Behind a full functioning barbershop is a gin bar with a terrarium vibe, so you can get all handsome and then take your new look out for drinks.
You'll need to be looking for the entrance to this subterranean slice of the Caribbean where rum cocktails are the order of the day.
A basement bar in the CBD where bartenders in denim overalls shake up serious drinks served in beautiful glassware or just crack a shit tinny.
You need to look for the projected sign on the footpath to find the door to this below-ground cocktail den.
The Arcadia Liquors team opened up a little European bistro just around the corner. But our favourite part of this whole operation can be actually found down the corridor, past the lakeside murals and behind a sturdy wooden door.
A vintage small bar with a tiki-skewed menu that includes Sydney's only Peanut Butter Colada.
Hidden behind a cupboard-sized room lined in old Singer sewing machines is a small bar fashioning good times out of cocktails and curly fries.
Prefer to drink up high?
We're all for a late night hootenanny, but sometimes there's nothing better than bending the elbow with the sun on your back and a cool drink to keep things chill. And we're not alone. Sydney's rooftop bars account for some of the most popular, and hard won, seats in the city, so get in quick for the glory spots with the best views.