Best bachelor party destinations for an epic trip with your friends
Planning your friend's last hurrah? The best bachelor party destinations come with a side of guaranteed fun.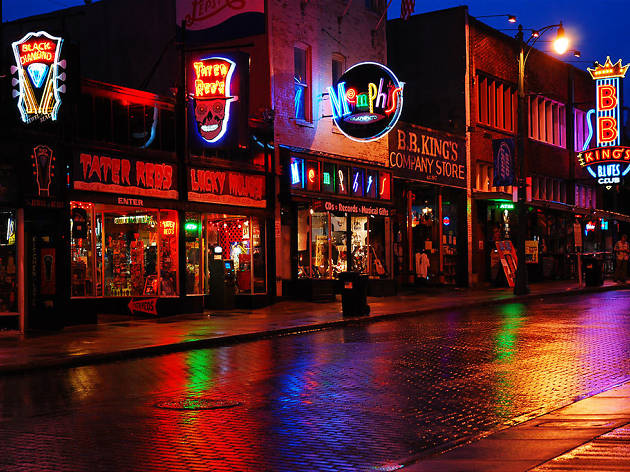 When it comes time to plan your bachelor party, you don't want to visit any old destination—you want to celebrate in high style in truly special places. Across the country, a diversity of cities offers a wealth of partying options, whether you and your groomsmen are outdoorsy types looking to explore the best national parks in the U.S., foodies who can't wait to try the best sushi restaurants in America or just a crew of overworked folks who want to kick back at the best day spas and spa resorts in America. From Sin City to the Windy City, these are the best bachelor party destinations in America.
Best bachelor party destinations
Our number one pick might be slightly unconventional—it's not Vegas, after all—but it wins out for its versatility. Whether you're a live music lover, food obsessive, cocktail enthusiast or sports fan, the Big Easy checks all these boxes and then some. You and your dudes can chow down on the city's excellent fried chicken, jambalaya and crawfish etouffee at classic spots including Willie Mae's, Antoine's and Commander's Palace; crawl Frenchman Street for excellent live jazz and brass bands at snug clubs like Snug Harbor, The Spotted Cat and Three Muses; and sip perfectly balanced Sazeracs and French 75s at mixology temples such as Cafe Adelaide and Carousel Bar. If you've scheduled your celebration for the fall, head to a Saints game and bask in the fan fanaticism—and if you want to go lowbrow, don't forget to wander Bourbon Street with a frozen hurricane in hand.
Regardless of your personal style, it's hard to imagine a better place for a bachelor party than Sin City. If you and your clan are looking to go big or go home before tying the knot, Vegas offers everything from gambling to strip clubs to pool parties, plus less louche options like star chef fine dining and top-tier golf links. After securing a hotel reservation on the Strip, grab your wallet and head to the town's best clubs like Marquee or XS; pull on your trunks for wet, wild and booze-drenched pool parties like the MGM Grand's "Wet Republic" or the Hard Rock's "Rehab;" and yes, check out the poles at places such as the Spearmint Rhino, if you must. To refuel, stuff your face at over-the-top buffets like Caesars Palace's Bacchanal Buffet, or pull on a fresh button-down and tuck into world-class fare at Jose Andres' Jaleo, Michael Mina's Bardot Brasserie or Mario Batali's Carnevino.
With beautiful beaches, a thumping nightlife and endless options for exploring the outdoors, Miami is one of our top picks for a bachelor party destination. To be close to all the fun, staying in South Beach is your best bet, where, if you research carefully and book ahead of time, you can often score major deals with the boutique hotels. During the day, sunbathe and snooze on the beach, book a scuba or snorkel trip, or splash out in style on a private yacht charter with companies such as Tropicalboat or Prime Luxury. Bass-pounding clubs along the beach offer a variety of options for partying; check out bottle service at LIV, and keep the party going all night long at Club Space, which stays open for 24 hours on Saturday. For the hangover eats you'll absolutely require the next day, there's no better spot than Little Havana, where you can refuel with rib-sticking Cuban fare like codfish fritters, roast pork and rice and beans at Versailles, El Cristo or La Carreta.
4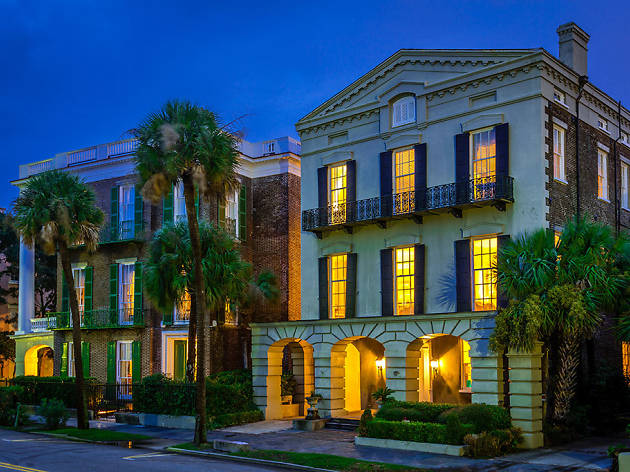 Photograph: Shutterstock
This Southern charmer is the perfect pick for a bachelor party weekend, boasting beautiful cobblestoned streets, handsome antebellum architecture and a facility for the good life that's tough to find in any other city. Eating should be a focal point of any trip here: Charleston excels in comforting-yet-creative Southern fare at restaurants such as Husk, The Ordinary (don't trust the name) and Magnolias. This is also a drinking town, with the most emphasis and expertise placed on the brown stuff—namely, fine bourbon—that you and your crew can sip straight or in cocktails at spots such as Home Team BBQ, Proof and The Gentry Hotel. If you can fit in any activities between all that eating and drinking, play a few rounds of golf at the Ocean Course on Kiwah Island, bliss out on Folly Beach, hike Bull Island or nerd on history on a tour of one of the city's stately (and fraught) plantations, such as Middleton Place or Magnolia.
5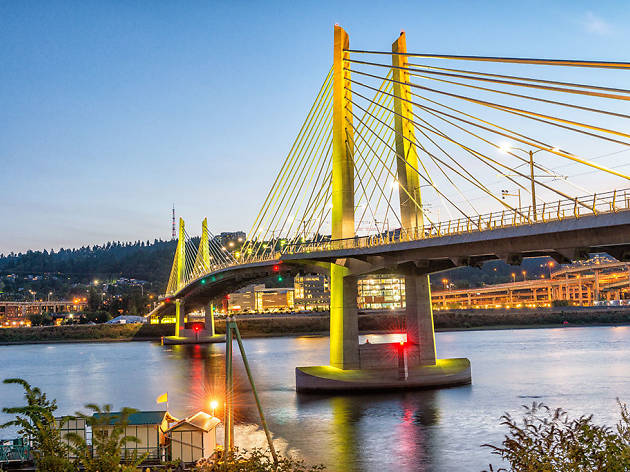 Photograph: Shutterstock
This gem of the Pacific Northwest attracts all kinds of adventurous types, from artists to oenophiles to backpackers. Its dedication to the good life makes the city a solid choice for bachelor parties: whether your group is looking to kick back and relax or take on the great outdoors, Portland's got it all. A good place to start is Distillery Row in Southeast Portland, where you can tasting-room-hop between eight craft distilleries offering up impeccable whiskies, brandies and gins. When the munchies kick in (which they undoubtedly will when you factor in Oregon's legal recreational marijuana status), world-class restaurants and wildly popular food trucks beckon with a diverse array of cuisines that make use of local ingredients. Burn off all those calories with any of a number of stunning hikes near the metro area, including Rooster Rock State Park in Corbett and Puff Falls in Carson.
Any food-loving group of dudes would be thrilled to head to the City of Angels for a bachelor party, the better to hop between Koreatown's excellent bibimbap, Boyle Heights' rigorously authentic taco trucks and Hollywood's pricy-but-delicious haute-hippie grain bowls. Apart from the food, the drinking is top-notch, too, with adventurous and innovative mixologists shaking delicate cocktails at Redbird and tropical tiki classics at Tonga Hut. During the day, bum out on insanely beautiful beaches like El Matador and Zuma, or catch a wave at internationally coveted surf spots Surfrider and El Porto. When it comes to nightlife, the sky's the limit: hit wild dance clubs like Couture, catch an intimate concert at El Rey, or head to Hollywood for a variety of gamut-running seedy-to-classy strip clubs.
For an adrenaline-fueled bachelor party weekend, where else to go but the city that never sleeps? Start the morning off with a cup of craft coffee at geeked-out shops like Ninth Street Espresso or Third Rail, spend the day strolling Manhattan's elevated park The High Line and ducking into Chelsea galleries and Fifth Avenue museums, and cross the Brooklyn Bridge for breathtaking views of the city streets and the East River below. There are absolutely no limits when it comes to grub: munch on classic New York slices, slurp noodles in Chinatown or go highbrow at fine dining temples like Eleven Madison Park, Le Bernardin and Per Se. At night, catch a big-budget concert or Nets game at Brooklyn's Barclays Center, bar-hop through the East Village or slump into a booth at one of the city's many 24-hour diners.
8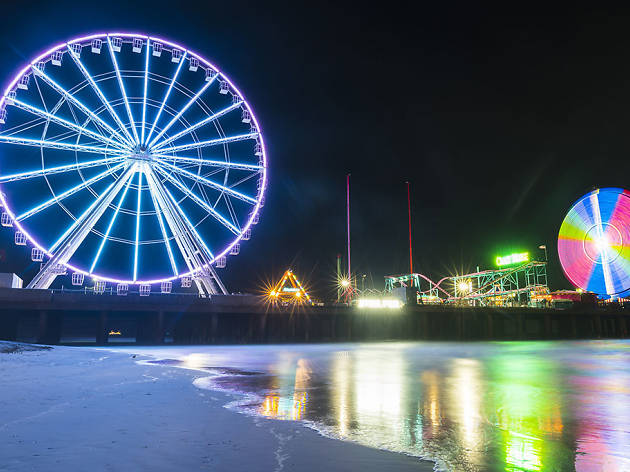 Photograph: Shutterstock
It's no Vegas, but the Tri State Area's favorite gambling destination is a convenient getaway for those living in the northeast. A cinch to get to from NYC, Philly, Connecticut and anywhere in Jersey, this slightly seedy casino city still has its charms. If you're visiting in the summer, a stroll along the boardwalk with stops for cotton candy, soft serve and saltwater taffy is a must; beaches including Cape May and Sea Isle are surprisingly pretty. As in Vegas, gambling is really the point of coming to Atlantic City: hit the blackjack table at the Tropicana or go for a round of roulette at the Golden Nugget. Feeling like getting a little rowdy? Slip into your trunks and get wet at The Pool After Dark, Harrah's all-night indoor pool party, check out "gentlemen's clubs" Bare Exposure and Babes, or keep it (a little bit) classier at the Borgata's stylish 40s-style Thursday night burlesque show.
Known for its robust live music scene, its rib-sticking BBQ restaurants and its easygoing attitude, Austin is a natural choice for any group of fun-loving dudes. Starting your day with breakfast tacos is a no-brainer, particularly if you've been drinking the night before. Clear your head with a migas taco at Veracruz All Natural, a machacado at Mi Madre's or a brisket taco at Valentina's (or all three). Once fortified, move on to all-day drinking: Odd Duck's happy hour begins at 2:30pm (look for $3 drafts and $6 cocktails), Bouldin Creek Cafe's starts at 3pm and Salty Sow's starts at 4:30pm. When you're hungry again, seek out rigorously authentic BBQ at Franklin Barbecue, Micklethwait Craft Meats or Terry Black's. Late in the evening, scope some live blues at Antone's, rock at the Continental Club or some alternative sounds at Parish. And if after all that you want to hit up Palazio Gentleman's Club, we promise we won't tell.
For music-loving bachelors, Chicago is a no-brainer destination: this is where the electric blues evolved in the mid-20th century, and the city still offers a veritable banquet of live music options. Clubs such as Rosa's Lounge, Kingston Mines and bluesman Buddy Guy's famed joint Legends host excellent acts nightly. Look out for the 2019 opening of the Chicago Blues Experience, a multimillion dollar, 50,000-square-foot museum tracing the history of the genre. You and your crew will obviously want to chow down on the Windy City's famed deep dish pizza: check out hoppin' spots like Pequod's, Giordano's and Lou Malnati's. In nice weather, it's fun to take advantage of Chicago's extensive waterfront: go ridiculous with one of the city's many booze cruises, like Island Party Boat's tiki-drink-stocked, waterslide-equipped yachts and pontoons. Sports fans, depending on the season, can take in a Bears or Cubs game.
Show more