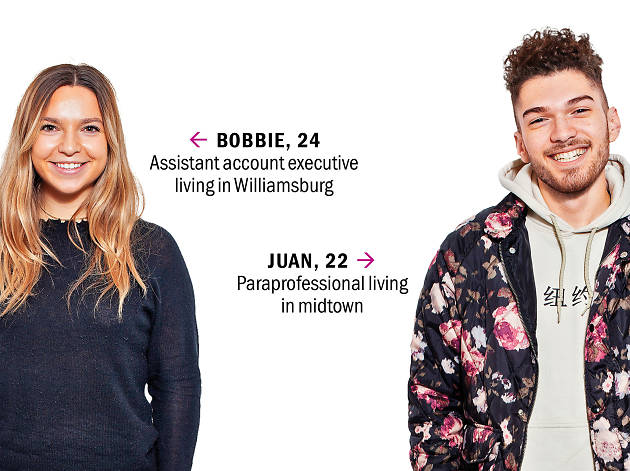 Meet the Undateables: Bobbie and Juan
Each week, we take two New Yorkers who swear they're totally undateable, and put our matchmaking skills to the test
Why they're single:
Bobbie: She spends a lot of time with the wrong people.
Juan: He chooses to be, and he doesn't want to waste people's time.
Ideal date:
Bobbie: Going to a wine bar and then taking a long walk
Juan: A nice dinner and drinks
THE DATE
First impression
Bobbie: "I walked in and knew it was him pretty much immediately. He looked starkly like my ex-boyfriend, which freaked me out from the get-go. They even had the same glasses."
Juan: "She had a very energetic vibe, which isn't necessarily my type. I go for a bit more of a calmer energy. I'm really energetic and sometimes need a balance."
Chemistry
Bobbie: "It didn't feel romantic, but he was a really nice guy. He was just wearing a T-shirt and Yeezys, though. I was like, For a first date, you could step it up a little."
Juan: "I felt really comfortable, but I don't think it was romantic. It felt more friendly. There was a lot of talk about life in general, but we didn't really talk about past relationships."
Awkward Moment
Bobbie: "There were a couple of awkward moments that kind of felt like, Oh, does he want to leave? I couldn't really tell if he wanted to go. He also kept talking about being hungry."
Juan: "I spilled a drink when I was walking because I didn't know how to hold a martini glass. All of my drinks usually come in a cup."
Afterward
Bobbie: "We were there for about three hours, so we chatted for a long time. When we were leaving, we took the subway together and said goodbye. We didn't exchange numbers."
Juan: "There was a hug goodbye. We didn't exchange numbers. But she actually knows someone who I perform improv with, so I was like, Hey, I'll follow her on Instagram."
Verdict
Bobbie: ♥♥♥ "I had fun, but it was like I was catching up with a friend. I think part of it may be that he looked exactly like my ex. He almost felt kind of familiar."
Juan: ♥♥♥ "I had a good time. I called my friend after, and I was like, 'You should try Undateables!' I had a great time getting to know her—she was a very nice person."
Our daters went to Time Out Market New York (55 Water St, 917-810-4855)
RECOMMENDED: See more Undateables
Want to be set up on a free blind date? Email undateable@timeout.com.