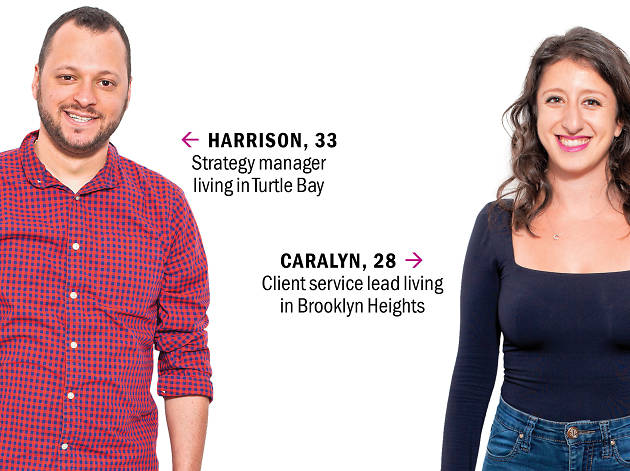 Meet the Undateables: Harrison and Caralyn
Each week, we take two New Yorkers who swear they're totally undateable, and put our matchmaking skills to the test
Why they're single:
Harrison: The apps are killing him.
Caralyn: She's still just looking for the right person.
Ideal date:
Harrison: Getting a drink and some light appetizers and then talking a walk
Caralyn: Exploring a new neighborhood and finding a cool bar for a drink
THE DATE
First impression
Harrison: "My first impression was that she seemed very chill and down-to-earth. She was also really outgoing, which was refreshing. I would absolutely say that she was my type."
Caralyn: "He wasn't my usual type, but he was super nice. He broke the ice and was like, 'This is a weird way to meet!' He was a little bit shy. I did most of the talking."
Chemistry
Harrison: "I think there was romantic chemistry. We talked about family, growing up—it turned out that we have a few friends in common. We both work in advertising, which was neat."
Caralyn: "There wasn't romantic chemistry. I thought he was cool and loved hanging out with him—I'm just not sure if there was that connection on my side. But never say never!"
Awkward Moment
Harrison: "The most awkward moment was definitely when I first met her. We both weren't quite sure if we were the ones meeting each other, so we just stood there for a while."
Caralyn: "Neither of us knew how to end it. We kind of skirted around how we would actually walk out. The most awkward part of the night was figuring out how to leave."
Afterward
Harrison: "We walked around the market, then said our goodbyes and exchanged numbers. I would like to see her in the future. I had a great time. I'm hoping we can do it again."
Caralyn: "We exchanged numbers, he kissed me very briefly, and then we went our separate ways. He texted me to make sure I got home safe, which I thought was very nice."
Verdict
Harrison: ♥♥♥♥ "It went really well. I hope I have a chance to see her again. It was shockingly better than how I thought it might go. You never know with a blind date."
Caralyn: ♥♥♥ "We had a lot in common. There just wasn't a romantic spark. I kind of felt like I was spending the night hanging out with a friend. But he's a great guy."
Our daters went to Time Out Market New York (55 Water St, 917-810-4855)
RECOMMENDED: See more Undateables
Want to be set up on a free blind date? Email undateable@timeout.com.