Heads up! We're working hard to be accurate – but these are unusual times, so please always check before heading out.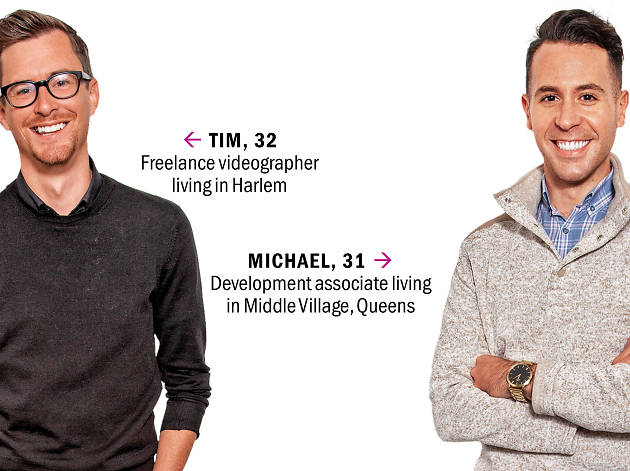 Meet the Undateables: Tim and Michael
Each week, we take two New Yorkers who swear they're totally undateable, and put our matchmaking skills to the test
Why they're single:
Tim: Recently out of a relationship, he's trying to get back into the dating scene.
Michael: There's just been a lack of effort by all the parties involved.
Ideal date:
Tim: Drinks at a cocktail bar, followed by dinner
Michael: A game of table tennis, then dinner and drinks
THE DATE
First impression
Tim: "I knew it was him immediately. The conversation flowed really nicely. I thought right away, Oh, okay, this is going to be fun. I was excited for the next few hours or so."
Michael: "He seemed really nice and personable. I thought he was five years younger than me, which he liked to hear. He wasn't really my type, but I wouldn't exclude him."
Chemistry
Tim: "Despite him being very cute, I was immediately like, Oh, this is a guy who would be a really good friend. I didn't feel like there was romantic chemistry."
Michael: "I think there was chemistry but not necessarily romantic. We both really like the ID channel, so we talked about that a lot. We're both really into true crime."
Awkward Moment
Tim: "I feel like I was a little nervous going in because I was talking too much, but I think that was just mainly out of meeting someone for the first time like that."
Michael: "When I first got there, the manager met me, and I thought he was Tim and introduced myself. The manager seemed pretty confused, but then Tim came over."
Afterward
Tim: "It wasn't until we left that I realized neither of us made an effort to exchange numbers. So I decided we must have been on the same page about it being more friendly."
Michael: "I felt like he was fine with not exchanging numbers. I think he was in it for the experience. We parted ways pretty quickly, but I would have met up with him again."
Verdict
Tim: ♥♥♥♥ "It was a great time. I was like, Maybe we'll be friends. Then again, I don't know his last name, so I'll probably never see him again. But he was really nice."
Michael: ♥♥♥♥ "I thought the date was really great. I was relieved that it was him. He seemed really bubbly. I can be the opposite of that, so it was refreshing in that sense."
Our daters went to Time Out Market New York (55 Water St, 917-810-4855)
RECOMMENDED: See more Undateables
Want to be set up on a free blind date? Email undateable@timeout.com.