The 16 best day trips from NYC
Take one of these easy, affordable day trips to beaches, hiking trails, fishing towns, zip-line courses and more
Explore upstate New York and the delights of New Jersey and Long Island with these easy day trips from NYC. We've rounded up summer standbys like Montauk in the Hamptons, Fire Island and a no-gambling trip to Atlantic City, as well as outdoor art hot spot Grounds for Sculpture, recently opened destinations like Greenwood Gardens, and places to try adventure sports such as zip lining and whitewater rafting.

RECOMMENDED: All of the best day trips from NYC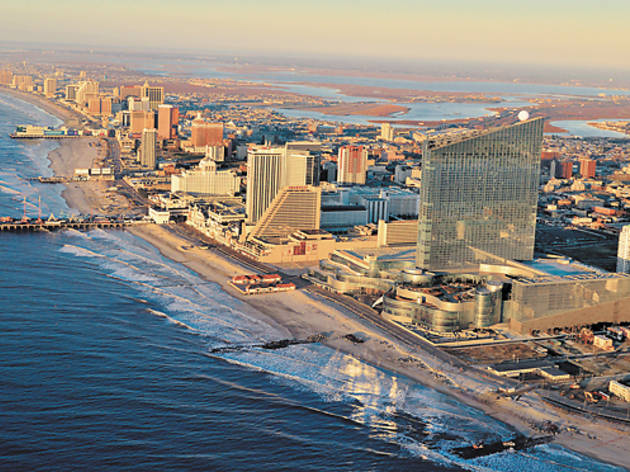 Atlantic City, NJ
Good for sunseekers and culture hounds
2hrs by car or 2hrs 30mins by bus
The casino town remains lively as ever since Hurricane Sandy, and several new boardwalk features—such as volleyball courts and two public-art sites curated by the Artlantic project, currently festooned with a mixture of organic and metal sculptures—prove it's possible to spend a pleasant day here without ending up at the blackjack table. On September 2, the annual Atlantic City Airshow (atlanticcitynj.com/acairshow; free) provides an opportunity to sprawl on the beach while watching vintage planes take stomach-dropping nosedives over the ocean. At night, be sure to see Boardwalk Beat, an eight-and-a-half minute 3-D sound-and-laser light show projected onto the side of Boardwalk Hall (2301 Boardwalk; boardwalkhall.com; every 30 mins beginning June 21, 6–11pm; free). Later, relax by a Buddha statue at the Foundation Room (801 Boardwalk; 609-343-4523, showboatac.com), a Tibetan-inspired lounge serving small plates such as seared dive boat scallops with black risotto ($14) and grilled lamb chop flatbread ($16)—escape by 10pm on Saturdays, when the place turns into a nightclub.—Alex Schechter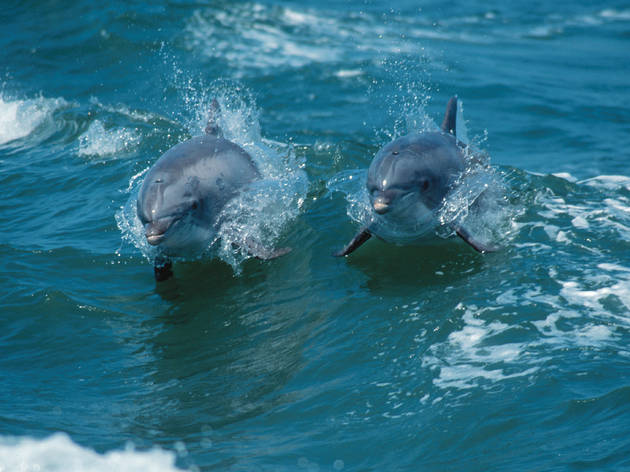 Cape May, NJ
Good for adventurers
2hrs 30mins by NJ Transit bus
Aboard the Cape May Whale Watcher (1218 Wilson Dr; 609-884-5445, capemaywhalewatcher.com; three hours, $40), you'll skip into the Delaware Bay on a quest for dolphins, humpbacks and finbacks. The knowledgable captain explains cetacean behaviors, such as spyhopping (popping the head up and holding the position to have a look around) and breaching (the classic Shamu jump-splash routine), and the company promises a free future trip if you don't spot any marine mammals between spring and fall. Once you get your back on dry land, feast on seafood at Lucky Bones Backwater Grille (1200 Route 109 south; 609-884-2663, luckybonesgrille.com), a local restaurant named for the hooklike claw found on male horseshoe crabs that superstitious sailors used to wear for a safe return. Continue your day with a friendly game of putt-putt at Cape May Miniature Golf (315 Jackson St; capemayminigolf.com). If you want to up the stakes, bet on who can get the lowest score; winner buys a round of Italian ices or sundaes from the ground's old-school ice-cream parlor, Cocomoe's.—Caren Oppenheim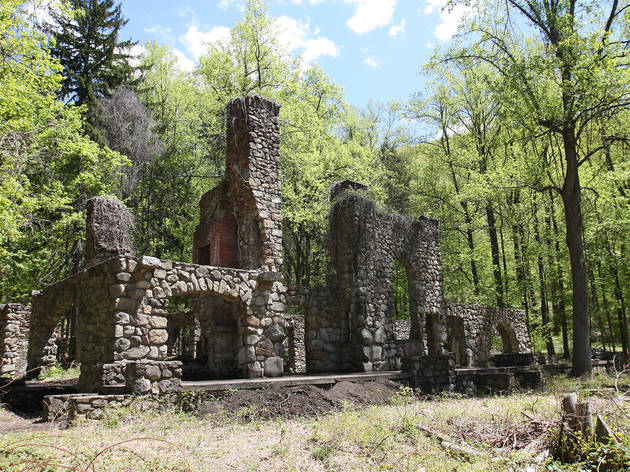 Cold Spring, NY
Good for adventurers
70mins by Metro-North
The Hudson Highlands have lush landscapes, peaks and breathtaking hikes for all levels. Little Stony Point Loop (3011 Route 9D; 845-225-7207, littlestonypoint.org) offers a relaxed jaunt along a flat peninsula where you can wade into the Hudson River at the beach. Explore old ruins, including a crumbled mansion and defunct dairy farm, on the gradually sloping, partially unpaved Cornish Estate Trail, which starts opposite Little Stony Point Loop, marked by blue blazes. The adventurous should tackle the steep climbs and rock scrambles that lead to the summit of Breakneck Ridge for an impressive 360-degree vista of Storm King Mountain, Bannerman Castle and, on clear days, the Catskills. For detailed guidebooks and maps, check out New York–New Jersey Trail Conference (nynjtc.org), Open Space Institute (osiny.org) and Appalachian Mountain Club (outdoors.org), and bring water and appropriate footwear, even for the simpler treks.—Nadia Chaudhury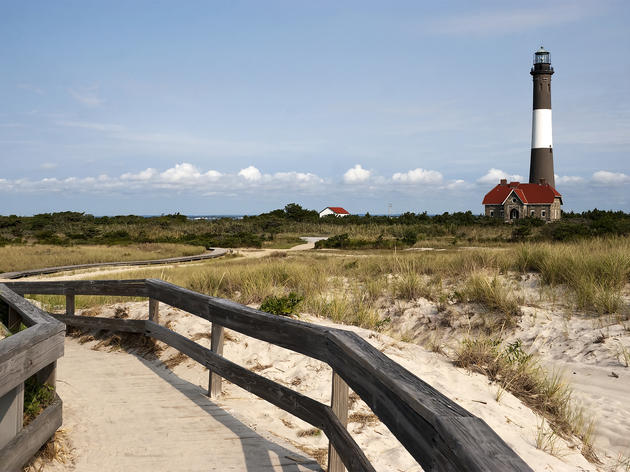 Fire Island, L.I.
Good for sunseekers
1hr 30mins by LIRR and ferry
Those hoping for a languorous day tanning au naturel on the sand will have to skip federally managed areas on the island this year and derobe at community beaches instead; the National Park Service plans to enforce state nudity laws, in part because Hurricane Sandy destroyed the view-blocking, modesty-saving dunes. There's still plenty of fun to be had on the 31-mile barrier island, including lifeguard-supervised, all-ages swimming on Sailors Haven, Watch Hill, Davis Park and Atlantique. The bar scenes in Ocean Beach and Kismet draw crowds of attractive young professionals, while Cherry Grove and the Pines thrive with vibrant LGBT communities.—Rosie Haney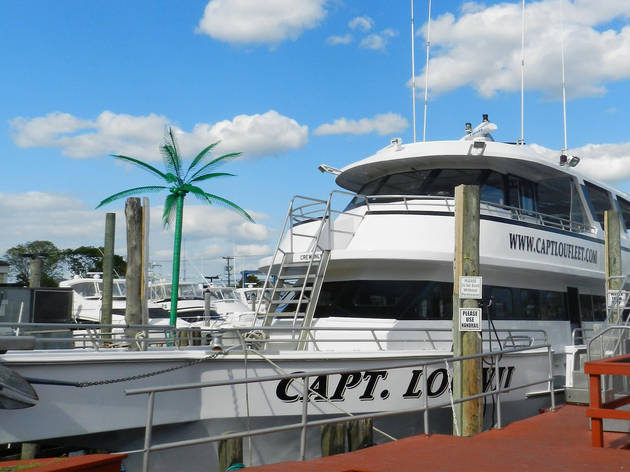 Freeport, L.I.
Good for adventurers
1hr by car
This sleepy, bucolic town is the perfect location to while away a day casting a line. Take a four-hour fluke-fishing excursion on a 100-foot-long supercruiser with the Captain Lou Fleet (28 Woodcleft Ave; 516-623-5823, captloufleet.com; daily 8am–noon, 1–5pm; $42, includes bait and tackle, rod rental $3). Just walk up and prepare to relax. To stay on land, head to Sea Isle Tackle (495 Guy Lombardo Ave; 516-868-8855, seaisletackle.com), grab freshly shucked clams ($5) for bait, and make for the dock at the Town of Hempstead Marina (we hear striped bass and fluke are biting). For dinner, try cedar-planked Atlantic salmon with Vermont maple glaze and horseradish-crusted rare tuna with shrimp dumplings at the cozy Nautilus Café (46 Woodcleft Ave; 516-379-2566, nautiluscafe.com), and if you're not the designated driver, stop by fisherman shanty Jeremy's Ale House (239 Woodcleft Ave; 516-623-0204, jeremysalehouse.com) for a 32-ounce Styrofoam cup of the house ale ($9). Just mind the signed bras hanging from the ceiling—you don't want to be the one getting hooked.—Christopher Ross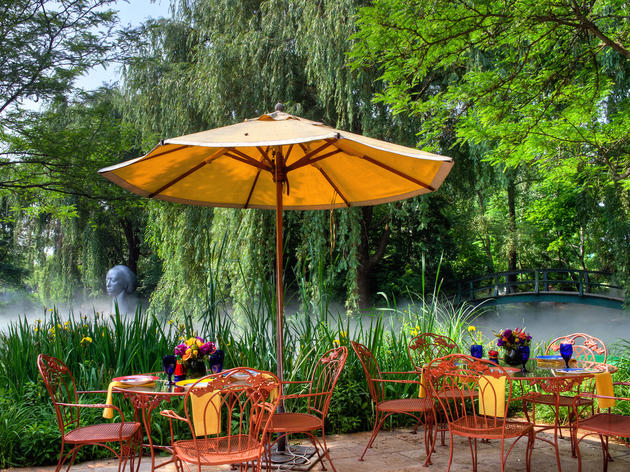 Hamilton, NJ
Good for culture hounds
1hr 20mins by NJ Transit

Wandering amid the 270 pieces of contemporary art at Grounds for Sculpture (18 Fairgrounds Rd; 609-586-0616, groundsforsculpture.org; adults $15, students $10), five minutes by cab from the Hamilton station, makes for a serene escape, with playful surprises around every corner. Visitors are encouraged to snoop for secret spots among the 42 picturesque acres, such as the hidden hammock room near the Nine Muses sculpture (take a snooze without fear—the door locks from the inside), and keep an eye out for the many peacocks. The park's indoor gallery at Seward Johnson has four exhibits, including an 80-foot long installation piece created out of recycled Kraft paper by Korean artist Jae Ko (through February 7,2016). End your day with upscale local cuisine at on-site restaurant Rat's. Nibble on the mussels mouclade ($16) and the charcuterie platter ($13), or sip a cocktail during happy hour (Tue–Fri 4–7pm). Imbibe on the patio overlooking a re-creation of Monet's iconically depicted bridge in Giverny, or even bring your drink out into the park.—Lauren Piro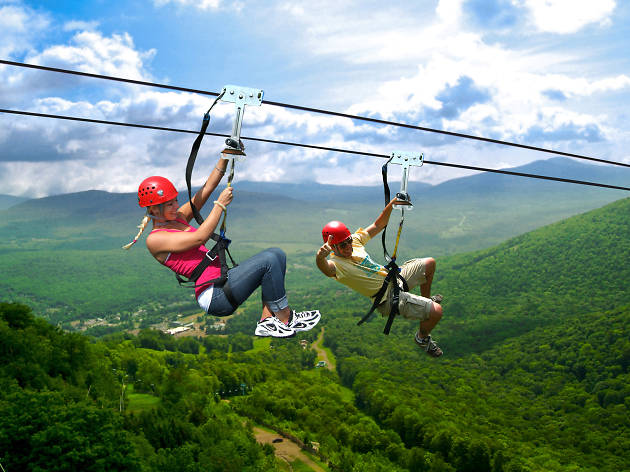 Hunter, NY
Good for adventurers
2hrs by car
Put some space between you and the ground on an adrenaline-revving three-hour zip-line excursion (ziplinenewyork.com) at Hunter Mountain (huntermtn.com). Daredevils should check out the SkyRider Tour ($119), an above-the-canopy course with more than two miles of whooshing fun split over five separate lines, each of which reaches a height of 600 feet and shoots riders along at speeds of up to 50 miles per hour. For something more low-key but still high up, try the Mid-Mountain Tour ($89), which tops out at 60 feet and includes six lines, nine tree platforms and four rope bridges. Take your buzz to Cosmic Charlie's (7722 Main St; 518-263-6003, cosmiccharliesny.com), a local favorite that regularly hosts bands and offers discounts to those sporting a zip-lining wristband.—Sarah Rammos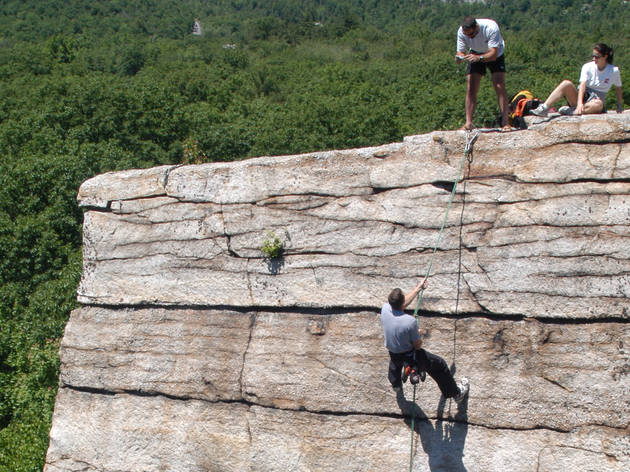 Kerhonkson, NY
Good for adventurers
2hrs by car
Between its rugged landscape and forested pine-barrens area, upstate has some stellar natural spots, and Minnewaska State Park Preserve (nysparks.com) is one of the best. The more than 22,000-acre spread has been converted into an egalitarian playground with 50 miles of trails, a new rock-climbing spot at the Dickie Barre cliffs, as well as old carriage roads well suited for mountain biking. Cool off with a swim in Lake Minnewaska or Lake Awosting, nestled between towering white bluffs and known for their translucent aquamarine color. Afterward, head to New Paltz for a break at the Water Street Market (10 Main St; 845-255-1403, waterstreetmarket.com), where you can eat, shop, and take in art, outdoor movies on Monday nights (June–Aug) and free music on Thursdays. Historic Huguenot Street (huguenotstreet.org) is also worth a gander; the road features seven 300-year-old stone houses from the original settlement and provides a tangible glimpse at the history of the town.—Rosie Haney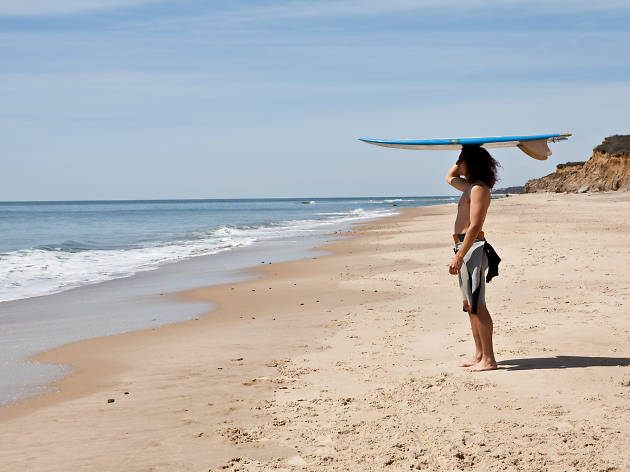 Montauk, L.I.
Good for adventurers and sunseekers
2hrs 30mins by car, 3hrs 15mins by LIRR, 3hrs 30mins by Hampton Jitney
Known to locals as "the End," the chilled-out Hamptons village at the easternmost reach of the South Fork offers some of the best surfing in the region. Rent a board—fiberglass, foam or epoxy ($40)—and a wet suit ($20) from the family-owned Air and Speed Surf Shop (795 Montauk Hwy; 631-668-0356, airandspeedsurf.com). Drive your gear to Ditch Plains beach for a lesson with local fixture and professional instructor Corey Senese (516-639-4879, coreyswave.com; 90min lesson $175–$200; reservations required, e-mail info@coreyswave.com). Towel off and refuel at Ditch Witch (40 Deforest Rd, no phone), a beloved food truck slinging breakfast burritos ($4), addictive Asian sesame noodles ($8) and Zen Blend iced green tea ($3). Before you head home, join everyone else in town at the Montauket (88 Firestone Rd, 631-668-5992), a neighborhood joint where you can sip a pint of Blue Point toasted lager ($6) while watching the sun melt into the rippling horizon of Fort Pond Bay.—Chris Ross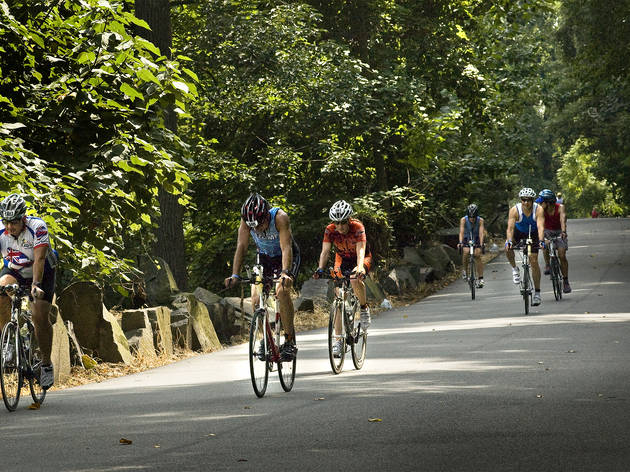 The Palisades, NJ
Good for adventurers
30min by bike
Throw on your best Lululemon gear and head to the next state over for a cycling jaunt. If you don't have your own set of wheels, stop by Tread Bike Shop (250 Dyckman St between Payson and Seaman Aves; 212-544-7055, treadbikeshop.com); rentals ($8/hour, $30/day, $40/24hrs) include helmets, and the friendly staff supplies sage advice for newbies. Set off and make your way through the hilly, neighborhood streets of Inwood and follow signs for the George Washington Bridge. Take in panoramic views of Manhattan while gliding over the Hudson via the bridge's cyclist-and-pedestrian-only path. Veer left to stay on Henry Hudson Drive, the Palisades' (njpalisades.org) main bike path, which will take you along mountain roads past rustling trees and views of the water. At the bottom of the trail, riders will find grassy picnic areas on the river. The return ride back to the city is, mercifully, a simpler, mostly downhill ride. Drop off the rentals and quench your thirst down the street with guava mimosas ($9) at wine bar Corcho (227 Dyckman St between Broadway and Seaman Ave; 212-203-3371, corchowineroom.com).—Allison Merzel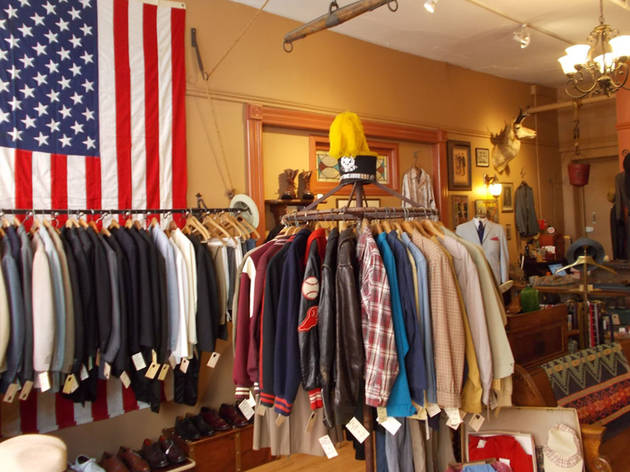 Philadelphia
Good for culture hounds
1hr 30mins by Amtrak, 2hrs by bus
Skip southward to shop Philly's flourishing secondhand scene of vintage clothing shops and thrifty treasure spots. A few steps off South Street (but still not far from a cheesesteak) is WILBUR: Vintage & Designer Clothing (716 S 4th St; 215-413-5809, wilburvintage.blogspot.com), acclaimed for its colorful collection of women's apparel and costume jewelry from the '40s onward. For dapper gentlemen, Briar (62 N 3rd St; 215-627-1990, briarvintage.com) boasts a meticulously edited collection of classic Americana style, including tailored sport coats, varsity jackets and military boots alongside sartorial accessories (bowties, cufflinks, hats) and oddities for the curious collector. Don't leave without hitting up what just might be every Macklemore fan's fantasy come true: Bulk Vintage (2438 Coral St; 215-425-4166, bulkvintage.com), a warehouse for hunters who don't mind digging—literally—for retro duds sold at wholesale prices that rival any thrift shop north of Jersey. If you can't make the public opening hours (Mon, Sat noon–6pm), make an appointment to rummage.—Sammy Davis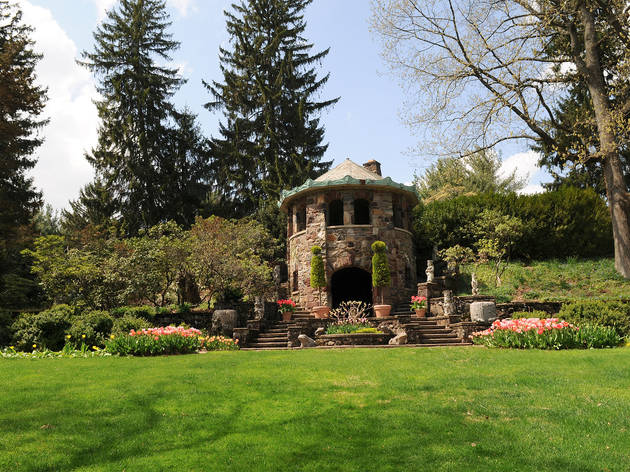 Short Hills, NJ
Good for culture hounds
45mins by car
Nudged up against the South Mountain Reservation, Greenwood Gardens (274 Old Short Hills Rd; 973-258-4026, greenwoodgardens.org; $5; seniors, students and children under 12 free) presents a tranquil, isolated escape. The grounds have been around since the early 1900s, but not until April 2013, following several years of renovation, did they open to the public. Begin at the orientation center, a redbrick revival Georgian manor, and proceed to a formal Italianate garden marked by stone terraces and wooden pergolas. Follow stone paths to the rustic Arts and Crafts–style cottages, then wind your way to the three-foot-tall limestone chess pieces lining the steps to the teahouse. Seek out the summerhouse on your own and admire the resident swans, chickens and goats, or join a guide on a 45-minute walking tour.—Jen Michalski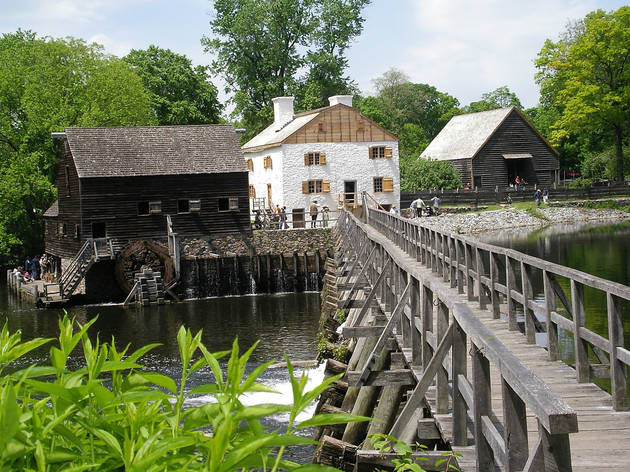 Sleepy Hollow, NY
Good for culture hounds
30–45mins by Metro-North to Tarrytown
Take a five-minute cab ride from the station to Philipsburg Manor Upper Mills's living-history museum (381 N Broadway; 914-631-3992, hudsonvalley.org; $12, children $6)—a farm and mill dating back to 1750—to try hands-on activities. Staffers in period costume demonstrate grinding grain in the gristmill, threshing wheat and preparing goods for shipping with traditional instruments. The visit also provides a sobering reminder that slavery was not confined to the South, which guided tours highlight. Explore the dairy, kitchens and bedchambers in the main house, then bask in the rustic scenery from the bridge overlooking the pond. Take the 15-minute walk to the Bridge View Tavern (266 Beekman Ave; 914-332-0078, bridgeviewtavern.com) for craft brews, pub grub, and views of the bridge and stretch of the Hudson River known as the Tappan Zee.—Lauren Piro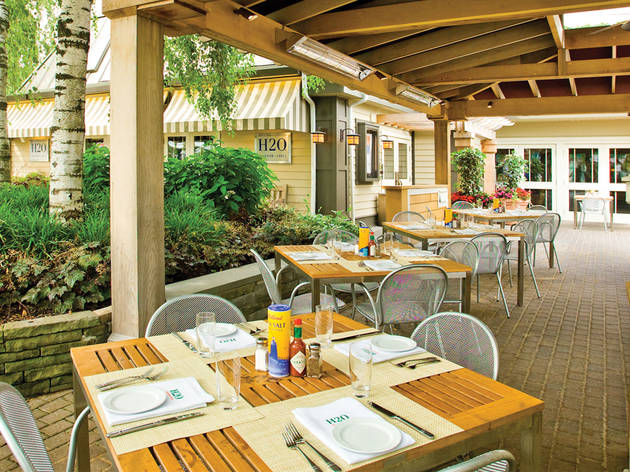 Smithtown, NY
Good for adventurers
1hr by car
Few things are as invigorating as paddling down a burbling river on a warm summer day. For some of the best kayaking and canoeing in the New York area, hit this Long Island hamlet, where the main attraction is the tidal Nissequogue River, which flows in and out of the Long Island Sound. Nissequogue River Canoe and Kayak Rentals (631-979-8244, canoerentals.com) will provide your vessel of choice (canoe $60, single kayak $50, double kayak $60) at a variety of push-off points and send you on the 2.5-hour, 5.5-mile-long journey on the waterway before driving you back to your car. Keep your eyes peeled for snapping turtles and more than 40 species of waterfowl, including herons and egrets. Replenish your energy at seafood grill H2O (215 W Main St; 631-361-6464, h2oseafoodgrill.com) with shrimp-and-lobster wontons ($14) and hazelnut-Parmesan crusted swordfish ($36). Afterward, grab a Guinness ($6) at haunted watering hole Katies of Smithtown (145 W Main St; 631-360-8556, katiesofsmithtown.com), where the staff tells stories of deceased bartender Charlie Klein knocking glasses off the shelf.—Chris Ross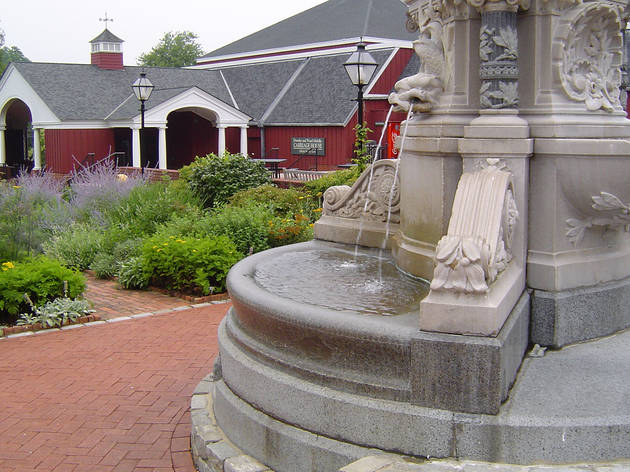 Stony Brook, L.I.
Good for culture hounds
1hr 20mins by car
A quintessential New England–like town filled with historical places and picturesque scenery, this romantic village is populated with quaint shops and restaurants. Robinson's Tea Room (97 Main St; 631-751-1232) serves up British high tea Tuesday through Sunday ($28). Get lost in Avalon Park (200 Harbor Rd; 631-689-0619, avalonparkandpreserve.org), a preserve comprising of 84 acres of flora, fauna and numerous nature trails, or explore Stony Brook's West Meadow Creek via the Discovery Wetlands Cruises (stonybrookvillage.com/the-discovery-wetlands-cruise; $28, seniors and students $25, children under six $18). If you prefer to stay on land, the harbor's Hercules Pavilion (wmho.org/hercules-pavillion) houses a historic figurehead from the USS Ohio. Legend has it that if a woman kisses the object's forehead, she'll be married within a year. Another notable destination is the Long Island Museum of American Art, History and Carriages (1200 New York 25A; 631-751-0066, longislandmuseum.org; admission $10, seniors $7, students $5, children under 6 free), which boasts a collection of 200 horse-drawn carriages. When you find yourself hungry, sample classic American fare at the neighboring Country House Restaurant (1175 N Country Rd; 631-751-3332, countryhouserestaurant.com), one of Long Island's most haunted places harboring a ghost of a previous owner and a history of holding séances. —Jen Michalski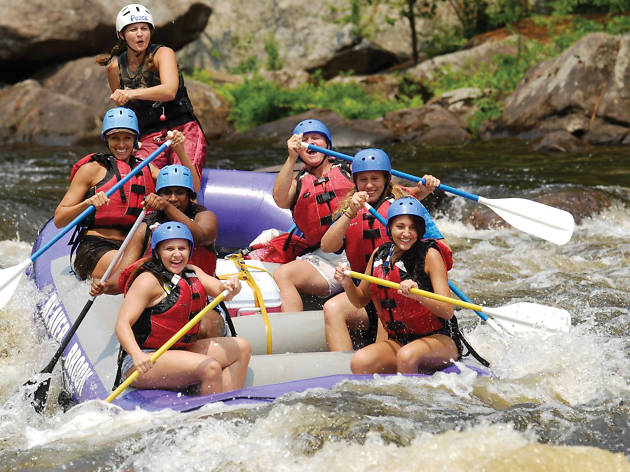 Weverton, NY
Good for adventurers
3hrs 40mins by car
Find legit whitewater rapids with Beaver Brook Rafting (beaverbrook.net; $26–$85), which runs three different tours down two rivers every day through October. Those with some experience can take the all-day trip from Indian Lakes in the Adirondacks to North River via the Hudson River Gorge, which covers 17 miles of river and class III and IV rapids . The route also includes a stop at Elephant Rock, where paddlers can cool off by jumping into calm waters from a small cliff, as well as a riverside meal at the Inn on Gore Mountain when you return. Newcomers can opt for the five-mile journey down the Sacandaga, which covers slightly less volatile terrain (class III and under). The ticket includes all your gear—wet suit, life jacket, paddle and shoes.—Sarah Rammos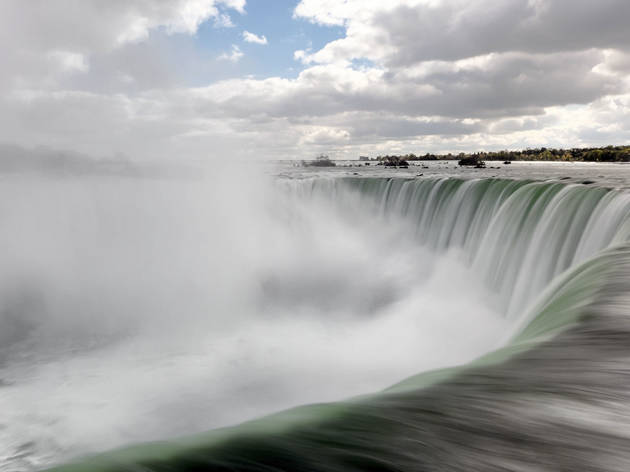 Romantic day trips from NYC
For a truly memorable celebration, surprise your significant other with one of these romantic day trips