Late night bars and pubs without a lockout
Behold, our list of the places you CAN go to keep your night going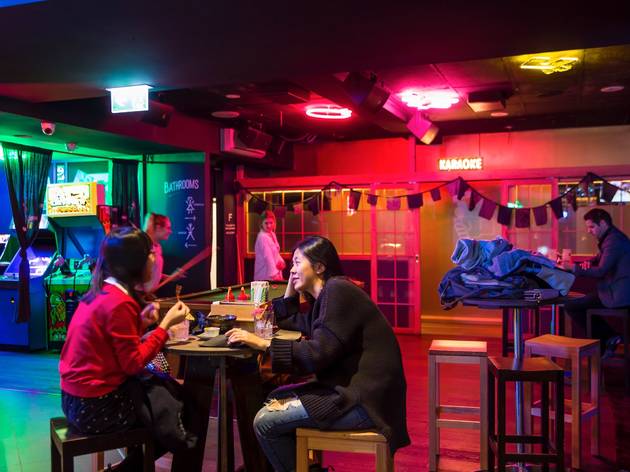 Lockouts may rule much of the CBD, Cross and Darlinghurst, but just outside of the Sydney lockout map you'll find a handful of bars and pubs ready and waiting to let you in after 2am. We've rounded up a bunch for them, from swanky cocktail haunts to local pubs.
What time is lockout in Sydney?
These laws mean that all venues within Kings Cross, Darlinghurst and the CBD 'Entertainment Precinct' cannot take new customers after 2am, and must call last drinks at 3.30am. State-wide, you cannot buy takeaway alcohol after 11pm. There are a few exceptions to these rules for specific venues, but on the whole it's whatn you'll find at most bars and pubs within the lockout zone.
Late night bars and pubs without a lockout
Late night bars and pubs without a lockout
When was the last time your local offered a plate of four juicy lamb chops? It was probably sometime in the early '90s, but thankfully the new era at the Unicorn hotel is kickin' it old school in the kitchen. Here your chops come with a slice of buttered white Tip Top bread, a fried egg for an extra three bucks, house-made mint sauce and a light, clear gravy. The counter meal has a new king. And the retro hits don't stop there. For five bucks you get a plate of Jatz and a huge serve of French onion dip that takes three biscuit refills to finish. They get top marks for letting you choose the sides for the tender, perfectly pink skirt steak - cauliflower cheese and honey carrots for the win – but it's the schnitzel that has won our eternal affections. It's such a simple detail, but the fact that your golden-crumbed chicken breast comes with the wing attached is an immediate sign that this schnitzel is not like the other ones. The team from Mary's is behind the resurrection of this Paddo pub and that's why the silky smooth mash and top shelf gravy that is propping up your schnittie is so damn good. And yes, there is a burger on the menu. When it came to the drinks list some very smart choices were made. There's Reschs, VB, and Fourex for lager lovers; Young Henrys cider for sweet relief; and a wit beer from the Illawarra Brewing Company that is light and bright, with a touch of spice. It's the perfect antidote to time spent sweating in Oxford Street traffic. Here's something
Read more
Bondi Junction's four-level watering hole has had a helluva facelift and now can be broken down into four distinct venues (something not unlike the ivy). The public bar downstairs is now Good Times Burgers while upstairs is undergoing some changes, so stay tuned. Next up is the El Topo Basement (not a basement) with Mexican hideout El Topo sitting at the top of the pile.
Read more
Fancy a flutter? Every sporting event you can think of is available on the big screens here and they have a bistro menu that stretches from breakfast through to late night snacks so you are all sorted for game day.
Read more
It's the Bondi home of the Roosters, so have a tipple, enjoy some live music on Saturdays, or score big on the meat raffle.
Read more
The Kingsford corner pub is one of the closest to UNSW and it shows: staff and customers skew young. And to be honest, that chance to relive your uni days is part of what makes this your best bet along the Kingsford-to-Kensington Anzac Parade strip. And it stays open late on weekends.
Read more
This cosy local does trivia on Monday nights, karaoke on Fridays and is open until 3am every night except Sundays. Amazing.
Read more
Late night bars and pubs without a lockout
Late night bars and pubs without a lockout
The Crowie is an infamous late night haunt on the lower north shore. They screen UFC and the English Premiere League in addition to all the Australian football codes and they go hard on happy hours for the North Sydney knock-off crowds. But their real appeal lies in their 6am closing time on Fridays nights and 5am on Saturdays for when you have a lot of steam that needs blowing off.
Read more
Need to discuss the arthouse film you just saw at the Orpheum? Do it over a glass of the Endeavour Harvest Growers bright ale, a Peroni or one of the Matilda Bay suite – they've got the amber ale, the pilsner and the sparkling on tap. The blue-tiled kitchen does typical European tavern fare, and they keep doing it until 1am.
Read more
Want to go for a drink?
Every year we put our livers and sleep patterns on the line to bring you, dear reader, a comprehensive guide to the best bars in town to make sure your evenings never run dry.
Read more
Still wanna dance?
Sydney's nightlife scene – despite the lockouts – is still as colourful and diverse as ever. There's a strong set of local producers and DJs, complemented by plenty great venues where you can head for a boogie.
Read more