Late night venues without a lockout
Behold, our list of the places you CAN go to keep your night going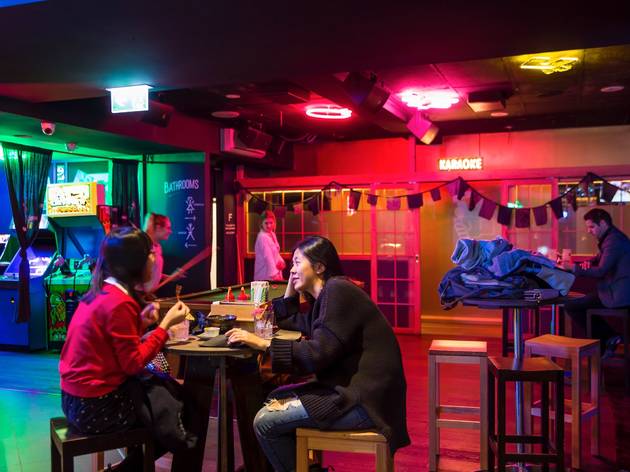 Sydney, the lock-out laws are now in place: no entering a venue in the designated CBD and Kings Cross areas after 1.30am and no booze after 3am. But outside those areas there are plenty of late-night options in town to keep your evening rolling along. Here are our picks.
Fancy a flutter? Every sporting event you can think of is available on the big screens here and they have a bistro menu that stretches from breakfast through to late night snacks so you are all sorted for game day.
Read more
It's the Bondi home of the Roosters, so have a tipple, enjoy some live music on Saturdays, or score big on the meat raffle.
Read more
Bondi Junction's four-level watering hole has had a helluva facelift and now can be broken down into four distinct venues (something not unlike the ivy). The public bar downstairs is now Good Times Burgers while upstairs is undergoing some changes, so stay tuned. Next up is the El Topo Basement (not a basement) with Mexican hideout El Topo sitting at the top of the pile.
Read more
The Kingsford corner pub is one of the closest to UNSW and it shows: staff and customers skew young. And to be honest, that chance to relive your uni days is part of what makes this your best bet along the Kingsford-to-Kensington Anzac Parade strip. And it stays open late on weekends.
Read more
This cosy local does trivia on Monday nights, karaoke on Fridays and is open until 3am every night except Sundays. Amazing.
Read more
The Crowie is an infamous late night haunt on the lower north shore. They screen UFC and the English Premiere League in addition to all the Australian football codes and they go hard on happy hours for the North Sydney knock-off crowds. But their real appeal lies in their 6am closing time on Fridays nights and 5am on Saturdays for when you have a lot of steam that needs blowing off.
Read more
Need to discuss the arthouse film you just saw at the Orpheum? Do it over a glass of the Endeavour Harvest Growers bright ale, a Peroni or one of the Matilda Bay suite – they've got the amber ale, the pilsner and the sparkling on tap. The blue-tiled kitchen does typical European tavern fare, and they keep doing it until 1am.
Read more
Prefer to party by day?
Do you want to see our your weekend in a craft brewery filled with local dogs, or watch the tide roll away at a seaside haunt? These are the places we want to cool our heels at before the working week kicks off again. 
Read more