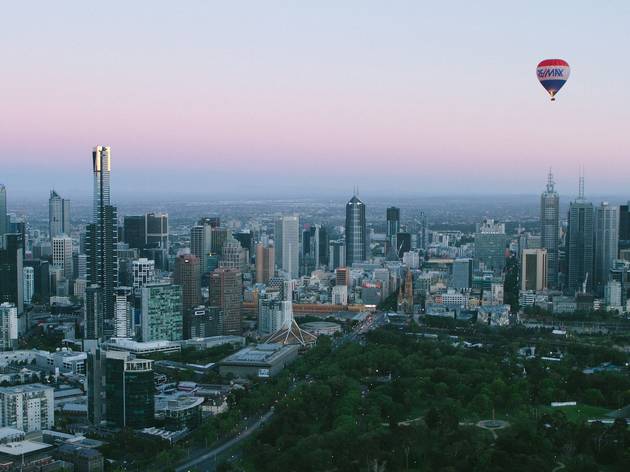 17 things you can only do in Melbourne
Where else can you see pink lakes in the city, go ballooning over the CBD and drink at a bar under a bridge?
They don't call us "marvellous Melbourne" for nothing you know. Our city has a number of attractions and experiences you can't find anywhere else, not to mention our one-of-a-kind residents (I mean we have Carrot Man, need I say more).
Many know Melbourne for the laneways and art galleries. Our affinity for coffee and incredible food also knows no bounds. But to really experience the best of Melbourne, we'd suggest hitting up some of the more unusual sites on this list.
RECOMMENDED: 101 things everyone in Melbourne needs to do at least once.
Things you can only do in Melbourne
The Royal Exhibition Building was the first building in the country to be awarded UNESCO World Heritage status (take that, Sydney Opera House). Designed by architect Joseph Reed (who also did the Melbourne Town Hall and the State Library of Victoria) and completed in 1880, the REB is one of Australia's most impressive architectural beauties. It's one of the oldest remaining exhibition pavilions and was built to host the first official World's Fair in the Southern Hemisphere. These days you can admire the ornate décor of the Great Hall during select events throughout the year, including the Melbourne International Flower and Garden Show and the Dog Lovers Show.
Did you know St Kilda beach is home to a healthy-sized colony of fairy penguins? Yep, you can find wee flippered friends just six kilometres outside the CBD. The St Kilda colony live in the breakwater – the rocky outcrop at the end of the pier, past the kiosk. Standing on the boardwalk will give you the best view, and definitely don't go on the rocks, as it scares the penguins nesting beneath them. Photos are permitted (no flash), and visitors are asked to obey the instructions of the volunteer penguin guides. St Kilda is even getting an upgrade to better protect and view the penguins.
Located less than a 15-minute drive away from the CBD, the lake at Westgate Park has been known to turn pink in late summer. It's been doing so every year since the summer of 2012/13, when a combination of hot temperature, algae, lack of rainfall and excessive sunlight came together like a perfect pink witch's brew. If you've seen photos of the pink lake online, it can seem surreal, almost as if someone poured dye into the lake. We can assure you that's not the case – and you definitely have to see it to believe it.
If you're at Queen Victoria Market for a whole day, the menu of the day may look like this: 1) starter doughnuts, 2) main course doughnuts, 3) dessert doughnuts... because what's a trip to Queen Vic Market without a stop at the always-heaving American Doughnut Kitchen van? A huge mistake, obviously. Here you can score a bag of five delicious, hot-from-the-fryer jam doughnuts for $6.50. These doughies should be in a museum: they've got just the right amount of oily crunch, the dough is stuffed with a sticky and sweet red dollop of raspberry plum jam, and they're covered quite liberally with sugar. You'll be licking the stuff off your fingers for hours, but it's so worth it.
Note: The Neighbours tour is currently on pause. Contact the provider for more information.
Aussie soap Neighbours has been running for more than 30 years now, and in that time it's well and truly made its way into the hearts of Australians (and a few million Brits). If you're a fan of the show, the Official Neighbours Tour will satisfy all your Ramsay Street cravings. The tour takes you to suburban Melbourne, where you'll walk on the exterior sets of the Neighbours studio, hear tales from the Neighbours set (no spoilers, sadly) and then hop over to Ramsay Street to take photos in front of the famous houses. You'll meet with a Neighbours actor, either past or present, during your tour, and there's probably a 90 per cent chance you'll bump into Dr Karl Kennedy (AKA actor Alan Fletcher).
Just when you thought Melbourne couldn't get any more bonkers, it decided to put a bunch of Hitachi trains on top of a Collingwood office block. Easey's is best known for insane burgers and fried snacks that'll make your arteries threaten to give way, but there's a decent craft brew line-up on tap and the sweeping views of Collingwood aren't so bad either. Just come early to score a seat on the trains.
Note: Performances of Harry Potter and the Cursed Child have been suspended until at least January 17 2021.
Melbourne was the third city in the world to get a production of JK Rowling's two-part Potter sequel, Harry Potter and the Cursed Child. The play is based on a story written by Rowling and adapted for the stage by Jack Thorne. It's presented in two parts, which you can watch on the same day or across two consecutive evenings. It's long, but on all accounts, spectacular, moving, and true to the Potter universe and Rowling's vision. You can read our four-star review here (no spoilers, we promise!) or learn about how to score $40 tickets here.
The Melbourne Cricket Ground (aka the MCG or just the 'G) is truly one of the world's greatest sporting venues. It was built back in 1853 and has been a juggernaut ever since – the first-ever cricket Test match was played here in 1877, the 1956 Olympic Games were staged here and, on the last Saturday in September every year, the biggest show in Australian sport, the AFL Grand Final, pack the 'G to the rafters with 100,000 screaming sporting fans. Currently, four AFL teams play regular home matches at the MCG – Melbourne, Richmond, Collingwood and Hawthorn – so it's the best spot to see Melbourne's favourite sport in action.
Hook turns aren't unique to Melbourne (they're actually called perimeter-style turns in Canada) but doing them beside loud, aggressive trams is. For the uninitiated, a hook turn is when a car performs a right turn by lining up on the left. It's a manoeuver that cyclists use all over the world. The reason Melbourne cars need to perform these turns is because of the trams. Cars don't bank up over the tramlines to turn right, meaning other cars, bikes and trams can continue to move straight. There is also definitely some satisfaction in completing a successful hook turn as you wait for the lights on the opposite side of the road to turn green. Good luck nailing it!
It seems we can't get enough of our high-altitude experiences in Melbourne. Notel is a collection of six luxury '70s Airstream caravans sitting on top of a car park on Flinders Lane. The cabins are flanked by office buildings, and curiously, all the city noise fades away when you enter the caravan. The interiors are surprisingly spacious with a queen-sized bed, a free minibar with gourmet chocolate and chips, premium bathroom products and a private deck. Fancy.
In the summertime when the weather is fine we all drink at Arbory, the massive outdoor eatery and beer garden sandwiched between two Melbourne icons (the Yarra River and Flinders Street Station). The bar stretches for 120 metres along the river bank and is officially Melbourne's longest bar. You can get Espresso Martinis and Aperol Spritzes on tap for quick-fire service so you can spend more time kicking back and less time queueing.
The Great Scenic Railway at Luna Park has been operating since the amusement park opened way back in 1912. The 967-metre long wooden track takes riders on a journey of dips and turns around the exterior of the amusement park, all the while providing some killer scenic views of Port Phillip Bay. The ride itself is heritage listed and still manages to provide some thrills as it reaches speeds of up to 60km per hour.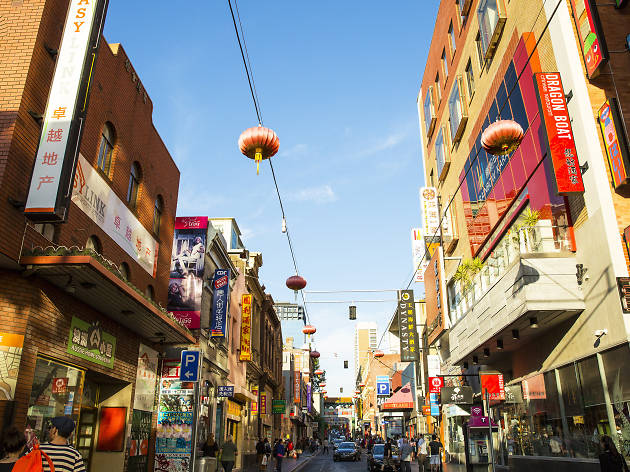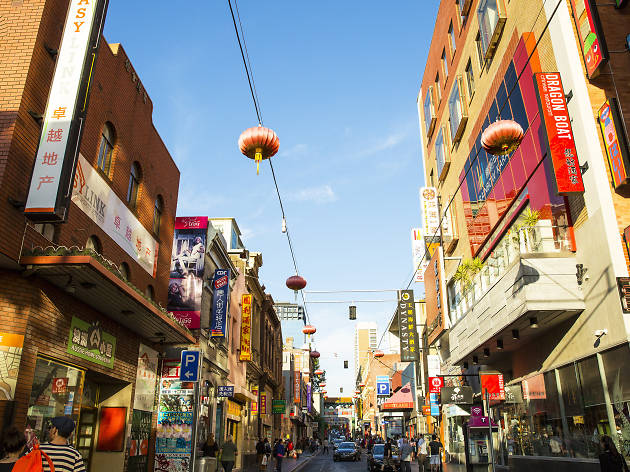 Photograph: Josie Withers
13. Eat Chinese food in the world's oldest continuous Chinatown
Melbourne's Chinatown district is located in Little Bourke and Lonsdale streets and fun fact, is also the longest continuous Chinese settlement in the world. This skinny street is lined with restaurants, bars and duty-free stores and is constantly full of people wandering up and down. Do as Melburnians do and hunker down for some dumplings, yum cha and more Chinese staples.
Melbourne is known for repurposing unused spaces into houses, retail outlets, cafés and bars, so it seems an underbridge space is not exempt from that. We're talking about Ponyfish Island, the bar under the Melbourne bridge. If you've ever walked over the Southbank footbridge that runs from Flinders Street Station to the arts and entertainment precinct of Southbank, you'll notice something happening underfoot. Go down the stairs to find cold brews and cocktails, as well as toasted sandwiches, nachos and tasty share plates.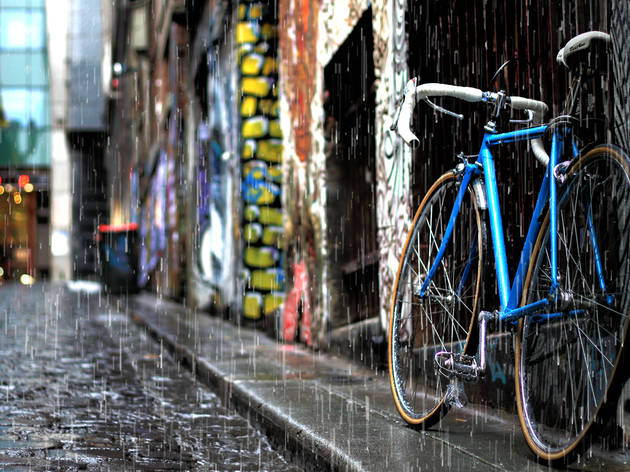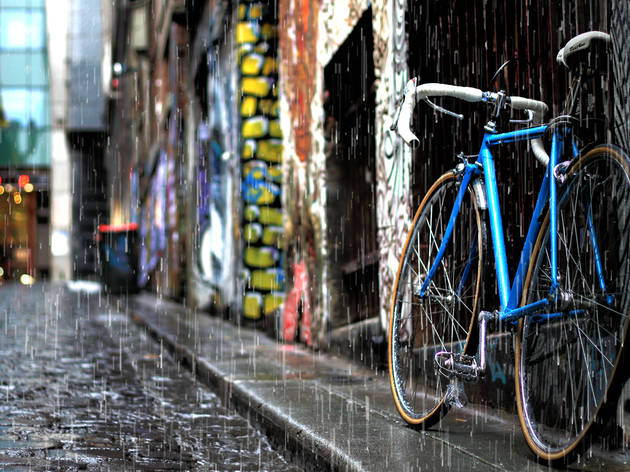 Photograph: Creative Commons
15. Wear your whole wardrobe in one day
Cool changes aren't unique to Melbourne, but the speed at which Melbourne weather changes probably is. It can drop from a balmy 27 degrees to a freezing 16 degrees at the drop of a hat, and often without warning. Pro tip is to always be prepared – bring a raincoat, jumper, boots and umbrella, but also remember to layer so you can drop down to your singlet if need be.
You might not have realised, but Melbourne is in fact the only major city in the world where you can take a commercial hot air balloon ride over the CBD. In fact, on a clear morning you can often see keen balloonists over the city's skyline on your commute to work. You can join them too, with Global Ballooning (along with other providers) offering daily balloon flights over Melbourne and the Yarra Valley. Make sure to set your alarm though, take off is pretty early!
Looking for more Melbourne activities?
Take a look at our ultimate bucket list: 101 fun things to do in Melbourne, plus what makes the city great, from the food to the festivals and everything in between.