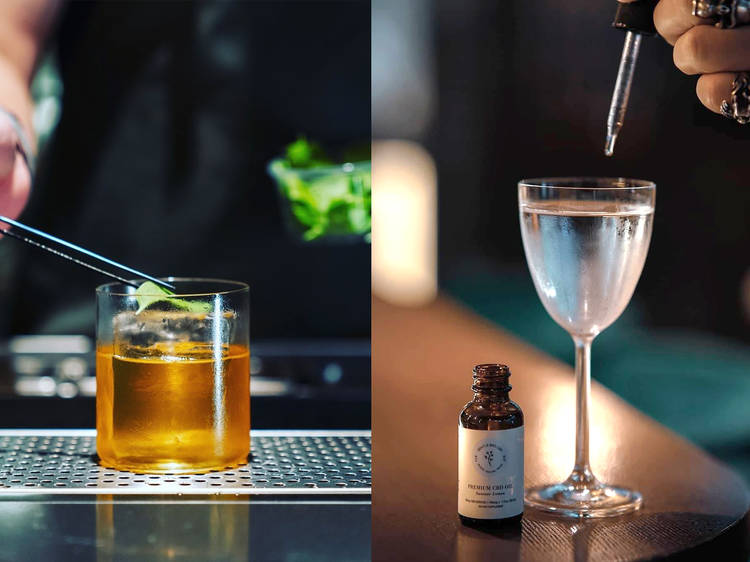 Tell Camellia's Thailand and CBD Martini I Photograph: Courtesy Tell Camellia
How did I manage to get through it? 
Abstinence requires creativity; for some, it even entails a new hobby or a replacement vice. For a person who frequently covers stories about drinks, it's pretty hard not to be surrounded by alcohol or crave for one, especially when you are writing about yummy cocktails and the latest spirits out in the market. Even at home, I keep a minibar with all sorts of liquor and tipple you can think of, and with the WFH situation, I see these bottles talking to me every day of the week, 24/7. "Come to mama..."
"Nothing comes close to real alcohol. Non-alcoholic spirits tasted like flavoured sugar which seemed like a waste of calories."
I started to stay off the juice beginning January 1 after waking from New Year's Eve-induced hangover. For me, quitting on something means I have to bring something new in my routine, just like when I went cold-turkey with cigarettes, I drank more coffee, and when I quit drinking coffee, I turned to tea. Now that I was staying off alcohol, I always looked for something else to drink or eat to satisfy my cravings, which led me to explore various non-alcoholic beers, wines, and spirits. But nothing comes close to real alcohol. The only thing I actually enjoyed was non-alcoholic IPA beers and carbonated hop-flavoured teas, non-alco wines just tasted like carbonated grape juice, and non-alcoholic spirits tasted like flavoured sugar which seemed like a waste of calories. CBD also helped, thank god we are spoilt for choice in Hong Kong as there are so many CBD brands and cafes offering CBD drinks and treats. I enjoyed adding CBD isolate in my kombucha and for someone who doesn't really eat chocolates, I've grown to like Chocobien's artisanal CBD chocolates (which you can get from this site).
Since we are already lessening social interaction, the lack of social life is nothing new, not being out and about didn't add to FOMO. We are all in this together, after all.