NYC events in October 2018
Plan your month with the best NYC events in October 2018 including the Village Halloween Parade, food fests and more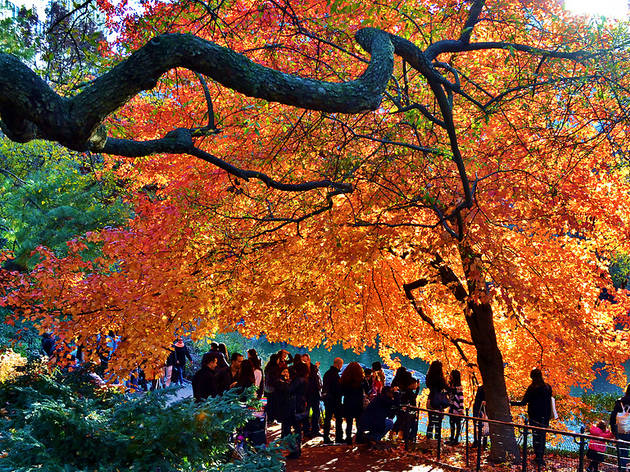 Aside from spooky Halloween parties, there are plenty of other awesome NYC events in October 2018. Use our events calendar to plan the quintessential month for leaf peeping and spotting fall foliage, pumpkin picking and more things to do in fall. Aside from that, there are some major artists and bands playing kick-ass fall concerts and more art and theater openings you don't want to miss this month.
RECOMMENDED: Full NYC events calendar for 2018
Featured events in October 2018
Theater events in October 2018
Theater review by Raven Snook [Note: This is a 2018 review of the production, which moves to an open-ended Off Broadway run in February 2019, with the same cast.] How do you make Fiddler on the Roof even more Jewish? Do it in Yiddish! Fans of Jerry Bock and Sheldon Harnick's landmark musical about Tevye the Milkman and his shtetl community in early-20th-century Russia will go meshuga for the U.S. premiere of Shraga Friedman's translation, which ran briefly in Israel in 1965. It's a mitzvah that the century-old National Yiddish Theatre Folksbiene has resurrected this version, which lets the characters speak­ (and sing) in the expressive guttural tongue they would have used in real life—the language of the Sholem Aleichem stories that inspired the show. English translations are projected for the benefit of those who don't know Yiddish, and many of the performers aren't fluent in the language, either (they have learned their lines phonetically, much as opera singers often do). But director Joel Grey—yes, that Joel Grey—has made sure the performers know what they're feeling, even if they don't know what they're saying, and their emotional journeys are so clear you may find yourself abandoning the oddly placed supertitles to luxuriate in the sound of the language and the klezmer-inflected score, played by a lively 12-piece orchestra. Of course, that means you may miss the ways this Yiddish interpretation differs from the original, as when "If I Were a Rich Man" is reimagined a
Looking to get the most out of fall?
Find the best things to do in the fall in NYC, including the biggest seasonal events, autumn-only activities and more
More to explore