The best bars in Central
With so many quality drinking establishments stacked on top of one another, how do you know which are Central's true elite? Here is the answer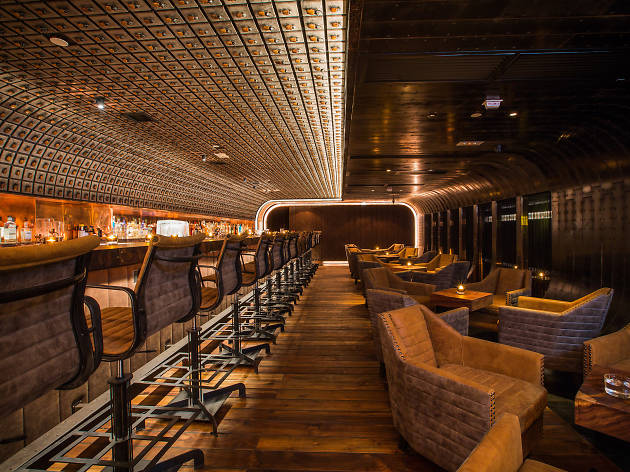 Central might not have the underground kudos belonging to Hong Kong's still up-and-coming parts of town, like Sheung Wan and Sai Ying Pun, but the neighbourhood is home to some of the best cocktail bars and whisky bars on the planet.

While we can't scientifically prove it – and such qualms never seem to stop climate change deniers and the like – there's probably no where on Earth with as many quality drinking dens packed so tightly on top of one another as in Central. The bar scene is that good. The only trouble is knowing where to start. That's why we've rounded up 21 of the best bars from the neighbourhood that provide Central's finest libations. You need never go thirsty again.
The best bars in Central
Established by legendary Japanese bartender Hidetsugu Ueno, Bar De Luxe is no cheap imitation of his world famous Tokyo cocktail bar, Bar High Five. Helmed by the Ueno's protégé, Yuriko Naganuma, this is upscale drinking at its finest.
Read more
Super friendly neighbourhood bar on the slope of Peel Street that sports a decent selection of IPAs alongside the usual cocktail suspects and a good selection of whisky.
Read more
Those looking for more adventurous drinks than just another martini or old fashioned should head here. Expect drinks with ingredients like Iron Buddha tea, coffee-infused bourbon or orange marmalade. Oh, and don't forget to try the smores.
Read more
If the many super serious cocktail bars littering Central feel too crusty, Honi Honi is here to help. Specialising in tiki drinks, this Wellington Street hangout is a Polynesian beach bar getaway in the heart of the city.
Read more
Tucked away on the ninth floor of The Loop building on Wellington Street, I Know John is a hidden gem serving up craft cocktails, gourmet hotdogs and niche wines and whiskies.
Read more
Like something out of a storybook (because, well, it is) Iron Fairies is visually stunning. The drinks aren't half bad either, whether it's their watermelon daiquiri or a cocktail made with one of the bar's house-infused vodkas.
Read more
Decorated like the lavish private bedchamber of a bourgeois lady from 18th century Europe but in a more stylised approach, Le Boudoir mixes opulent surrounds with delicious drinks.
Read more
An all-out assault of HK vintage, Lee Lo Mei packs not only an inventive drinks list (house-infused peanut butter rum, anyone?) but also an inviting atmosphere that's perfect for the heart of the city.
Read more
Inspired by Prohibition era drinks, Lily is a hypnotically welcoming bar focusing on old-school favourite cocktails and modern classics made with boutique spirits and always with consummate care.
Read more
Located on the first floor of a residential building, Oris isn't easy to stumble across, which is a shame because bartender Sarah Rana's amazing mixology deserves the widest possible audience.
Read more
A raucous take on an American dive bar, skip the so-so house cocktails and order up a classic to your preferred specification to learn why The Ponty is rated among Asia's 50 Best Bars.
Read more
Still thirsty?
The full low-down on the best drinks in the city and where to find them
Read more