The best underground bars in Sydney
There's nothing Sydney likes more than a drink in the sunshine – except an underground booze bunker where the drinks are ace and the sun don't shine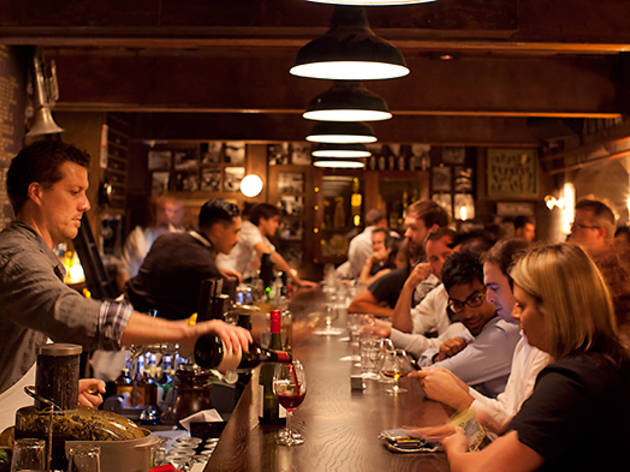 There's a lot of good reasons to head down rather than up to a rooftop bar when you're feeling parched. Underground, it's always party o'clock, because even if it's 2pm, it feels like after dark. Plus you have no external cues as to the lateness of the hour, so a quick drink can turn into a big night very easily. Drinking below street level is also deliciously climate controlled so on a blazing hot summer's day, or in a torrential downpour, your best bet is posting up in one of Sydney's best booze cellars.
Need something to line that stomach? Choose from this list of late-night eats in Sydney.
The best underground bars in Sydney
It's almost a competitive sport trying to get into this underground whisky bar. Make it an early or a late visit if you want to get amongst one of the most expansive collections of the demon drink in the inner city without having to queue around the block.
Were it not for the sight of a security guard or a small queue of people on Bridge Street, you'd have no idea this subterranean '70s 'porno chic' boozer even existed. And that would be a shame, because good times are writ large down here – Boogie Nights-era soundtrack, banging cocktails, excellent banter and all.
With its emerald walls, rattan lamps and bentwood bar stools, Lobo captures the faded grandeur of a Caribbean summerhouse, but this one is found below street level in the heart of the city. Don't know anything about rum cocktails? This is the place to learn.
There are no rules to an evening on the tiles at this party bar in a former comedy club. You can slam down a shit tinnie that'll only set you back six bucks, or savour a Cognac, but keep those spiced, crunchy corn kernels coming.
Who knew the party was found behind a scuzzy door down in the financial end of the city. Down the stairs and through the pizza parlour is a good-times bandroom and bar where the glasses are plastic and the licence is late.
You'll likely be tempted to sit back, settle in for the long haul, soak in some live music, order a rotisserie duck and go home stuffed to the high heavens. But why not just start with a drink and see where the night takes you? (Pro tip: the wine list is worth a good, hard look.)
One of the NYC originals that led the worldwide speakeasy charge has brought its brand of late-night cocktail wizardry to the Sydney CBD, complete with signature neon 'Psychic' signage, tarot card readings and chicken soup doled out to the faithful at closing time.
They take the prohibition era brief pretty seriously at this late night bar featuring high rounded bare-brick ceilings decorated with old mugshots of rum runners and bootleggers, beautiful tiling, rare whiskies and rums and lighting that bathes everyone in a dirty warm glow.
This New Orleans-inspired cocktail den on King Street in the city is not exactly easy to find. The Swinging Cat hides underneath a Subway sandwich shop and boasts almost no signage. Of course, the place pumps regardless after knock off – Sydney booze hounds can sniff out good drinks at a thousand paces.
If you've got a split seam on your hands they won't be able to fix it at this subterranean bar hidden behind a seamstress facade, but the lights are low and the cocktails are delicious, which should help you forget that everyone saw your Batman undies.
An underground club has been transformed into a tequila bunker with a spiced-up burger and a collection of classic cocktails that'll put a positive spin on even the worst day in the office. And on Saturday nights the club vibes line on at
Barrio Noches.
This beautiful bar located beneath the Hilton Hotel features 100 tonnes of marble; Renaissance-style paintings of nudes; sky-scraping Corinthian columns; ornate fireplaces, arches and stained glass. It's as much a museum as a cocktail lounge.
We love this bar because it's not pretentious, the staff serve up banter with their drinks and they play good music. It helps when you're out the back of a record store (hence the name). Plus Mojo is doing its own thing, a quality to admire in a world that can follow trends, regardless of over-supply.
Prefer to drink outdoors?
Sure, we're good at swimming and rugby, but what Australians excel at is kicking back in the leafy courtyard of our local, sinking some beers and chewing the fat with our mates. Beer garden sessions should really be our national sport, and here's the best places to do it.