Sydney's beautiful all year round, but we probably sell ourselves short in the coldest months of the year. It's usually too nippy to make the most of our stunning beaches, and the shorter days put a dent in midweek socialising plans (we blame Netflix). But is winter really that bad? North of the Arctic Circle you'd be lucky to have three hours of sunlight per day, and even in August Sydney reaches an average daytime temperature of 14 degrees. So we say stop complaining and indulge in these wintery pastimes before the cherry blossom season begins.
1. You can start the day with a warm bowl of oats. There's nothing more comforting, or Oliver Twist-like, than porridge on a crisp winter morning. Cornersmith Annandale have a hearty oat porridge topped with poached rhubarb, pear, walnuts and miso caramel, and in Manly Fika Swedish Kitchen serve up semolina porridge with caramelised apple compote, almond praline and blueberries.
2. It's the best time to walk in the Royal National Park. Why? Because it's whale watching season. There's 26 kilometres of coastline and everyone gets a frontrow view of breaching humpback whales. In fact, it's the best time to take a hike in all our national parks.
3. It's the only time you can go ice skating by the beach. Winter is one of the best times to visit Bondi – you can find a park, there are hardly any queues for coffee and you don't trip over tourists on the Bondi to Coogee trail. It's also the only time you can strap on a pair of skates and glide around outdoors as you watch the surf.
4. Seafood tastes better in winter. It's true, the best seafood is available in the winter months, which means we should be stocking up and making a creamy chowder or fish pie for dinner. Need a helping hand? Chef Josh Niland gives his top tips for buying seafood. Even better, book a table at one of the best seafood restaurants.
5. You can spend all day at the theatre or at the movies. It seems wasteful to sit indoors on a sunny day, but when the weather's miserable you've got a legit excuse to watch back-to-back movies at these upcoming film festivals or hunker down at the theatre for one of these four-star shows. Too delicate to brace the three-degree nights? Opt for a matinee session.
6. You can spend all day underground! Sydney loves a rooftop bar in summer, but when the nights are long you'll find us at these underground bars.
7. It's the best time of year to enjoy a hearty roast, a comforting bowl of ramen or a healthy serve of veggies in liquid form. Salad season will come around soon enough. Before then, order one of these takeaway soups to spice up your lunch break.
8. You can go for a long run without overheating. No really. Why do you think most of the running events, like City2Surf and Blackmores Half Marathon, take place in the cooler months.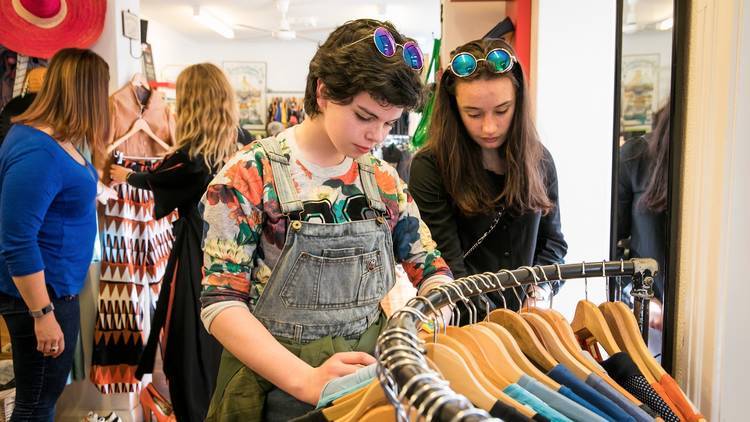 9. It's also the best time to wrap up warm. Stock up on colourful knitwear from these vintage stores or op shops.
10. Hot yoga seems ridiculous at any other time of year – so if you like it hot, check out these heated studios for Vinyassa like no other.
11. You can surf in winter without smashing into tourists. Beginner? Make the most of winter deals at schools like Let's Go Surfing and Manly Surf School who offer discounted classes right now.
12. You can still swim outdoors. If you can't brave the ocean temperatures, Victoria Park Pool and Prince Alfred Park Pool are heated and open all year round (though Prince Alfred Park Pool is undergoing maintenance until August 7). Make the most of those empty lanes and go for an afterwork dip.
13. You can hit the slopes without leaving the country. There's nine centimetres of snow at Three Mile Dam, Thredbo right now and 49cm at Falls Creek. If skiing isn't your sport, try a hike in the Blue Mountains or wine tour in the Hunter.
14. It's the best time to snuggle up by the fire. If you'd rather not move at all, the cold weather is the perfect excuse for plonking yourself in an armchair at these pubs with fireplaces. Heat yourself up inside and out with a hot cocktail, too.
15. Winter's what hot tubs were made for. Soak in a hot bath before treating yourself to a massage at Balmain's Bath House – or sit in bubbles as you sip bubbles at Sydney's hot tub cinema pop-up.
16. Tis the season for carb loading. Let's face it, we need that extra layer of chub to keep us warm at night – so why not make the most of all those seasonally baggy clothes and fill your bellies with hot chocolates, pasta cooked in a wheel of hot cheese, and Sydney's best pub pies.
17. You can watch the projections on Sydney Opera House straight after work. Sunset is around 5pm at the moment, which is when you can watch a seven-minute projection of Indigenous artworks on the Opera House. It'll run all year round, but right now it's perfectly timed for you to catch it on your way home. Bonus points: it's as Instagram-worthy as Vivid but without the crowds.
18. It's the best time to save some cash. Summer's tough with all those festivals and parties to drain away your spare change. Make the most of Sydney's quieter months by getting your mates to join you for these cheap and cheerful activities under $25.
Not convinced? Don't worry, spring will be here in six weeks and with it comes fun favourites like Sculpture by the Sea, Surry Hills Festival and Sydney Fringe.