The best Mexican restaurants in Sydney
Spice things up at these great Mexican restaurants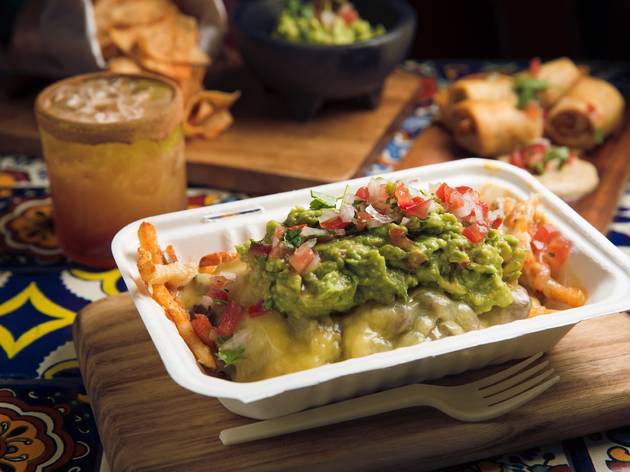 There is nothing that helps cure a hangover quite like a cheese-laden burrito (apart from a Bloody Mary, obvs) but did you know that Mexican food can also be light and bright? Here's our list of all that Mexico has to offer Sydney-side, from entire bowls of melted cheese (yep) to the chimichangas of your dreams.
Trying to pack too much into a burrito is a rookie error. You don't need to fit the full flavour spectrum of Mexico inside a tortilla, and frankly it's asking too much of a simple piece of flat bread, anyway. The chefs at Playa Takeria, the Mexican bar and restaurant on the old Fish Face site in Darlinghurst, know this. They have their burrito game on lock.
Read more
At Chica Bonita (Spanish for beautiful girl) order the crackling with avocado. It's just like walking through the fruit markets in Mexico City. There'll be a guy with a big pile of chicharron (pork skin that's been deep-fried so it puffs up like a crunchy pork cloud). He'll break off a piece, dip it in a massive bowl of guacamole and hand it over. Here at the restaurant, head chef Alex Wong is serving this classic street snack on a silver dollar-sized corn tortilla. Crunch.
Read more
Welcome to the first Mexican restaurant in Sydney where you can order fried crickets. And it's in Bondi Junction, of all places. This is some benchmark Mexican food, right here. The kitchen team, led by Matthew Fitzgerald, is serving a menu of fresh, spicy tastiness that steers away from your regular Syd-Mex fare.
Read more
Prepare to fill your belly with chimichangas (a type of fried tortilla) and beware going too hard too soon. Avoid eating too much melted cheese (queso fondido) first up – tomato salsa is melted with heaps of cheese which you scoop up with house-made corn chips – incredibly moreish but also incredibly filling.
Read more
The latest Sydney Mexican joint can be found on Pitt Street in the city, doing a roaring trade in guac and blackened corn, messy, glazed pork ribs, lamb shoulder tacos and agave-glazed caramel fudge. If you are out for a big one then we say get comfy with the massive tequila list as a first port of call.
Read more
This little cantina is just a few footsteps from the beach. The bar at the back is stocked with tequila ranging from Dos Equis to some serious offerings such as 1492 and Don Julio. The tortillas, when served as soft shell tacos, are char-tinged and soft – they make them in-house with an old-school tortilla press made from two bits of wood and a hinge.
Read more
Want Mexican food faster?
It may look like little more than a fast food joint, but it ain't so. This is the most authentic Mexican food in the city. Their corn chips are legendary and the DF Steak & Onion burrito is the bomb.
Read more
The tacitos smack bang on the shores of Bondi Beach are heaven in a basket. They're stuffed with cheese, pulled beef, chipotle chicken or chilli-roasted pork, then rolled, flash-fried and topped with lime and chilli salt.
Read more
And now for something completely different...
What could be more perfect than finely ground meat placed between two sweet slices of bread with cheese and pickles? Nothing, that's what. Whether you like them stacked to the nines, fat-rich and salty, veggie or vegan, here are the best burgers in Sydney.
Read more