The best cheap eats in Hong Kong
Fuel up with our guide to the best dishes and snacks in Hong Kong for $50 or less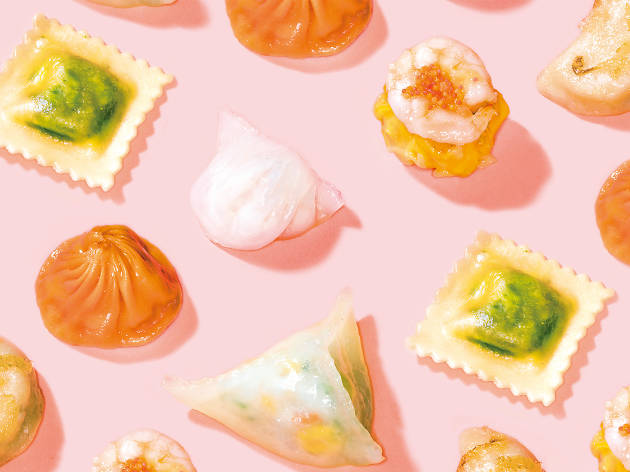 Food is more than a passion in Hong Kong. It's a way of life. But, certainly, many ingredients and meals come with a hefty price tag. Don't fret, though. We sort 50 of the best cheap eats in Hong Kong (all under $50) into the five main food groups so your stomach and your wallet are both treated like royalty this year.
Carbohydrates
Chocolate and Honey Stars egg waffle ($23)
More Eggettes
Egg waffles are a Hong Kong classic and More Eggettes is where the classic becomes the iconic, providing a delicious twist on egg waffles. The eatery combines chocolate and Honey Stars into the mix. You read that right. The kid's favourite cereal is added on the surface of each 'bubble', giving the soft and gooey waffle a satisfying crunch. Perfect for those with a sweet tooth.

Shop C18, 2/F, Kwai Chung Plaza, 7 Kwai Foo Rd, Kwai Fong, 9208 8979; fb.com/more.eggettes.
Spam and egg rice with drink ($35)
孖沙茶餐廳 (Ma Sa Restaurant)
This authentic cha chaan teng in Sheung Wan can turn a simple dish into something special. Plus, it serves generous portions for really, really low prices. The spam and egg rice is our fave. The pork arrives with three perfectly runny eggs on a bed of fluffy steamed rice. The yolk and soy sauce soak beautifully into the rice and create a taste sensation with the spam. Cheap on price, rich on flavours.

23 Hillier St, Sheung Wan, 2545 9026.
Dumplings ($43)
婆婆家餃子館 (Grandma's Dumplings)
Some say that good things come in small packages. This is definitely true for Grandma's Dumplings and, no, we don't mean any innuendo there. This fab restaurant in Tai Wai, in the New Territories, boasts small-but-hearty beauties. The dumpling wrappings are thin and tender, and the fillings are well balanced with meat and vegetables. Get them fried or boiled and served with a delicious broth.

Shop B, G/F, 18-24 Chik Shun St, Tai Wai, 2603 1723.
Shrimp roe noodles with wontons ($40)
Ping Kee Noodles
Thin noodles served with generous amounts of shrimp roe, beef balls and wontons in a full bowl of soup. For $40. No, we're not joking. Squeeze your way into the perpetually busy Tai Po Market to get a taste of this eatery's signature dish that exemplifies comfort food. The smell of dried shrimp powder stimulates the appetite. And, when you dig in, the umami flavours satisfy your palate.

2/F, Tai Po Market Complex, Heung Sze Wui St, Tai Po, 2658 4567.
Taiwanese Pancake ($26)
艾• 蜜思 (I Miss You)
Tucked away in an old building in Sai Wan Ho – a district known for its excellent range of cheap food offerings – I Miss U is a paradise for those on a budget. Try the wildly popular savoury Taiwanese pancakes which come in a variety of flavours such as purple potato or original. Similar to naan bread, the delicious dough is crispy on the outside and chewy on the inside. Best thing about them? You can customise your own filling with ingredients like cheese, sausages and octopus. Shop A3-A7, G/F, Tai On Bldg, 57-87 Shau Kei Wan Rd, Sai Wan Ho.
Beef and egg claypot rice ($42)
Chan Hon Kee
Yeah, Tai Po is a top place to go for excellent cheap eats. And you know it's a good sign when the crowds line up outside a restaurant on a daily basis just for one type of dish. At Chan Hon Kee, they queue in their droves for the claypot rice. There's a big selection to choose from but the sirloin beef and egg variety is this eatery's star. Enjoy the juicy meat alongside just the right amount of egg. Open from 6pm daily, dine and devour this sizzling neighbourhood favourite.

91B Wan Tau St, Tai Po, 2658 2277.
Beef brisket rice ($22)
金苑粉麵 (Kam Yuen Noodle Restaurant)
Beef brisket is a favourite among most noodle lovers
but ever thought of changing it up and eating it with rice instead? This typical Hong Kong-style deli tucked away in Tai Wai hits the spot with its take on the classic beef brisket dish. A Chiu Chow congee is submerged in an aromatic fish broth and, when combined with the fatty slices of tender meat, the soupy rice makes for a hearty, cheap eat that is bound to fill your belly and keep you satisfied.

Shop B, 33 Chik Shun St, Tai Wai, 3485 9828.
Beef satay noodles ($27)
Mei Yuen Restaurant
Simple and delicious, beef satay noodles are a Hong Kong staple. Mei Yuen Restaurant, in the heart of Tai Wai, is a run-of-the-mill cha chaan teng but the famous satay dish here is anything but. It's stellar and we love it along with the rest of the neighbourhood. The aromatic broth is topped with well-seasoned beef slices and served with noodles of your choice. Always generous with the portions and at just $27, this is Hong Kong food done cheap and really well.

13 Tai Wai Rd, Tai Wai, 2604 9023; fb.com/mei.yuen.restaurant.
Protein
隨您鍾意(Okonomi Japanese Food)
In Hong Kong, Japanese food can often cost the world and leave you unfulfilled. Not so at Okonomi, though. This restaurant, with a few branches across town, offers ace Japanese dishes for diners who are on a budget. For just $50, tuck into a rice bowl topped with salmon sashimi, cucumbers, eggs and crab roe. Come hungry for this quality raw fish and rice medley.

Various locations inc 79 Electric Rd, Tin Hau, 2570 7933.
Read more
Uni hand roll ($45)
勁回味 (Tasty Reminiscence)
A typical uni hand roll can cost up to $100 in high-end restaurants. But not at this popular Kowloon spot. Indulge in a delectable, melt-in-your-mouth version of the Japanese classic for less than $50 here. And despite being cheap in price, this ain't cheap on quality. The sea urchin boasts a smooth custard-like texture that's tucked in some rice and wrapped in some top tier crunchy seaweed. Uni-d to try it.

Shop 21B, G/F, New Mandarin Plaza, 14 Science Museum Rd, Tsim Sha Tsui, 3489 7027.
Sakura ebi egg roll ($34)
Smoked Tamago
Eggs don't have to be boring. And they're certainly not at Tsuen Wan's Smoked Tamago. The Japanese rolled omelette known as tamagoyaki is made with a Hong Kong twist here. Delicious fillings such as Sakura ebi – shrimp from Sakura – as well as seaweed and fish roe are rolled into the unique rectangular-shaped omelette and presented as egg rolls, bursting with flavour. You need these proteins.

Shop B3, G/F, Block B, Wah Shing Bldg, 80-84 Hau Tei Sq, Tsuen Wan; fb.com/smokedtamago.
Bacon pineapple burger ($47)
Burger Home
This homegrown burger joint serves up fresh handmade patties each day. Add fresh tomatoes, a slice of pineapple, some lettuce and bits of crispy bacon and you're in for a big, juicy delight of a meal here. This bacon pineapple burger ain't complicated but it's hard to nail perfectly and, thankfully, the guys at Burger Home do just that.

Shop 12, G/F, 51 Pao Woo Mansion, Cross Ln, Wan Chai, 2575 1575.
Chilli dog ($37)
Burger Deli
We know, we know. This place is best known for its burgers but the scrumptious hotdogs shouldn't be overlooked. You can't go wrong with this no-frills chilli dog. A plump sausage snuggled inside a warm, squishy bun that's smothered in mouthwatering chilli con carne is a veritable protein on protein meal. It's a messy ordeal to eat but the pairing of sauce, sausage and bun should keep you coming back for more. Simple, cheap and delicious as hell.

2 Ko Shing Hse, 9 King Man St, Sai Kung, 3689 9052; fb.com/burger.deli.
Soy sauce chicken rice ($35)
百寶雞 (Eight Treasure Chicken)
Many restaurants in Hong Kong serve up an unfair chicken-to-rice ratio. Basically, by the time you're done munching down the meat, you're left with a huge portion of leftover rice. But at Tai Wai's Eight Treasure Chicken, you get extremely generous portions of soy sauce-marinated and braised pieces of chook with a perfectly proportional amount of rice. A cheap eat treasure. Eight of them, in fact.
41 Chik Shun St, Tai Wai, 2601 1111.
Wooden bucket chicken ($35)
老香港大碗飯 (Old Hong Kong Rice Bowl)
Right inside the hub of a cooked food centre in Fo Tan, this down-to-earth restaurant serves amazing Qingyuan (northwestern Guangdong) cuisine, including the must-have wooden bucket chicken. You get a whole bird that's boiled in a similar way to Cantonese style but in an amazing marinade and then cut up into pieces, as well as some cucumber slices, a bowl of soup and rice. For $35. Incredible. Feed the brood or pig out on your own.

Kiosk W1, Food Market, Fo Tan West St, Fo Tan, 2690 2683.
Fruit and vegetables
Beets, feta and pumpkin superbowl ($45)
Pret A Manger
Think of a superbowl and you may think of American football. But another superbowl is served up by Pret and it's also packed with energy. The beets and feta variety is our fave. The base of quinoa and rice mix comes layered with a combination of spinach, roasted beetroot slices and sweet roasted pumpkin. If you're looking for a pick-me-up meal without trashing your wallet, touchdown in Pret this lunchtime.

Various locations inc Shop G12, G/F, Lee Garden Two, 28 Yun Ping Rd, Causeway Bay, 2894 8887; pret.hk.
E-fu noodles ($48)
O Veggie
One of the social enterprise restaurants under non-profit organisation Gingko House, O Veggie encourages senior employment with the aim of serving farm-to-table organic grub. The menu includes a great variety of pan-Asian food as well as Western vegetarian cuisine. The knockout cheap dish here is the e-fu noodles, which are Cantonese flat egg noodles. They come with assorted mushrooms and taste delightful and nutritious.

Rm 406, 4/F, Wah Lai Industrial Ctr, 10-14 Kwei Tei St, Fo Tan, 3996 8353; restaurant.org.hk.
Aubergine rice ($38)
東江雞酒家 (Dong Gong Chicken Restaurant)
This restaurant may be known for its chicken dishes but it's also a champion of vegetarian cuisine, particularly when it comes to the greens being served with rice or noodles. Head over to Dong Gong during teatime and try the simple vegetarian aubergine rice that provides you enough dietary fibre and vitamin B1 to last you all week.

Shop F2, 1/F, Mei Lam Commercial Complex, 30 Mei Tin Rd, Tai Wai, 2321 1066.
Coconut chia pudding ($48)
Supafood
Looking for an energy boost? This breakfast-friendly pudding contains healthy ingredients like chia seeds, granola and mixed fruits. They're blended with coconut and almond milk for a sweet, creamy kick. What better way to kickstart the day than the vegan way?

1 Jervois St, Sheung Wan, 2812 6088; supafood.co.
Roasted pumpkin, pine nuts and honey bruschetta ($45)
Assaggio Trattoria Italiana
This homemade bruschetta from Italian restaurant Assaggio in Tsim Sha Tsui is ideal for a light bite or a bar snack. The sweet flavours of the pumpkin and honey combine magnificently with the rich toasted pine nuts. Start with this cheap eat on the menu before moving on to a pricier main event at this renowned eatery.

2/F, Mira Mall, 118 Nathan Rd, Tsim Sha Tsui, 2315 5399; miradining.com.
Banana chocolate waffle ($40)
Uchi Coffee
There are good desserts and then there are sinfully good desserts. Uchi's banana chocolate waffle is an example of just such a superior treat. It's an artful construction of banana slices, almond flakes, powdered sugar and rich chocolate syrup, all on a fluffy waffle. Pay with a $50 note and use the change for some tissues so you can wipe all that yummy choc from your mouth.

Various locations inc Shop 4A, G/F, Double Cove, 8 Wu Kai Sha Rd, Ma On Shan, 2662 0102.
Samosa ($38)
Tulsi & Wine
This new addition to the slopes of Sai Ying Pun is quickly becoming an Indian cuisine destination favourite. Apart from serving satisfying and flavourful curries and tandooris, the samosas are large in size and packed with veggie goodness. One of the best ways to start a curry extravaganza is to indulge in one of these meaty giants.

Rm 10-11, G/F, The Bonham Mansion, 63 Bonham Rd, Sai Ying Pun, 2517 7077; tulsi.com.hk.
Pure fruit jelly cup ($25)
Spring Garden
This juice joint tucked away in Wan Chai sells quality fruit jellies from Japanese brand Tarami. The grape-flavoured desserts contain fragrantly sweet white muscat grapes that are suspended in a light gelatin. Other flavours include peach and mandarin orange, so you can have your fill of premium fruits from the Land of the Rising Sun for a bargain price.

Shop G, G/F, 104 Johnston Rd, Wan Chai, 2153 1186.
Dairy
Baked cheese tart ($20)
Bake
Bake's baked cheese tart comes all the way from Hokkaido, Japan, to tantalise our tastebuds. The crusty dark brown dough is filled with a creamy cheese mousse that is soft and silky in texture. And the egg, wheat and milk flavours are complimented by a tinge of saltiness. Irresistible.

B2-16, Sogo, 555 Hennessy Rd, Causeway Bay; 2831 3937; bakecheesetart.com/hk.
Kalaful choice ($35)
Kala Toast
You can't go wrong with grilled cheese. But forget the boring old toast with yellow cheese variety and head to Kala for a rainbow-coloured version. The cheekily named Kalaful choice is made with four different types and colours of cheese. There's French tomato cheese, French lavender cheese, basil cheese and the classic four-cheese mix (technically making it seven cheeses in this bad boy). The toast is crispy, the cheese is soft and stringy and the effect on your wallet is equally pleasurable. Perfect.

Shop 6, G/F, Cheong Tai Bldg, 4 Tsuen Hing Path, Tsuen Wan, 3706 5432; kalatoast.com.
Austrian cheese bun ($25)
Guschlbauer
This little takeaway bakery has got a lot to offer. From toasted buns to artisanal breads to pretty pastries, Guschlbauer is a doughy snack heaven. However, the main item it prides itself on is the Austrian cheese bun. Savour the soft cream cheese that spills out from the fat bun as the sugar glazing dusted on top of the spongy bread tickles your nose. ($25 per piece, $100 for 4 pieces).

Various locations inc Shop D, G/F, Fook Kiu Mansion, 32-34 Cameron Rd, Tsim Sha Tsui; 3956 5437; fb.com/guschlbauerhk.
Emack & Bolio's
Emack & Bolio's gets creative with its wide selection of cones and ice cream combinations. Go for the sweet selection of ice cream flavours like Cookie Monster and Trippin On' Espresso and, for a little extra, add some flair to your order with cones crowned with Rice Krispies or Froot Loops covered in melted marshmallow. Cheap, chilled and awesome.

Various locations inc 26 Cochrane St, Central, 2505 6626; emackandboliohk.com.
Read more
Double-cheese hotdog ($34)
Canapés Room
Hidden away on the third floor of an industrial building in Fo Tan, Canapés Room welcomes you with its unexpected earth tone interiors. And then you're welcomed by an unexpectedly impressive, given the $34 price, melted double-cheese hotdog. Think this should be in our protein section? No. This is all about the dairy. The dog is big, it's dripping with cheese and it's super-moreish. It's also only served during the afternoon, though. Top it off with a 62°C hot spring egg for an extra $8.

Rm 23-26, 3/F, Blk A/B, Wah Lok Ind Ctr, 31-41 San Mei St, Fo Tan, 3162 3952; canapesroom.com.
Froyo popsicle ($42)
Eskimo's Frozen Yogurt
What's better than frozen yoghurt? Froyo on a stick, of course. For a yummy and guilt-free summer treat, try out one of these low-fat popsicles from Eskimo. The flavours change seasonally but past varieties have included chai tea and salted peanuts.

Shop 416, 4/F, The Arcade, Cyberport, 100 Cyberport Rd, Pok Fu Lam, 2758 0002; eskimos.hk.
Hokkaido milk pudding ($20)
Milk Top
Hokkaido milk is famous for its rich, creamy, almost vanilla-ish taste. Symbolised by its 3.6 percent fat content, any dairy product made with this stuff is good for you. Taste the original and unadulterated milky flavour at Milk Top for $20 or, for $23, get it in a plethora of varieties such as matcha, strawberry and cookies and cream.

Various locations inc Shop 7A1, B2/F, Sogo, 555 Hennessy Rd, Causeway Bay, 2831 4809; milktop.com.hk.
Blueberry cheesecake crêpe ($27)
又一戟 (Crêpe Again)
We love a Japanese crêpe that packs anything from fried chicken to ice cream into its centre. To help you up your dairy intake, have you ever indulged in one which contains a blueberry cheesecake? And for just $27? Crêpe Again not only makes ice cream and fruit pancakes but also fashions unique recipes that work wonders on the palate, like this blueberry cheesecake beaut. It comes with generous amounts of the fruity dessert alongside whipped cream. You'll return to Crêpe Again again and again.

Shop 85B, 3/F, Kwai Chung Plaza, 7 Kwai Foo Rd, Kwai Fong; 2610 2182.
Fats and sugars
House fries ($30)
Pho Bar
We've chosen a handful of sugars here but what about something starchy and satisfyingly fatty? While most people only go for the signature delectable pho in the contemporary Vietnamese Pho Bar, you should try the appetising house special fries. Dip the fresh, hot and richly-seasoned chips into the mentaiko mayonnaise for a cheap and joyful savoury experience. This is golden-fried goodness, the Pho Bar way.

24-28 Li Yuen St W, Central, 2109 2028.
N°117 chocolat grand cru ($45)
L'Eclair De Génie
Bringing a contemporary twist to traditional French pastries, L'Eclair de Génie tells customers to 'feast their eyes and delight their tastebuds'. The raspberry éclair is a best-seller here but we adore the N°117 chocolat grand cru creation, which uses the most delicate Guanaja 80 percent chocolate cream as well as dark chocolate glazing. For all you choccy lovers out there, head down to your nearest L'Eclair de Génie store and treat yourself. Now!

Various locations inc Shop 113, 1/F, Pacific Place, 88 Queensway Admiralty, 2554 7729; leclairdegenie.com.hk.
Fresh Calbee crisps ($29)
Okashi Galleria x Calbee Plus
This concept store opened with such a buzz, it needs no introduction. There's just something about seeing your favourite brand of crisps coming straight off the in-store production line that makes tucking into the bag so exciting. Calbee has created a 'typhoon shelter spicy wavy' variety just for Hong Kong. Flavoured with just the right amount of kick, this is one guilty pleasure not to miss. Shop G14-15, G/F,
Lee Tung Ave, 200 Queen's Rd E, Wan Chai, 2797 9967.
Rose lychee cupcake ($25)
Twelve Cupcakes
Baking fresh handmade cupcakes from scratch daily, Twelve Cupcakes provides an array of choices tailor-made to suit all tastes. The cookies n cream is a delight but one of the monthly specials on at the moment is the rose lychee cupcake. The floral and fruity flavours complement each other and is a popular choice.

Various locations inc Shop G14, Windsor Hse, 311 Gloucester Rd, Causeway Bay, 2799 9260; twelvecupcakes.com.
Lolly waffle ($18)
Haru & P
Nothing beats a waffle on a stick. The lolly waffle at Haru & P in Kwai Fong is big in size and big in heart. It clocks in at under $20 and all the flavours taste glorious. A range of different toppings and icings make the lollies shine, plus there are some fab seasonal toppings on offer too. Haru & P's maple-syrup waffle is a supreme winner, as is the chocolate variety.

Shop C07, 2/F, Kwai Chung Plaza, 7 Kwai Foo Rd, Kwai Fong, 6932 0038.
100g assorted candies ($20)
Mr Simms Olde Sweet Shoppe
This Victorian-style shop, reminiscent of a scene from Harry Potter, brings you the best in traditional British confectionery. A 100g bag of sweeties costs you 20 quid. Sorry, dollars. And the shoppe has a vast selection of retro treats to choose from, including cola bottles, wine-gums, gobstoppers and Wham Bars, as well as plenty of chocolates, toffees and fudge. Are you feeling that sugar rush yet?

Various locations inc 37 Lyndhurst Tce, Central, 8192 6138; mrsimms.hk.
Ice cream brownie ($36)
Fooody
This chillaxed spot is perhaps the best kept secret in the industrial area of Fo Tan. Spacious, with vintage furniture and homeware scattered around the eatery, it feels like some sort of private members-only club. Claim a sofa, buy yourself a cuppa and soak up the live music during the weekend. Oh, and don't forget to try the ice cream brownie for the perfect sugar rush! Nothing beats ice cream on a brownie, particularly at this price.

G03, Leader Industrial Ctr, Fo Tan Rd, Fo Tan; 3586 0863; fb.com/fooody.hk.
Stout-battered junk food ($48)
Beer & Fish
Think crunchy, gooey, fireworks-in-your-mouth goodness – yes, we're talking about Beer & Fish's stout-battered junk food. Choose guilty pleasures like Oreos or a Mars Bar which have been deep-fried in stout-batter. Eat this like it's your last meal on Earth because you might need to make it to a hospital after the instantaneous heart attack...

67 Staunton St, Central, 2540 0888.

(image: battered fish fries)
Reader's choices
Steamed milk dessert ($32)
Yee Shun Dairy Company
The double-boiled milk pudding at this local favourite cha chaan teng has become iconic over the years. The smooth creamy milk arrives at an almost lip-searing temperature. It's an authentic experience. And tasty too.

506 Lockhart Rd, Causeway Bay, 2591 1837. Recommended by hilarayy.
Egg sandwich ($18)
Australia Dairy Company
What's so special about an egg sandwich? Ah, this one comes from the Australia Dairy Company cha chaan teng in Jordan and contains the best scrambled eggs in the city. Always just the right balance of runny and creamy textures, and chock full of rich yolky notes, you can get this in a set meal for different prices throughout the day.
47-49 Parkes St, Jordan, 2730 1356. Recommended by fatasslovesfood.
Cart noodles ($39)
Wing Kee Noodle
Cart noodles are noodles in broth with tons of goodies thrown in. At Wing Kee, you get three renditions for $39, like chicken wings, pig skin and pig's blood.

Various locations inc 43 Jardine St, Causeway Bay, 2576 3688. Recommended by Jenny Lee.
Plain congee ($16)
Law Fu Kee
Sometimes eating cheap means eating light and eating clean, even for mid-level executives working in Central. Law Fu Kee is the go-to place for Hong Kong's staple comfort food – congee. There's a variety to choose from but nothing beats the hallowed plain bowl. Made with a fragrant fish broth, it's delicious, clean, soothing, healthy and all for a paltry 16 bucks? Hell yeah!

142 Queen's Rd C, Central, 2543 3881. Recommended by Nadia Jee.
Mango mochi ($11)
允升甜品(Wan Sing Dessert)
No trip to Cheung Chau is complete unless you check into Wan Sing for the soft mochi that's wrapped around fresh and sweet mango. Grab one of these and devour it on the ferry ride.

3 San Hing St, Cheung Chau, 2981 5032. Recommended by Katie Tickle.
Salmon musubi ($15)
Hana-musubi
Many of you agree. This salmon musubi is the best quick, cheap lunch or dinner on the go. Grab it if you're rushing around in Lai Chi Kok or near any of Hana-musubi's branches in the city. The cheap and cheerful rice ball that's stuffed with a generous sliver of salmon can certainly tide you over until suppertime.

Various locations inc Shop K1, 2/F, Cheung Sha Wan Plaza, 833 Cheung Sha Wan Rd, Lai Chi Kok, 2371 2614; h-musubi.com. Recommended by Julie Hawthorne-Waite.
Double burger ($19)
Si Sun Fast Food
Best burger in Hong Kong. Fact. You don't need to spend all your earnings on grass-fed patties. Just $19 gets you a perfectly grilled burger with a tasty homemade sauce that just screams quality.

1A Whampoa St, Hung Hom, 2362 1279. Recommended by Hedley Cheung.
Chocolate chip eggette ($28)
Oddies
The OG of outside-of-the-box egg waffles, or eggettes as they're called at Oddies, has done so well it's moved from its Wan Chai nook to a bigger location in Central. There's always a creative changing roster of flavours such as Chinese sausage, red velvet and kimchi. Some are strange but a steady crowd-pleaser is the chocolate chip. It's only a small twist from the original but it's always a winner.

45 Gough St, Central, 2750 2111. Recommended by Nikiforos Kilias.
King prawn wonton noodles ($24)
Tsim Chai Kee
What's our Cheap Eats issue if we don't mention a good ol' bowl of wonton noodles? This is a quintessential Hong Kong meal we can't do without. The use of king prawns at Tsim Chai Kee gives the wontons in this dish an extra springy texture, so there's more bounce for your buck.

Various locations inc Shop B, G/F, Jade Ctr, 98 Wellington St, Central, 2850 6471. Recommended by kulkimoose.
Salted egg lotus paste bun ($20)
Lin Heung Teahouse
What started out as a mooncake company over a century ago now serves its signature salted egg yolk and lotus paste in a steamed bun for breakfast, lunch and dinner every day.

160-164 Wellington St, Central, 2544 4556; linheung.com.hk. Recommended by Tammy Ho.