The world's best bars: India
Quintessential drinking experiences in India – local bars the locals love…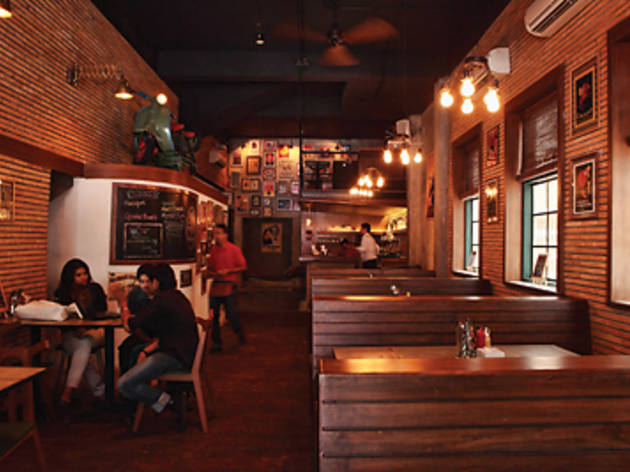 1/3
A 'Mangaa' at Monkey Bar
Monkeys adorn the walls at Monkey Bar – Bangalore's 'first gastropub', where local flavours are combined to make strange but wonderful concoctions. Order the jungle in a glass with their 'Mangaa' vodka cocktail…
There was much chatter when Monkey Bar opened its wide green doors to the public early in 2012. The brainchild of the city's beloved culinary whizz, Manu Chandra, the place was touted as Bangalore's first gastropub. On most evenings, it gets raucous fairly quickly – levels of bonhomie at shared tables rise with every round, and the place is unapologetically attached to its rowdy retro playlist.
The bartenders at Monkey Bar are inspired, turning local flavours into imaginative creations in a glass (or, equally likely, in a jar or copper tumbler). There's the spicier-than-most-can-take it go guava, with vodka, lashings of chilli, coriander and mint, and the kokum ginger margarita, a frozen slushie made with tequila, tart local mangosteens, fresh ginger and black salt. We find ourselves going back for the 'Mangaa': raw mango spiked with cumin and a heady splash of vodka.
Monkey Bar goes a long way towards reviving Bangalore's ailing pub culture: it's a friendly, informal joint that peddles out some kooky, experimental cocktails. Come in wearing what you like, take a seat where you find it, and make sure to make nice with the wizard behind the bar. Amrita Gupta, assistant editor, Time Out Bengaluru
Monkey Bar, 14/1, Wood Street, Bengaluru, India. +91 80 41116878


Discover more places to drink in Bangalore


Picture by Selvaprakash L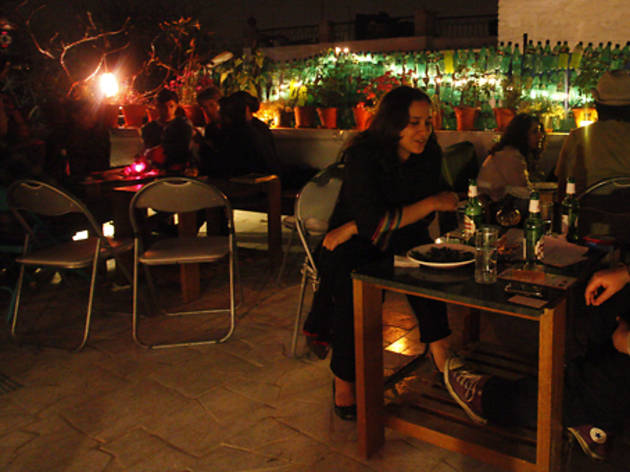 2/3
An Old Monk rum-and-Coke at Ziro
Eco-chic café-bar Ziro is co-owned by an indie rock band and an environmental NGO, a marriage that produces contemporary cool in New Delhi. It's always packed with regulars – students, young professionals, and expats – throwing back the bar's unbelievably inexpensive drinks. And most Delhiites will opt for a classic Old Monk rum-and-Coke, or several.
A relatively recent addition to Hauz Khaz Village, the capital's shabbily vibrant creative quarter, Ziro is the brick-and-mortar version of your bohemian friend who flirts with veganism every six months – but we mean that in a good way. The café-bar is littered with now-common nostalgic touches (a record player, vintage magazines) but justifies them with its full-scale eco-friendly approach: everything, including the furniture, is recycled or previously used. There is a fridge and stove next to the bar in the cosy café space, where the menu changes every day. Old-school Hollywood tunes emanate from the record player, but as you climb the stairs to the rooftop bar, mellow electronica takes over. The rooftop bar itself is spartan, save the fairy-lit old Sprite bottles that line the railings.
The drinks menu is brief, but contains everything the discerning Delhi drinker ever really needs: vodka, scotch, beer and a few cocktails. Aside from the ubiquitous Kingfisher beer and the de rigueur rum-and-Cokes, Ziro's green apple martini is one of the better fruity martinis we've had in Delhi: neither overly sweet nor watered down, but tart, fresh and well-balanced. Ziro is a tiny, fashionable and cheap. Simran Bhalla, Food & Drink editor, Time Out Delhi
Ziro, 24/3 Hauz Khas Village, Delhi, India. +91 11 2656 1268


Discover more of Delhi's bars, pubs and clubs


Picture by Time Out Delhi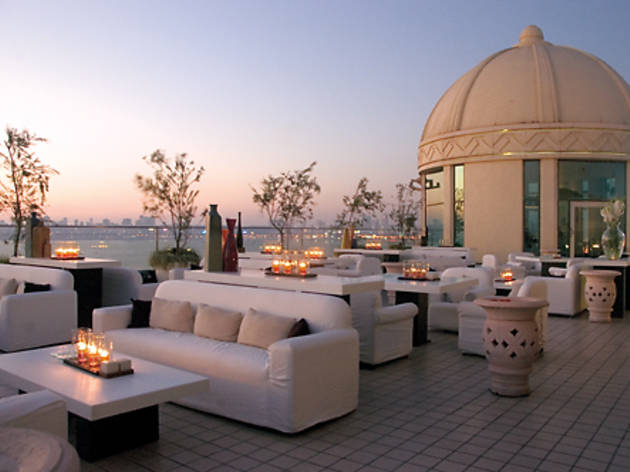 3/3
A Long Island iced tea at Dome
Dome lets you watch one of the world's great metropolises in action: cars whizzing along a dazzling necklace of streetlights, waves crashing against the tetrapods, a panoramic view of skyscrapers and art deco apartment blocks. Why a Long Island iced tea? Because the beer is a lousy deal...

Few bars have the power to make you feel like a star. Sipping on a drink on a summer evening, dazzled by the brilliant white decor, surrounded by a city slowly illuminating itself as the light fails is an experience as spectacular the 50th time as the first. The venue's aqua-blue swimming pool at your toes, the sexy red rotunda bar and the decadant loungers can't hurt either. Patrons reclining, practically lying down, on their beds and sofas creates the ultimate mesh of Goan hedonism and urban sophistication. An evening at Dome is all your supermodel-Ferrari-Moët fantasies come alive at once, even if you're drinking a pint of Kingfisher.
A word of advice, though: at 350 INR (€4.80), the beer is a lousy deal. The Long Island iced tea, priced at 1,200 INR (€16.70), is very long indeed, and the equivalent, both in terms of potency and the amount of time it takes to polish off, of at least three lesser drinks. If you're lucky, you might visit on a day when a cricket match is scheduled at the Wankhede Stadium nearby, and the lunatic cheering of the crowd, the distant traffic on the street below, and the post-industrial magic of the sun setting into the smog, make Dome one of the most perfect bar experiences Mumbai has to offer. Leo Mirani, Time Out Mumbai
Dome, The InterContinental Marine Drive, 135 Marine Drive, Churchgate, Mumbai, India. +91 22 6639 9999


Discover Mumbai's best cocktails


Picture by Apoorva Guptey
Sponsored listing
Dry Martini by Javier de las Muelas
A swanky cocktail bar at The Melia White House hotel, with pedigree from a well-respected Barcelona orginal. 
Venue says: "Our newly refurbished Summer Terrace is open for business! Featuring a brand new menu, with summer cocktails, Mediterranean food and shisha."
You might also like