London's best restaurants for dining alone
Find excellent eateries for solo diners in the capital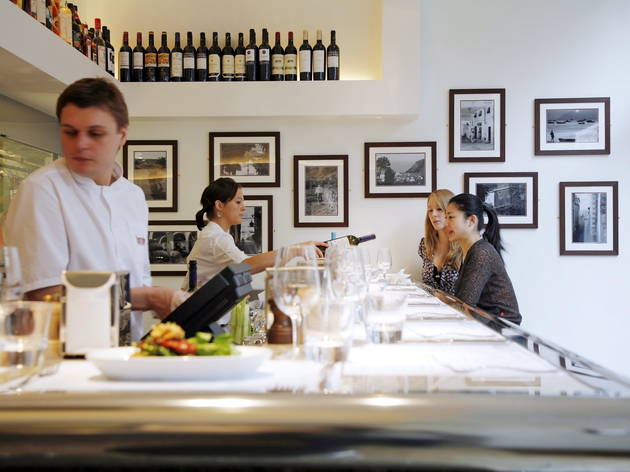 Sushi, burritos or even a kebab - if you're dining solo in the capital there's plenty of fine food to be enjoyed alone. Check out our guide to great restaurants in London where you won't feel awkward requesting a table for one. Do you agree with the choices? Use the comments box below or tweet your suggestions.
Restaurants for dining alone in London
Stop in for a quick spicy bite at Bad Sports, where a counter runs along the length of the window, great for gazing and grazing whenever you're out east and flying solo.
Read more
The window seats are great for watching the denizens of Soho float by while enjoying the modern Thai dishes.
Read more
The French are famously too cool to care, so dine in Casse-Croûte alone like you don't give Jean-Claude Van Damme.
Read more
Venue says: "Lunch - a three-course, Michelin-starred experience. Reserved and ordered entirely online, starting at £29 for a unique seasonal menu."
This hidden restaurant is ideal for covert solo diners; sit at the counter by the open kitchen for culinary fireworks.
Book now
Read more
Show more
Find more peace and quiet in London
Do you like having to yell at your friends when you go out drinking together? Fine, it's your shout. We like to cater for everybody, so we've put together a list of ten places where talking is easier – ideal for those quiet catch-ups or maybe even date night. Of course, any bar can get a bit noisy if there's a large and rowdy crowd in. But these places are all top bets if you don't want to run in a hoarse-race.
Read more
Sponsored listing
Sushi Surprise
As the name suggests, it's all about the sushi at this Scrutton Street spot, between Shoreditch and the City. But the surprise? Well, that comes from inventive toppings for the fish - think seared salmon with mixed radish and beetroot, or sun-dried tomato and melted parmesan.   Elsewhere, it's pretty much classic sushi, sashimi, nigiri and maki. Expect, therefore, slices of salmon, tuna, scallop, prawn and eel, California rolls, sushi boxes and platters for sharing. There's also donburi, sushi salads and 'new style' sashimi - thinly sliced fish gently cooked with warmed olive oil.  The drinks list features soft drinks, hot Japanese teas, miso soup and organic coffee. Keep an eye out for lunch set menus too - they come with a complimentary little gift from the chef. How nice.
Venue says: "The best sushi you can get for delivery! Check the menu and the pics and get your lunch/dinner delivered in minutes via our website."
Shoreditch
Online booking