The best things to do in NYC this week
Check out the very best things to do in NYC this week, from cultural events to trivia opportunities and concerts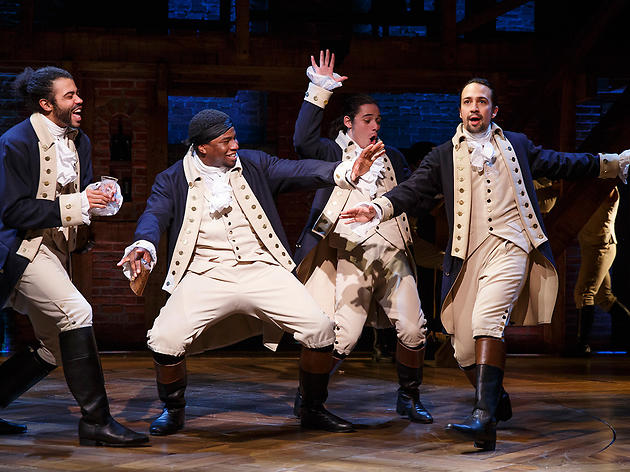 Are you frantically searching for the best things to do in NYC this week? We get it, in a city as large as New York, it can be extremely difficult to create the perfect itinerary. Too many cool things to do, too little time. We're here to help! Our editors have recommendations for everything, including the best parties and free art exhibitions you can check out. We'll make sure you know when there's cool NYC street fairs happening, or if there's a special one-off event in town. You'll never have to worry about "FOMO" ever again.
Recommended things to do in NYC
1
Your feed is going to blow up with shots of this weekend-long bash that celebrates Japanese culture—so why miss out on the fun? To celebrate the end of Hanami (read: the season of Japanese flower porn), Brooklyn Botanic Garden unveils cherry blossoms at their picturesque peak for two glorious days. But that's only part of the draw. There's also a Japanese tea room, an art gallery and a mini flea market hawking loot such as mouthwatering Raaka chocolates, wall scrolls and silk wraps. Stay for the jam-packed schedule of entertainment, which includes taiko drummers, cosplay actors, samurai sword masters, J-rock bands, stand-up comics and dance parties. 
Read more
2
At this massive grub hub, there's only one rule: Come hungry. The Brooklyn Flea spin-off draws more than 10,000 visitors per day with a slew of 75 to 100 incredible food vendors. Our pro tip? Make sure you peruse the lineup before you go—those mouthwatering scents and the bevy of choices can make you dizzy (and the dense crowds can make you hangry). 
Read more
4
Looking to go from average moviegoer to hard-core cinephile? A ticket to Robert De Niro's spectacular, showing buzzworthy premieres, under-the-radar docs and breakout indies, will do the trick. Some passes—priced as high as $1,250—give you unfettered access to all the events and talks but ticket prices for essential screenings ($10 matinee, $21 evening/weekend) are thankfully a lot more budget-friendly. 
Read more
5
There are more than 18,000 known species of butterflies and five families. Meet gems from three of those families, including Pieridae (white and sulphur), Papilionidae (black and yellow swallowtails) and Nymphalidae (psychedelic-colored longwings) as they fly around in a vivarium compound. 
Read more
6
Tom and Betsy Salamon's unique adventure—part interactive theater, part scavenger hunt, part walking tour—draws participants into an amusing web of puzzles and intrigue. You can choose between the three-hour New York tour, which takes participants through various historical and diverse neighborhoods of lower Manhattan, or the two-hour Village tour, which travels through quirky Greenwich Village on Saturdays. Groups of as many as ten are booked every half hour.     
Read more
7
Transport yourself to a land of fiddles and banjos with three days of performances from bands with names like Feral Foster, Bill & Belles and plenty o' jugs. If you feel like jamming out yourself, take a workshop to learn how to play your first few chords on the strings, or show your strength during the Banjo Toss contest.
Book now
Read more
8
Join your three goddesses for a viewing of the Olympic-level gay series, with plenty of sharp-tongued commentary along the way. After the episode, gag to jaw-dropping performances from Surburbia, Havokk and Harajuku (plus special guests), and get down to jams from DJs Kristine Barrilli and Dario Magenta. 
Read more
9
Viktor Devonne's weekly downtown affair gets saucy and sexy with a rotating roster of the burlesque boys and girls of NYC. With insane themes that range from geeky to gory, this act promises a bizarre, high-energy and totally titillating night. 
Read more
10
Though First Ladies have never been granted a salary for their work, they've often played a critical hand in shaping the future of our country's culture and values. This exhibition explores the women who brought the Founding Fathers' visions to reality despite legal and society barriers. View documents, artwork, clothing and other artifacts from Dolley Madison and other often-overlooked presidential women, and learn how much of their influence still endures. 
Read more
Show more
Music and nightlife events in NYC
1
Mitski Miyawaki's come far since self-releasing her first two albums and playing DIY gigs—that much is obvious considering she sold out her three most recent NYC concerts and basically every other show on her last national tour months in advance. Her latest collection of heartrending songs, Puberty 2, continues where 2014's breathtaking Bury Me at Makeout Creek left off: dreamily yearning indie rock that highlights her talents for complex, emotive melody and pointed lyricism.
Book now
Read more
3
Red Bull Music Academy takes listeners on a 10-hour ambient odyssey, traveling through a hefty range of trance-inducing deep listening experiences. Highlights include: Julianna Barwick's vast choral arrangements woven from her looped seraphic vocals; Brian Eno collaborator and multi-instrumentalist Laraaji conjuring mystical sounds from the zither; and Mary Lattimore's knotted, sparkling harp experiments. Also playing are Kaitlyn Aurelia Smith, Huerco S., Dorit Chrysler & Rob Schwimmer and a specially prepared performance by Chino Amobi & Johnny Utterback. You can find food on the main roof, and stunning views of the city from the upper roof annex.
Read more
4
Back around 2004, pop songstress Jojo penned a megahit that charted No.1 on Billboard's mainstream Top 40, signed a a seven-album deal with Blackground Records and released a platinum-selling debut album. Most impressive about those stats? She was 12. After a decade-long struggle with label woes and legal snafus, the star recently returned to the spotlight with a hook-heavy third studio album, Mad Love—and it sounds like the time away has only matured her R&B pipes.
Book now
Read more
5
This Vancouver crew's recent release, Paradise, is chock-full of the same fiery, hard-driving punk and brilliantly warped guitar work found on the band's acclaimed 2014 LP Deep Fantasy. For fans of pointed, fuzzed out riffage, look no further than the dizzying licks employed by the band's guitarist, Kenneth William.
Read more
6
Popular jazz singer-guitarist Pizzarelli returns to his familiar stomping grounds at the Carlyle—this time without his wife and frequent show partner, Jessica Molaskey—to ac-cent-tchu-ate the positively essential legacy of Great American Songbook master Johnny Mercer.
Read more
7
For the 15th installment of this deservedly popular event, impresario Scott Siegel gathers a new group of belters to prove that real theater singers don't need body mics. Singing au naturel, these pros cut loose and let their glorious voices carry the day. This year's edition features Emily Skinner, Stephanie J. Block, Max Von Essen, Ben Davis, Lesli Margherita, Kyle Scatliffe, Maxine Linehan, William Michals, Jeremy Kushnier and Klea Blackhurst.
Book now
Read more
8
The orchestra bearing the name of one of America's greatest composers rocks your week with his royal, indelible songbook. During this stint at Blue Note, the big band will be celebrating the 100th anniversay of Ella Fitzgerald's birth.
Read more
9
The Pops snap and crackle through a star-studded gala evening of orchestral delight in a tribute to the collaborations between actor Kelli O'Hara and director Bartlett Sher, including South Pacific and The King and I. Featured performers include Paulo Szot, Matthew Broderick, Danny Burstein, Judy Kuhn, Rebecca Luker, Marin Mazzie, Steven Pasquale, Ruthie Ann Miles, Laura Osnes, Adam Kantor and Chris Sullivan. Steven Reineke wields the baton.
Read more
10
The always-reliable East Village joint throws this packed Saturday night party of booming pop jams, boys on the dancefloor taking their clothes off and fetish and glam items available to buy in the backroom. 
Read more
Show more
Looking for more things to do?
Find the best things to do all year with our NYC events calendar of the coolest events, including parades, concerts, films and art exhibits
Read more
Sponsored listing
Onieals Grand Street
A former brothel, speakeasy and gambling parlor, Onieals had quite the heydey during the Prohibition era. Though imbibing is legal once again, some of the vestiges of the bar's nefarious origins still survive; the tunnel that bootleggers used to use to smuggle in booze now serves as the wine cellar. With an extensive menu of beer, wine, spirits and inventive cocktails, the bar has something for anyone looking to take the edge off. These days, Onieals also serves an upscale menu of classic American dishes with hints of influence from other cuisines. At brunch, try the shrimp and grits ($15) or the omelette with goat cheese, shiitake mushrooms and asparagus ($14). For dinner, start with the filet mignon carpaccio with parmesan and horseradish creme ($19) or grilled oysters on the half shell ($15), then move on to sesame-crusted tuna with tempura green beans ($26) or hammered chicken in a shallot wine sauce ($23).
Venue says: "Wednesday's Happy Hour 4-7pm, $1 Oysters all night. Late Night Food Menu until 1am."