The best things to do in NYC this week
Check out the very best things to do in NYC this week, from cultural events to trivia opportunities and concerts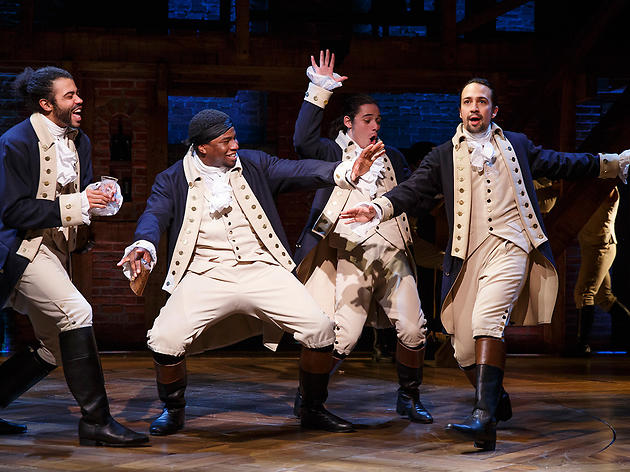 Are you frantically searching for the best things to do in NYC this week? We get it, in a city as large as New York, it can be extremely difficult to create the perfect itinerary. Too many cool things to do, too little time. We're here to help! Our editors have recommendations for everything, including the best parties and free art exhibitions you can check out. We'll make sure you know when there's cool NYC street fairs happening, or if there's a special one-off event in town. You'll never have to worry about "FOMO" ever again.
Recommended things to do in NYC
1
Viktor Devonne's weekly downtown affair gets saucy and sexy with a rotating roster of the burlesque boys and girls of NYC. With insane themes that range from geeky to gory, this act promises a bizarre, high-energy and totally titillating night. 
Read more
3
A sharply political comedian who brings smarts and bold delivery to her satirical songs, Goodman plays guitar and piano as she eggs on the crowd. At 54 Below, she is joined by guest star Laurence O'Keefe, the clever tunesmith behind Bat Boy and Legally Blonde.
Book now
Read more
4
Pope's viscerally thrilling alto is a rich gusher of sound that emerges like a full-on blast from the past. In her latest venture, the downtown darling boldly essays the score from the 1954 Judy Garland version of A Star Is Born, including "The Man That Got Away," "Swanee" and "You Took Advantage of Me." The wizardly Brian Nash mans the piano.
Book now
Read more
5
Triple threat John Arthur Greene does the Broadway-cast thing well (he played Riff in West Side Story, and is now in School of Rock), but he's also a strong solo performer with a sexy rock edge. At the Cutting Room he keeps faith with the late George Michael, joined by guest stars including Lance Horne, E. Clayton Cornelious, Gisele Adisa and Troy Hussman.
Book now
Read more
6
One of NYC's most famous drag venues is hosting a brunch to benefit Louie's Legacy Dog Rescue. Hosted by celebrity photographer Mike Ruiz and the men and dogs of the 'Pecs and Pups' calendar. Surrounding by drag queens, attractive men, and adorable dogs - this promsies to be a brunch you won't want to miss.
Read more
7
In the opening salvo of his Joe's Pub residency, musical showman Julian Fleisher aims to re-create the nightclub-singer magic of yesteryear via jazzy pop covers of songs from 1975, when classic rock shared the pop charts with singer-songwriters and early disco.
Book now
Read more
8
On the afternoon of the Trump inauguration, theater stars unite in the inaugural edition of a monthly concert series to benefit human-rights organizations. Scheduled performers include Betty Buckley, Sharon Gless, Andrea Martin, Jessie Mueller, Bebe Neuwirth, Rosie O'Donnell, Rosie Perez, Billy Porter, Chita Rivera and Brian Stokes Mitchell.
Book now
Read more
9
This duo's buzz peaked around 2012, during the golden years before majestic girl-boy synth-pop combos became the indie sphere's favorite trending cliché. Regardless, this band's eerie content (sample lyric: "Cut open my sternum and pull my little ribs around you") contributes to a light-dark tension that makes the group a standout in its ever-widening niche even all these years later. Tonight the Montreal duo takes over the stellar sound system at Output for a late night dance party.
Read more
10
The new-user-friendly second language learning company Fluent City hits Videology every month for a screening of beloved international films, with giveaways of $100 gift cards to start a language class. This month, watch Maribel Verdú, Diego Luna and Gael Garcia Bernal take a smoking hot, totally bonkers road trip in Alfonso Cuaron's Y Tu Mamá También. 
Read more
Show more
Free things to do in NYC
1
This weekly getdown from Carolyn Busa, Julia Shiplett, Chelsea Taylor, Ben Wasserman and Emily Winter is a reliable night for solid laughs and surprise stars. Check out sets from guests like Josh Gondelman, Carmen Lynch and Corinne Fisher at this Monday night staple. 
Read more
2
Artist Grand Lindahl invites you to laugh, drink and draw at his monthly show. While comedians tell stories, audience members draw what they hear with paper and crayon. Plus, a guest artist graces each show (like New Yorker cartoonist Erik Bergstrom) to talk about their work and play a game, like an impromptu caption contest. That dreamer creative locked deep inside can live again for one sweet night. 
Read more
4
Get your underground music fix at House of Yes this weekend, with _NOTHING_ hosting over 20 local and international labels and collectives for its first Underground Music Label Showcase. The free Sunday event will feature live and DJ sets from 15 artists—including Via App, Earth Boys, Celestial Trax and Black Light Smoke. Arrive earlier in the day for brunch and make sure to check out the record fair for some great finds. A full bar will be available. R.S.V.P. here.
Book now
Read more
5
Emerging in '09 as half of Das Racist, the arch duo behind "Combination Pizza Hut and Taco Bell," Himanshu "Heems" Suri effortlessly transitioned from novelty sensation to genuine force on the local hip-hop scene. The Queens MC and Greedhead Music founder released a fiery debut solo LP Eat, Pray, Thug, along with a collaboration album with British actor-MC Riz Ahmed—the project's called Swetshop Boys—works which juxtapose drunken, apathetic comedy with scathing social commentary.
Read more
6
Register a team of up to four plastics for this cutthroat trivia showdown, based on the definitive teen movie of the millennial generation. You have to tackle questions about sweatpants on Mondays, whether butter is a carb and what Janis Ian's wig is made of. Wear your most expensive hoop earrings, or your Mathletes letterman jacket.
Read more
7
Halyard's brings you jokes from a bunch of very funny ladies at this free weekly show with hosts Naomi Karavani, Melissa Stokoski, Shelby Taylor and Erica Spera and live music. Plenty of brews, bar snacks and a pool table await you.
Read more
8
NYC's 20 year-old drag hub Lips welcomes you to enjoy a night of old-school dinner theater while master impersonator Jesse Volt buzzes on and off stage as Joan Rivers, Cher, Dolly Parton, Katy Perry and more. Try not to blink: you may miss a costume change. 
Read more
Music and nightlife events in NYC
Looking for more things to do?
Find the best things to do all year with our NYC events calendar of 2016's coolest events, including parades, concerts, films and art exhibits
Read more