The best things to do in NYC this week
Check out the very best things to do in NYC this week, from cultural events to trivia opportunities and concerts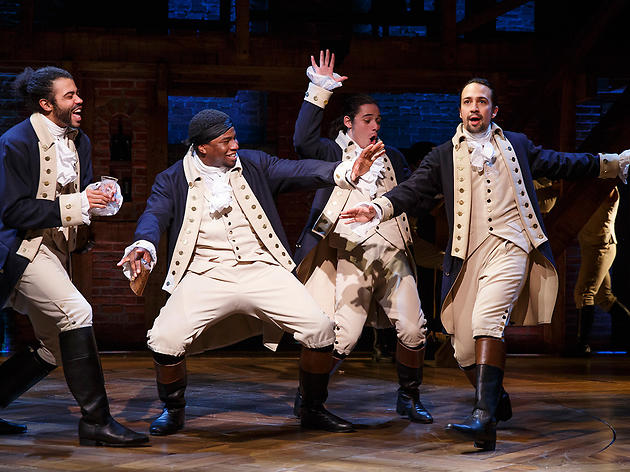 Are you frantically searching for the best things to do in NYC this week? We get it, in a city as large as New York, it can be extremely difficult to create the perfect itinerary. Too many cool things to do, too little time. We're here to help! Our editors have recommendations for everything, including the best parties and free art exhibitions you can check out. We'll make sure you know when there's cool NYC street fairs happening, or if there's a special one-off event in town. You'll never have to worry about "FOMO" ever again.
Recommended things to do in NYC
1
At this massive grub hub, there's only one rule: Come hungry. The Brooklyn Flea spin-off draws more than 10,000 visitors per day with a slew of 75 to 100 incredible food vendors. Our pro tip? Make sure you peruse the lineup before you go—those mouthwatering scents and the bevy of choices can make you dizzy (and the dense crowds can make you hangry). 
Read more
2
Your feed is going to blow up with shots of this weekend-long bash that celebrates Japanese culture—so why miss out on the fun? To celebrate the end of Hanami (read: the season of Japanese flower porn), Brooklyn Botanic Garden unveils cherry blossoms at their picturesque peak for two glorious days. But that's only part of the draw. There's also a Japanese tea room, an art gallery and a mini flea market hawking loot such as mouthwatering Raaka chocolates, wall scrolls and silk wraps. Stay for the jam-packed schedule of entertainment, which includes taiko drummers, cosplay actors, samurai sword masters, J-rock bands, stand-up comics and dance parties. 
Read more
3
Looking to go from average moviegoer to hard-core cinephile? A ticket to Robert De Niro's spectacular, showing buzzworthy premieres, under-the-radar docs and breakout indies, will do the trick. Some passes—priced as high as $1,250—give you unfettered access to all the events and talks but ticket prices for essential screenings ($10 matinee, $21 evening/weekend) are thankfully a lot more budget-friendly. 
Read more
5
There are more than 18,000 known species of butterflies and five families. Meet gems from three of those families, including the Pieridae (white and sulphur), the Papilionidae (black and yellow swallowtails) and the Nymphalidae (psychedelic-colored longwings) as they fly around in a vivarium compound. 
Read more
6
Tom and Betsy Salamon's unique adventure—part interactive theater, part scavenger hunt, part walking tour—draws participants into an amusing web of puzzles and intrigue. You can choose between the three-hour New York tour, which takes participants through various historical and diverse neighborhoods of lower Manhattan, or the two-hour Village tour, which travels through quirky Greenwich Village on Saturdays. Groups of as many as ten are booked every half hour.     
Read more
7
Join your three goddesses for a viewing of the Olympic-level gay series, with plenty of sharp-tongued commentary along the way. After the episode, gag to jaw-dropping performances from Surburbia, Havokk and Harajuku (plus special guests), and get down to jams from DJs Kristine Barrilli and Dario Magenta. 
Read more
8
Though First Ladies have never been granted a salary for their work, they've often played a critical hand in shaping the future of our country's culture and values. This exhibition explores the women who brought the Founding Fathers' visions to reality despite legal and society barriers. View documents, artwork, clothing and other artifacts from Dolley Madison and other often-overlooked presidential women, and learn how much of their influence still endures. 
Read more
9
Viktor Devonne's weekly downtown affair gets saucy and sexy with a rotating roster of the burlesque boys and girls of NYC. With insane themes that range from geeky to gory, this act promises a bizarre, high-energy and totally titillating night. 
Read more
10
Transport yourself to a land of fiddles and banjos with three days of performances from bands with names like Feral Foster, Bill & Belles and plenty o' jugs. If you feel like jamming out yourself, take a workshop to learn how to play your first few chords on the strings, or show your strength during the Banjo Toss contest.
Book now
Read more
Show more
Music and nightlife events in NYC
1
Beloved Canadian crew the New Pornographers (which launched the careers of A.C. Newman, Neko Case and Destroyer's Dan Bejar) returned in 2014 with Brill Bruisers, its latest set of shamelessly grandiose, irresistibly hooky pop. Expect those tunes, as well new tunes from the band's forthcoming followup and classics from Mass Romantic, to fill the sizeable venue with sparkly, euphoric vibes.
Book now
Read more
3
Mitski Miyawaki's come far since self-releasing her first two albums and playing DIY gigs—that much is obvious considering she sold out her three most recent NYC concerts and basically every other show on her last national tour months in advance. Her latest collection of heartrending songs, Puberty 2, continues where 2014's breathtaking Bury Me at Makeout Creek left off: dreamily yearning indie rock that highlights her talents for complex, emotive melody and pointed lyricism.
Book now
Read more
4
The always-reliable East Village joint throws this packed Saturday night party of booming pop jams, boys on the dancefloor taking their clothes off and fetish and glam items available to buy in the backroom. 
Read more
5
Throw it back to the days of neon-bright scrunchies and crop tops when Saved by the 90's takes over Webster Hall's Marlin Room every Friday night. The Bayside Tigers and DJ Suga Ray headline the party weekly, but Aaron Carter, Coolio and Mark McGrath have also all performed at recent shows. Show up early to snag some free glow sticks, too.  TIME OUT DISCOUNT TICKET OFFER:  Buy one ticket, get one free when you use the exclusive promo code below. Promotional description: New York City's biggest interactive 90's party, Saved by the 90's, takes over Webster Hall's Marlin Room every Friday evening at 10pm. The party features live 90's music from The Bayside Tigers starting at midnight and a dance party with DJ Suga Ray all night long. Armed with sweatbands, windbreakers, scrunchies, crop tops, snapbacks and electric-colored garb galore, The Bayside Tigers boast a repertoire of over 150 jams from the 90's, with more being added into the mix every week. Over the last few years Saved by the 90's has welcomed guest appearances by 90's icons such as Dustin Diamond (Screech), Aaron Carter, Coolio, Sophie B. Hawkins, Naughty By Nature, Chris Barron (Spin Doctors), Mark McGrath, Lisa Loeb, Dennis Haskins (Mr. Belding) and more! Buy one ticket, get one free when you do the following: 1. Visit Websterhall.com/savedbythe90s 2. Choose the performance date and click "Buy Tickets" 3. Enter the code TIME90S in the "promo code" box and complete the purchase to receive the discount Perfo
Book now
Read more
6
Local indie-rock heroes Screaming Females, whose crunched-out anthems manage to sound both commanding and casual, play in support of Rose Mountain, which features the band's most alluringly idiosyncratic songcraft yet.
Read more
7
Maye's stellar past includes a string of classy RCA albums in the '60s and a nearly unequaled number of Tonight Show appearances, but this husky-voiced, earthy belter has never sounded better than she does now. Astonishingly active lately, she returns to 54 Below to celebrate her 89th birthday with a new set of Great American Songbook classics.
Book now
Read more
8
The daring, hilarious, persona-shifting Starlite pays tribute to glacial German singer Nico, whose bored baritone vocals added eerie Continental glamour to the first Velvet Underground album. In this concert, she performs all of Nico's LP Chelsea Girl—which features notable songs by Lou Reed, Jackson Brown and Bob Dylan—to mark the recording's 50th anniversary.
Book now
Read more
9
What better way to spend a lazy Sunday night than by grabbing a drink and watching some Telly? The charming star of Broadway's Allegiance and In Transit (and TV's Glee) shares tunes from his two solo CDS, I'll Cover You, and Songs for You, which mix pop hits with Broadway favorites.
Book now
Read more
10
Red Bull Music Academy takes listeners on a 10-hour ambient odyssey, traveling through a hefty range of trance-inducing deep listening experiences. Highlights include: Julianna Barwick's vast choral arrangements woven from her looped seraphic vocals; Brian Eno collaborator and multi-instrumentalist Laraaji conjuring mystical sounds from the zither; and Mary Lattimore's knotted, sparkling harp experiments. Also playing are Kaitlyn Aurelia Smith, Huerco S., Dorit Chrysler & Rob Schwimmer and a specially prepared performance by Chino Amobi & Johnny Utterback. You can find food on the main roof, and stunning views of the city from the upper roof annex.
Read more
Show more
Looking for more things to do?
Find the best things to do all year with our NYC events calendar of the coolest events, including parades, concerts, films and art exhibits
Read more
Sponsored listing
Bus Stop Café
By name alone, Bus Stop Cafe evokes a no-frills neighborhood greasy spoon; a place that's full of commuters hastily grabbing a quick bite that's dependably just fine before hustling to catch a bus (or a train or a plane or a cab). That vignette does not capture the Parisian-bistro essence of Bus Stop Cafe, which likely gets its name from being located near a, you guessed it, bus stop in the heart of the West Village. The hefty, wide-ranging menu—which includes an entire page of served-all-day breakfast options like warm banana-walnut pancakes ($12), a jalepeño-avocado omelette ($13.75) and a fully loaded bagel-and-lox sandwich ($13.75)—is where Bus Stop's diner likeness starts and ends. The ample sidewalk seating hugs the perimeter of the quaint, dimly lit corner restaurant's street-facing walls. The rustic wooden two-tops are each bedecked with a small vase and flower, and the waitstaff's informed but not overbearing friendliness elicits the feeling of idling at a European bistro; it's a perfect place to have an intimidate date, dine alone as you read or simple watch passersby while sipping a glass of vino ($9 to $10.75). For dinner, appetizers run the gamut from savory beef nachos ($13.75) to a cocktail of fresh, succulent shrimp ($12.75 for four pieces), while homemade soups (4.75 to $5.75, or complimentary with an entrée) like chicken or French onion are simple and comforting. All regular-menu entrées, like a prime-cut sirloin steak with fresh vegetables and potatoes, a
Venue says: "HAPPY HOUR: Mon-Fri 12-7, $5.00 House Wine & Selective Beers. Mon & Tue ALL wine bottles 1/2 OFF. Call for delivery 212-206-1100"