The best things to do in NYC this week
Check out the very best things to do in NYC this week, from cultural events to trivia opportunities and concerts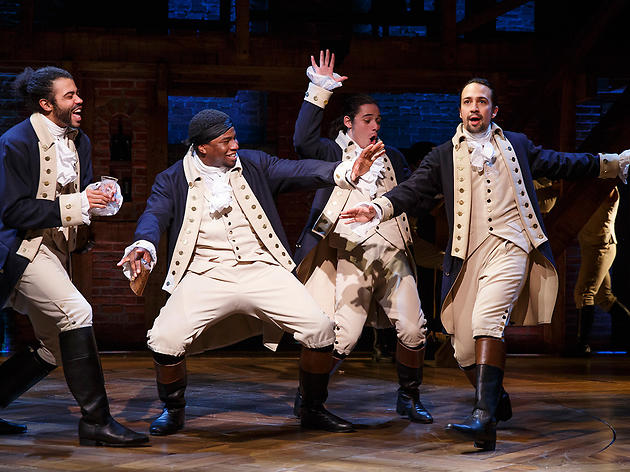 Are you frantically searching for the best things to do in NYC this week? We get it, in a city as large as New York, it can be extremely difficult to create the perfect itinerary. Too many cool things to do, too little time. We're here to help! Our editors have recommendations for everything, including the best parties and free art exhibitions you can check out. We'll make sure you know when there's cool NYC street fairs happening, or if there's a special one-off event in town. You'll never have to worry about "FOMO" ever again.
Recommended things to do in NYC
1
At this massive grub hub, there's only one rule: Come hungry. The Brooklyn Flea spin-off draws more than 10,000 visitors per day with a slew of 75 to 100 incredible food vendors. Our pro tip? Make sure you peruse the lineup before you go—those mouthwatering scents and the bevy of choices can make you dizzy (and the dense crowds can make you hangry). 
Read more
2
This city tradition feels fresh every spring when artists following in the footsteps of Jackson Pollock and Willem de Kooning set up shop in the park. Hundreds of exhibitors, from NYU students to artists who remember the Village as a creative enclave, display their paintings, sculptures, photography, jewelry and woodcraft.
Read more
4
There are more than 18,000 known species of butterflies and five families. Meet gems from three of those families, including Pieridae (white and sulphur), Papilionidae (black and yellow swallowtails) and Nymphalidae (psychedelic-colored longwings) as they fly around in a vivarium compound. 
Read more
5
Tictail and Absolut Art team up for this rad Lower East Side tour, which displays the work of female artists on local businesses. Though self-led tours of the pieces are available for visitors of Tictail, you can head to guided tours on May 20–21 to learn more about the creators. 
Read more
6
Tom and Betsy Salamon's unique adventure—part interactive theater, part scavenger hunt, part walking tour—draws participants into an amusing web of puzzles and intrigue. You can choose between the three-hour New York tour, which takes participants through various historical and diverse neighborhoods of lower Manhattan, or the two-hour Village tour, which travels through quirky Greenwich Village on Saturdays. Groups of as many as ten are booked every half hour.     
Read more
7
This fest is dedicated to flicks inspired by the pioneering sci-fi writer, who authored iconic works like The Man In the High Castle and Do Androids Dream of Anatomic Sheep? Head to SoHo Playhouse, Museum of the Moving Image, Producers' Club and Cervantes Institute to check out shorts and feature films that deal with time travel, artificial intelligence, morality and beyond at this packed fan fest. This year's program includes features like How to Build a Time Machine, a panel on Remote Viewing, and virtual reality experiences. 
Read more
8
Feast on scallion pancakes and steamed buns in some of Chinatown's most delicious hidden spots on this New York Adventure Club tour. Neighborhood historian Mike Morgenthal leads you through landmarks and back alleys, where you learn about the history of Tong gangs, immigrant communities and the thriving food scene.
Read more
9
Alright, New York, it's time to get lit(erary)! Whether you love nonfiction, sci-fi or romance novels, there's an event for everyone at this massive book festival. Some of the highlights include a chat with Chad Michael Murray, who is launching a book with Heather Graham later this year titled American Drifter, and meet and greets with Kevin Hart and Ryan Higa. You can also catch authors Jenny Han (Always and Forever Lara Jean), Shannon Hale (Real Friends), Laini Taylor (author of the Daughter of Smoke & Bone trilogy) and many, many more.
Book now
Read more
10
Politically conscious writers, artists, choreographers, domestic workers and more lead the charge at this collaborative experiment that welcomes members of the public to write on the walls of an abandoned house in Governors Island's Nolan Park. This year's season features Olga Rodriguez Ulloa, Alexandra Chasin, Luis Jaramillo, Matthew Brookshire, Ana Lara, LaTasha Diggs, Mariame Kaba, Laia Sole and Anthony Rosado. 
Read more
Show more
Music and nightlife events in NYC
Looking for more things to do?
Find the best things to do all year with our NYC events calendar of the coolest events, including parades, concerts, films and art exhibits
Read more
Sponsored listing
Bus Stop Café
By name alone, Bus Stop Cafe evokes a no-frills neighborhood greasy spoon; a place that's full of commuters hastily grabbing a quick bite that's dependably just fine before hustling to catch a bus (or a train or a plane or a cab). That vignette does not capture the Parisian-bistro essence of Bus Stop Cafe, which likely gets its name from being located near a, you guessed it, bus stop in the heart of the West Village. The hefty, wide-ranging menu—which includes an entire page of served-all-day breakfast options like warm banana-walnut pancakes ($12), a jalepeño-avocado omelette ($13.75) and a fully loaded bagel-and-lox sandwich ($13.75)—is where Bus Stop's diner likeness starts and ends. The ample sidewalk seating hugs the perimeter of the quaint, dimly lit corner restaurant's street-facing walls. The rustic wooden two-tops are each bedecked with a small vase and flower, and the waitstaff's informed but not overbearing friendliness elicits the feeling of idling at a European bistro; it's a perfect place to have an intimidate date, dine alone as you read or simple watch passersby while sipping a glass of vino ($9 to $10.75). For dinner, appetizers run the gamut from savory beef nachos ($13.75) to a cocktail of fresh, succulent shrimp ($12.75 for four pieces), while homemade soups (4.75 to $5.75, or complimentary with an entrée) like chicken or French onion are simple and comforting. All regular-menu entrées, like a prime-cut sirloin steak with fresh vegetables and potatoes, a
Venue says: "HAPPY HOUR: Mon-Fri 12-7, $5.00 House Wine & Selective Beers. Mon & Tue ALL wine bottles 1/2 OFF. Call for delivery 212-206-1100"
You might also like