Things to do in NYC today
The best things to do in NYC today involves free and cheap activities, awesome concerts and more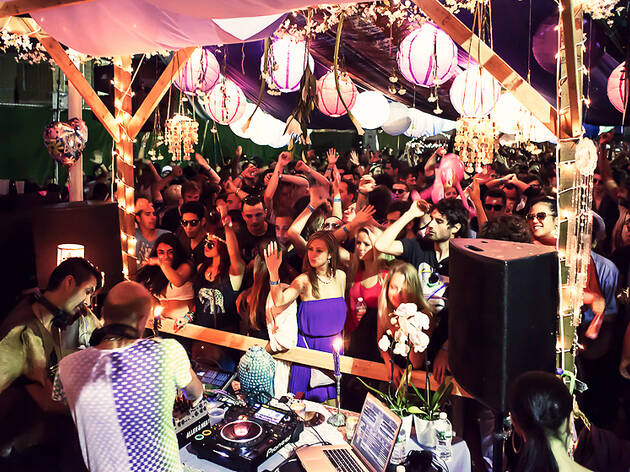 Consider our list of things to do in NYC today your social emergency savior. There's always something cool going on in Gotham, but what if you're searching for something super-specific like killer parties in NYC, concerts, interesting exhibitions at the city's top art museums or free things to do? Oh, yeah, you'll find all of these events and more on this page. Whether you're looking for date ideas or something fun to do on the cheap, we totally have you covered.
RECOMMENDED: Full NYC events calendar
Free things to do in NYC today
Halyard's brings you jokes from a bunch of very funny ladies at this free weekly show with hosts Naomi Karavani, Melissa Stokoski, Shelby Taylor and Erica Spera and live music. Plenty of brews, bar snacks and a pool table await you.
Read more
Brooklyn-based producer and DJ Octo Octa, from L.A.'s forward-thinking 100% Silk label, has a way with blending early-house bliss and postdubstep adventurism in both her productions and DJ sets. Having just announced her second LP Where Are We Going?, out March/April on Honey Soundsystem, Octo Octa is definitely one of our artists to watch this year. She's joined by Tiki Disco resident and Lot Radio bossman Lloydski (and plenty of refreshing White Label Yerba Mate Soda).
Read more
See more free things to do today
Music events in NYC today
Arts events in NYC today
View over 100 works made by creators outside of the artistic community, including inventive self-taught sculptors in New York City and illustrators who found their passion in prisons and psychiatric hospitals. Explore the inner lives of unknown artists through works made in private and often discovered after the artists' passing, with pieces like Steve Ashby's Rocking Bed Cunnilingus Whirligig and Henry Darger's watercolor At Sunbeam Creak/At Wickey Lansinia. 
Read more
The New Yorker's Hilton Als curates this selection of portraits by Neel of her neighbors in Harlem, where she lived for 50 years. Among the subjects are prominent locals she admired. 
Read more
Schnabel revisits his '80s heyday as the maestro of smashed-crockery canvases with a new group of broken-plate paintings inspired by Vincent van Gogh's grave. 
Read more
Francis Picabia was born in Paris to a French mother and an aristocratic Cuban father whose fortune afforded the artist a life of fast cars, fabulous parties and frequent amorous conquests. According to the catalog for MoMA's fantastic retrospective, Picabia (1879–1953) was "singularly wealthy" among his avant-garde cohort, but more pertinent, perhaps, was the sense of entitlement that allowed him to upend convention—apparently, for the hell of it. A self-styled "funny guy," Picabia was the great-granddaddy of bad-boy art, a restive genius and check-writing machine for later artists who cashed in on his accomplishments—though his work, like that of frequent co-conspirator Marcel Duchamp, wasn't fully appreciated until the 1960s. Unlike Duchamp, Picabia remained a painter and, as such, was both gadfly and butterfly, confounding critics by mixing high and low culture while flitting between abstraction and representation. He embraced Impressionism, Cubism, Dadaism and photo-based realism and also oscillated between revolutionary and reactionary impulses in ways that complicate our understanding of his political inclinations. Though disgusted by the carnage of World War I, for example, he remained in Nazi-occupied Europe during World War II, living in Vichy France. MoMA wrangles Picabia's fractious career with a chronological approach that brings order out of stylistic chaos. The show begins in the early 1900s with Picabia the late-blooming Impressionist, who, rather antithetic
Read more
One of the more telling works in Mark Leckey's MoMA PS1 survey isn't even by the 2008 Turner Prize winner: It's a painting by German Minimalist/Primitivist Michael Krebber (one of several guest artists appearing at Leckey's invitation), featuring a crude, handwritten replica of a bad review of Leckey's 2011 exhibition at London's Serpentine Gallery. The headline reads, mark leckey's art creates noise without meaning, and while that's meant as an insult, it (and the rest of the article) supremely misses the point: Leckey's art is supposed to be about noise without meaning—or at least effecting that stance to get at larger truths about contemporary culture. Leckey's multimedia installations dive into the ways in which technology transmits the shared fashions, ideas, ideologies, values and appetites that bind us as a society. The upshot, of course, is that the more this information is accelerated by ever-rapid means, the more it devolves into babble—a point reflected by an often-raucous show in which screens and speakers blare a cacophony of sights and sounds. Leckey's message may not be new, but he delivers it with panache. The artist's earliest—and still best-known—piece is an edited compilation of VHS club-scene tapes depicting ravers dancing, spinning and otherwise having out-of-body experiences on ecstasy. Sourced from veteran DJs, the material in "Fiorucci Made Me Hardcore" (1999) spans the late '70s to the early '90s in a delirious montage of found footage set to hypnot
Read more
Languorous dance- and landscape-themed watercolors on canvas make up this site-specific installation of large-scale panels by this L.A. artist, whose style projects a dreamy vibe.
Read more
Thanks to Donald Trump, the decade of greed is back, so naturally there's renewed interest in art from the Ronald Reagan era. The Whitney dusts off some prime examples from its collection, including works by Jean-Michel Basquiat, Kenny Scharf and Ross Bleckner.
Read more
A noted French architect and designer, Chareau (1883-1950) is probably best known for his elegantly spare Maison de Verre (1928-1932), a milestone of early modern residential architecture distinguished by a minimalistic, glass-block facade. He designed furniture, light fixtures and interiors as well, and was an important art patron who collected works by Jacques Lipchitz, Piet Mondrian, Marc Chagall and Amedeo Modigliani. Chareau's role in the art of the interwar period is given a fresh look in this survey, which rounds up rarely-seen objects and ephemera from his career.
Read more
Morris is a kind of artist/urbanologist whose slickly-produced videos and glossy, super graphic canvases examine the role that major cities play in ordering the global economy. Her latest show builds on two recent films, including one about that science fictional desert mirage known as Abu Dhabi.
Read more
Show more
Sponsored listing
Kat & Theo
This Flatiron gem offers seasonal, New American fare from executive chef David Fisher, who's put in time in such Michelin-starred restaurants as Jean-Georges, Aquavit and Aldea. From an open kitchen overlooking the 70-seat dining room—a moody, brick-walled stretch divided into a front bar area fitted with leather booths and metal trellis archways, and a back dining room warmed with a stone fireplace—Fisher deploys starters like tomato-braised octopus with cannellini beans ($18), and delicata squash agnolotti with lemony shrimp and firey chiles ($14). Robust mains include a juicy hanger steak accompanied by earthy rutabagas ($28), and a slow cooked leg of duck glazed accented with sweet plums ($29). 
Venue says: "We offer a neighborhood destination for seasonal, New American fare from chef Paras Shah. His menu reflects a passion for local ingredients."