Things to do in NYC today
The best things to do in NYC today involves free and cheap activities, awesome concerts and more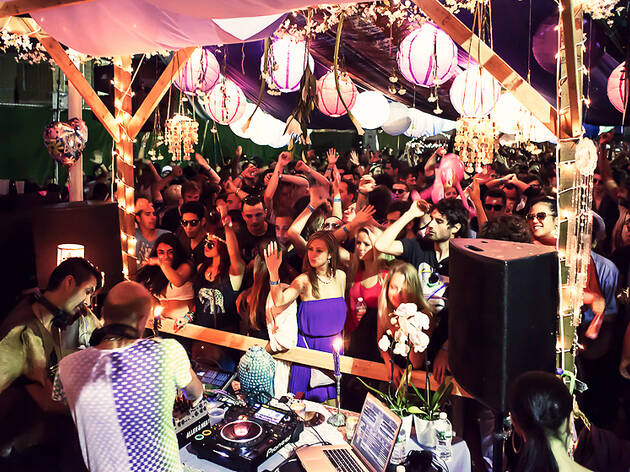 Consider our list of things to do in NYC today your social emergency savior. There's always something cool going on in Gotham, but what if you're searching for something super-specific like killer parties in NYC, concerts, interesting exhibitions at the city's top art museums or free things to do? Oh, yeah, you'll find all of these events and more on this page. Whether you're looking for date ideas or something fun to do on the cheap, we totally have you covered.
RECOMMENDED: Full NYC events calendar
Featured things to do in NYC today
Your feed is going to blow up with shots of this weekend-long bash that celebrates Japanese culture—so why miss out on the fun? To celebrate the end of Hanami (read: the season of Japanese flower porn), Brooklyn Botanic Garden unveils cherry blossoms at their picturesque peak for two glorious days. But that's only part of the draw. There's also a Japanese tea room, an art gallery and a mini flea market hawking loot such as mouthwatering Raaka chocolates, wall scrolls and silk wraps. Stay for the jam-packed schedule of entertainment, which includes taiko drummers, cosplay actors, samurai sword masters, J-rock bands, stand-up comics and dance parties. 
Read more
At this massive grub hub, there's only one rule: Come hungry. The Brooklyn Flea spin-off draws more than 10,000 visitors per day with a slew of 75 to 100 incredible food vendors. Our pro tip? Make sure you peruse the lineup before you go—those mouthwatering scents and the bevy of choices can make you dizzy (and the dense crowds can make you hangry). 
Read more
Looking to go from average moviegoer to hard-core cinephile? A ticket to Robert De Niro's spectacular, showing buzzworthy premieres, under-the-radar docs and breakout indies, will do the trick. Some passes—priced as high as $1,250—give you unfettered access to all the events and talks but ticket prices for essential screenings ($10 matinee, $21 evening/weekend) are thankfully a lot more budget-friendly. 
Read more
There are more than 18,000 known species of butterflies and five families. Meet gems from three of those families, including Pieridae (white and sulphur), Papilionidae (black and yellow swallowtails) and Nymphalidae (psychedelic-colored longwings) as they fly around in a vivarium compound. 
Read more
Find more things to do in New York today
Music events in NYC today
Mitski Miyawaki's come far since self-releasing her first two albums and playing DIY gigs—that much is obvious considering she sold out her three most recent NYC concerts and basically every other show on her last national tour months in advance. Her latest collection of heartrending songs, Puberty 2, continues where 2014's breathtaking Bury Me at Makeout Creek left off: dreamily yearning indie rock that highlights her talents for complex, emotive melody and pointed lyricism.
Book now
Read more
This Vancouver crew's recent release, Paradise, is chock-full of the same fiery, hard-driving punk and brilliantly warped guitar work found on the band's acclaimed 2014 LP Deep Fantasy. For fans of pointed, fuzzed out riffage, look no further than the dizzying licks employed by the band's guitarist, Kenneth William.
Read more
Popular jazz singer-guitarist Pizzarelli returns to his familiar stomping grounds at the Carlyle—this time without his wife and frequent show partner, Jessica Molaskey—to ac-cent-tchu-ate the positively essential legacy of Great American Songbook master Johnny Mercer.
Read more
The orchestra bearing the name of one of America's greatest composers rocks your week with his royal, indelible songbook. During this stint at Blue Note, the big band will be celebrating the 100th anniversay of Ella Fitzgerald's birth.
Read more
Sponsored listing
Zebú Grill
Escape the frigid temperatures and icy conditions in Manhattan for a taste of a warmer locale: Brazilian food from Zebu Grill on the Upper East Side. Pair Brazil's national cocktail, the citrusy caipirinha, with a typical bar snack of crispy hand pies called pastel filled with beef, chicken or cheese ($8.95 for three). For a heartier meal, dig into feijoada, a black bean stew with beef, pork and sausages served over rice ($25.95) or go all out with churrasco for two ($49.95). The sizzling platter filled with steak, chicken and sausage arrives with rice and beans. If you need more food, try a side of yucca fries ($6) or collard greens ($6). Looking for something sweet to finish the meal? You might be tempted by the passion fruit brulee topped with caramelized bananas ($8.95).
Venue says: "Delicious Brazilian cuisine on the Upper East Side in a hip atmosphere!"
Upper East Side
Online booking