Things to do in London this Friday
It's time to clock off, wind down and get your weekend on...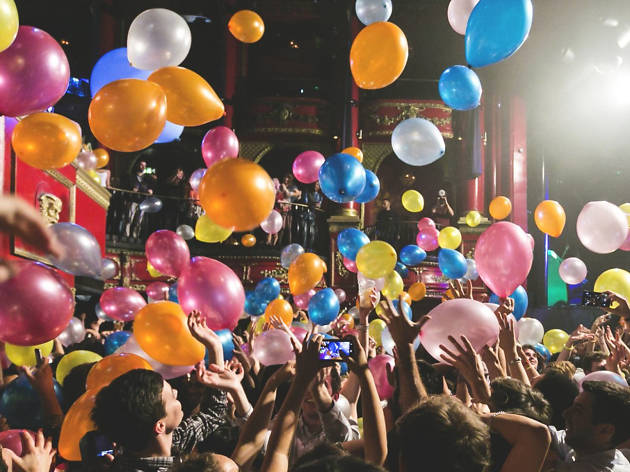 Find fantastic ideas for things to do on a Friday, just in case you've left it to the last minute. Check out the best entertainment, nightlife and events happening in the capital this Friday. The weekend starts here...
RECOMMENDED: Find more things to do in London this weekend
1
The Dancing Baby, 'Badger, Badger, Badger'; there was alot of weird shit in the first days of the internet. This interactive recreation of the web's early years tells the forgotten stories that shaped our digital culture.
Read more
2
Search for artefacts relating to women from the Greek, Roman and Mesopotamian eras in this museum treasure hunt marking the end of Women's History Month.
Read more
3
Forget the standard three courses and a bottle of plonk – Tanner Warehouse's supper club pairs each of its unique sharing dishes with in-house infused cocktails from their booze-lab.
Read more
5
Arts in health charity CoolTan Arts has launched its own walking festival 'Explore, Exercise, Exhale', a series of off-the-beaten-track London walks in support of mental wellbeing.
Read more
This latest season of late night fun at Styx rises to it's potential as a venue. Not only will '90s bands and DJs play every Friday and Saturday but there's after parties with loopy performance artists Figs in Wigs, a Bjork inspired Drag extravaganza with Take That tribute 'Take Twat', '90s techno from Vector Space, ITCH FM are doing a tribute to '90s hip-hip and folk covers of the decade's classics from Super Tennants. The '90s season also includes productions of that decade's most experimental theatre.
Read more
A cheesy pop, rock and house trek through the smash hits of the decade that taste forgot… then rediscovered.
Read more
House, hip hop, R&B and more as DJ Rugrat supplies his cross-genre combinations.
Read more
The DJ Andy Clarke will be bringing his top drum'n'bass tunes to the dancefloor.
Read more
Show more
See our full guide to London nightlife
Roger Daltrey and Pete Townshend are celebrating 50 years since the first gig by The Who by retiring gracefully. Just kidding: clearly long done with hoping they die before they get old, they're off on another massive arena tour, which (after a few postponed dates late last year) stops off in London for a set of 'hits and misses'.
Book now
Read more
This new production of 'The Mastersingers of Nuremberg', Wagner's glorious four-and-a-half-hour comic opera extolling the art of German vocal music, is the final one from The Royal Opera's outgoing director of opera, Kasper Holten. With nothing to lose, one might expect either a full-on avant-garde wigout or ultra-traditional final roll of the dice, but the Danish director offers both and neither, eschewing the opera's sixteenth-century world without replacing it with a coherent alternative. Holten focuses his attention on the sexism of the plot from the beginning, with cross-dressed, moustachioed women joining the men as the excellent ROH chorus opens proceedings in a 1930s-style wooden-stepped guildhall, a gentlemen-only members' club for mastersingers. Meanwhile, Eva tries on her wedding dress, seated on a large trophy-shaped chair – she is to be the prize in a competition run by her father Pogner (a dignified performance from bass Stephen Milling). So far, so good. However, this attractive set by Mia Stensgaard does not change for the entirety of the opera; and while Anja Vang Kragh's livery costumes for the mastersingers are sumptuous, their white tie and tails could work as an updated motif, except it makes no sense in act two with shoemaker Hans Sachs working at a formal dining table in his dinner suit. That aside, act three then gets a bit post-modern and we find the principals lounging around, apparently backstage while waiting to appear, distancing us from their c
Read more
The singer-songwriter and former frontman of The Jam and The Style Council - affectionately known as The Modfather - plays his hits.
Read more
Show more
See more gigs in London this weekend
Find things to do any day of the week
London is a treasure trove of brilliant activities and days out worth boasting about. Whether you live and work in the capital or you're planning a holiday, there's loads of ways to fill a free day with fun.
Read more
Quiet week ahead? Not anymore. Get a load of this week's ten biggest happenings and you'll be begging for a night off by Sunday.
Read more
Sponsored listing
Fiori Corner
A café, coffee house and restaurant just around the corner from Leicester Square. There's an Italian slant to things here, with pizzas and pasta doing brisk business alongside cups of strong Italian coffee. Continental breakfasts and kebabs are available, too.