Things to do in London this Friday
It's time to clock off, wind down and get your weekend on...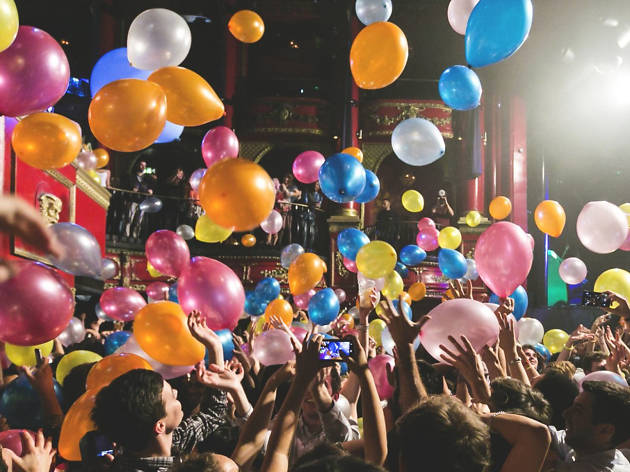 Find fantastic ideas for things to do on a Friday, just in case you've left it to the last minute. Check out the best entertainment, nightlife and events happening in the capital this Friday. The weekend starts here...
RECOMMENDED: Find more things to do in London this weekend
Tropical beats and dancehall vibes from Geko Jones, Galletas Calientes, MC Fedzilla, Cal Jader, Selecta Mad Max and Oddscene.
Read more
The two decades go head to head with DJs spinning dance, hip hop, pop and rock from across the years.
Read more
It's back! Oh, how we have missed it so. Moved from its base at the Scala to this, its new Camden home and still following the footsteps of Guilty Pleasures and the Erection Section, this sell-out night is where the ballads rule and the more key changes, big hair and rocking out you can do, the better you'll be for it. If you're a fan of '80s power ballads and glam rock bands, then here's your bad perm-shaped calling.
Read more
Dancehall, grime and R&B courtesy of Iration Steppas / Chopstick Dubplate Feat Jacky Murda , King Yoof & Cheshire Cat and many more.
Read more
Show more
See our full guide to London nightlife
Newcomer Florence Pugh is tough and terrific as a Victorian-era teenager married off to a rich landowner's son
Read more
This powerful low-budget British indie marks the arrival of an impressive new directing talent
Read more
Gemma Arterton is on forceful form in this surprisingly tough tale of Britain's WW2 film industry
Read more
Show more
See all films now showing in cinemas
Over the last four years WAF has established itself as one of the big guns among the new generation of dance festivals. Returning to London (well, Essex, but it's on the tube) for two more days this summer, it boasts another heavyweight line-up of globe-conquering DJs, hot rising talents and respected undergrounders: among them Carl Cox, Dizzee Rascal and Basement Jaxx. House and techno of all shapes and sizes are the main ingredients here, but bass and garage are also represented, and with this number of esteemed selectors on board you guarantee the always-up-for-it FSTVL crowd will be partying hard and true into the small hours.
Read more
Grand opera doesn't come much grander than this – Verdi's fourth revision of 'Don Carlo', the five-act score dating from 1886. Based on Schiller's play of stolen love, political intrigue, religious hatred and dominance, jealousy, familial recrimination and tragedy, it's no wonder Verdi had some difficulty keeping it down to three and a half hours. Directed by Nicholas Hytner, this is a colourful and symbolic production (revived by Paul Higgins) built to last – costumes and scenery are apposite to sixteenth-century Spain, spectacularly so in the second scene of Act III, when the crowd praises King Philip II and heretics are burnt. Don Carlos is to marry the beautiful Elizabeth of Valois, but his father the king claims her hand for himself, creating an intense personal and political conflict between father and son. It's all totally compelling. Bringing this stupendous opera to life is a stellar cast. Jonas Kaufmann is in fine form as Don Carlos, his voice used with intelligence and supported by decent acting. Anja Harteros makes the unhappily married Elizabeth very affecting and sings magnificently, as does Mariusz Kwiecien as the faithful Rodrigo. Ferruccio Furlanetto's King Philip is imposing yet vulnerable, and Eric Halfvarson is quite terrifying as the Grand Inquisitor, for all his blindness and infirmity. Verdi's use of the orchestra ranges from the finely drawn to the tumultuous, from the poignant to the thrilling, and Antonio Pappano conducts the superb ROH Orchestra
Book now
Read more
Quality pop songs, well-chosen collabs and Grande's immense voice has seen this talented singer take her rightful place on a pop podium.
Read more
A night of rap and hip-hop, featuring artists from Sri Lanka, Afghanistan, Bangladesh, India and the UK.
Read more
Show more
See more gigs in London this weekend
Find things to do any day of the week
London is a treasure trove of brilliant activities and days out worth boasting about. Whether you live and work in the capital or you're planning a holiday, there's loads of ways to fill a free day with fun.
Read more
Quiet week ahead? Not anymore. Get a load of this week's ten biggest happenings and you'll be begging for a night off by Sunday.
Read more
Sponsored listing
The Oval Tavern
It's as much about the entertainment as it is the food and booze at this popular Croydon pub. There's something going on every night, from blues jams, acoustic sessions and DJs to darts on a Monday night and Aunty Wendy's pub quiz on a Wednesday. There's even a Saturday afternoon storytime - for the kids, we presume. The food here is pretty accessible - think bar snacks of homemade Scotch eggs and sausage rolls, grilled mac and cheese, tuna melts, mushroom rarebit and a club sandwich, here including chorizo. The beer garden plays host to couple of barbecues that prove a bit of a draw on sunny summer days. As do the real ales - expect five on the pump as well as more by the bottle.