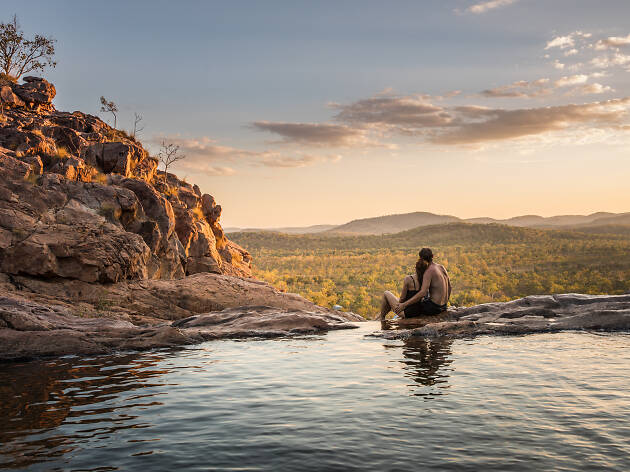 The best places to visit in Australia
Overseas travel may be out of reach for now, but there's still plenty to see, do and experience right here on home turf.
International borders look set to remain closed for several more months, so globe-trotting may be off the cards for now. But worry not intrepid traveller, there's still plenty to satisfy your wanderlust right here in Australia, and with government-subsidised flights on the way, there's really never been a better time to explore the land Down Under.
Naming the best places to visit on this vast, dynamic continent of ours is kind of like picking your favourite children from a large group of brilliant but very different kids. There are the beach towns Australia is known for, but then there are the wild green islands, the rugged national parks full of secret swimming holes, the big cities brimming with culture and great food, the stark yet beautiful deserts... we could go on forever.
We've cherry-picked a handful of the regions we think you should put at the top of your list for when interstate travel is once again permitted. Whether you're into sipping delicious shiraz, hiking around lush green wilderness or getting the most out of our unspoilt coastlines, there's a destination to suit any and every taste.
Best places to visit in Australia
Photograph: Darren Jew/Tourism Port Douglas and Daintree
Up north the weather is fine, you're surrounded by UNESCO World Heritage icons, and tropical weather means tropical produce. Use Cairns as your base to explore Far North Queensland, which is situated right next to the Great Barrier Reef, the world's largest coral reef. Whether you're a hardcore scuba diver, novice snorkeller or want to see the GBR via a fancy glass-bottomed boat, there are multiple ways to explore it. Don't miss a trip to the Daintree Rainforest, either; this verdant paradise features movie-cool waterfalls, clear blue lakes, sunlight shimmering through the trees, tropical vegetation and exotic wildlife. Plus, FNQ is also home to a stunning amount of big things, including the Big Crab in Cardwell, the Big Barra in Daintree and the Big Marlin in Cairns.
All the stereotypes about Melbourne are true: everyone wears black, everyone is coffee obsessed, and there are far too many rooftop bars for a city with such temperamental weather. But the best thing about Melbourne is that it's full of secrets to discover. Whether it's a hidden laneway bar, a ten-storey shopping adventure or an underground theatre space, most things worth visiting are within easy reach (and cheap as chips to get to, thanks to the city-wide free tram zone).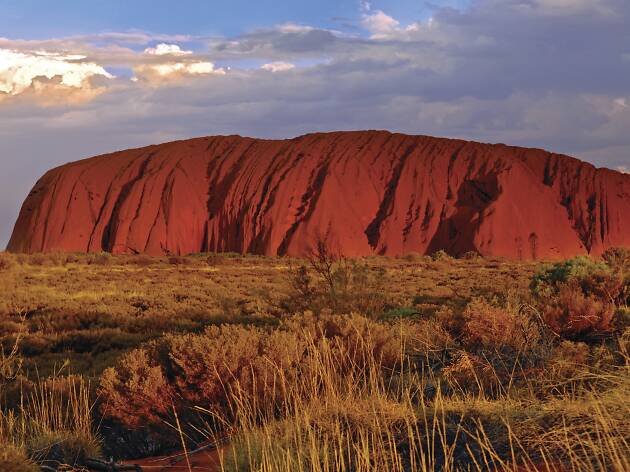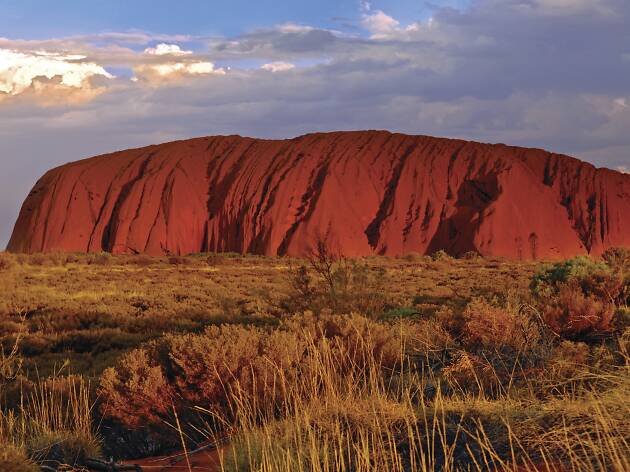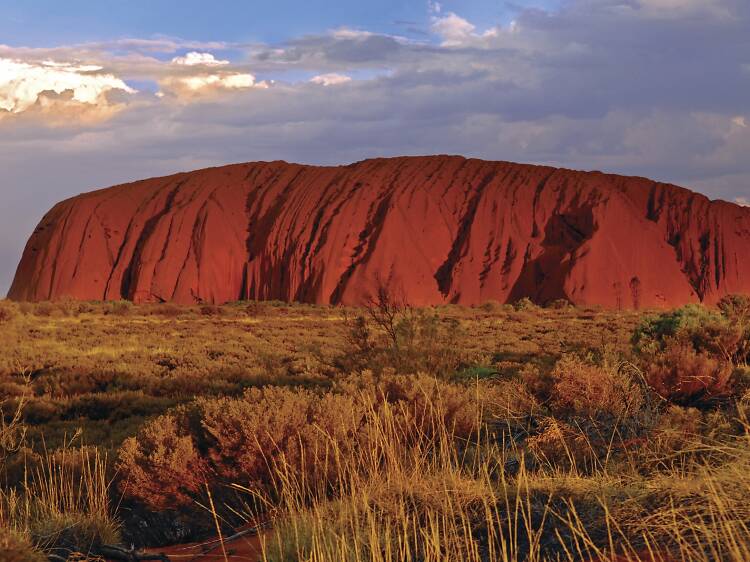 Photograph: Tourism Australia/Tourism NT
The landscapes are simply spectacular in Australia's red centre, especially when you're marvelling at the great sandstone monolith that is Uluru. You can fly directly there from Sydney, Darwin or Cairns, with the airport located only a few kilometres north of Uluru itself. When you get a glimpse of it IRL, it's easy to understand how Uluru became such an important symbol of local Indigenous culture and Australian culture as a whole. The local Anangu people will share stories of its spiritual significance, and you'll soon understand why climbing Uluru, which was finally prohibited in 2019, is a huge no-no. Walking around the base and admiring it from afar, as you observe the different colours it turns as the sunlight hits it, is still a humbling experience.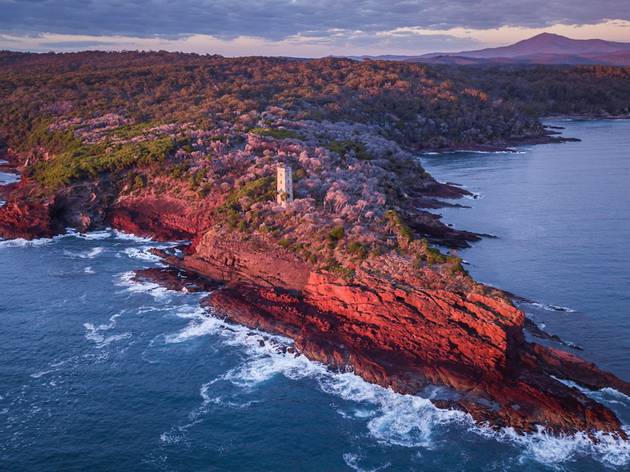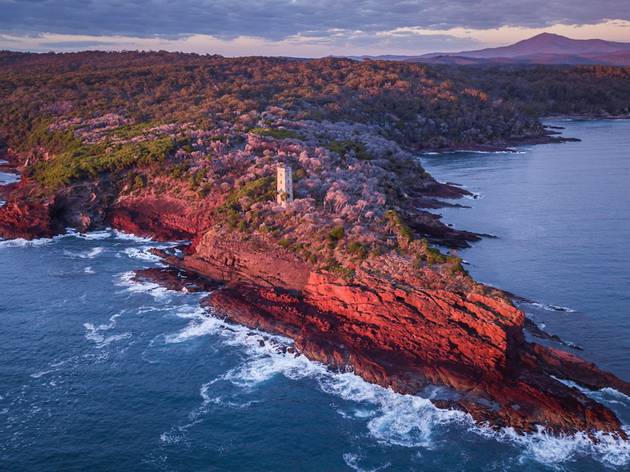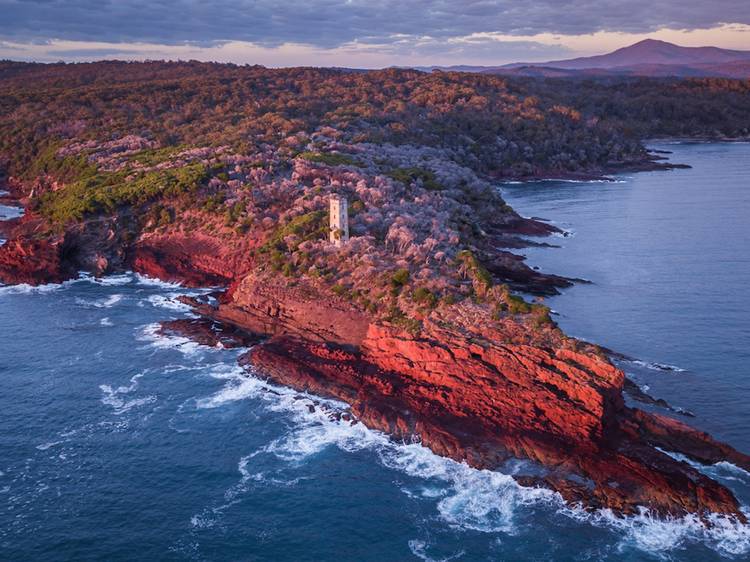 Photograph: Destination NSW/Davey Rogers 22
Located nearly 500 kilometres from central Sydney on New South Wales' south-eastern border, this quiet corner of the state on the edge of Green Cape is something of a hidden gem, off the radar of mass tourism. In part, this is because it's not the easiest place to reach; only the minute regional airport at Merimbula offers a faster alternative to driving here. However, if you're willing to go those extra miles, unspoiled nature is your reward along this ruggedly beautiful stretch of sea from Bermagui to Disaster Bay, a place of other-worldly crimson cliffs, dramatic waves and vibrant, shifting landscapes. The vistas here, notable for their rust-red Devonian rock, are a proverbial feast for the eyes, but there's plenty of actual feasting to be done here too. Expect succulent seafood caught off the docks at Eden, cheeses galore from Bega and Tilba's famous dairies, beef and lamb reared on the grassy slopes near Pambula, and of course, the regions most popular export, succulent Sydney rock oysters reared in some of the most fertile estuaries anywhere in the country.
Everyone knows Sydney packs a punch when it comes to spectacular views and thrilling activities. She's a rather pretty city too, with architecturally beautiful buildings – including two of the most iconic structures in the world, the Sydney Opera House and Harbour Bridge – and sparkling harbours interrupted only by island sanctuaries. If you're coming for the beautiful beaches, we recommend sticking around for the restaurants, the culture and the good vibes (but also the beaches). Sydney is all that and more – especially if you like getting a little active in your free time.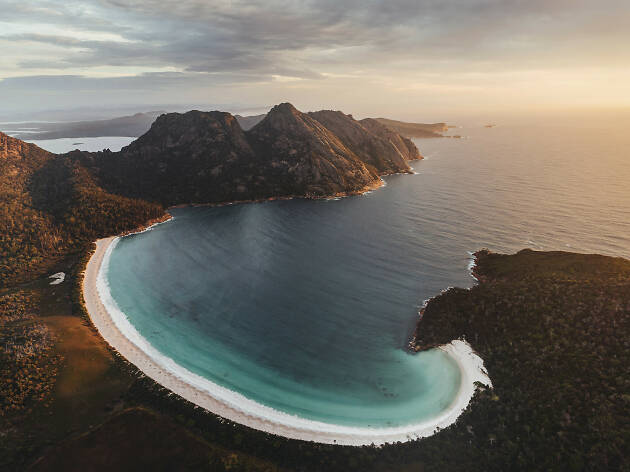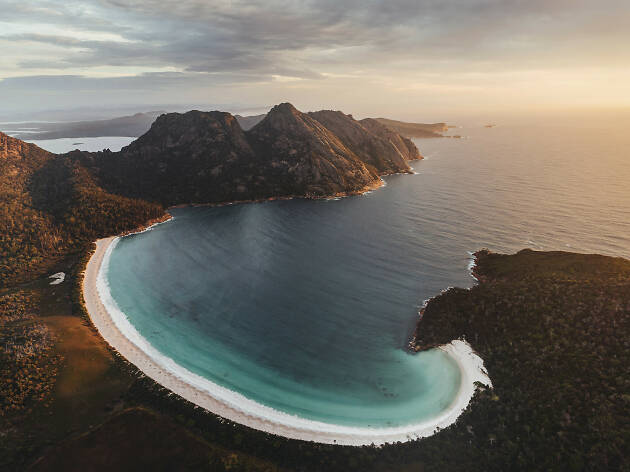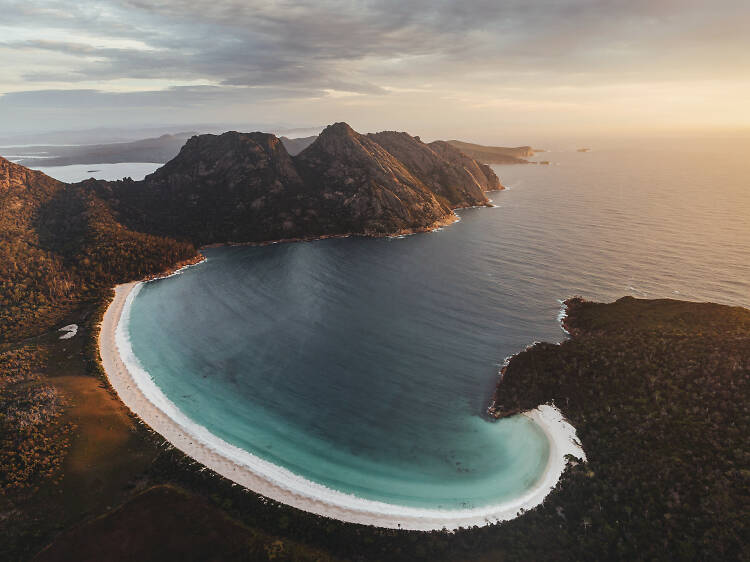 Photograph: Jason Charles Hill
It's easy to understand the allure of Australia's southernmost state. For one thing, 40 per cent of Tasmania is reserved as national parks and world heritage wilderness. Drive 20 minutes outside the state's major cities (Hobart and Launceston) and you can walk in the bush, bike down a spectacular mountain trail or lounge on the beach. But Tasmania isn't just for nature fans. There's extraordinary food, gin and whisky distilleries, wildlife sanctuaries (where you'll meet endangered Tasmanian devils), cool-climate wineries, fabulous festivals and a world-class art museum in the Museum of Old and New Art (MONA), which is one of the best things to do in the world right now.
Photograph: Tourism Whitsundays
Think you have to go to the Maldives for a slice of paradise? Australia's got its very own paradise ready and waiting in the Whitsundays. This collection of 74 islands is located right next to the northeast coast of Queensland and the Great Barrier Reef. Most of the islands are uninhabited, and you've probably seen secluded, long white stretches of beach and gorgeous landmarks like Heart Reef on your Instagram feed. If that's not enough to entice you to pay a visit, the average daily temperature is 27 degrees Celsius. Enough said.
Photograph: Nick Rains
The Barossa Valley is one of Australia's premier wine-producing regions, so if you're a fan of vino, this is the place to visit. You'll find it 50 minutes northeast of Adelaide, and there are more than 150 wineries and 80 or so cellar doors to explore. The region primarily focuses on big reds (mostly shiraz and cab sav), but you'll also find a healthy selection of grenache, riesling and chardonnay. Big Australian wineries like Penfolds, Yalumba and Jacob's Creek are located here, but we'd recommend visiting smaller producers like Charles Melton and Rockford Wines if you're after true Aussie hospitality.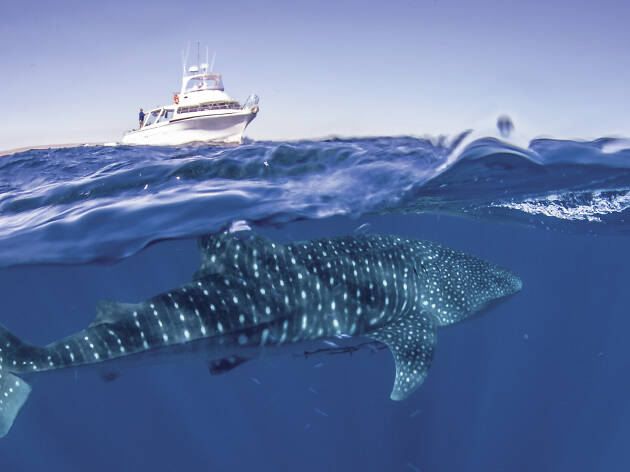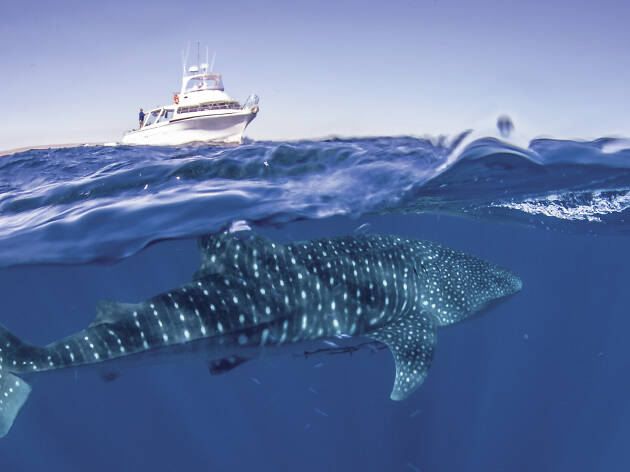 Photograph: Exmouth Dive and Whalesharks Ningaloo
The sleepy coastal town of Exmouth is adjacent to the Cape Range National Park and the 300-kilometre Ningaloo Reef – a region that is drop-dead gorgeous and brimming with vitality. Located about 1,270 kilometres north of Perth (around a 15-hour drive or two-hour flight to nearby Learmouth), Exmouth a nature lover's playground with one of the longest fringing reefs on the planet, meaning in many places the coral comes right up to the beach. You can swim with whale sharks (don't worry, they're harmless filter feeders that can grow up to 18 metres in length), spot a black-footed rock wallaby at Yardie Creek or take a guided walk through the fossil-crusted Mandu Mandu Gorge, which has been inhabited by humans for about 30,000 years.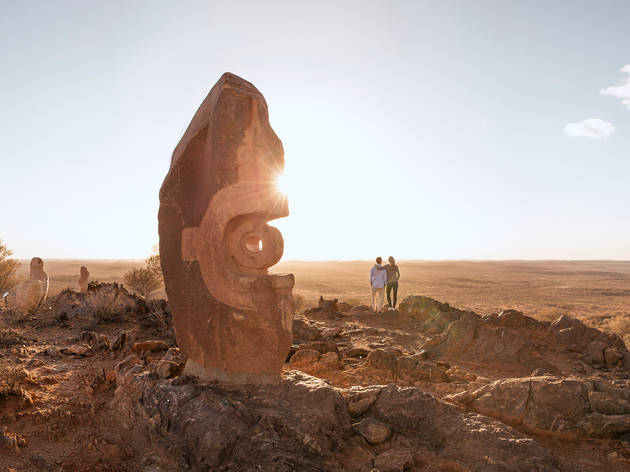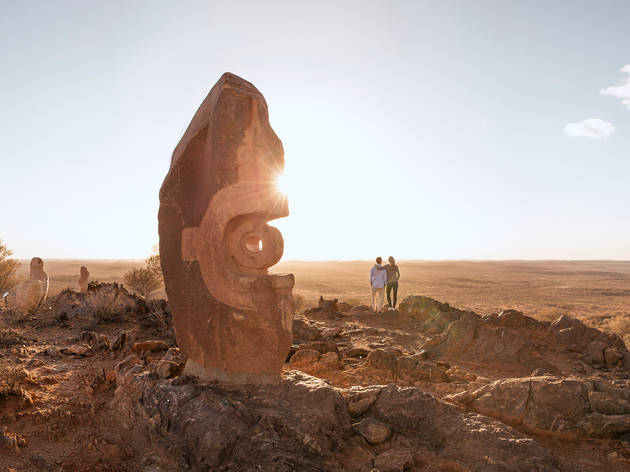 Photograph: Destination NSW
There are few places in Australia, or indeed the world, as fascinating, complex and unexpected as Broken Hill. Founded on the richest lead, zinc and silver orebody ever discovered, a mining rush in the 1880s made it one of the most prosperous settlements in Australia's early colonial days. In more recent years, blockbuster movies have been filmed here, including Priscilla Queen of the Desert and Mad Max 2, making it a tourism hotspot for a diverse range of travellers, from dystopian movie buffs to drag aficionados. If you long to see the brutally beautiful sun-scorched plains of Australia's desert interior, while keeping one foot in civilisation, there are excellent accommodations in and around the town, such as the luxe Broken Hill Outback Resort.
Photograph: Tourism Australia
A certified UNESCO World Heritage site, Kakadu National Park is certainly one of Australia's most incredible national parks. The fringe of the park is about a two-hour drive from Darwin, where it sits on the traditional lands of the Bininj/Mungguy people. Pro tip: Kakadu is best explored at your own pace by car. It's actually Australia's largest national park (it covers more than 20,000 square kilometres), so you'll need some time to discover it all properly. Take a peek at the 200-metre Jim Jim Falls waterfall; go for a swim at Gunlom, the crystal-clear infinity rock pool made famous in Crocodile Dundee; hike your way through the 30-odd walking trails that sweep across Kakadu; or take your 4WD out for a spin towards the crown of the park, Jarrangbarnmi (also known as the stunning Koolpin Gorge).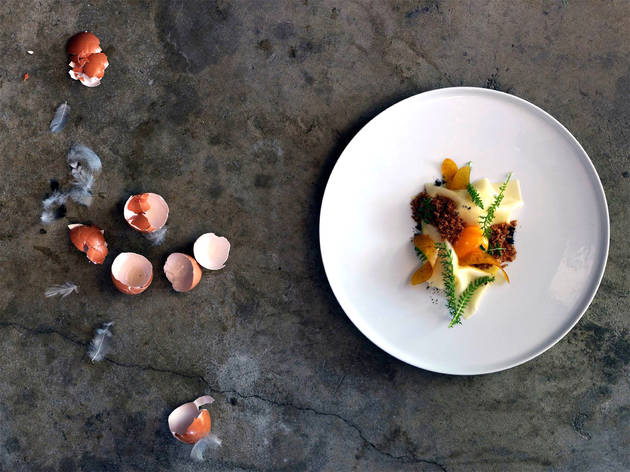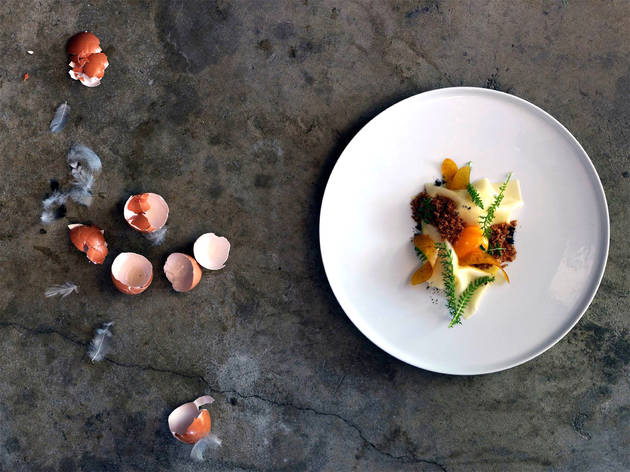 Photograph: Biota Dining and Rooms
Feel like harking back to simpler times? The Southern Highlands is the ultimate genteel getaway: full of quaint villages, winding walking trails, and Federation-era pubs for a drink along the way. Explore the lush Kangaroo Valley and take in the sprawling Minnamurra rainforest centre on the way. For lunch, the village of Bowral punches well above its weight when it comes to the region's culinary scene: its all-star restaurant Biota has been compared to Copenhagen's NOMA. For country coziness just a stone's throw from Sydney, wander up to the Highlands for a cuppa.
Photograph: Tourism Australia
This coastal town in northern New South Wales has completed its transformation from hippie town to boho-luxe getaway destination of late, but we're not mad about it. Casual dining standards in the region have hit the stratosphere (the Farm, which houses a provedore, a bakery, a classroom and the eponymous farm, is a must visit). Three major music festivals (Bluesfest in April; Splendour in the Grass in July; and Falls Festival over New Year's) and a year-round holiday feel have encouraged enterprising locals from all over the region to set up side-gigs as AirBnB hosts so there are plenty of places to stay, no matter your budget.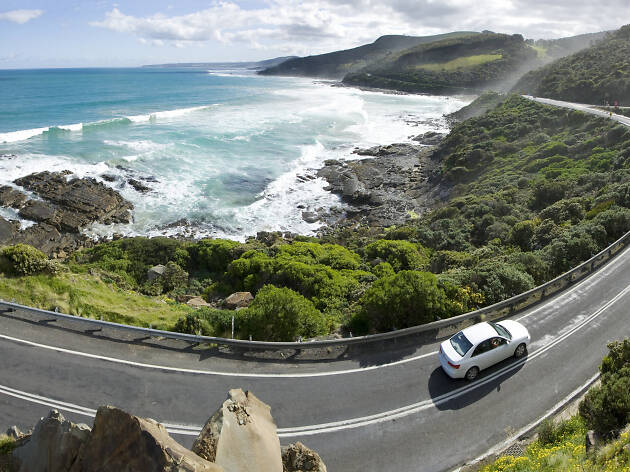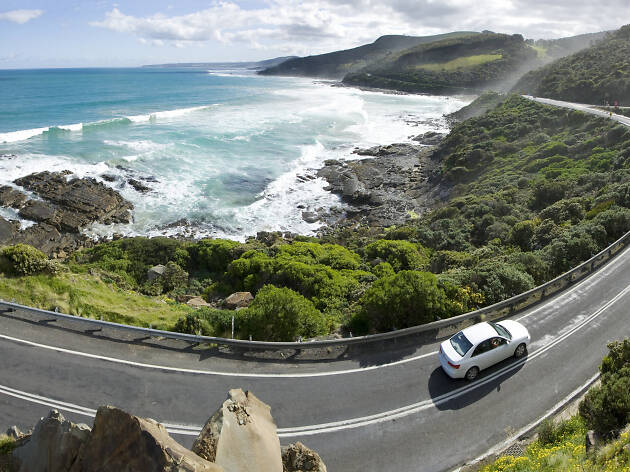 Photograph: Great Ocean Road Marketing
Justifiably one of Victoria's most popular tourist destinations, the Great Ocean Road snakes all along the southwest coast of the state, starting in Torquay (1.5 hours from Melbourne) and finishing just before Warrnambool. This winding stretch of road is about a four-hour drive without stops, but heed our warning: you'll definitely want to stop. There's too much happening along the coast not to, including ample swimming and surfing spots, upmarket dining options (Captain Moonlite), adventure playgrounds (Live Wire Action Park), gorgeous waterfalls (Beauchamp Falls), picturesque limestone stacks (the Twelve Apostles) and plenty of spots to stop and eat some fish and chips on the beach.
Photograph: David Ireland/Tourism Australia
A hop, skip and a jump west of Sydney lies the Blue Mountains region. Let nature be your guide here: wander through the steep cliffs, eucalyptus forests, waterfalls and swimming holes dotted around this rugged part of New South Wales and be rewarded by picture-perfect vistas prime for online bragging. Most of the crowds will head to Katoomba to see the Three Sisters, a trio of rocks that jut out over the vast Jamison Valley, but it's really up to you how you'd like to explore. You can get your steps in on one of the many beautiful bushwalks that criss-cross the Jamison and Megalong Valleys or indulge in a pampering at one of the region's top spa retreats.
Best selling Time Out Offers