LDNTALKS@NIGHT
10 venues, 10 speakers, 1 night of inspiration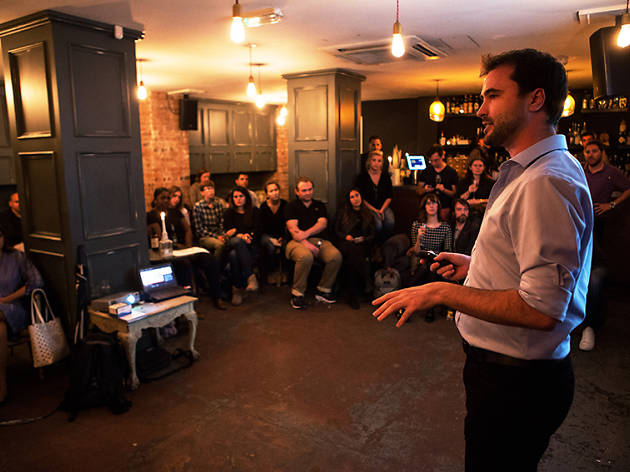 Made up of a series of inspirational and insightful talks held in London's trendiest speakeasy bars and venues over one night - Thursday 18 October, LDNTALKS@NIGHT promises to be an epic and eclectic evening of ideas sharing and debate not to be missed.

Organisers Funzing are offering Time Out Cardholders an exclusive 50 percent discount on two inspiring lectures taking place on the night at 7pm. The code providing access to our exclusive discount is available in your member e-mail.

Psychology of Dating
Psychiatrist and author, Dr Raj Persaud examines how the answer for those questions may lie in the art of seduction - 'luring' people into falling in love with us - but also staying in love with us.
Book here using the Time Out Card promo code in this week's newsletter
Stories from my Taliban Captivity
Join Sean Langan, journalist and documentary filmmaker, to explore unique insights of a British journalist and a film-maker who have been where most others fear to, and whose personal creative style has lead him to an extraordinary life experience.
Book here using the Time Out Card promo code in this week's newsletter


And here's the full LDNTALKS@NIGHT programme of talks and speakers happening on the night of 18 Oct:
● Future of the UK & EU postBrexit by Denis MacShane
● Stories from my Taliban Captivity by Sean Langan
● Threat of Terrorism in Europe by Jonathan Sacerdoti
● Psychology of Dating by Dr. Raj Persaud
● Insights of a War Crime Investigator by Jonathan Tait Harris
● The Science of Personality by Sanna BalsariPalsule
● Shut the Duck Up! by Pete Cohen
● Creating a Powerful Mindset by Graham Price
● Social Networks and The Truth by Charles Arthur
● Body Language of Love & Attraction by Dr. Peter Collett