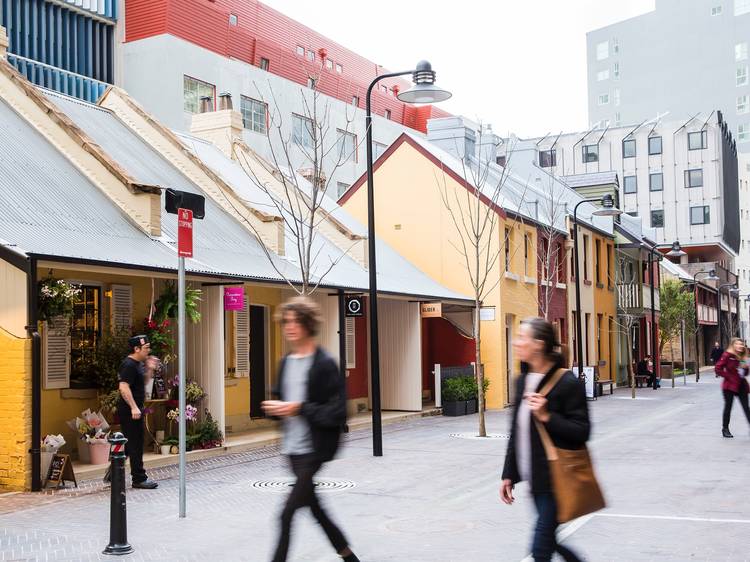 Photograph: Anna Kucera
You can't spell Chippendale without hip, amiright? Ahem. Cheesy puns aside, this little neighbourhood next to Central station is bubbling over with Sydney's creatives. This is the place to come to find independent artists, converted warehouses and underground cocktail bars.
Eat
It may cover less than one square kilometre, but Chippendale packs a punch in the dining department. If you only eat three meals here, do it at Automata, Ester and LP's Quality Meats – this is the holy trio when it comes to eating out in Sydney. For snacking, venture over to Brickfields bakery or Singapore-style hawker market Spice Alley.
Drink
Tucked out of sight off Regent Street, just down from White Rabbit Gallery (more on that later), is resident party spot Freda's. This popular basement bar does cocktails and clubbing to a tee. For a more down to earth (and affordable) vibe, check out rock 'n' roll joint The Landsdowne.
Do
Catch a movie at Palace Central. This ace new cinema opened in late-2017 in Central Park Mall and offers something way better than popcorn and hotdogs: a craft beer hall, Champagne bar and an interactive wine wall. Plus, food includes daily offerings from the local Brickfields bakery. Alternatively, pay a visit to artist-run galleries, like MOP and Wellington Street Projects.
Stay
What looks like a 1930s London Underground station from the outside, is in fact home to the incredibly stylish Old Clare Hotel. Here you'll find elegant art deco décor, a buzzing downstairs bar and rooftop pool. For smaller budgets, look up Veriu Ultimo – the Airbnb of hotels.
Don't miss:
Remember White Rabbit, the gallery we mentioned earlier? Well this cutting-edge spot is an extraordinary temple devoted to twenty-first-century Chinese art. Housed over four floors in an old warehouse (naturally), White Rabbit is free to visit and exhibits all sorts, from freakishly lifelike sculptures to hypnotic installations.