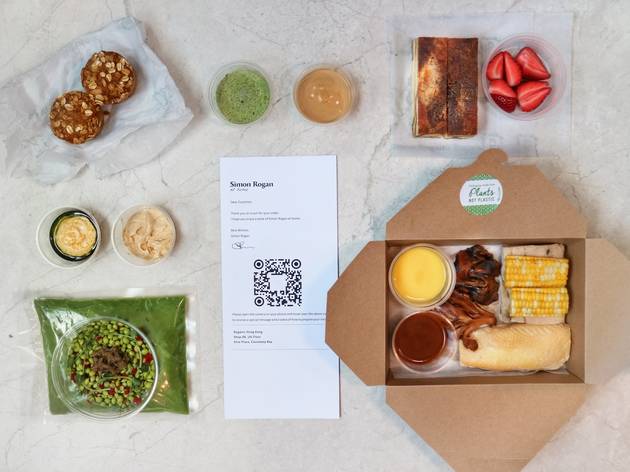 Best restaurants offering delivery and takeaway services in Hong Kong
Stay in and savour the food that these restaurants have to offer
With the recent social distancing regulations banning dine-in after 6pm and allowing only two people to sit at a table together, at least for now, some of us have decided to stay put, and stay home. However, foodies need not weep, as this doesn't mean that you can't get good food. Thankfully, many of our favourite restaurants in Hong Kong are offering some great deals on food delivery and takeaway. All that's left is for you to set the table at home and get ready to feast,
RECOMMENDED: More of a do-it-yourself kind of person? Order from these online grocery delivery services and get all the ingredients and produce you need instead.
CAUSEWAY BAY
The maestro behind Roganic and Aulis launched Simon Rogan at Home to bring a bit of restaurant magic to people's homes and offers a three-course meal for foodies to pick up or get delivered. The festive menu this season includes caramelised chestnut and celeriac soup with hazelnut, roast turkey with all the trimmings, Christmas mince pudding with brandy custard, and of course their delightful Irish soda bread with whipped brown butter.

Orders for both takeaway and delivery can be placed via the online ordering platform. Deliveries can be made from 4-7pm within Hong Kong Island with a delivery fee of $100 but is free of charge for orders over $900. Delivery to Kowloon and New Territories is currently not available. Alternatively, pre-order and collect meals between 3-6.30pm.
Little Bao's a la carte menu is available for delivery and pickup orders. As for delivery, they offer a lineup of eight sharing plates, including seaweed poppers ($98) and the ever-popular truffle fries ($98); six baos, including the pork belly ($78), fish ($78), and impossible bao ($98); and three types of fried chicken (all $178). There's also a special, Happy Paradise pop-up shop open for delivery and takeaway only (available 12nn to 9pm).
For same-day delivery, order before 11.30am for lunch, or before 4pm for dinner. Delivery on Hong Kong Island is free for orders over $400, and free for Kowloon and New Territories on orders over $850.
CENTRAL
Date by Tate by Tate Dining Room is offering a gastronomy box (from $1,180) available for delivery. A real treat that brings the restaurant experience to your home, this box is designed to enhance your next at-home date night or gathering. The multi-tier wooden tiffin, which will change from time to time, features seasonal ingredients in six courses including a bread basket and reusable cutlery.
Find out more about the gastronomy box and delivery here.
Hot and spicy Sichuan restaurant Chilli Fagara is offering takeaway and deliveries via Deliveroo for that at-home ma la experience. There is a selection of individual meals, party sets, and sharing items that include the odd fiery noodles to wake you right up. Set menus include dishes such as the signature red-chilli laden emperor's prawns, beef brisket braised with taro and turnip, crisp fried calamari, truffle-laced fried rice and much more. Orders must be made one day in advance.
Check out the full menu here.
Serving up takeaway versions of the izakaya dishes, Zuma's signature dishes are now available for pickup and delivery. The menu features a range of a la carte dishes, such as the miso-marinated black cod wrapped in hoba leaf, spicy beef tenderloin with sesame, red chilli and sweet soy, and barley miso-marinated baby chicken oven roasted on cedar wood.
Orders can be made through WhatsApp (5502 9034), telephone (3657 6388) or email (info@zumarestaurant.com.hk).
As a result of the latest social distancing regulations, The Diplomat has amended its opening hours to 12pm to 9pm on Monday through Saturday, and is temporarily rebranding as The Diplomat Café. The bar is shifting the focus from its extensive drinks menu to its pub grub offerings, serving up refined versions of pub and tavern staples. Highlights include cubano made with suckling pig ($170), the croque madame made with day truffled egg yolk ($140), and even the king of Western comfort food – truffled mac & cheese ($90).
And if you would love nothing more than enjoying professionally made cocktails right at home, you can even pick up some of The Diplomat's signature cocktails-to-go. The cocktails will be packaged in individual wax-sealed bottles. Takeaway orders can be placed by messaging The Diplomat via Facebook or Instagram.
Take French fine-dining home with Écriture a la Maison. The two-Michelin-starred restaurant is offering specially curated takeaway and delivery menus, created by Executive Chef Maxime Gilbert, which come from a choice of five different sets that are suitable for different occasions and party size. The a la carte menu has also been expanded so you can enjoy items such as the Wagyu beef sando ($888) and the ultra indulgent caviar uni tart ($998-1,988). Check out the full menus on their website here.
MID-LEVELS
All branches around the city are open until 10pm every day for takeout and delivery, serving old favourites along with 'reheat and eat' snacks for you to heat up and indulge in at home. The favourites available include grass-fed burgers, steaks, and an exciting new breakfast takeout selection, whilst the 'reheat and eat' snacks offer items such as truffle mac and cheese ($38) and mini sausage rolls ($48).
All orders will be rewarded with a 50 percent-off takeaway voucher for next time, valid until the end of August. Orders over $250 will get to choose from a free bottle of shiraz or house blend coffee beans. Delivery is free on orders over $500, and is available for the same day when orders are made before 3pm.
SAI YING PUN
Those craving Izakaya fare created by chef Max Levy can now order their favourites for takeaway from Okra. Sample signatures including the El Pollo Loco Fried Chicken Sando ($158) or Atsuyaki Tamago ($400) omelette with white Alba truffle, and more, before washing it down with some of their sakes that are now also available for takeaway. Plus there's also a 20 percent discount on all takeaway sakes right now. The takeaway is available from 12-9pm.
Order food and sake through WhatsApp 2806 1038 and check out the full menu here.
Italian eatery LucAle is now offering takeaway for delivery via Deliveroo or self pick-up which includes their white Alba truffle menu with a minimum of five grams of white truffle on the main dishes. Order comforting pasta such as the pecorino cheese 'Pienza' with walnut bread crumbs, hearty mains including La Bistecca "Rangers Valley" con Osso, or go straight for the truffle with items including Scottona Beef Tartare, homemade Egg Tagliolini, and Rossini's Beef Tenderloin which benefits from the luxurious addition of truffle. Plus, you can add on wine to pair with food, available at the special price of $240 (20 percent off).
View the full takeaway menu here.
Brut! in Sai Ying Pun offers a bento box takeaway service, available every day from 12-10pm. The bento boxes, which start at $168, include wood chip-smoked egg, local baby greens, miso eggplant, potato salad, and a choice from either pumpkin gyoza, ginger chicken, miso cod (+$50), lamb rack (+$50), or Sichuan steak (+$50). There is also a range of glorious sides on offer too, from cured meat ($138) to five-spice duck fritters ($88). Delivery is also available for orders over $500. Call or WhatsApp 9584 0204 to make your order.
Check out their website here for the full menus.
SHEUNG WAN
Yakinikumafia have just upped their delivery and takeout game, as they are now offering home experience grill sets for two people ($1,780 for food only or $2,380 with a gas grill) and four people ($2,880 for food only or $3,480 with a gas grill) so you can enjoy your own yakiniku experience in the comfort of home. The sets come with plates of Ozaki ribeye (and sirloin for the four-person set), Ozaki beef plates, FML (fatty, medium, and lean) wagyu cuts, and various sides like edamame and rice.
If grilling at home isn't your thing, you can opt for a bento box, either of wagyu beef ($480) or keema curry ($280), for a delicious treat in a box. Orders for pick up and delivery can be made with delivery costing an extra $120 for Hong Kong Island, and $180 for Kowloon. To place your order, call 3105 1250 or email info@yakinikumafia.hk.
In the mood for some of the best Japanese food in the city? Ronin has created special teishoku set meals using classic Japanese elements with a genius Ronin twist. The sets – for takeaway and delivery – will change every two days and are available in limited quantities. There will also be a decadent omakase experience for customers to enjoy from Friday to Sunday, also available in limited quantities but for pick-up only. Pre-orders for omakase must be made up to one week in advance through Tock.
TSIM SHA TSUI
Offering gourmet steak kits for takeaway, Morton's The Steakhouse is coming into homes with what they call the 'Table for Two' ($698) package which offers a feast of two 6oz pieces of centre-cut filet mignon, and 5oz cold water lobster tails. Pick your sides which include grilled jumbo asparagus or the more alluring mashed potatoes or. bacon and onion macaroni & cheese (which comes in a ready-to-bake format). It's completed with double chocolate mousse desserts to end the meal.
Orders must be made one day in advance and can be made by calling 2732 2343.
Trendy hotpot destination The Drunken Pot is available for both delivery and takeaway so hotpot fans can enjoy a safe and delicious experience right at home. The restaurant's Hot Pot on-the-go services are available online with a 20 percent discount on the a la carte delivery menu using the exclusive discount code TDPSD. Self-pickup is also available at the TST and Causeway Bay location (daily from 12pm to 9 pm).
Delivery fee is $150 for Hong Kong Island and Kowloon, and $290 for deliveries to New Territories. Though if you're planning for a feast, delivery is free for net purchases over $2,500.
Cobo House is offering a culinary box ($1,150) featuring five courses from the restaurant's tasting menu. It all starts with three appetisers, followed by a choice of mains, which includes a spiced short rib dish or fillet of Atlantic cod, and then finished with dessert. If you order four sets or more, you can also receive an exclusive bottle of Maison Mumm RSRV Grand Cru Cuveé Champagne (subject to availability). Orders can only be placed via the Cobo House website.
WAN CHAI
Wan Chai's exciting, newly opened modern Vietnamese restaurant is doing delivery – order via online delivery platforms – and accepting take away orders via phone. Available for delivery are popular items like signature beef ($168) and chicken ($158) pho, as well as soups, salads, rice dishes, and more!
For takeaway diners can build their own beef or chicken pho (from $128) which are easily heated at home, or opt to share larger plates like the Com Ga Hoi An Chicken Rice ($168). Make your order by calling 2891 1177 or heading online.
French bistro Maison ES has launched a three-course home cook set for budding chefs to whip up delicious creations at home. Featuring all necessary ingredients (all measured out and prepped) for a range of dishes, the L'ESpress ($488) set will include both step-by-step written and video instructions created by the restaurant's founder chef Esther Sham.
Free deliveries for orders over $1,000 in specific areas on Hong Kong Island, while first-time customers will even receive a $100 dining voucher. If you order two sets or more, you'll also receive a complimentary bottle of red or white wine!
This buzzy Thai eatery is doing 50 percent off orders of $500 or more on all takeaway orders. You can also buy any one of their gift vouchers for $300, $500, and $1,000, and redeem double the value on any a la carte dine-in or takeaway meal at Ruam until the end of the year.
Check out more of our city's delivery or takeout options
Best selling Time Out Offers