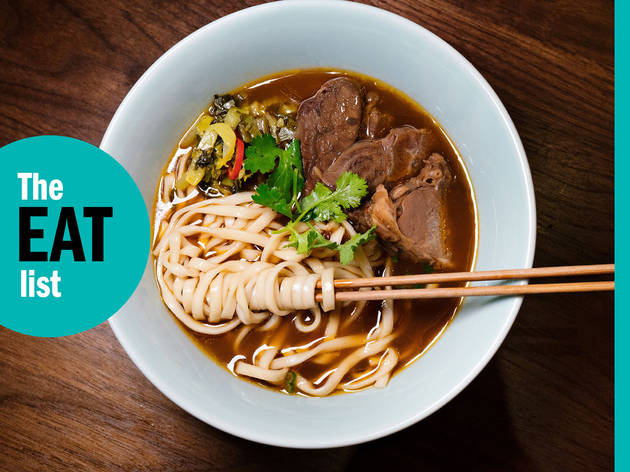 The 50 best restaurants in NYC right now
Including Korean skewer sets, a brand new throwback and erstwhile favorites.
May 2021: New York City is within air-kissing distance of reopening. The CDC says that fully vaccinated people can lower their masks (even if the state of New York is recommending that we wear them a little longer) and restaurant capacity restrictions will be lifted on May 19. We'll still be mindful of the people around us, whether dining inside or out, and with so many service workers on the frontlines, we hope you'll be gracious and tip kindly.
Running a restaurant in New York City in any era is a herculean task. We tend to love any place willing to feed us, but some simply stand out for their excellent ingredients, well-crafted cocktails, booze pairings, concept, ambiance, and occasionally an X factor that gives a place its spirit. And these are those: our favorite places to eat and drink, and our favorite places to tell everyone else to eat and drink, at this very moment. Some are old, some are new, some are finally getting their due, and each one is worth your time, money and attention.
Note: A number of the best chefs, restaurants and concepts in the city have been welcomed into the Time Out Market. Because that is the highest honor we can award, and we now have a tighter relationship with them, establishments related to market vendors have all been included in the EAT List but not ranked alongside other great establishments in the city. You can find those places below.
RECOMMENDED: Full guide to the best dishes and drinks in NYC
The best of the city under one roof
We really like eating around the city, and we're guessing you do, too. So lucky for all of us, we've packed all our favorite restaurants under one roof at the Time Out Market New York. The DUMBO location in Empire Stores has fried chicken from Jacob's Pickles, pizza from Fornino, inventive ice cream flavors from Sugar Hill Creamery and more amazing eateries—all cherry-picked by us. Chow down over two floors with views of the East River, Brooklyn Bridge and Manhattan skyline.
Local chefs, restaurants and concepts we love so much that we welcomed them into Time Out Market
Best selling Time Out Offers