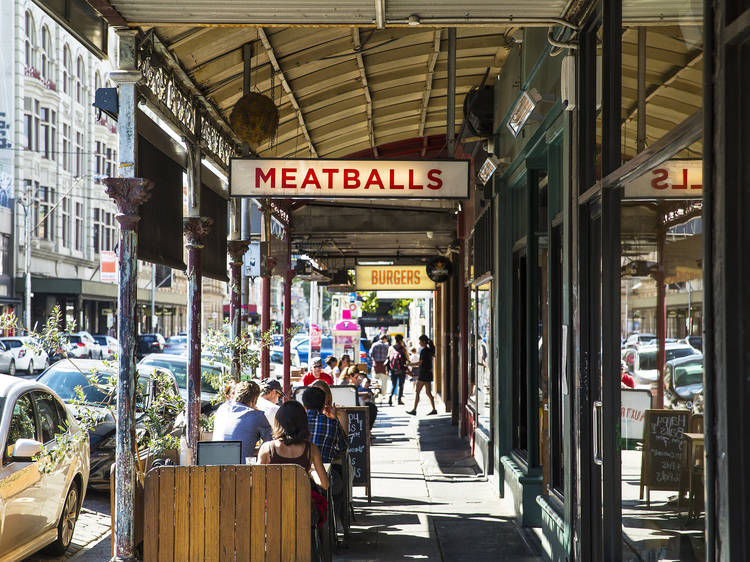 Photograph: Josie Withers
1.

Smith Street, Melbourne
Once the stomping ground of street gangs in the 1800s, the suburb of Collingwood has a long, proud, chequered history of giving the middle finger to authority. It may often be overshadowed by neighbouring Fitzroy, but you'll never have a dull moment here – and especially on Smith Street, the area's main artery. You'll find everything from rowdy footie pubs to refined wine bars, vinyl record stores to Vietnamese bakeries, and there's even more to discover down its sidestreets. By night, Collingwood's pubs, gay bars and live music joints are a magnet for Melburnians who like to kick on till the early hours. It's pretty common to see revellers pour chaotically out of one venue – amid the jostle of cars and the 86 tram – only to run straight into another business's open arms for a couple more. After four city-wide lockdowns put immense pressure on everyone, that support for venues both big and small, is just what we like to see.
DRINK Drop by one of our favourite hidden bars, Above Board. Only a handful of seats are available in this tiny space, but you're in for a real treat if you like cocktails.
EAT Restaurant and deli Alimentari is where to go to pick up take-home meals, a tasty lasagne or cheese for your next picnic.
BUY Lose yourself in the wonders of Vintage Garage, which overflows with one-of-a-kind retro finds. Rebecca Russo and Jo Stewart, Time Out Melbourne
Discover the neighbourhood:
📍A local's guide to Collingwood's best food, drink, arts and culture