101 fun things to do indoors in Sydney
It's pouring with rain, but that doesn't mean you have to stay at home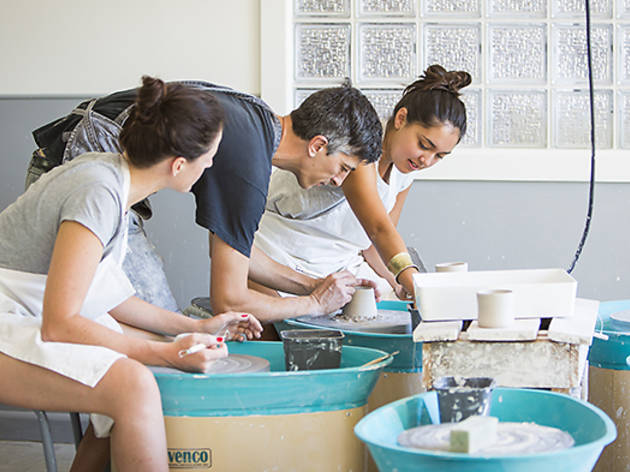 Indoor adventure
Keen to lob a hatchet at a wooden target? Head to this warehouse in St Peters to perfect your throw. Whether your style is two hands over the head or a one-armed power hurl, you'll release a lot of stress with every axe that sticks to the board.
Penrith's indoor skydiving centre is used as a training camp for professional divers and the local military. It has a powerful windtunnel that means you can learn to hold a good posture, turn from left to right and skyrocket to the top with your instructor.
Get closer to sharks, without entering the ocean. You can swim with sharks and other marine life without a cage at Manly Sea Life Sanctuary. You can even feed the animals too.
Sydney Trapeze School runs classes and workshops including aerial, juggling jumping stilts, acrobatics, trampoline, tight-rope walking and flying trapeze. It's also the only indoor trapeze school in Sydney, a short walking distance from St Peters train station.
You'll get a workout while you learn the best strategies for indoor rock climbing. Sign up for a fun five-session course at two convenient locations. Warning: racing to the top gets addictive.
Nothing is more satisfying than blasting your friend with harmless ammunition. Now you can play paintball without the paint and without going outside. 'Reballs' are soft rubber paintballs, meaning you can catch the train home without looking like a cartoon artist, and they shoot straighter as well. And it all happens under cover, so rain never stops play.
Have your own Top Gun moment and write cheques your body can cash at Jet Flight Simulator Sydney. You take complete control of an aircraft within the safe confines of a warehouse in Alexandria. Simply select which airport you'd like to fly from – there are 22,000 on the list.
There are a number of indoor go karting tracks around Sydney. This one near Campbelltown is spread over an acre and it has a fleet of European Sodi go karts that you can race around the shot-blasted concrete track – great for tyre grip.

Ultimate Karting Sydney. 1300 859 219. Mon 10am-5pm; Tue-Sat 10am-10pm; Sun 10am-6pm. $28-$110.
At the Edge Rockclimbing Centre you can rap jump – that's abseil forwards – down an 18-metre tower. You control the speed of your face first fall/run so you can fuel up on adrenaline in a two-hour session.

9/10 Hudson Ave, Castle Hill 2154. 02 9899 8228. www.edgerockclimbing.com.au. Mon-Fri noon-10pm; Sat, Sun 9am-6pm. $55-$69.
Find more ideas for rainy days
Just because the skies are falling, doesn't mean you have to sit around doing nothing... We may be a city that struggles when the heavens part but look hard enough and there's a bunch of fun to be had in a downpour. The key is staying out of it with these great rainy day activities.
More to explore