The 67 best restaurants in Hong Kong you have to try
From seasoned stalwarts to the hottest newcomers, these restaurants our are favourite places to eat in Hong Kong right now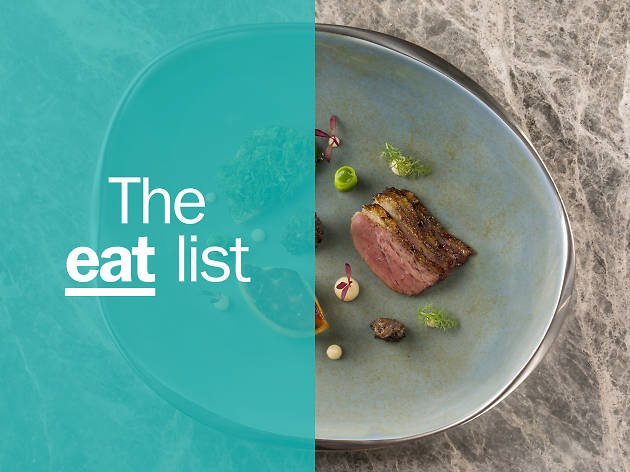 Hong Kong is a dining paradise with one of the highest ratios of restaurants per head in the world. With establishments striving to outdo each other on a daily basis in our city's fiercely competitive F&B industry, it can be hard to keep track of who's top dog at any one time. That's why we're bringing you the Time Out EAT List — an ever-changing selection of Hong Kong's hottest tables, updated on a monthly basis.
From long time favourites to super newbies, we've sorted everything from restaurants in some of Hong Kong's best hotels to the city's most delectable streetside cheap eats. In short, this is whatever serves the best food in Hong Kong right now.
If you've eaten something that you love on this list, share it under the hashtag #TimeOutEatList.
You can also find out more about how we review restaurants and make recommendations.
Best restaurants in Hong Kong
Hailed as one of the oldest and greatest Cantonese restaurants in the city, Ser Wong Fun not only impresses food lovers with its exquisite selection of traditional cuisine and snake soup, but its clay pot rice is equally delicious. The pig liver sausage and chicken clay pot rice is definitely a must-try during the cold winter months.
Restaurants, Contemporary Global
Recently ranked one of Asia's 50 best restaurants, the sleek yet minimal interior of Belon is intentional, allowing the dishes to really do the talking. Helmed by British chef Daniel Calvert, the menu includes a wonderfully fresh oyster tartare, chickpea falafel with hummus, pigeon pie, whole roasted chicken and more.
Helmed by award-winning chef May Chow, what's so impressive about Little Bao is how it's taken familiar products and flavours – such as miso, pickled daikon, mushrooms and pork belly – that have been favourites in Hong Kong for decades, and given them a new, glorious life. This is a tiny place, but one full of energy, good vibes and even better food.
Taking over the former Club JJ's and Thai & Grill space, the Grand Hyatt Steakhouse is all dark woods, leather banquettes and heavy drapery. The menu is simple – no fanciful, foamy dishes or fusion touches – just straight-up, stripped-down, classic American steakhouse cuisine. And it's all cooked brilliantly.
VEA stands for Vicky et Antonio – chef Vicky Cheng, the visionary chef formerly of Liberty Private Works, and Antonio Lai, the legendary bartender behind The Envoy and decorated establishments Origin and Quinary. There's only a tasting menu on offer at the one Michelin star venue and it is recommended to pair it with Lai's fantastic cocktails.
A long-time favourite at the Intercontinental Hong Kong, Yan Toh Heen has recently moved into a new harbourfront location within the hotel. Aside from boasting jaw-dropping views, the new space also features a gorgeous interior, which includes a hand-carved jade corridor and silk screens with floating floral embroidery. It's the perfect setting to enjoy the restaurant's delicious Cantonese dishes – many of which are made with globally sourced and seasonal ingredients – as well as specialty brews selected and prepared by Yan Toh Heen's very own tea sommelier.
A three-Michelin star restaurant of the highest quality. An intimate dining experience with just an eight-seat sushi counter (excluding the special private room for six), Sushi Shikon imports all its ingredients twice daily from Japan, ensuring the best quality. Pull up your chair at the counter and marvel at chef Kakinuma's skill as he prepares each dish before your eyes.
This Chinese restaurant was the first in the world to be awarded three Michelin stars and it's not hard to see why. Chef Chan Yan-tak and his team create the most delicate pieces of dim sum, as well as perfectly steamed seafood dishes, nourishing double-boiled soups and delicious seasonal ingredients.
In 2005, third-generation restaurateur Tracy Wong established this Sichuan restaurant. Now, it's one of the best in the city. Authentic cooking based on recipes that have been passed down through the generations is the order of the day here. 'Ma' Sichuan peppercorns feature prominently, as do spicy 'la' dishes and vibrant 'tang' dishes. A real fiery feast.
Show more