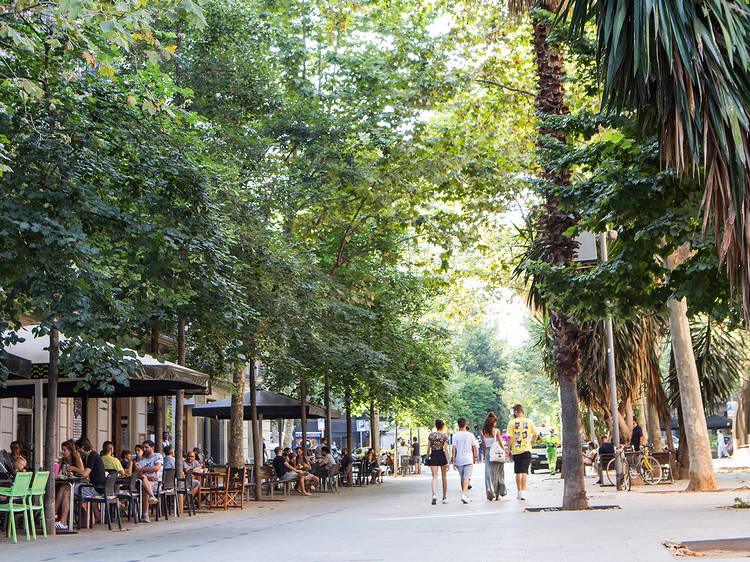 Photograph: Maria Dias
1.

Esquerra de l'Eixample, Barcelona
Barcelona's sprawling Eixample district is split into two distinct sections – and although the Dreta de l'Eixample normally gets all the attention, with its dazzling luxury shops and spectacular modernista buildings, in 2020 all eyes are on Esquerra de l'Eixample.
Residential and down-to-earth, this left side of the Eixample has a characteristic architecture where each block of flats features its own interior courtyard. During Barcelona's strict lockdown, these spaces became focal points for the city's energy – as in the pop-up Hidrogel Sessions, in which residents dressed up in costumes and organised mass dance parties from their balconies.
Meanwhile, a local Mutual Support Network was created to help the most vulnerable, and Ada Parellada from the well-known Semproniana restaurant started cooking for health workers. These are just a few demonstrations of the humanity shared by an authentic Barcelona neighbourhood – one which was a pioneer in providing space for LGBTQ+ businesses (thus earning its nickname of the 'Gayxample').
Community spaces such as the Fàbrica Lehmann, the urban garden of the Espai Germanetes, the Ninot market and the Joan Miró park are among many others that you're unlikely to find in many guidebooks. This year of all years, it's the Esquerra de l'Eixample that points the way toward a future Barcelona where locals, not tourists, rule the roost. —Borja Duñó, Time Out Barcelona

Discover the neighbourhood:
📍How community-run garden Espai Germanetes came into its own during lockdown
📍Introducing Odd Kiosk, the world's first LGBTQ+ magazine stand
📍A local's guide to the best places to eat, drink and shop in Eixample