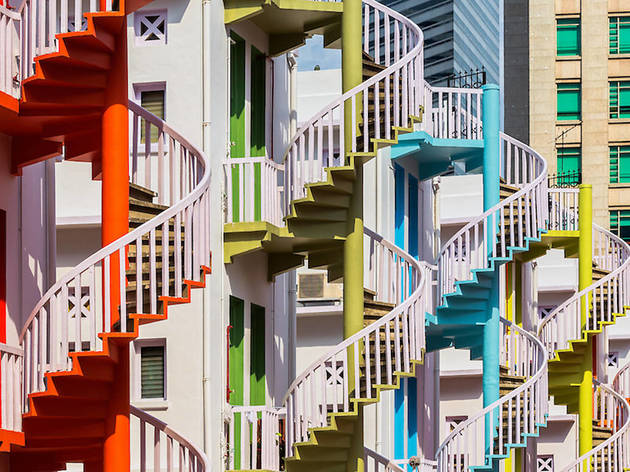 The 40 coolest neighbourhoods in the world
We surveyed thousands and asked local experts to rank the greatest places right now for fun, food, culture and community
Every year, we survey thousands of people around the globe to discover the world's coolest neighbourhoods: the places that represent the spirit of the greatest cities on earth. These are the places to be for food and fun, art and culture, atmosphere and personality. Every year, there's plenty of debate and lots of love. But in 2020, our neighbourhoods have taken on a whole new importance.
Over the past months, billions of people have found themselves spending way more time close to home. Lockdowns and safety measures have hollowed out business and shopping districts but local neighbourhoods have thrived. Places that used to be dormitory districts are buzzing all day long. The shop on the corner and the local takeaway restaurant have become vital lifelines. Neighbours have stepped up to help each other through hard times and banded together to protest around Black Lives Matter. A strong sense of community and unique independent businesses have always made a neighbourhood great, but now they've become indispensable. So, in a year like no other, we're doing things a little differently.
As ever, our shortlist of the coolest neighbourhoods in the world is based on the opinions of locals: the 38,000-plus city-dwellers who answered our annual Time Out Index survey, telling us which bits of their city they loved. And once again, we've consulted our global network of Time Out editors and experts to weigh up the candidates and make the call on their city's number one hotspot.
But right now, more than ever, it's cool to be kind. So 2020's coolest neighbourhoods are still the ones with a fascinating mixture of people, innovative and inclusive food, drink, arts and culture, affordable rents and living costs, and that hard-to-define buzz that draws people from across the globe. But this year, more than ever, they are the areas where people, community and businesses have helped each other through shared tribulations: places that represent the soul of the city.
From outlying suburbs finding their place in the spotlight to creative districts fighting back with culture, and even some city centres experiencing unexpected renaissances, these are the 40 coolest – and kindest – neighbourhoods in the world in 2020.
Share your favourite neighbourhoods and local spots with us via the #LoveLocal hashtag – and follow Time Out's Love Local campaign as we celebrate and support the independent food, drink and culture venues that make our cities great.
¿No hablas inglés? No te preocupes, puedes leer el artículo en español.
The world's coolest neighbourhoods in 2020
We're backing local business everywhere
We're asking city-dwellers around the world to spend money with small businesses every day. Wherever you are, we'll help you discover and support the amazing local businesses that make your city great.
Best selling Time Out Offers