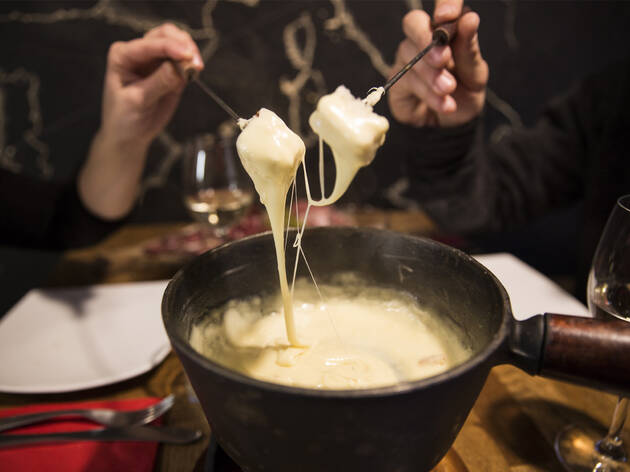 An alternative ranking of the 100 best dishes in London
Posted: Thursday December 1 2016, 5:55pm
We've just delivered a list of the most delicious bites in town, the 100 best dishes in London. But find another way to digest them all in our alternative ranking of London's best dishes.
The tallest
Korean chicken in a bun at Chick 'n' Sours

These guys aren't fooling us by placing this towering chicken burger on a teeny china plate – there's just nothing dainty about it. And that's why we love it; it's a fiery, crunchy and deeply delicious Korean-tinged bun that will leave you licking your chops for days.
The smallest
Croquetas at Caravan

You could probably pop these in your gob in one go. But show some restraint. These Spanish snacks deserve close and careful attention, with silky jamon-flavoured béchamel bursting through a crunchy coating. Plus, they're piping hot, you fool.
The cheapest
Pastel de nata at Lisboa Patisserie

You can barely get a pint for under a fiver in the capital these days, so the fact that Portobello Road favourite Patisserie Lisboa is still doling out Portuguese custard tarts at a mere £1.15 is a delicious London miracle.
The priciest
Muntjac biryani at Gymkhana

At £28, Gymkhana's answer to a good-old fashioned curry house-style pie is the most expensive dish on our top 100 list. But it comes with enough fluffy, fragrant rice, tender venison and a flaky pastry for two to devour.
The cheesiest
Classic fondue at Androuet

This was a close call (I mean, Kappacasein's cheese toastie contains three types of the stuff!), but the concept behind this Swiss dish is all about dipping things into cheese and shoveling them down your gob. Go classic with comte and emmental or pimp your plate with a blue option.
The meatiest
Short rib French dip at Hawksmoor Spitalfields Bar

Of course Hawksmoor gets a shout out for meatiness. If beef short rib drizzled in cheese and parked in a bun wasn't enough for you, how about plunging it into a cheeky dish of mahogany marrow gravy that comes on the side. Bring on the meat sweats.
The prettiest
Tempura broccoli black rice roll at Uchi

Somebody had been snooping on our Pinterest board when they came up with this beaut of a Japanese restaurant, and just as snap-ready are these adorably pretty little rolls of veg and black rice served on a palm leaf. Don't worry, we don't just eat with our eyes; the crunch of textures and contrast of flavours is just as magnificent.
The ugliest
Freakshake at Molly Bakes

This looks like a disaster movie happened in a jar, but nevertheless, the gluttonous drink-meets-dessert invention made its way across the Instagram accounts of thousands of visitors to Molly Bakes this year. Besides, if you're after a sugar fix, why wouldn't you get yourself one to last you a lifetime?

To find more delicious dishes from all over town, check out our newly launched guide to the 100 best dishes in London.
Share the story